A lot of people were divided over the fact that whether the final match of Pakistan Super League (PSL) should be held in Lahore, Pakistan.
While some debated over the growing terrorism here and how keeping the match in our city would be unsafe for locals as well as the foreign players and Pakistan's international image, others deemed it necessary to hold it here to showcase resilience and to bring back international cricket in Pakistan.
As the debates and arguments continued, the day of the match finally arrived yesterday and it was held in Lahore only.
Fortunately, the match went by smoothly and everything came to an end peacefully. After everything was done successfully, Mira Sethi, the daughter of Najam Sethi posted a heartwarming status about the whole thing on her facebook account.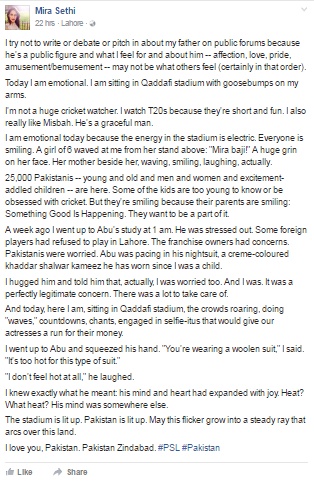 Najam Sethi is the chairman of PSL who fought till the end to have a successful final day of PSL at Lahore.
Mira Sethi perfectly penned down how it felt to be a Pakistani last night when the crowd expressed its happiness over the return of international cricket in Pakistan and cheered for it with all their heart.
Mira's status also talks about the hardwork Najam Sethi had put in to the whole thing and she also beautifully expressed the sentiments of all proud Pakistanis.
We can't help but admire the way Mira beautifully summed up the feelings of all Pakistanis in a single status.