There are dramas you anticipate for any number of reasons- the cast, writer, director, etc. And then there are dramas that take you by surprize. They could have mediocre actors, or newbies, may not be well promoted and if you're like me and completely oblivious to your surroundings, you will rarely ever know what to look out for. So, while searching for new dramas, I happened to come across Hum TV's Mohabbat Ab Nahi Hogi and let me start by saying- it is a signature HUM TV drama. Beautifully shot in Islamabad (which has now become a must-visit on my bucket list), MANH managed to pull me into it's vortex early on.
The cast wasn't the big draw- it stars Armeena Rana Khan, Syed Jibran, Ali Rehman amongst others. The writer (Saima Akram Chaudhry) was someone I never heard of. But there was just something about the drama that kept me coming back for more. 13 episodes later, I anxiously wait for each new episode and fortunately it airs twice a week! Woo hoo!
Now, let's get to the story- Fizza (Armeena Rana Khan) is a nakhrelu, moo-phat larki who doesn't think before she speaks. She gets married to her polar opposite, Arham (Syed Jibran). Arham works in Kuwait for the past 15 years and is a workaholic who takes life a tad too seriously. Arham's mother (Laila Zuberi) is a sweet and simple woman who wants Arham to get married to a seedhi saadi larki. Little does she know what's in store for her! Arham's younger brother, Aazar (Ali Rehman) is hip and cool and the male equivalent of his Bhabi Fizza. The two hit it off right from the start and he takes a keen interest in her dressing, make-up, etc. Since Arham returns to Kuwait shortly after his wedding, Fizza spends most of her time hanging out with her chaheeta devar. Arham and Aazar have a sister, Uzma who is constantly at their home and even though she's not a cliched nand, she suggests one conspiracy theory after another until things start spiralling into utter chaos.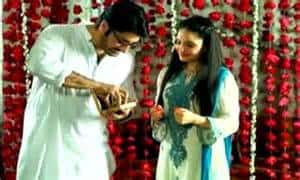 Fizza is perpetually frustrated with her life- she is sure her nand is constantly pumping her saas and she fears her devraani would also gang up against her. She throws tantrums on a daily basis and Aazar is by her side at every turn. She tries to get Aazar to marry her sister but her plan backfires. Instead, after much drama, Aazar marries his polar opposite- a girl name Urooj (Sundus Khan). Shortly after their marriage, Fizza's jealousy causes her to sow the seeds of discord and seeing the close proximity shared between Aazar and his Bhabi, Urooj leaves him. Both Fizza and Aazar blame others for everything that goes wrong in their lives without realizing they are more to blame for anything than anyone else. Arham happens to catch Aazar consoling Fizza over a Skype call and that's when he starts becoming suspicious and decides to check up on them. He comes home to find his wife and brother alone in the bedroom and assumes the worst. Things continue getting more and more complicated and are now at a point where Arham has kicked his wife out and plans on divorcing her.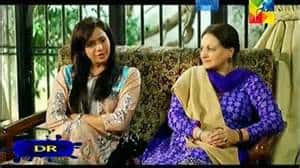 The story circles around life after marriage and poses the question- How close is too close? In recent times, we've been having too many of these devar/ bhabi stories but most of them (if not all), tend to show a situation in which the devar is after his bhabi. Here, they both get along and from the very beginning we've been seeing subtle hints that they will eventually end up together. Fizza and Aazar see nothing wrong in their relationship- anyone who raises an eyebrow gets labeled as being backward. Fizza is appalled that her husband accuses her ruining a muqaddas rishta and here again, it is Aazar who finds her a place to stay and comforts her in her time of need. Even though Aazar is repulsed by his brother's accusations, it seems they will soon be at a point where he will have to choose between family and his Bhabi. There are no evil characters here-  I think almost everyone is a victim of circumstances. Fizza is too immature to understand that her equation with her devar isn't acceptable behavior as it is creating a lot of tension in the household. Her saas is too nice to dictate her. Her mother is just as silly as Fizza and believes whatever she narrates. Her sister-in-law keeps assuming things and blurts them without really considering the repercussions. Arham finds Fizza immature but doesn't understand her frustrations living without him. Aazar is smitten by his Bhabi and doesn't get that his wife Urooj has a very strong ground for opposing his behaviour…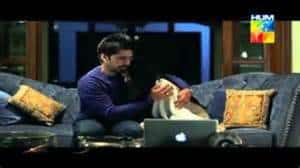 Have you been watching MANH? What are your thoughts? Is this something you look forward to each week? I for one am addicted! What do you think happens next?
Yours in watching,
Kanwal Murtaza