Sisters are a special blessing of God. Those people are especially blessed who share a close bond with their sisters. The fact is that not too many Pakistani actors share pictures of their sisters on social media. There are very few of them who feel comfortable doing that. All of these actors in the list are constantly seen spending quality time with their sisters. Their closeness and support for each other reflected in their social media posts. Some of these sisters are just as big stars as their brothers. There are others who are not celebrities but they are highly educated and have good careers. It is always so good to see our favorite celebrities spending quality time with their family. All these pictures show just how much these actors like spending time with their sisters. May their love grow.
Here is a list of beautiful sisters of Pakistani actors.
[lwptoc]
Fawad Khan Sister
Fawad Khan's sister Sana Khan is a physician. Her wedding pictures went viral a few years back and that is when she was introduced to the world as Fawad's sister. Otherwise, Fawad Khan is not active on social media so he hardly ever posts any pictures with his family members. The bond these siblings share is evident from these beautiful pictures of them together.
Sheheryar Munawar Sister
Sheheryar Munawar's sister's name is Nadia Munawar Siddiqui. She used to accompany him to interviews as well when he gained popularity. Sheheryar Munawar calls his sister 'choti mummy' because she looks out for him and loves him just like his mother. Good looks obviously run in the family. Nadia is just as good-looking as her handsome celebrity brother.
Muneeb Butt Sister
Muneeb Butt's sister is two years younger than him and she has a cute daughter named Zayna Shahzaib. Muneeb Butt often posts his pictures with his niece on his Instagram page and gradually Zayna also had a huge fan following. Interestingly enough, Zayna became so popular that now she has her own Instagram page too with 20k plus followers. Muneeb Butt is so popular that everyone wants to see more of his immediate family too but Muneeb Butt's sister likes to stay away from the limelight.
Bilal Abbas Khan Sister
Bilal Abbas Khan's older sister Sana Tauseef is just as talented as him. She has her own clothing brand and she is also an aspiring writer. Bilal Abbas often shares his love for Sana on her social media pages. Apart from his mother, his sister is really close to him. For Bilal family comes before everything else. He believes that his sister is one of those family members who contributed greatly to her career by supporting him always.
Hamza Ali Abbasi Sister
Hamza Ali Abbasi only has one sister, her name is Fazeela Abbasi. Fazeela Abbasi is a well-known dermatologist who practices in Islamabad and Dubai. Fazeela Abbasi did her post-graduation in clinical dermatology from Saint John's Institute of Dermatology, Kings College London. She is also a member of the topmost associations and groups which cover her field of specialization. Fazeela Abbasi's interest in lasers made her one of the pioneer dermatologists in Pakistan who introduced the best laser brands in Pakistan.
Faizan Sheikh Sister
Faizan Sheikh's sister Rabya Kalsoom is also an actress and a model. Faizan Sheikh calls his sister his partner in crime, his dance teacher and he has a special nickname Coco for her. Rabya Kalsoom is also an actress who played a prominent role in the hit drama serial Meer Abroo. There was also a controversy when Faizan Sheikh took to social media to share that the production house did not pay her sister the entire amount they promised. Rabya Kalsoom is an all-rounder who is really passionate about everything she does.
Arsalan Faisal Sister
Arsalan Faisal entered the drama industry a few years ago and he is already quite popular. Arsalan Faisal's sister Sadia Faisal is also an actress and a model. Sadia Faisal is older than Arsalan, she is married and has a son. She keeps on posting emotional messages for her brother on social media telling him how much she loves him and how proud she is of him. She also calls Arsalan her partner in crime.
Feroze Khan Sisters
Feroze Khan's sisters Humaima Malick and Dua Malick were popular celebrities long before Feroze Khan entered the field of entertainment. These siblings have a special bond like no other. They are always cheering each other own. And they definitely do not hold back when it comes to sharing their love for each other. Feroze Khan also got married to the girl his sister Dua Malick chose for him.
Shehzad Sheikh Sister
Shehzad Sheikh's sister Momal Sheikh needs absolutely no introduction. She is an actress and a model who has worked in Pakistan and across the border. Shehzad Sheikh and Momal Sheikh have a great relationship.
Ali Ansari Sister
Ali Ansari is another actor who has made a big name for himself in a short span of time. Ali Ansari's sister Mariam Ansari is also an actress. The love between Ali and his sister is simply adorable. Mariam Ansari is Ali Ansari's 'jigger, best friend, role model, annoying little brat." According to him, Mariam is also his trainer and nutritionist. Basically, they are really close to one another.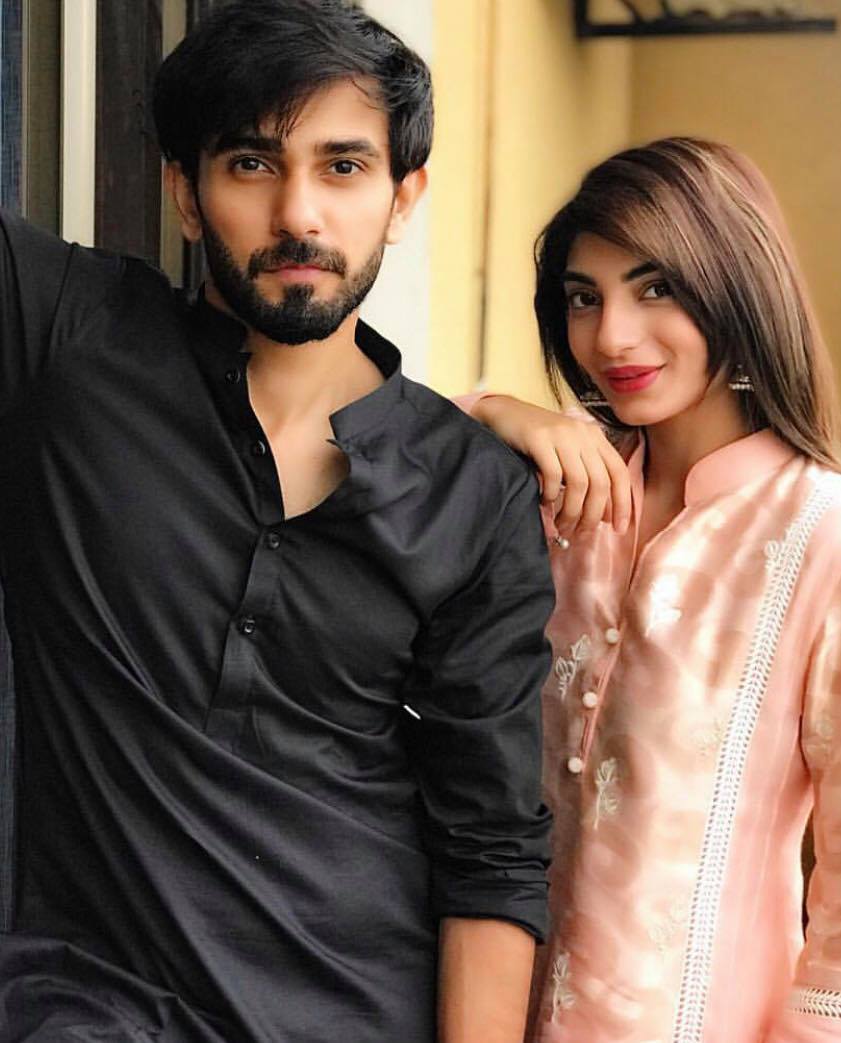 It is really good to see these actors sharing such an amazing bond with their sisters.