Pakistani celebrities are more easily 'accessible' for the general public than ever due to the widespread use of social media. Like every other modern invention, social media has its pros and cons as well. The power of social media has been recognized by different platforms and it is getting stronger. It is also an easy way for celebrities to promote their projects and they often use it for sponsoring products. Since the public has easy access to every activity these celebrities are a part of and people can easily comment on them, sometimes the criticism can go overboard and get extreme. None of the celebrities want this kind of criticism. They obviously share their pictures with their fans because they want their support. Pakistani actresses get more criticism than anyone else since they portray a completely different image on television. There are also times when certain celebrities are highly criticized for doing something which is against their principles and what they stand for. Moral policing by the general public has become a norm but that does not stop celebrities from posting what they want to. There are also instances where you feel that some celebrities actually use such negative attention for gaining sympathy and winning more fans.
Many celebrities have often talked about the impact such criticism has on them. They have often also shown how this criticism will not stop them from doing what they want to do. Whether Pakistani celebrities should be following certain moral standards or not is an ongoing debate. Most of these celebrities have proven that they do not feel the need to please the critics who they call' keyboard commandos'. Others are continuously trying to maintain a balance.
Here are some of the most criticized pictures of Pakistani celebrities from the past few months:
[lwptoc]
Saba Qamar's Birthday Pictures
Saba Qamar's birthday bash pictures got attention for all the wrong reasons! Although Saba never cares much about what others say about her and is always quite bold, the outfit she wore and the poses in which she got the pictures taken enraged many. People bashed her so much that there were memes dedicated to this criticism and her outfit. Some people were also of the opinion that even at this point in her career, Saba Qamar resorted to such cheap tactics to get attention.
Maira Khan's Bold Photo Shoot
Actress Maira Khan posts bold pictures quite often on social media. Her real-life choices are very different from what the viewers see on screen. This is one of the obvious reasons why she always gets a lot of criticism for her wardrobe choices, especially for photoshoots. This particular photoshoot of the actress received more backlash than others. Apart from her revealing outfit, people also criticized her make-up look.


Saeeda Imtiaz Revealing Outfits
Saeeda Imtiaz is another Pakistani celebrity who makes bold dressing choices often. She doesn't even consider the backlash when she posts such pictures. Most Pakistani celebrities avoid sharing such pictures but not Saeeda. Here are some of her pictures which were criticized more than others.
Yashma Gill in Active Wear
One thing is for sure, the social media users in Pakistan always criticize Pakistani actresses whenever they post pictures of their activewear photo shoots. Such clothes are most often revealing and the poses are also such that the public usually does not like to see the actresses wearing them. Yashma Gill's photoshoot in activewear got a lot of hate wherever it was shared on social media.
Alizeh Shah's Deep Neckline
Alizeh Shah has definitely given people a lot to criticize lately. From her extreme dressing choices to the messages she has openly given to her haters, Alizeh Shah has proved that she will not let anyone dictate anything to her. It won't be wrong to say that she has been using her wardrobe choices as a means to get the kind of attention that most celebrities will avoid. When she wore this shirt with a deep neckline, she was criticized so much that she was actually trending on Twitter!!
Nida Yasir's Morning Show Look
Nida Yasir is one of those celebrities who get hate even for those things which might go unnoticed by many others! People do not spare her at all and most often she is left giving one explanation after the other. When Nida Yasir sported this particular look in one of her shows, many people criticized her for copying Halima Sultan's character's look from the popular Turkish series Ertugrul Ghazi. People made fun of her for sporting such a look for the show and called her China ki Halima Sultan. Later on, Nida had to give yet another explanation in which she said that this was merely a coincidence.
Shahroz Sabzwari's Outfit Choice
When Shahroz Sabzwari posted a video of jogging on the streets of Karachi he was criticized to the maximum for his choice of outfit. He was seen wearing shorts alone and people made so much fun of him. The screenshots from the small clip he posted instantly went viral and were criticized by everyone.
Ghana Ali Wedding Pictures
When Ghana Ali posted pictures from her nikkah, there was more criticism directed towards her than anything else. People made fun of her husband and later on when they found out that this was his second marriage, people also criticized Ghana Ali for being a home breaker. Social media were convinced that Ghana married this man for money soon after the pictures went viral!
Naveed Raza's Tattoo
Naveed Raza posted a picture while getting his COVID shot to urge others to do so. What he got however was a lot of criticism because of his tattoo. Although many celebrities have tattoos nowadays even then people were ruthless while criticizing and questioning Naveed Raza. He even replied to some of these hate comments.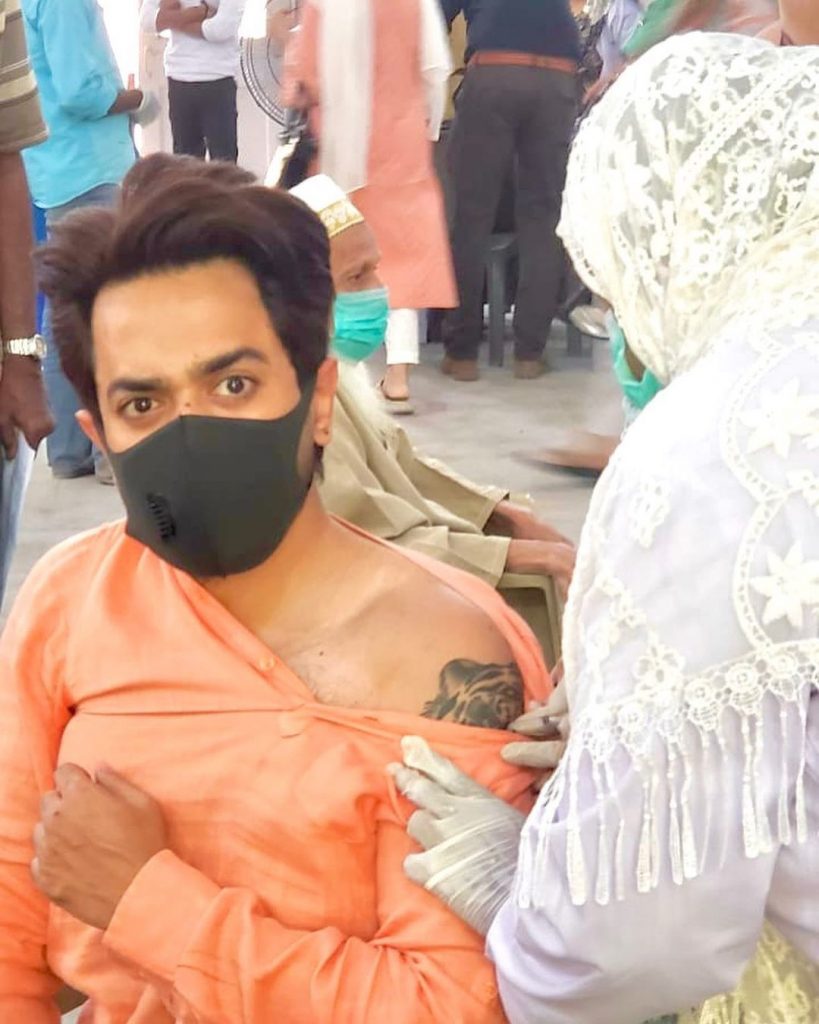 Zara Noor Abbas In Sana Maskatiya
We bet when Zara Noor Abbas posted her pictures in this printed dress by Sana Maskatiya, she was not expecting people to react the way they did! Some of the people criticized her for wearing such a distasteful dress which did not compliment her at all and others thought that the dress was too 'revealing' due to its tight-fitting and Zara's poses in these pictures. There were those people who said that this dress looked like a nightwear outfit and others said it looked like it was made from a curtain fabric! This was probably one of those looks of the actress that was criticized the most in recent times.
Anoushay Abbasi's Gym Wear
Anoushay Abbasi got more criticism than any other celebrity in recent times when she posted these pictures from a photoshoot for an activewear brand. Many people criticized her for showing her body after losing weight. Her outfit was probably the most revealing gym wear we have seen Pakistani celebrities wearing recently.
Javeria Abbasi's Morning Show Look
Javeria Abbasi has been more active than ever on social media lately and she has been making appearances in different talk shows as well. When she was invited as a guest on Nida Yasir's morning show her overall look was criticized by the public a lot. These pictures became the most criticized pictures of recent times.
Hania Aamir's Sisterly Act Gone Wrong
Hania Aamir is really close to the director and producer Wajahat Rauf's family. Very often she is seen spending time with them. Hania posted a video in which she was lying over Aashir Wajahat and trying to cheer him up as he was unwell. Although everyone knows that Aashir is like a brother to Hania, the screenshots from the clip went viral even after Hania deleted the video. This clip created more uproar than any other!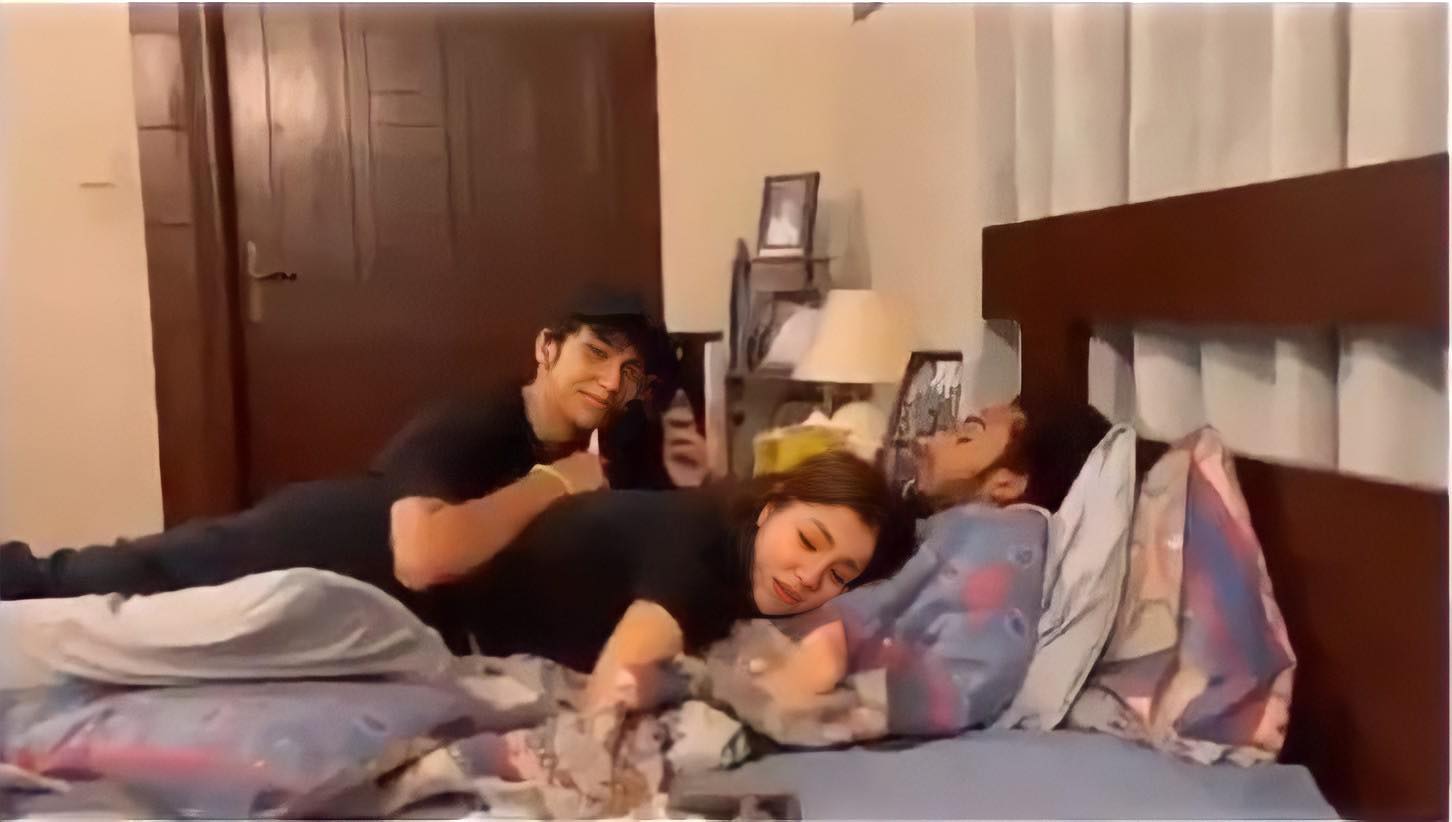 Sanam Jung's Fashion Sense
Sanam Jung is often criticized for her style which is usually not liked by people. When she was invited as a guest on Jeeto Pakistan, she was criticized severely for wearing an outfit that was too casual and did not even look good.
Zara Noor Abbas At a Friend's Wedding
When Zara Noor Abbas attended her friend's wedding, she was the talk of the town for many reasons. Her dance from the wedding went viral and people liked it. But her look for one of the wedding functions came under severe criticism when the pictures were posted on social media. Here is the dress which made people question her choices!
What do you think did these celebrities deserve all the criticism they got? Share your views.