There are so many Pakistani celebrities who chose someone from the showbiz fraternity to be their soulmate. All of them have interesting love stories which they have shared with their fans quite often. Some of these celebrity couples get more love than others. There are also those celebrity couples who unfortunately get nothing but criticism. However, there are quite a few lucky couples who are constantly showered with love. There are obviously people who criticize them every now and then too but the amount of love they get is far more than the criticism they have to face. These celebrity couples are loved in such a way that they have a different fan base.
It is actually really difficult to figure out a particular reason why some of these couples get more love than others. Some of them are loved because individually also they are really liked by everyone, others are loved because they got married in such a situation that the fans couldn't help but fall completely in love with their real-life love stories. There are also those who have such a powerful social media presence that the fans feel like they are part of the 'family'. It is interesting that there are also those celebrity couples who get so much love without even trying! So, there is no formula or method to become the most loved couple, some of them are simply loved more than the others because they are fortunate enough to receive so much love.
Here is a list of those celebrity couples who get infinite love from almost everyone out there and as a couple their fan base is unmatched.
Hamza Ali Abbasi and Naimal Khawar Khan
Hamza Ali Abbasi and Naimal Khawar Khan's couple is unique in many ways. Their wedding was a complete surprise and even with limited work in the showbiz industry Naimal Khawar Khan's fan following is unprecedented. Not only this, Naimal Khawar Khan and Hamza Ali Abbasi got married at a time when their popularity was at its peak. They were the centre of attention more than ever because Naimal Khawar Khan's debut acting project was a massive hit and Hamza Ali Abbasi had announced his exit from showbiz. Hamza Ali Abbasi's fan following as a celebrity is unparalleled. Even though he has worked in a handful of projects, his fans are really loyal to him and they respect all his decisions. Hamza Ali Abbasi does get criticism as well but that is nothing compared to his fandom. The same is the case with Naimal Khawar Khan. Even though she is new to the industry, she has received so much love from her fans. Of course, the fact that both of them are exceptionally good-looking individuals who complement each other also helps.
Hamza Ali Abbasi and Naimal Khawar Khan got all this love from people without even trying! Hamza Ali Abbasi right away refused to give any interview with his wife and their social media presence is also minimal when compared to some of the other celebrity couples. They are considered a picture-perfect couple who people are constantly showering with love. Their son is now getting just as much love from people.
Sajal Ali and Ahad Raza Mir
Another popular and most loved celebrity couple that got the most unconditional affection from their fans with minimal social media presence is that of Sajal and Ahad. Sajal Ali and Ahad Raza Mir were equally loved as an on-screen couple after they starred in the mega-hit serial Yakeen Ka Safar. The fans were in love with their on-screen chemistry and there were already rumors that both of them might be in a relationship. Even with all the rumors and the interest of the fans, both of them kept their relationship low-key. Not only this, but the date of their marriage was also kept a secret for the longest time. They are one of those few celebrities who did not even try to cash in on their popularity. So much so that after they got married, they hardly ever posted a picture together.
The fact that they do not want to keep their relationship private and want their work to be the determining factor makes people like them even more. Even though they are young and incredibly popular, they have made some really wise choices. Ahad and Sajal have not given a single interview together which says a great deal about where their focus is. These two have such a massive following because they are good actors and they won over their audience through their on-screen chemistry. They are truly lucky when it comes to receiving love from people because unlike many other celebrities they are not too generous while sharing their personal life with others.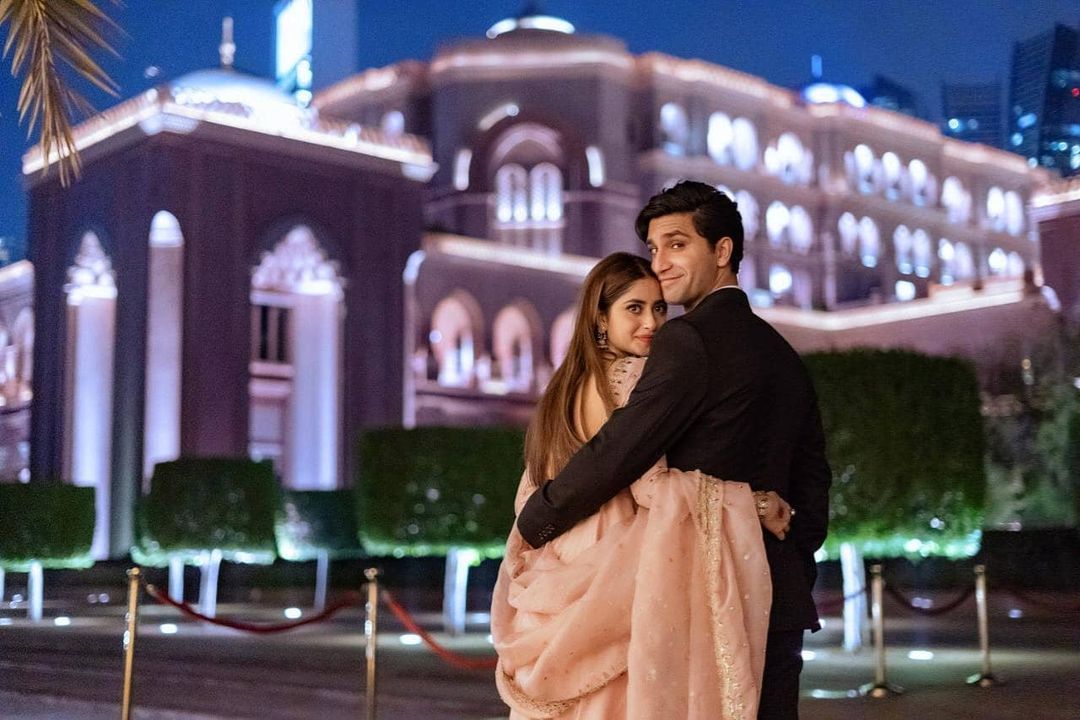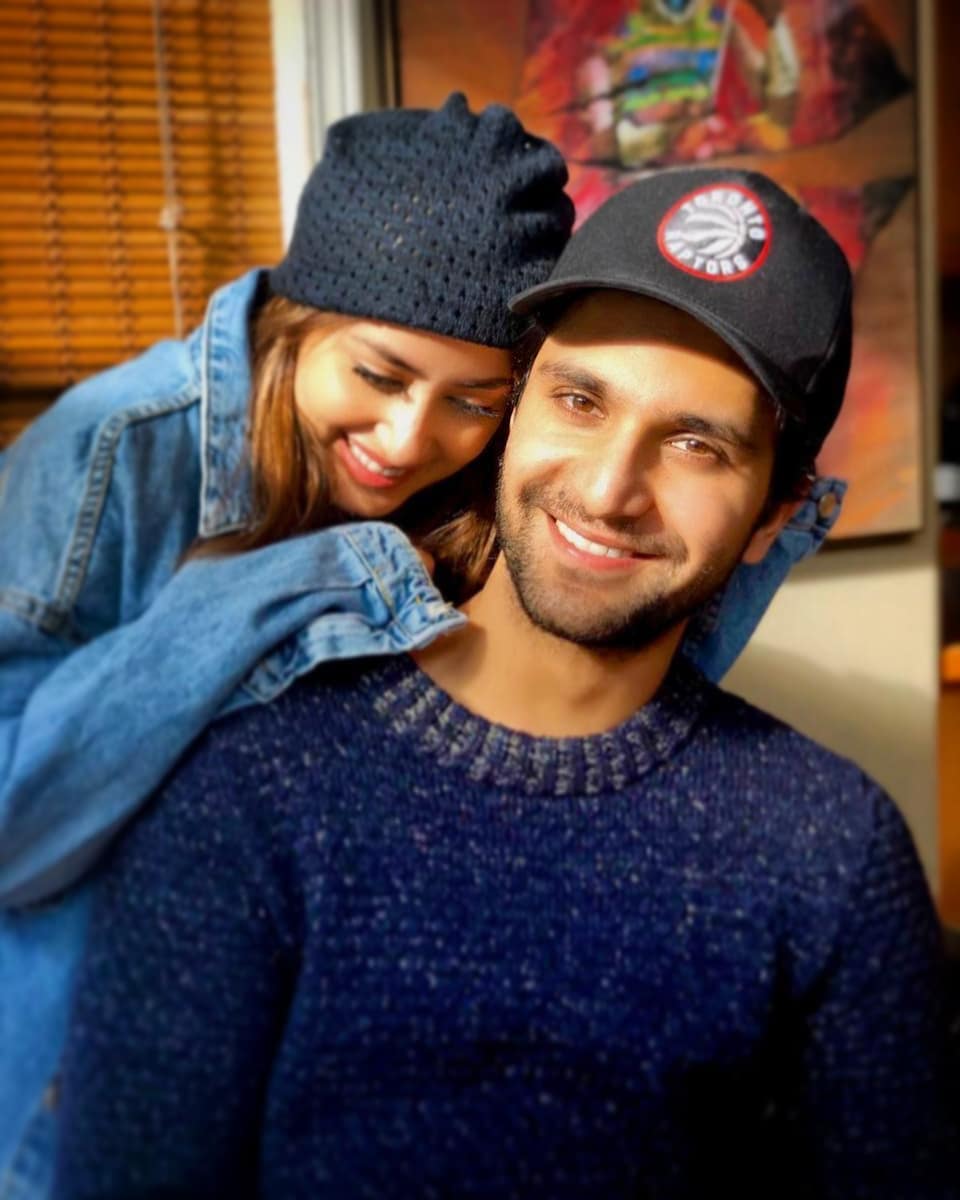 Ayeza Khan and Danish Taimoor
This list will be incomplete without the celebrity couple that is not just loved but also admired by many. Ayeza Khan and Danish Taimoor's family is considered the epitome of perfection by their fans. Unlike the first two couples on this list, Ayeza and Danish do not shy away from sharing their pictures with their fans. Ayeza Khan in particular is active on social media and she makes sure that her fans always know what is going on in their lives. Ayeza Khan and Danish Taimoor also make sure that they give an interview together at least 3 to 4 times a year. They do not want to be 'exclusive' and are more than willing to show their fans that they are more than alright with sharing their lives with them. This couple has shown the world that you can be happily married and accomplished in your field as well. They have juggled their personal life and their jobs so well that they have grown together ever since they got married.
It is definitely a huge thing when a celebrity couple manages to steer clear of controversies and has a solid fan base even though they are in the limelight almost all the time. These two have also taken up acting and modeling projects together. Even though people get to see a lot of this couple, they definitely get more love than criticism. Many people see them as the perfect example of a happily married couple that helps each other grow. Even with all their fandom, in their interviews, they sound like any other married couple which perhaps gives their admirers a lot to relate to as well.
Aiman Khan and Muneeb Butt
If there is a celebrity couple that has literally grown in front of our eyes then that is Aiman and Muneeb's celebrity couple. Aiman Khan also got married when she was at the peak of her career. Even though she is really young when compared to some of the other actresses, her fan following is unprecedented. She was also really generous while sharing the pictures before and after the wedding. Aiman and Muneeb both also love giving interviews together and when they do so they are transparent and vocal. Many of the young fans love how someone their age can make it so big and then also make the difficult decision of getting married at such a young age.
Just like all the other loved celebrity couples on this list, there have been times when Aiman Khan and Muneeb Butt have also faced a lot of criticism. But overall, the love they got from their fans was much more than the criticism they faced. Their fans cannot get enough of their pictures, that is why everything they post gets so much love on social media. They have evolved over the years and now with Aiman Khan distancing herself from showbiz owing to her mommy duties, the fans look forward to their social media presence more than ever.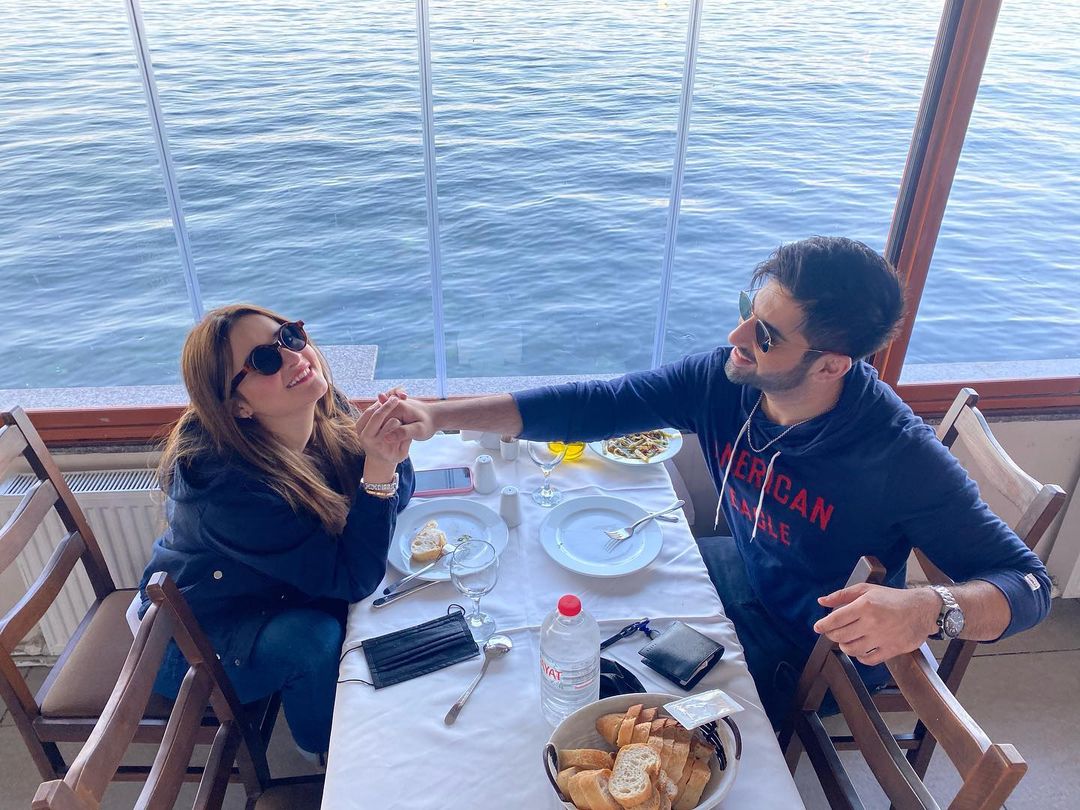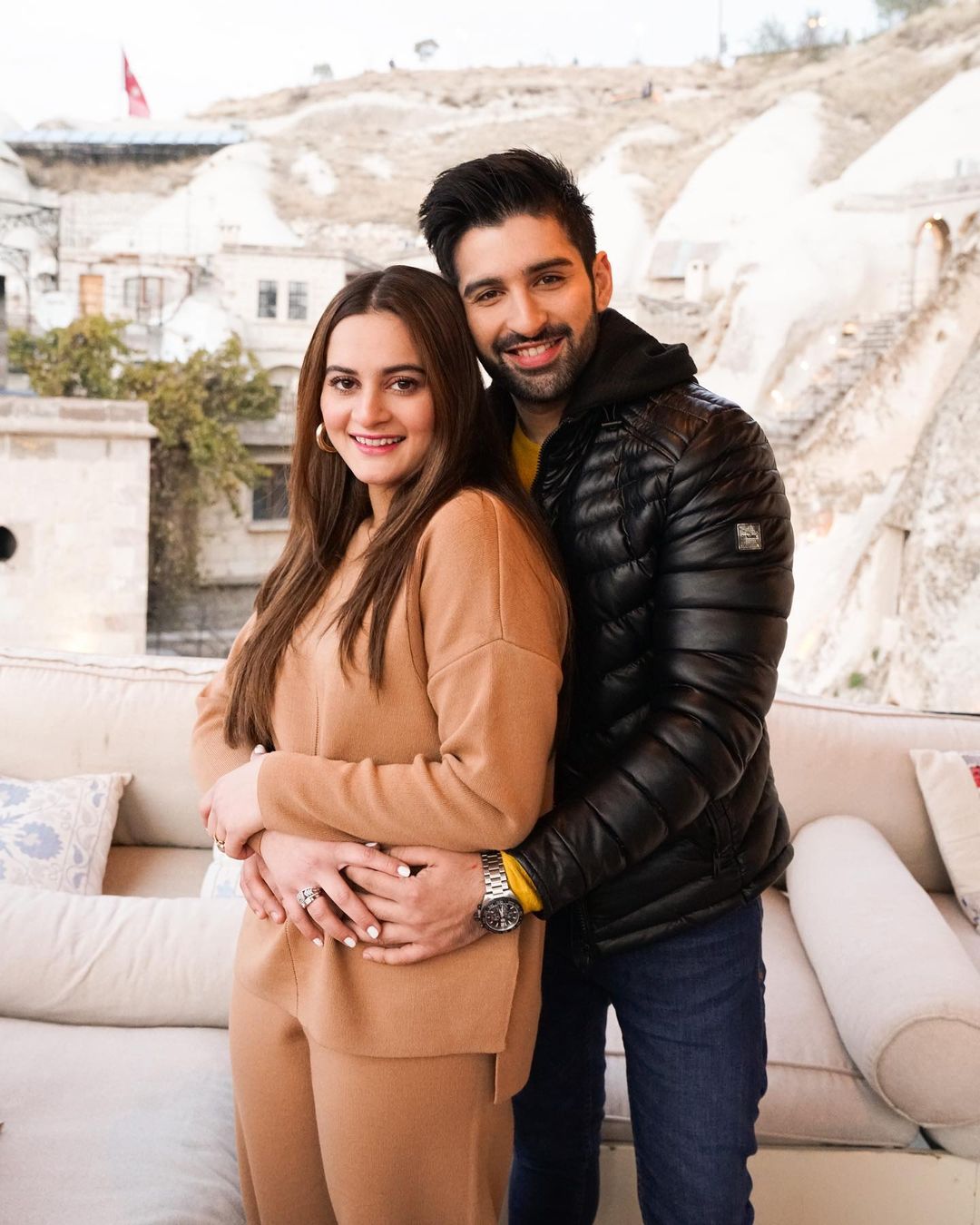 Sarah Khan and Falak Shabbir
Sarah Khan and Falak Shabbir come from two different fields of showbiz which makes this celebrity couple different from the others on this list. Their wedding was completely unexpected since there were no speculations surrounding them before they got married. When Agha Ali got married, people wanted to see Sarah Khan happy as well. She got married soon after Agha and Hina's wedding which definitely impacted how people felt about this marriage. They were happy that Sarah Khan was with someone who loved her so much. Sarah Khan and Falak Shabbir also keep on posting videos of their sweet moments together.
The kind of romance they share and the manner in which Falak Shabbir showers love on his wife has added to their fandom. Sarah Khan and Falak Shabbir have succeeded in proving that romance can be still as alive after marriage as it is before! They are the most romantic celebrity couple and they have managed to win over many fans in such a short span of time.
Samina Ahmed and Manzar Sehbai
This beautiful and unique celebrity couple broke all stereotypes and won people over completely. Samina Ahmed and Manzar Sehbai got married at such an age when most people think that there is no point starting a new life with someone because they have already seen the best in life. Both of them got married in an intimate ceremony and when this wedding was announced, the fans were ecstatic. This wedding took place after Suno Chanda aired, a drama in which Samina Ahmed's role was loved by many. Manzar Sehbai's performance and character in Alif was equally famous at that time. This wedding also took place when COVID was at its peak therefore this good news seemed like such a refreshing one in the middle of a pandemic.
Samina Ahmed and Manzar Sehbai had never imagined that they would get so much love from people. Whenever they share a glimpse of their life together on social media, everyone gives them their blessings and people are overjoyed.
Imran Ashraf and Kiran Ashfaq
Imran Ashraf and Kiran Ashfaq also kept their marriage low-key and they hardly ever post any pictures on social media yet they have to be one of those celebrity couples who get the most love. They are another example of those celebrity couples who get the most love with minimum effort to win others over. Even though Imran Ashraf is a big star now, he hardly ever talks about his personal life in interviews. Kiran Ashfaq also does not talk about her marital life a lot. People however always give them so much love whenever they choose to share their pictures with others. They are one of those few celebrities who hardly ever get any criticism which is why they are on this list.
Imran Ashraf rarely posts pictures with his wife but Kiran Ashfaq posts pictures with her husband more often. These pictures that she posts have the most endearing captions. These two are also termed as the most decent celebrity couple by their fans. They are always supporting each other in a nice and subtle manner.
Why do you think these celebrity couples are more loved than others? Which Pakistani celebrity couple is your favorite? Share your views.