Muzna Ebrahim is a famous Pakistani celebrity who is very vocal about animal rights and often shares her love for animals on social media. Recently, KMC poisoned her adopted stray dogs and she took the matter to social media.
She posted heart-wrenching photos of the dying dog. She also posted a video and other statuses to ask for justice for these animals and to encourage others to raise their voice against this inhumane act.
I have learned that it's the good people at #ShellPakistan who complained about the stray dogs in the area . As a result of which the usually inactive #KMC decided to poison them all with a poison called #NuxVomica or #strychnine. This caused the dogs to go into spasms and writhe in pain for 30-35 minutes before finally dying in my arms .It is one of the most painful forms of poisoning but it's cheap hence used most commonly here & in India . Perhaps if any one at #ShellPakistan had seen the Inhumane way this process was carried out they would have looked for an alternative way to solve the problem . This is modern age corporate social responsibility. Make a phone call , throw some weight around and sit back without a care in the world . I'm curious as to how the dogs , who were trained and taken care of by me were bothering them .You are responsible for the horrifying and painful deaths of innocent animals . With all the money #ShellPakistan has they could have easily found a solution . #ShellHouse #ShellPakistan #DogKillers #ResponsibleForInhumaneDeathsofDogs #ShellDorsntCare #CSR #Corporate #Shell #KMC #murder

Публикувахте от Muzna Ebrahim в Петък, 10 март 2017 г.
In a country like Pakistan where men and women are killed without any consequences, people who still manage to raise their voice for the voiceless animals are amazing and remarkable human beings just like Muzna.
Animal activists are often criticized for not raising their voice for humans but the truth is they are raising their voice for the voiceless and their efforts are commendable.
However, Muzna's effort did come to great use and someone from KMC actually got back to her and plans to speak about this issue at the Sindh Assembly.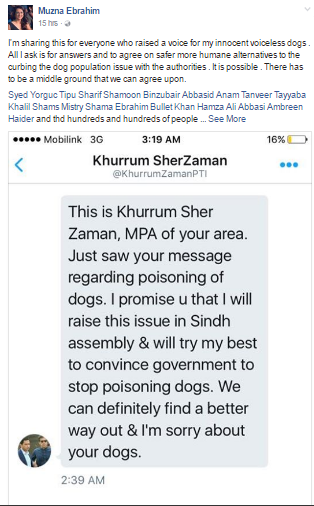 More power to Muzna and others like her!