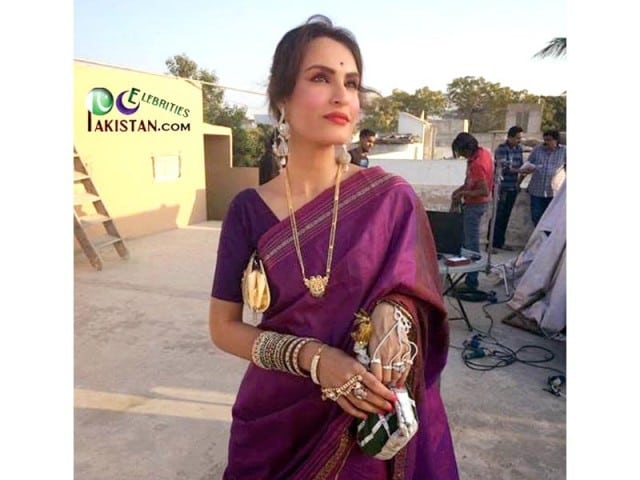 After having a look at this picture, all of you must be thinking that what Nadia Hussain is actually upto ? well, its her new look for upcoming drama Mitho aur Aapa. All I can say after watching the teasers of this show is that from her perfect pout to Paan stained lips, she literally nailed it.
While discussing the details of her role in this show, Nadia told that,"It was something different, that's why I accepted to act in it. In this play, the girl belongs to a low-income neighbourhood, I am playing a girl from that background. She is seen as a flirtatious kind, who is making things work for her much-older husband and herself; I myself wanted to give it a shot and do it and that's what I have done."
She further stated, "This was a very challenging role for me. The production house asked me to bring my own collection of saris, but I didn't have those kinds of  gaudy saris and eventually they had to provide me with them. The role itself is very loud, my make-up is loud, it is not polished; it has been done very roughly. I had to eat paan to a great extent. Paan, was something I hadn't envisaged it in my dreams that I would be eating so much, but I did. Can you imagine? That too, with chaaliyah. "
She said that if masses will like her role in the drama than she is ready to experiment with more different and interesting roles.
Source : Express Tribune
Whats your say on this ?
Rabia Basharat.