Featuring a far-famed cast of Ayeza Khan, Sarah Khan, Ali Rehman Khan and Gohar Rasheed, Laapata is an incomplete love story and the grief that follows. The drama both written and directed by Khizer Idrees who's past cinematography projects Sang-e-Mar-Mar, Aangan and Shehr-e-Zaat speak for themselves, revolves around the tale of a woman, Falak awaiting and suffering for her one true love and how her manipulative cousin Geeti plays a part in creating difficulties for her when the love of her life who also happens to be her cousin Shams goes missing.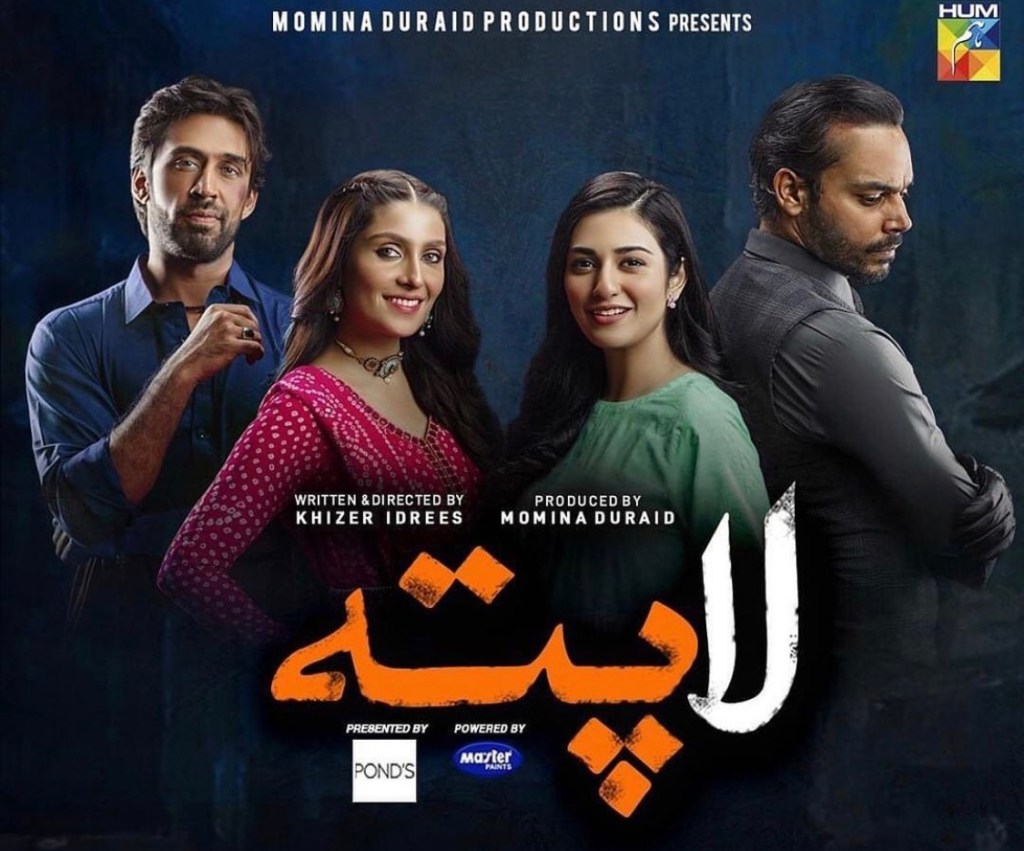 Drama serial "Laapata" is being loved by the audience. Yesterdays episode of Laapata created a hype among the audience when the episode showcased an intense scene between the main leads Falak and Daniyal, which featured a slap sequence.
Many of the netizens appreciated the team for showcasing woman fighting for her rights, but on the other hand there were some people who called out for glorification of abuse under the guise of empowerment. Here we have gathered some mix public reviews, have a look!
omg pakistani television showing women who take no sheet from men and know how to take a stand for themselves. this is such a queen behaviour.😭
#Laapata pic.twitter.com/8LSsUTjhnF

— s⁷ (@shizaahahaa) September 9, 2021
29 seconds of FALAK TAKING NO SHITS yes queeen just like that!!! 🔥 #Laapata | #SarahKhan pic.twitter.com/H5mBVVGQoF

— mk | dujin stan account. (@sjklmj) September 9, 2021
The scene when daniyal slapped falak and falak slapped him back was so good👏👏 👏
First drama iam watching a girl strong that much weldone falak
BEST SCENE#laapata pic.twitter.com/7sB6uvy8MS

— 𝐹𝑖𝑧𝑧𝑎♡︎ (@ayezasangel) September 10, 2021
That much needed Slap to Daniyal 👏
What a pillar lady she potrail 🔥
Tit for Tat 💥👍#laapata #sarahkhan pic.twitter.com/wAAwVvJCVw

— Osama Ahmed (@osamtistic) September 10, 2021
Winning moment of #Laapata this week. Sarah Khan is brilliant as Falak, a strong, independent woman who will not take abuse lying down. This show had a slow start, but it just gets better with each episode. 👏🏼 #PakistaniDramas https://t.co/dPJR0oNs0V

— SophiaQ (@SophiaAQ) September 10, 2021
yesterday's episode of #laapata is outshine from many ways , Falak track with Daniyal is so intriguing ‼️
Happy to see that Falak is showing iron lady , and she knows how to tackle husband and street boys with bang!

— Osama Ahmed (@osamtistic) September 10, 2021
#laapata
This scene has separate Fan Base and this slap tho 💯✨Daniyal's acting is so mysterious in this Drama🥺Falak did great job and slap back 💯👏Every girl should be like Falak So that every girl can speak up for herself. 😍 This drama is so mch interesting from now 💯✨ pic.twitter.com/jDE4AstL7E

— Sarahfalak.lifeline ❤️ (@sarahfalak_) September 10, 2021
That's slap from falak proved that a women can do everything for her self respect 👏
Finally see a strong women character onscreen who stands up for herself and she knows her rights.#sarahkhan #Laapata pic.twitter.com/H0MxH6mfLn

— 𝐹𝑖𝑧𝑧𝑎♡︎ (@ayezasangel) September 10, 2021
SOOO REFRESHING TO SEE FALAK SLAP THAT PSYCHOPATH DANIYAL BACK!!! YOU GO GIRLLLL #Laapata

— R🕊 (@raamlahh) September 9, 2021
What a mind-blowing episode of Laapata. Hat's off to the writer for showing an independent, brave and fearless woman. Who is not afraid to stand up for herself and knows her rights. #Laapata #humtv

— Rida Maqbool (@ridamaqbool23) September 9, 2021
Loved how Falak slapped back her husband in #Laapata
"Khabardaar, main tumhare haath torr doongi"
Sometimes, you gotta do what you gotta do..!!

— Naima (@blahbleh_) September 10, 2021
About time women are shown to stand up for themselves. Fed up with the 'bechari' overdosed rona dona nonsense. And This man totally deserved this chappair. Great acting though👏#Laapata https://t.co/byIndcsFaS

— SARAH LEE🦋 (@SarahAli_6) September 9, 2021
Best scene Everrrr!!👏❤#laapata https://t.co/1SecCcItAN

— iqraxayeza (@iqraxayeza) September 10, 2021