The Nigar Film Awards released their nominations recently and the whole industry couldn't stop talking about it. Many celebrities took to social media to comment and criticize the nominations. The biased nominations triggered many reactions.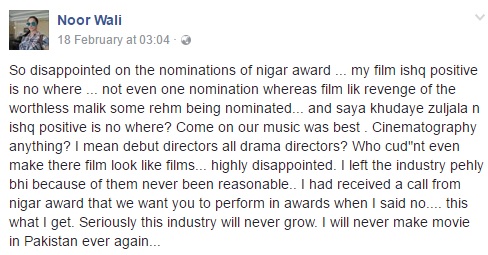 Happy for the revival of #NigarAwards – Happier for the nomination – #Janaan #director #AzfarJafri #NotAzfarRizvi ?

— Azfar Jafri (@jafriazfar) February 17, 2017
However, the makers of Nigar Awards revealed through a press release that the nominations were chosen by the public and not the jury. The Nigar Weekly's readers choices were communicated to the committee through coupons published in Nigar which were filled by the readers and then sent to the committee. The nominations were finalized based on the readers' selections which were thoroughly evaluated by the team of Nigar Awards.
Which basically sums up that the nominees were not chosen by the jury but only the audiences.