If you grew up in the '90s, then you grew up watching Ainak Wala Jinn, a comedy serial that taught an entire generation how to dream. Boasting quirky characters like Charlie Mamu, Zakoota and the wise old Nastur Jinn, the show provided the ideal respite from the pressures of school and homework.
Amongst its memorable characters was Bil Batori, played by none other than the very talented Nusrat Ara. Although Batori was a negative character, Nusrat's way of rendering her signature line 'Bil Batori Nasa Chauri Adhi Mithi Adhi Kauri' made us both laugh and cry at the same time.
Unfortunately, her stardom faded away as quickly as Ainak Wala Jinn's viewership grew up. The actor, now 65, is struggling to make ends meet in a small rental home in Lahore's Samanabad locality.
Originally a resident of Karachi, Nusrat relocated to Lahore about 30 years ago, hoping to further her acting career. Life took a turn for the worse once Ainak Wala Jinn ended, forcing her into unemployment and poverty. Decades later, Nusrat is still struggling. To make matters worse, she has developed depression and related mental disorders over the course of time.
Sad and dejected at how destiny took an ugly turn, Nusrat sits in a dingy room and narrates the story of her life. "I am ashamed of myself. I never thought my life would come to a point where I would have to beg for a morsel of food," Nusrat tells The Express Tribune. "When I moved to Lahore, I didn't think I would have to beg for my life. I have given my youth to the people of Pakistan, made them laugh while barely getting by myself. But who was there to help me? Who came to wipe my tears?"
Nusrat's life hit rock bottom about three years ago when she was left with no choice but head to the shrine of Data Ali Hajveri for food and money. The actor had been begging there since, until she was brought to Sir Ganga Ram Hospital after collapsing out of exhaustion a couple of days ago.
"For the last three years, I have been completely dependent upon the shrine for food. I have done my best to fight against fate and am proud to say that I have never sought help from anyone but myself. But now, I have grown old and tired," says Nusrat. "Right now, I am not even in a position to move my body, let alone pay the Rs10,000 rent due at the end of the month. I want to die in peace and request the prime minister to appreciate my efforts and provide me with medical help at least."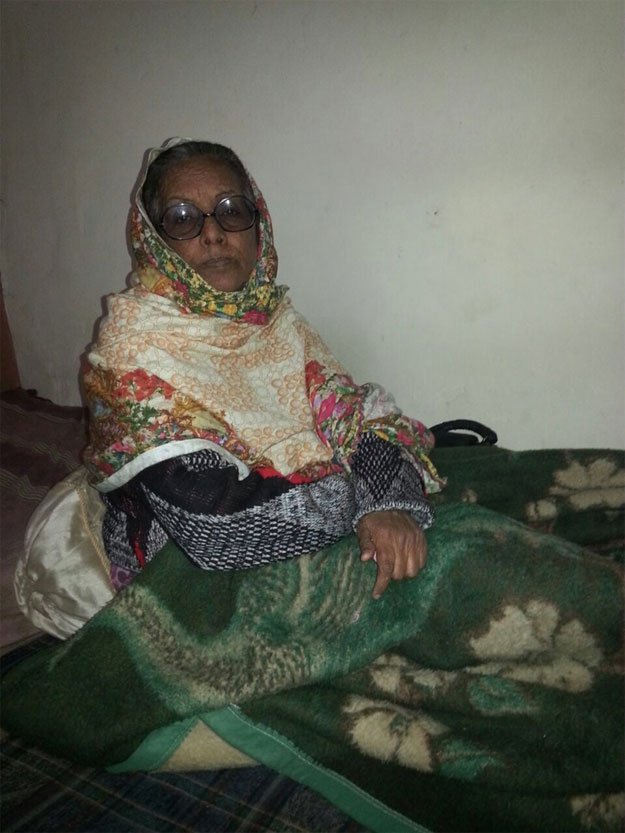 She feels it's cruel how the government has failed to take notice of her struggle over the last 25 years. "Is it not cruel that after four decade of serving the Pakistani entertainment industry, I don't have a roof over my head and the government is not even bothered about that?" she asks.
"I am a proud Pakistani and don't want to complain. But it's about time that the government reflects upon how it's looking after its artists and learns from what is happening around the world."
The Ainak Wala Jin star attributes her financial struggles to the simplicity of the entertainment industry back in the day. "We were just focused on our work; we never paid much attention to finances or fame. While Ainak Wala Jinn was being aired, I was in a position to do something to secure my future but it never crossed my mind that I would eventually have to struggle this much," she recalls.
"Other actors like Babu Baral and Mastana passed away in worse conditions. I suppose it was just my destiny that things turned out this way."
This article was originally published at The Express Tribune.
As the news of Nusrat Ara's such condition and health has come to light, Pakistan Baitul Mal has reportedly pledged Rs10 lacs for her treatment. It is sad to see how we've forgotten the stars who were once a reason of our smiles and laughs.