Stylists play a huge role in giving the characters the right kind of look for the dramas. As much as it is an actor's job to give their characters a certain look in order to make them appear realistic according to the situations they are faced with, the input of the stylists is equally important as well. In most of the cases, both actors and stylists along with makeup artists join hands to stylize the characters because that is what leaves a visual impact even before the actual story and journey of the character is revealed.
Pakistani drama industry is growing and every single day, more and more people are becoming a part of it. Although it takes a considerable amount of time for an actor to figure out the look that they can carry on-screen and what suits them best, it also depends a lot on their personal preferences to make the right choices, even if they are inexperienced. Drama industry is competitive and it demands that the actors should stay on top of their game, not only in terms of acting or project choices but also with the way they carry and portray themselves on screen. In recent times, quite a few actors have become a part of the drama industry who are doing a lot of work but their styling and overall appearance is not in line with their characters. These actors either rely too much on makeup or overly glamorize themselves wearing such outfits which do not go with the situation, making it hard to take them or the character they're playing seriously.
Let's take a look at those actors who need better stylists and makeup artists:
Anum Gohar
Anum Gohar definitely is one of those actors who needs help in terms of stylizing her characters. When she played the role of a fashion model in Yeh Raha Dil, her attitude was right but her clothing choices were wrong. Anum Gohar has a perfect personality, good height and modellish figure, therefore she can carry anything gracefully, provided the choices she makes are good. In drama serial Khaas, Anum Gohar got a decent amount of screen time and in almost all of her scenes, her clothing and overall styling was poor. The character of Nida came from a wealthy family and her mother as well as brother were always very focused on the outer appearances of people around them, so the kind of clothes Nida wore and the look she carried made her look like she didn't belong to this family.
Nida's character was of a simple young girl who was in love but it looks like Anum Gohar took the word 'simple' too seriously and then decided to translate it by mixing and matching different lawn prints which looked like they belonged to her personal super casual wardrobe and the plain black dupatta became a staple. In a few scenes Nida also wore formal dresses going by the occasions like her brother's wedding and family get-togethers and even in those scenes her dresses were bad. Anum Gohar also went for thicker fuller eyebrows and ended up filling them so much that they looked like the only prominent feature of her face. Anum Gohar needs to make better choices when it comes to clothing and she needs to figure out what kind of makeup looks best on her because she is naturally one of the prettiest actresses of the industry.
Ammara Chaudhry
Ammara Chaudhry has recently joined the drama industry but she is now being seen in a lot of different dramas. Ammara in the initial phase of her acting career, that is why she is definitely unable to figure out what looks good on her and how much is too much? In drama serial Balaa, Ammara's character was of a newly wedded girl who was dealing with toxic in-laws. Due to it being a short-lived character, she got away with the kind of styling she chose for herself however in drama serial Rishte Bikte Hain which is currently on-air, Ammara Chaudhry's styling is totally wrong. Ammara is playing a role of a university student in Rishte Bikte Hain, however she has gone for heavier cakey makeup look which is always about overly made up brows and blown out dark edged eye makeup look and full face of thick foundation.
Although Rida's character went through a transformation but her look before her decision of updating her look was far more realistic and believable. It is hard to believe that a university student, in the humid weather of Karachi is sporting a full face of makeup and fashionably braided hairstyles. Ammara Chauhdry is definitely one of those actors who need to cut down on the amount of makeup they wear and also improve their clothing choices because her overall look is not very appealing in the drama Rishte Bikte Hain. She is a good actor but giving her characters a realistic feel will add more substance to the roles she plays.
Anumta Qureshi
Anumta Qureshi is also a young new addition to the drama industry who has a lot of work in a short span of time. Anumta Qureshi usually plays supporting characters and the way she stylizes herself makes it obvious that she calls for attention a bit too much. In drama serial Kaisa Hai Naseeban, Anumta Qureshi's false eyelashes were the biggest distraction that her character carried. Anumta Qureshi loves glamour and she doesn't hold back in showing it, even if it fits the description of her character or not. Anumta Qureshi definitely should take a step back and opt for better choices, both in terms of clothing as well as makeup.
Arsalan Faisal
Arsalan Faisal is another one of those actors who puts in a lot of effort into looking good on screen but most of the times, his choices are off and do not do him a favor. Arsalan Faisal is naturally very fair so for him to rely this much on makeup which is detectable on TV screens is a poor judgment. Arsalan Faisal also tries hard to make his clothing look trendy but a lot of times his choices are not upto the par and are pretty much the same in almost every other drama. Arsalan Faisal definitely needs help and he also needs to stop trying so hard because that is one thing which will eventually work in his favor. Arsalan Faisal also needs to experiment a bit with his looks by changing his hair and beard styling because he not only looks the same in every other drama but the monotony is boring as well.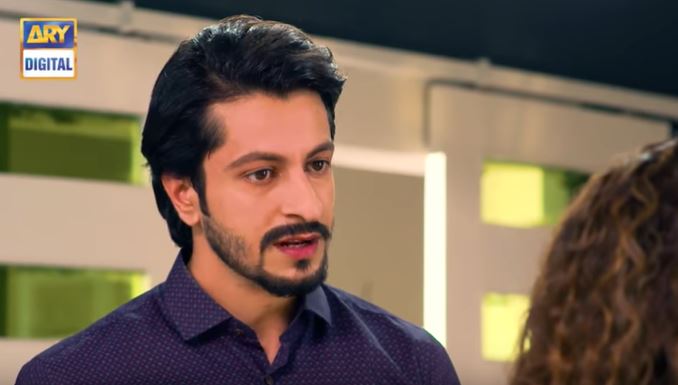 Saad Qureshi
Saad Qureshi is another actor from the younger lot who is very much focused on looking good on screen. Saad Qureshi does experiment with his looks a lot in order to give his characters a real feel but it also elaborates the fact that he is very fond of makeup. Saad Qureshi does not shy away from wearing foundation shade lighter than his skin tone in order to look fair on screen but the sad part is that he or his makeup artists forget to drag it down to his neck which make the difference between his made up and real complexion a lot more visible.
As much as it is a good thing for an actor to change his overall looks for different dramas, Saad Qureshi tends to go a little overboard in his clothing choices too because he seems made up and too overly done in all of his dramas. Saad Qureshi has worked hard to have the kind of body that looks lean and fit, however wearing t-shirts with broad and loose collars is an unflattering and poor choice. Saad Qureshi however did look really good in drama serial Meer Abru because he stylized his character the right way but yes, too much makeup there.
Saniya Shamshad
Saniya Shamshad has done a lot of work and she has proved her mettle as an actor however, the sad part is that even after so much of an experience and working with so many people, Saniya Shamshad has not really figured out what looks good on her and how much makeup does she actually need. In a currently on-air drama Rishte Bikte Hain, Saniya Shamshad's character screams OTT from every single angle. Saniya Shamshad has also gone for thicker fuller eyebrows following the current trend that is, but the sad part is that she has pushed them to such extent that they look unkempt and untidy. The amount of blush on and highlighter that she has worn is also something that does not really go with her character considering that she is in an unhappy marriage with a husband who is selfish and belittles her. The character of Hania comes from an affluent background but she is a simple-minded girl who has been raised with a lot of ethics and values, so to see her being overly glammed up like a doll, wearing the fanciest clothes makes it hard to feel for her character. Some of her clothing choices are definitely good but most of the times, she has worn the kind of dresses that make it look like she is ready to attend wedding reception of her best friend. Saniya Shamshad should definitely hire better stylists and makeup artist who know how to say no when she starts going overboard with her choices.
Minal Khan
Minal Khan loves to play the damsel in distress all the time and she doesn't want to break the monotony however, because she is a young girl at heart, she can not stop herself from adding in those girly choices to the overall look which do not really go with her characters. In all the promos of her dramas, Minal Khan relies on glycerine to fill the buckets with her tears, while still making sure that she clothes are fancy, her curls are perfect and her makeup is overly done. Minal Khan definitely needs to hire a better stylists who gives her characters a realistic feel and tells her what is going to look good on her and just how much does she needs. In a lot of her dramas, her clothing choice is questionable too because she wears such prints which are not really appealing. Minal Khan needs to make better choices for sure and needs to hire a different stylist.
What do you think about all these actors mentioned in the list above? Please feel free to add more names.