The novel CoronaVirus has taken over the entire world. The contagious disease has spread all over the world and after taking over the majority of the countries, it has struck Pakistan. Unfortunately, Covid-19 is at its peak in the country and with the vaccination being a few months away from being invented and widely available around the globe, the nation is suffering. Covid-19 is being taken lightly and despite the country going under lockdown, the disease continues to spread with new cases getting reported every single day.
Coronavirus is contagious and it is independent of age bracket, this is why children, adults and older people, no one is safe from it. As soon as the lockdown was announced in Pakistan in March, 2020, almost all the celebrities started observing social distancing and went into quarantine mode. However, there were a few celebrities who due to work-related commitments had to compromise and could not be in the lockdown for longer periods of time. This is how they ended up contracting the novel coronavirus and all of them are now self-isolating.
These are the Pakistani celebrities who have contracted CoronaVirus:
Shahid Afridi
A week ago, Shahid Afridi took it to twitter to let everyone know that he was not feeling well and after getting tested, his results came out positive. He urged everyone to pray for his health and speedy recovery. Shahid Afridi has been actively involved in charity work and probably ended up contracting it while on his way to work.
Vasay Chauhdry
Renowned TV host and writer Vasay Chaudhry also took to social media to announce that he tested positive for Covid-19. He felt no symptoms and continued to inform that fortunately, his family did not contract the virus. He went into self-isolation and acted responsibly by letting everyone that he came in contact with know about his results so that they could also get themselves checked. A few days later, he reported that he has fully recovered and his results came back negative.
Shahbaz Sharif
Leader of PML-N Shahbaz Sharif is also one of renowned politicians who tested positive for Covid-19. Not a lot of details were shared but his twitter handle is self-explanatory that he is observing self-isolation and encouraging everyone to stay safe after contracting the virus himself.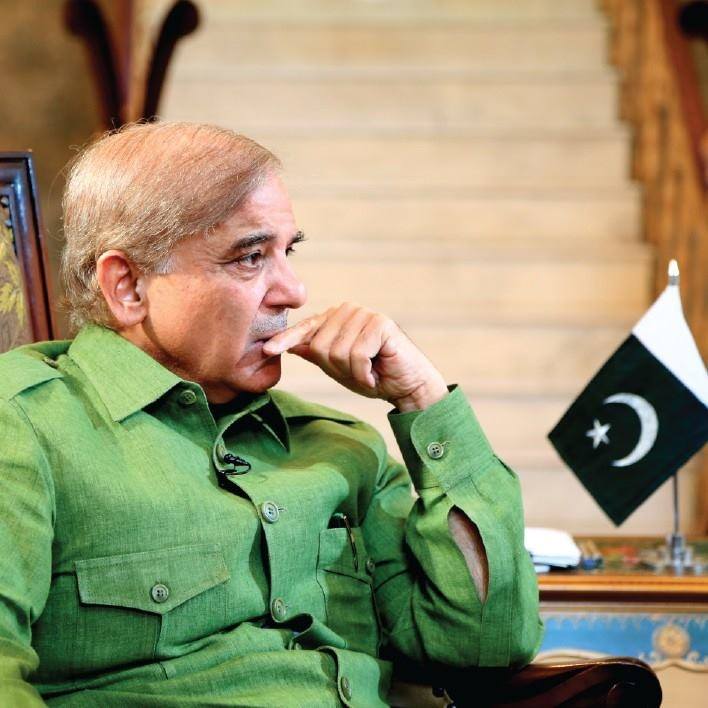 Bilal Maqsood
Famous singer and composer Bilal Maqsood of Strings also shared the news of him being Covid Positive. While having a Q&A session with his fans on Instagram, he replied to one of his fans that his results were positive whereas the rest of the family was doing perfectly fine.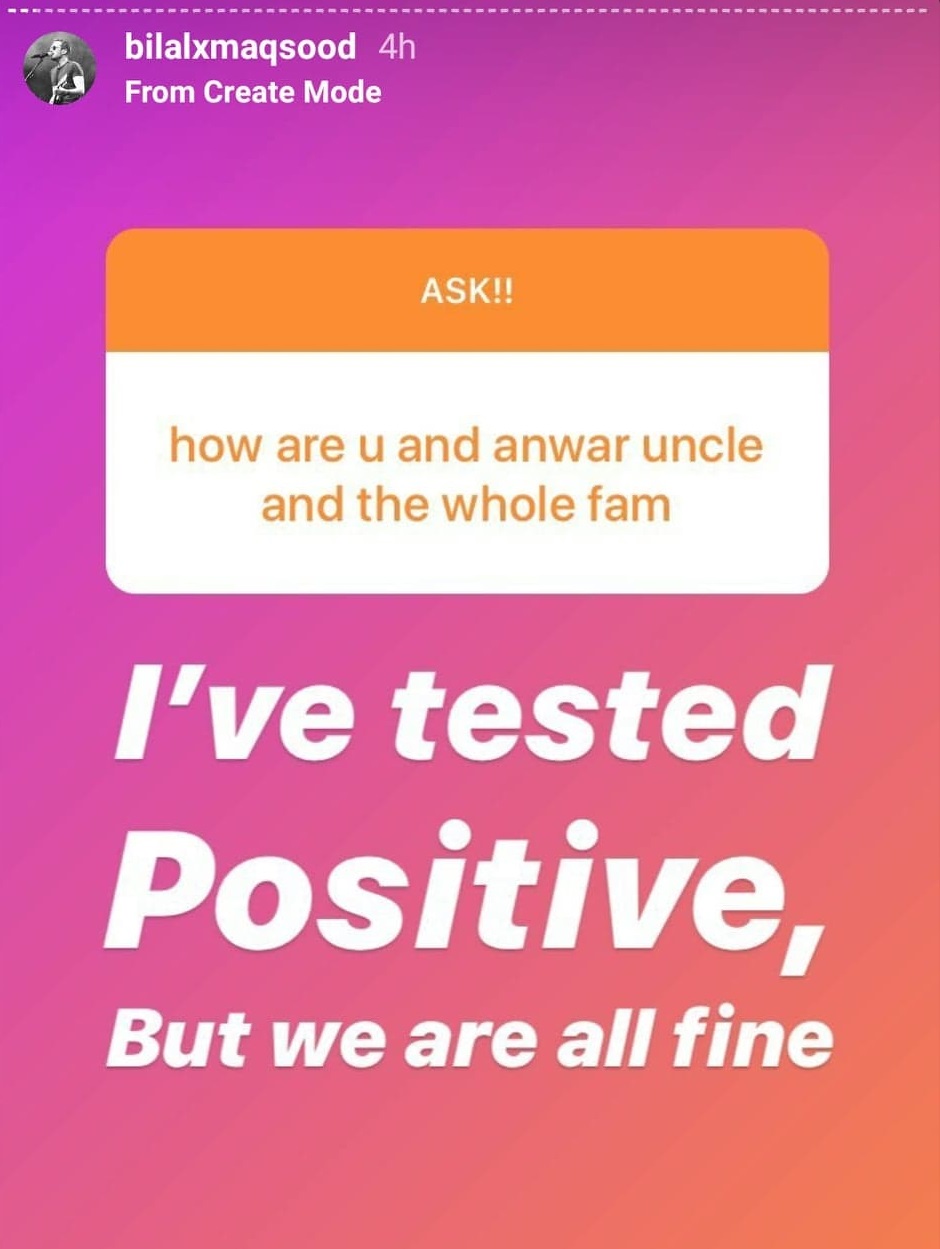 Faisal Sabzwari
MQM Leader Faisal Sabzwari also informed everyone through twitter that he along with his family had contracted the novel virus and requested everyone for prayers. He reported that his parents and first wife Amber Faisal, along with two daughters tested positive. A few days later his results came out to be positive as well. His second wife and TV anchor Madiha Naqvi and his middle daughter Haya Sabzwari did not contract the virus and were fortunately safe.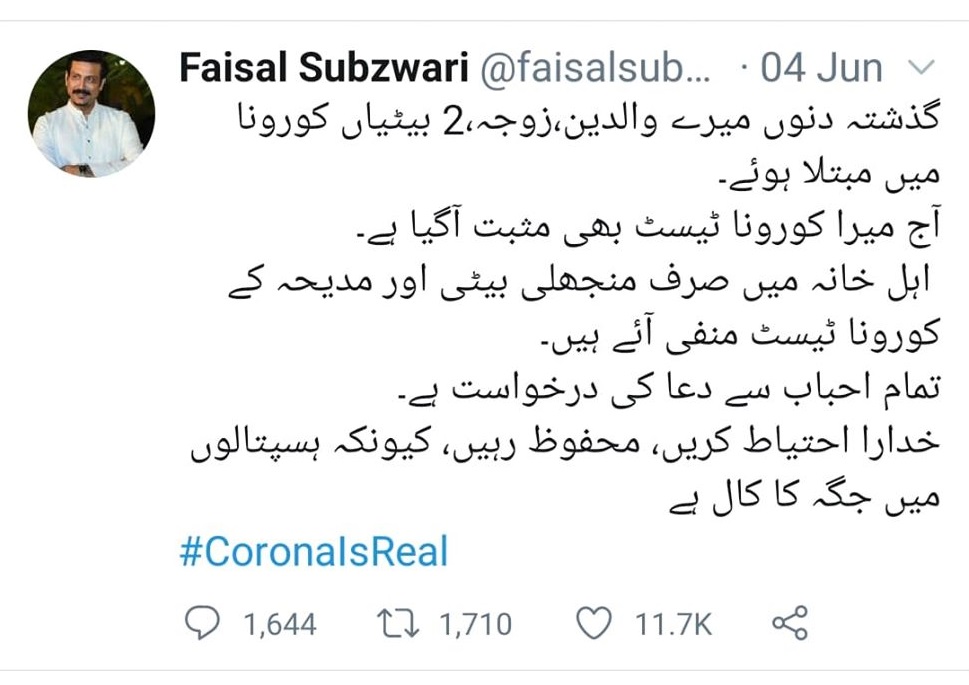 Nida Yasir
Nida Yasir took it to her social media to announce that after getting tested for Covid-19, her results came back positive. Nida Yasir has been self-isolating and is interacting with her fans and followers through Instagram. She has said that she contracted the virus from her husband Yasir Nawaz, however she does not have any symptoms. People assumed that because Nida was continuing to do morning shows even during the lockdown and recorded Eid shows beforehand, she must've contracted it from someone on the sets but she made it clear that it was not the case. Nida Yasir's daughter Sila Yasir also tested positive. Fortunately, her sons Fareed and Balaj's results came out negative so they are also in isolation while the rest of the family recovers from the disease.
Yasir Nawaz
Yasir Nawaz tested out positive and ended up being a carrier for his wife Nida Yasir as well as his daughter Sila Yasir. With Yasir Nawaz currently working on his on-going drama Mera Dil Mera Dushman, it is believed that he was continuing with his work while taking precautions but it still ended up being not enough to prevent the contraction. Yasir Nawaz seems to have mild symptoms but he is also with his family and recovering well. He took it to social media to announce that any rumors related to his health were wrong and that he was recovering just fine.
Naveed Raza
Naveed Raza also tested positive. It is unfortunate that the majority of the cast of Mera Dil Mera Dushman got affected by Coronavirus. The news of Naveed Raza contracting the disease did not make it to social media until Nida Yasir herself confirmed in one of the comments that out of the cast of Mera Dil Mera Dushman, Naveed Raza also got affected.
Noaman Sami
Nida Yasir was the one who confirmed that out of all the people from the team of Mera Dil Mera Dushman that she knew, Noaman Sami also contracted CoronaVirus. Noaman Sami himself did not make any statement about it however him being around a handful of affectees does make it seem that he too must've contracted the virus due to its contagious nature.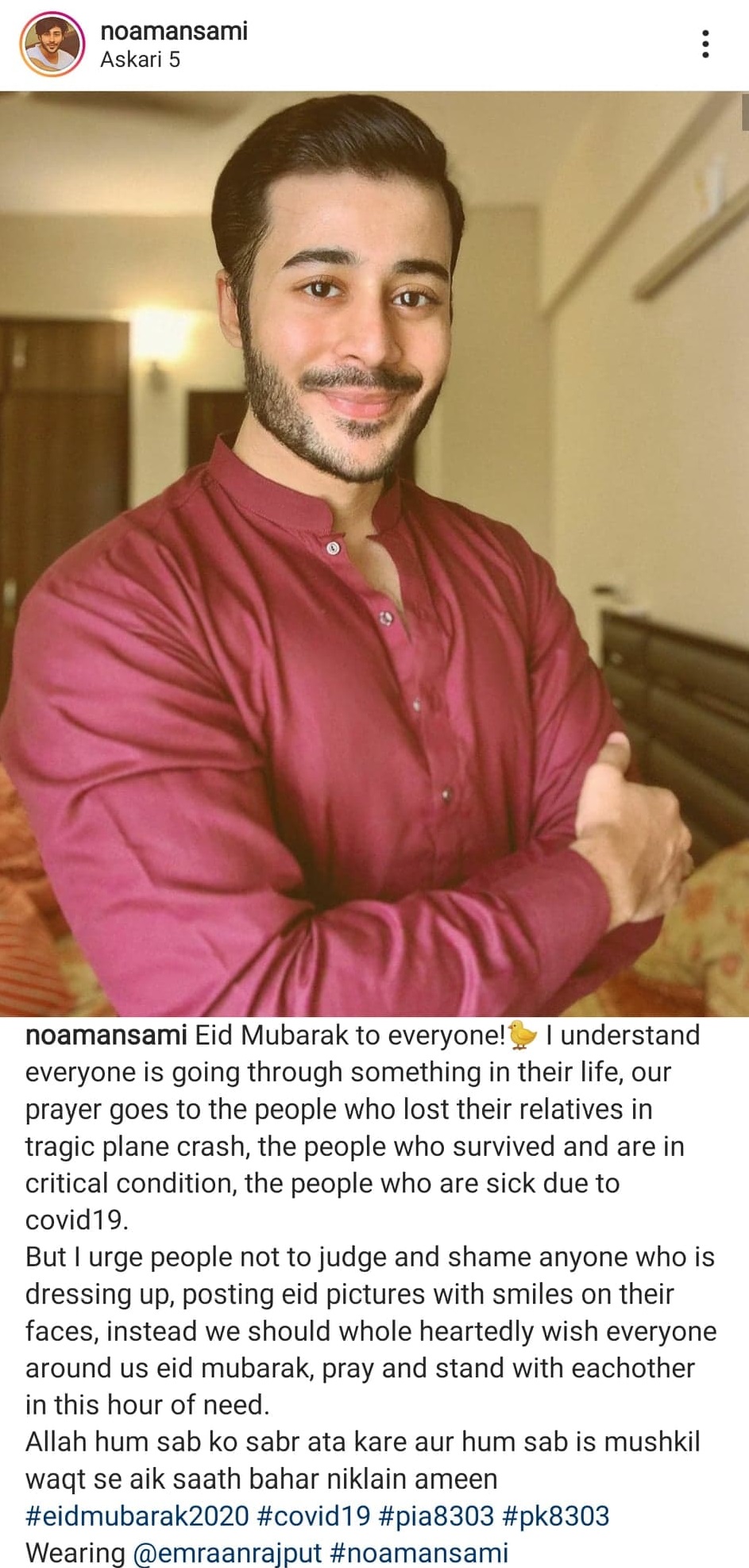 Alizeh Shah
Alizeh Shah also did not make any statement about contracting coronavirus but with her boyfriend Noman Sami and co-actors of Mera Dil Mera Dushman getting affected, it is highly likely that she too came under contact with the affected people and ended up having CoronaVirus. Alizeh Shah took a little break from the social media and now when she posted, it was mostly about how people take blessings such as health for granted, it was enough to believe that she must've had a rough time and is now doing well.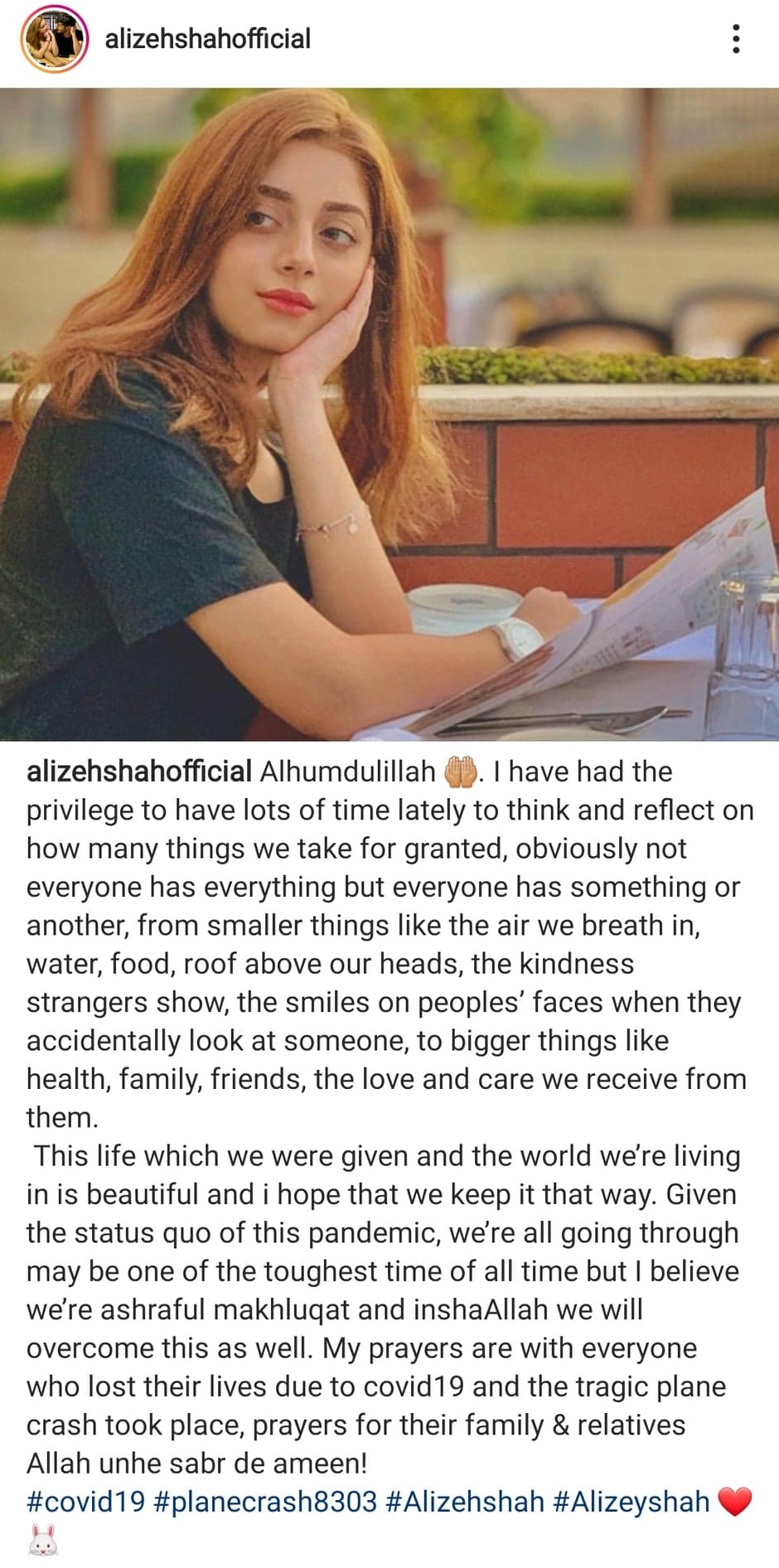 Abrar ul Haq
Abrar ul Haq himself took it to the social media to announce that he took the test for the Coronavirus and they came out positive. Before taking the test he already shared that he was having some symptoms and showcasing himself as a responsible person, he already alerted everyone whom he came in contact with to take precautionary measures. He also said that he is self-isolating but will continue to carry out his charity work through Skype sessions.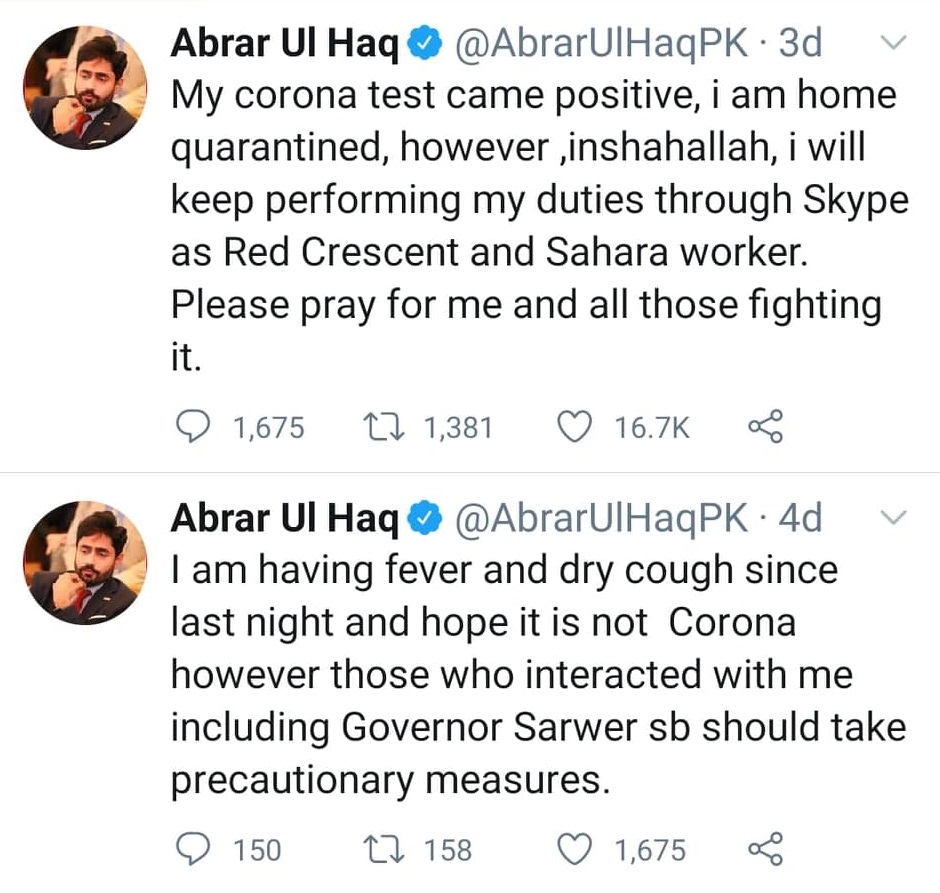 Rubina Ashraf
Rubina Ashraf happens to have also contracted coronavirus. The news of her alongside actor director Sakina Samo started circulating on social media. Ever since Rubina Ashraf has not made any statement but Sakina Samo's recent post being hopeful does confirm the news to be true.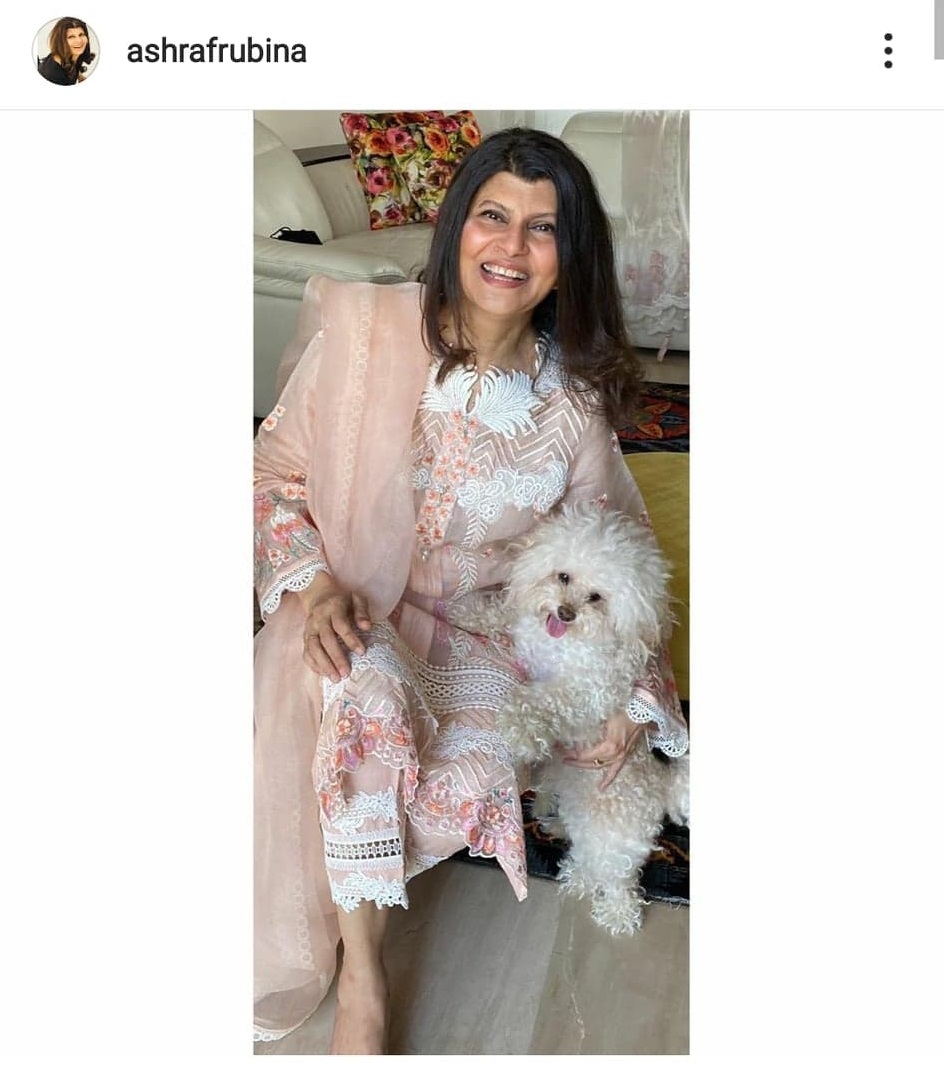 Sakina Samo
Sakina Samo also contracted Coronavirus. However it was unfortunate that in this time of self-isolation, the news of her passing away started circulating and it turned into a nightmare when journalists tried to contact her, while completely ignoring her wish to remain silent during tough times. Sakina Samo posted a picture of her and Rubina Ashraf, being hopeful that this too shall pass.
Maria Memon
Journalist Maria Memon also contracted Coronavirus. She decided to take it to social media and instead of worrying about how she was going to overcome it, she will use this as an opportunity to turn it into a dialogue. She has been keeping everyone updated about what she is feeling and the starter pack that is required to help with the sufferings.
Gharida Farooqi
News Journalist Gharida Farooqi also took it to her twitter to announce that she had developed mild symptoms and upon getting tested, she found out that the results were positive. She bravely stated that there was no shame in contracting the virus. In fact what was important was to self-isolate, report it and treat it rightly.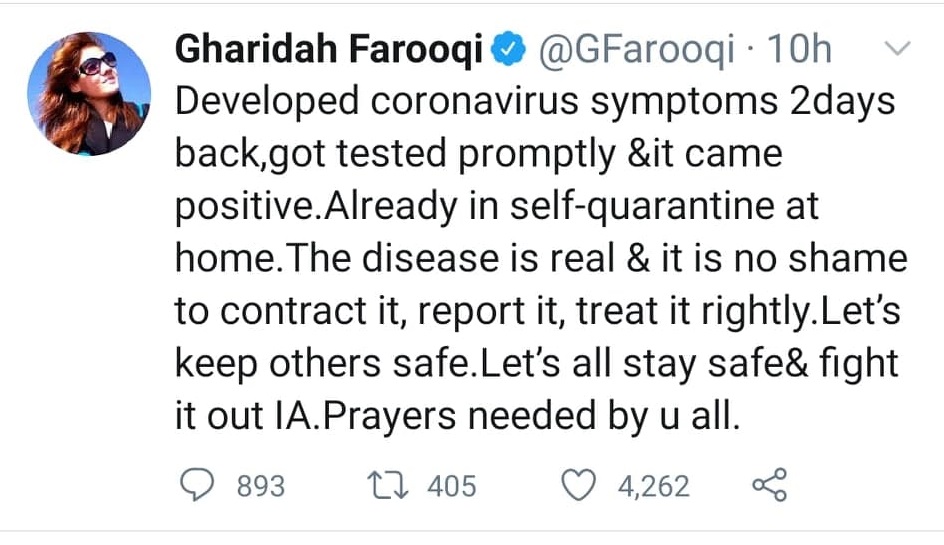 These are the celebrities who have contracted CoronaVirus recently. We wish speedy recovery for all of them and pray they regain their health swiftly.