There is no denying the fact that over the years, Pakistani celebrities have become fashion icons and divas. The more Pakistani celebrities started joining the social media platforms, the more they realized how important their presence for their fans and followers was. This opened a whole new domain for the celebrities to bring in impressive pictures in order to stay connected with their fans. Exactly how social media is now an important part of celebrities worldwide, it is no different for Pakistani celebrities.
Over the years, all the celebrities are taking their social media presence seriously and they actually put in a lot more effort to come up with impressive photoshoots, experimenting with their looks and styling, and then getting such pictures that they know are going to be loved by their fans. During the course of it, Pakistani celebrities have now become a focal point of inspiration for so many young girls out there. This also gives fashion labels and designers to showcase their creations on actresses every time they make a public or television appearance or even for their personal photoshoots.
In recent times, a lot more Pakistani actresses are seen getting comfortable with the idea of wearing suits. Where some of them wear suits for editorials and photoshoots, some are also seen wearing them for TV appearances. With this, the fashion designers in Pakistan have proved that there are no cuts, styling, and fittings that they haven't been able to master and this is why Pakistani celebrities are seen wearing western attires designed perfectly by Pakistani fashion designers. This is a new trend which definitely is going to go further and is going to inspire all the young girls to upgrade their wardrobes and add a few suits for when they feel like wearing them.
Here are the pictures of Pakistani actresses in suits:
[lwptoc]
Anoushay Abbasi
Anoushay Abbasi decided to glam it up. She decided that there was no way a suit couldn't be fun and quirky. She wore a metallic blue suit with a black fitted top. Stilletoes completed the look and when it came to her hair and makeup, she decided to keep it glamorous. This entire look is perfect for evening meet-ups and is definitely going to get you a lot of compliments.
Ayesha Omar
There is no design, no silhouette that Ayesha Omar has not worn. She is one such Pakistani celebrity who is not afraid of experimenting and then carrying different outfits confidently. She not only chose to wear this bold printed suit but also mentioned how much she loved it. Ayesha also kept her styling chic and classy with her hair straight, statement earrings, and black stilettoes. This entire look is chic and class rolled into one.
Ayeza Khan
Recently Ayeza Khan was also seen wearing a bold striped suit. Who would've thought that the same Ayeza who carries the heaviest of bridal gowns so effortlessly could also do justice to such a modern and fun look? Ayeza Khan looked like your stylish boss who was ready for the day. A pair of sunglasses, strapped heels, a slouch bag, and diamond studs; this entire look screamed boss lady to us.
Iqra Aziz
Iqra Aziz is one such Pakistani celebrity who liked to wear suits during public appearances. She recently wore this for a gathering by NASFF where all the big celebrities came together in order to inspire the young talent to come forward. Iqra's styling was simple and elegant. She definitely carried this look perfectly. She also wore a sleeveless pink blazer and pants, making it obvious that suits can also be fun in color.
Mahira Khan
Mahira Khan also decided to wear suits during her international public appearances. She went to Twitter headquarters while she was promoting her movie and decided to wear a loose-fit blue suit. This entire look was effortless yet stylish. She also wore a similar hued suit in Cannes which had a button stud design detail to it, another suit, another perfect look.
Maya Ali
Maya Ali has so far worn three different suits but all for the photoshoots. She has definitely carried these suits with the utmost style and elegance. Where she also decided to experiment with her hair and makeup, when it came to the suits, she wore them confidently. Maya Ali's take on these suits is enough to show that there are no hard and fast rules because suits can be fun and worn to match your taste and styling sense.
Minal Khan
Minal Khan posted a picture on her Instagram wearing a suit which was designed by her own fashion label Aiman Minal Closet. It goes to show that their brand has a vision and is catering to working women as well. This entire look of Minal Khan was classy and stylish.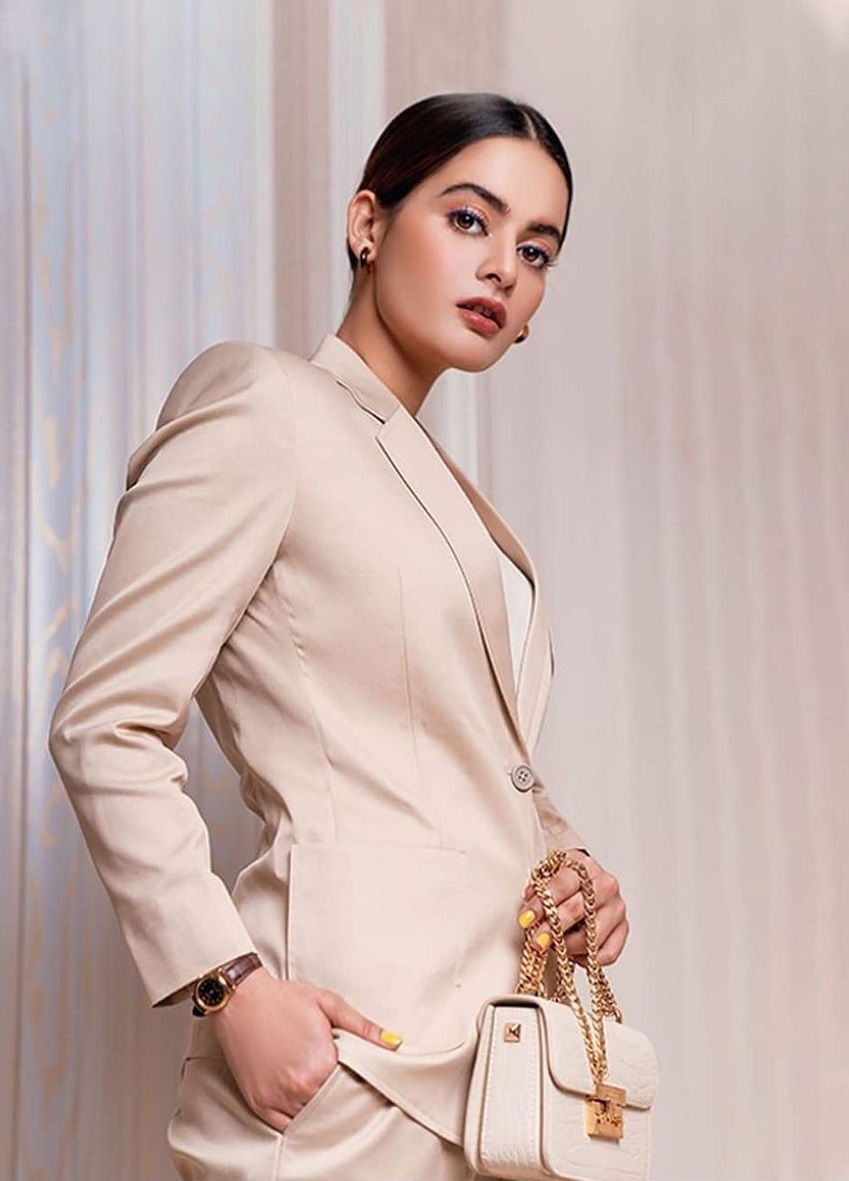 Nimra Khan
Nimra Khan showed everyone how it's done when she appeared wearing a chocolate brown suit during one of her TV appearances. She wore her hair in curls and kept her makeup fresh and minimal. She added a few accessories like a pendant, rings and decided to complete the look with black stilettos. Nimra Khan looked uber chic in this entire look.
Saba Qamar
Saba Qamar has also worn suits for different photoshoots but she has shown that there is absolutely nothing that doesn't suit her. Be it a lehenga, a gown, a dress, or a suit, she can look stylish and classy in any outfit that she picks. These three different looks of Saba Qamar are enough for fashion inspiration.
Sajal Aly
Sajal Aly wore a black velvet suit to an award ceremony held in UAE last year. Sajal Aly won an award and was super proud to be the only Pakistani winning the prestigious award. Sajal Aly did wear a suit but this entire look wasn't much appreciated by her fans and the public in general. However, she carried it with confidence and looked stunning.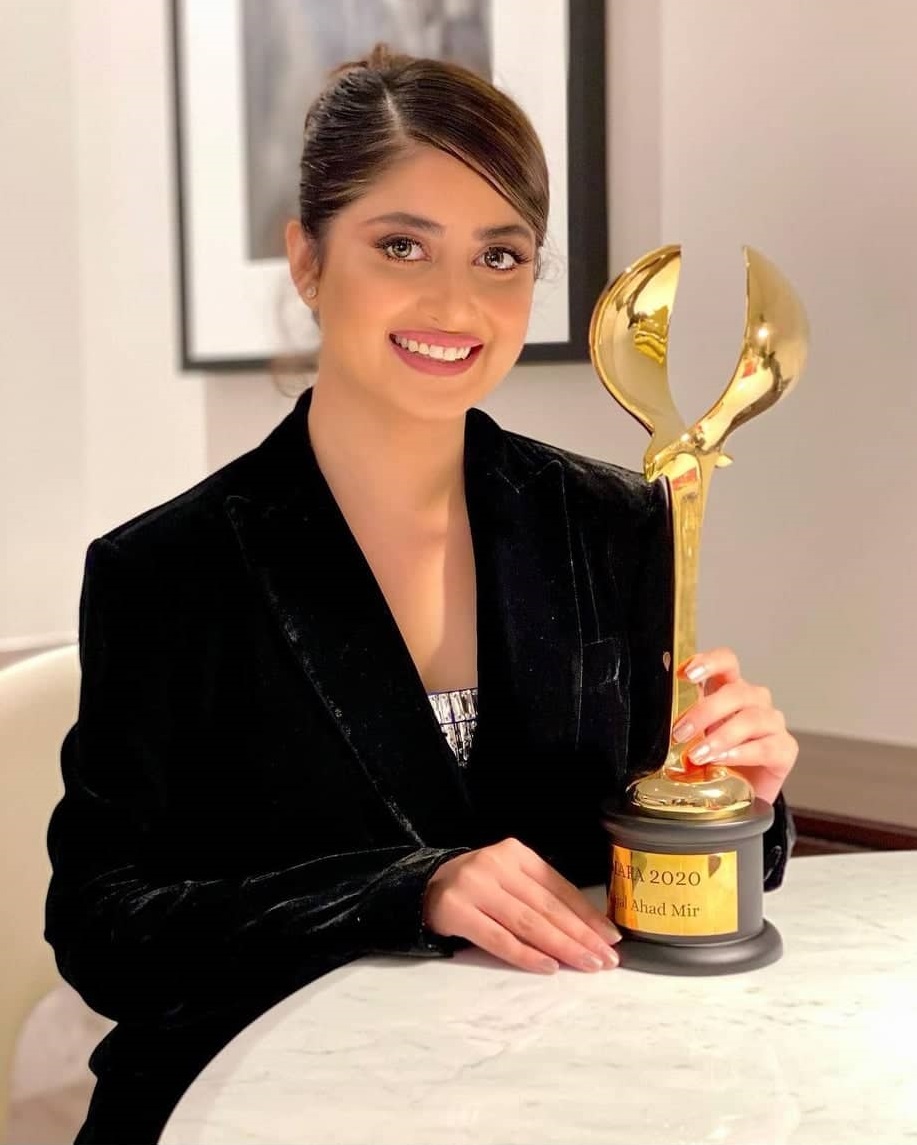 Yashma Gill
If there's one celebrity you should go to in order to understand how to make a suit work, it is Yashma Gill. She has worn suits on different occasions and shows that just throwing a coat over your T-shirt can also be a style statement. Be it sparkly earrings, high neck, or sparkly Cinderella heels, there is nothing that Yashma Gill can't make it work in harmony with her choice of suits.
Zara Noor Abbas
Zara Noor Abbas has also worn suits for certain photoshoots. So far she has gone for a monochromatic look and has carried them gracefully. She can definitely experiment with the colors and we are sure she will look stunning in them too.
This completes the list of those Pakistani celebrities who have worn suits over a period of time. Whose look do you like the most? Feel free to share your views.