As already known that the Pak- India tension is increasing day by day. In result of this tension the Indian Motion Picture Producers Association (IMPPA) has simply "banned" Pakistani stars including singers, actors and technicians from working in India till "normalcy".
This resolution was passed during the annual general meeting of the association.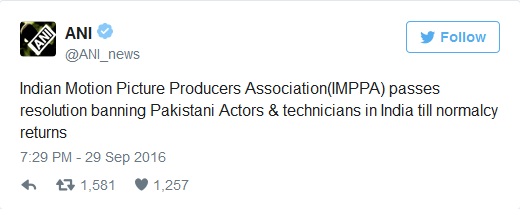 The president of the IMPPA, TP Aggarwal said, "We've passed this decision in the AGM today on the demand of all the producers. Henceforth, till the situation is okay between the Pakistani and Indian governments, we will not hire any Pakistani artist, technician or singer. We will maintain this till the relations between Pakistan and India are okay. The AGM at IMPPA House in Mumbai was attended by more than 200 film producers".
The resolutions was passed due to the 48hours deadline given by the nationalist party Maharashtra Navnirman Sena (MNS) to Pakistani celebrities to leave India. Though no prominent Pakistani artist is in India at the moment, upcoming concerts of Shafqat Amanat Ali and Atif Aslam have been cancelled.