There are so many Pakistani celebrities who have been around for decades yet they always look great even now. Over the years, some of these celebrities have even improved their looks in many ways. All of these celebrities are talented and naturally beautiful. They also have a great sense of style and are obviously they are conscious about their looks because, without it, they couldn't have kept their youthful looks alive. Amazingly enough, some of these Pakistani celebrities look better at 50 than they did in their 20s. Whenever they appear in interviews, they are always asked how they managed to stay young for so long. The secret to their youth is their good eating habits and also a lifestyle which keeps them stress-free.
Good looks play a major role in the world of showbiz but looks alone do not get anyone far because the combination of good looks and talent is the only one which is needed to make it big in the industry. All of the actors in this list have been part of some of the biggest dramas in the industry and they have also contributed to the film industry. Some of them have been criticized by others because some people feel that their good looks have contributed more to their career than their talent. The truth however is that all these celebrities have worked hard to get where they are and even now they are playing leading roles in dramas. These celebrities also have a lot of fan following.
Here are the top 10 Pakistani celebrities who refuse to age. This article also contains the tips and tricks they shared to stay fit. What is the secret to their beautiful glowing skin? How do these Pakistani celebrities look fresh even though their work is really demanding? Read the article and find out.
[lwptoc]
Mahnoor Baloch
There is a really good reason why Mahnoor Baloch is on the top of this list. She has been around for decades yet she still looks like she is in her 20s or 30s. Mahnoor Baloch is actually in her 50s but you can't tell that by looking at her. Mahnoor recently got into a controversy when she posted many pictures of her eating sugary treats. People thought that she was giving the wrong impression by posting such pictures to all those people who follow her diligently.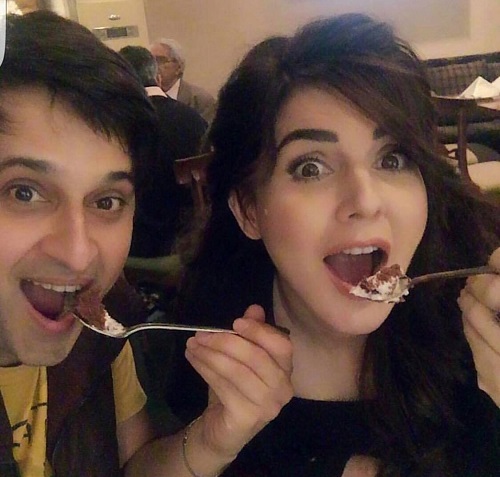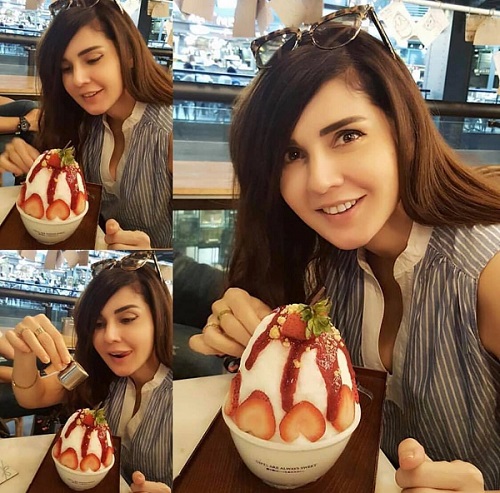 The truth is that Mahnoor Baloch is diet conscious which is the reason why she looks so good even at this age and is seen playing leading roles in many dramas. In an interview Mahnoor Baloch shared that the secret to her good looks was that she makes sure that she drinks a lot of water on daily basis and exercise is a must for her. She exercises for 30 minutes 5 times a week. Other than that she always adds supplements to her diet along with cutting out sugar, wheat, and processed foods from her diet.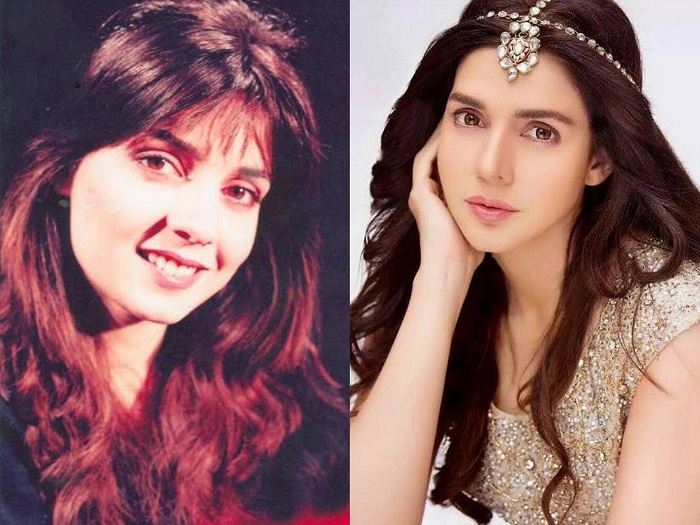 Mahnoor Baloch also shared that mediation and yoga help her fight with the stress in a healthy way. Mahnoor Baloch also goes all out to take care of her skin. For her the most important skin ritual is keeping her skin squeaky clean, taking the make up off is more important than putting it on. Mahnoor Baloch also uses sun block which in her opinion is really important for good skin care.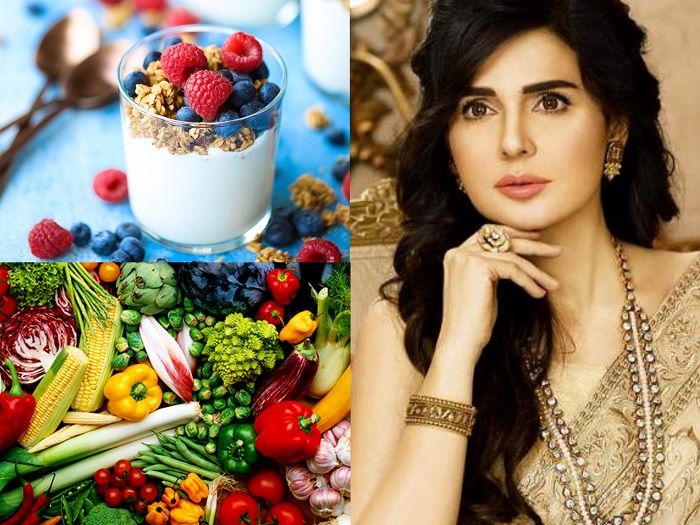 Mahnoor Baloch prefers brown rice to white rice. Yogurt and vegetables are an important part of her diet too. She has been seen promoting some multivitamins also which she feels helped her a lot in staying young and are essential for all those people who want to stay young.
Reema Khan
Reema Khan has not only kept her weight in check but she is also one of those celebrities who always look fresh and young. When you see a picture of Reema Khan from more than 10 years ago and one from recent times, you will see that she looks as young today as she did before. Reema Khan ruled the film industry for the longest time and although she has moved abroad she keeps on hosting shows. Reema Khan also follows a strict routine of healthy eating in order to ensure that she always looks great. There was never a time when Reema gained extra weight, the reason for that is that her healthy lifestyle is constant.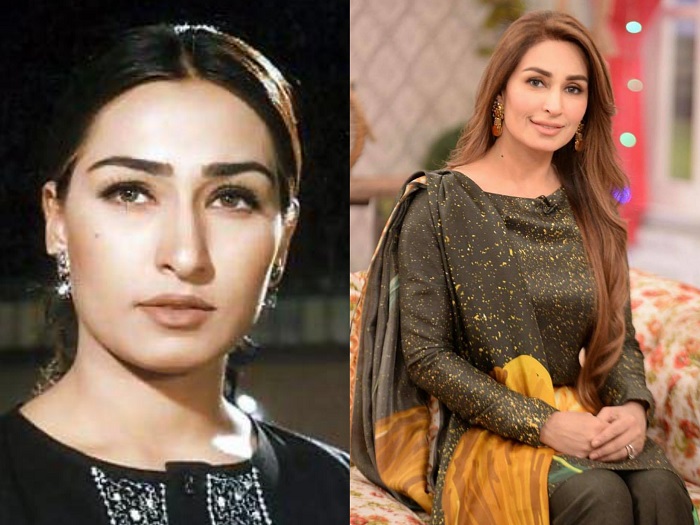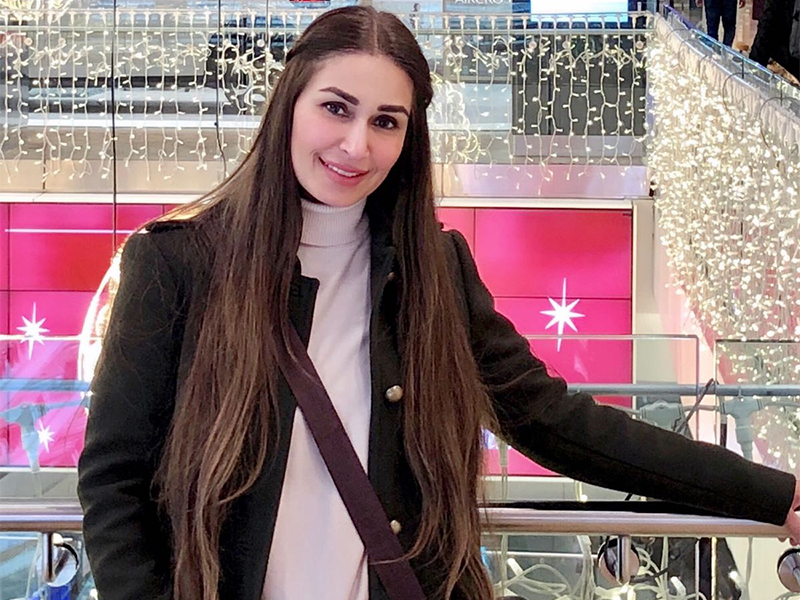 Reema Khan shared her healthy diet in a morning show. She said that she always eats roti made with whole wheat pure chakki atta. She also mentioned that she makes her roti herself. Reema keeps the size of her roti small. The one tip Reema swears by is that before eating anything at all if people start drinking two glasses of water then they will automatically eat less. Reema Khan also suggests that people who can't drink tasteless water should add cucumber, lemon and mint leaves to it for some taste and it will also serve as an antioxidant.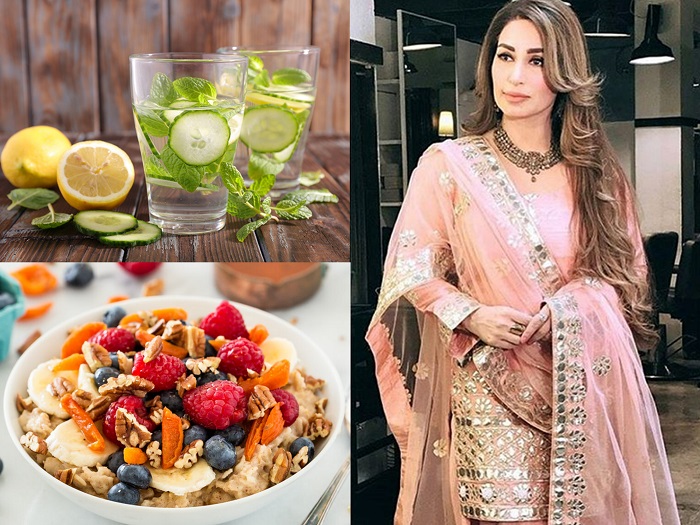 Reema Khan's favorite breakfast is oatmeal cereal with healthy nuts in a small quantity. This is followed by any seasonal fruit or yogurt as a snack. Reema eats a big serving of salad for lunch which has all the healthy vegetables and fruits. She also shared that she eats roti only at dinner time which is really early. These are the tips that Reema gave her fans and followers for a healthy lifestyle.
Adnan Siddiqui
Adnan Siddiqui looks as young and graceful today as he did so many years back. This is the reason why he is seen playing leading roles with young heroines even now in dramas. Adnan Siddiqui's fitness is usually the center of discussion in the interviews he gives. He strictly believes that age is just a number especially when one is willing to work hard to stay fit.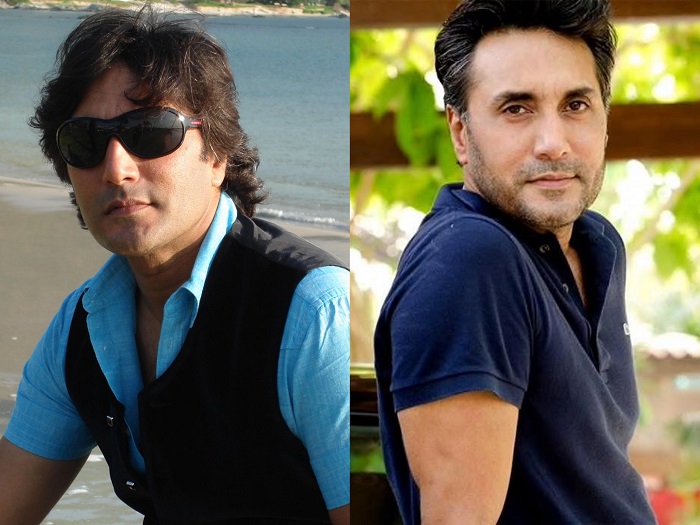 Adnan Siddiqui shared the secret to his youthful looks in a few interviews. While giving an interview to The News, he shared, "I take care of my diet and eat good food. I have my breakfast really early, lunch around 12:30, and have my dinner around 7ish. Whatever I consume after dinner is without carbs." Surprisingly enough, Adnan Siddiqui eats everything even nihari, paye, and sweet treats but the secret to his fitness is that he consumes all these food items in small portions.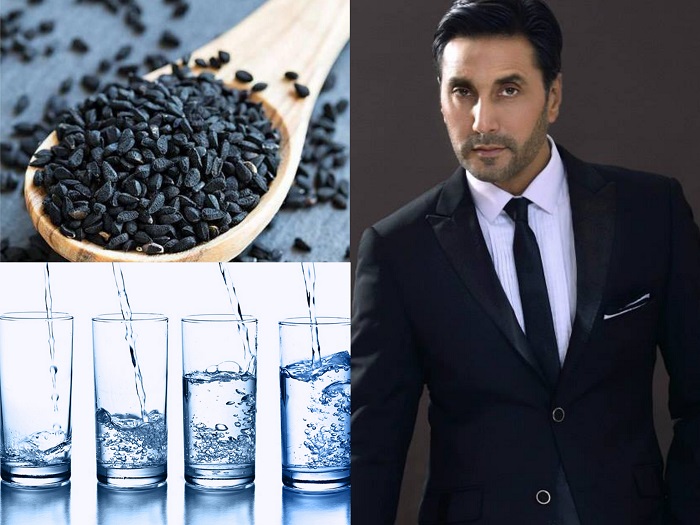 Avoiding fizzy drinks and replacing juices with fruits is the reason why Adnan Siddiqui looks so young and fit even now. Adnan Siddiqui also does workout for at least 20 to 30 minutes every day. In the same interview he revealed, "In my opinion, weight training is the most discouraging sport. I instead prefer bodyweight exercises that include push-ups, crunches, etc." Adnan Siddiqui also told in an interview that he loves cooking and he has the easiest cooking recipes. Drinking a lot of water and eating kalonji is another fitness technique that Adnan follows.
Nauman Ijaz
Nauman Ijaz has proved his excellence as a powerful performer over and over again. Nauman Ijaz is a wise man who knows only too well that in the world of showbiz talent alone does not get you too far but good looks and talent are the winning combinations to get all kinds of roles. While Nauman Ijaz never shies away from taking up roles much older than his age and he has no wish to be seen as a stereotypical hero on television all the time but still he knows what it takes to stay in the business as the most sought after actor. Except for getting a hair transplant done many years ago, Nauman Ijaz has never taken help from plastic surgeons to look young and fresh. Here is a picture from more than a decade ago and one from a recent interview. Nauman Ijaz's skin and his entire face are just as fresh as it was so many years before.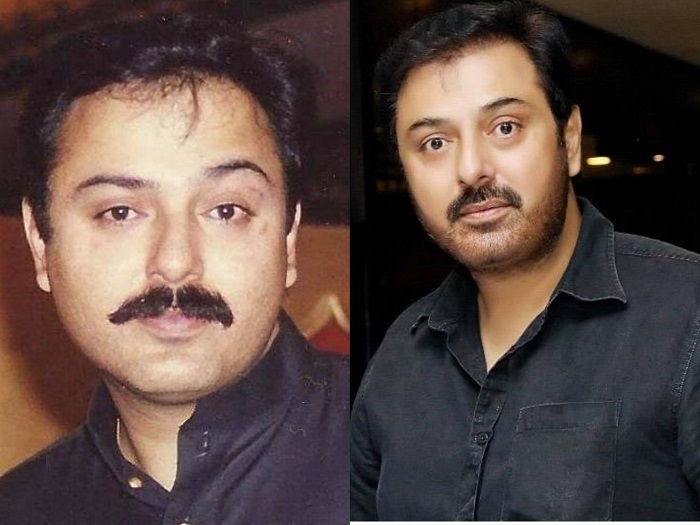 In an interview, Nauman Ijaz shared that he follows a strict diet and tries to avoid unhealthy foods. Nauman Ijaz even used to do regular exercises for his eyes for years when people started noticing and appreciating his eyes. He says that it is important that we should all know what our strong points are, which features on our face can be enhanced to look even more appealing.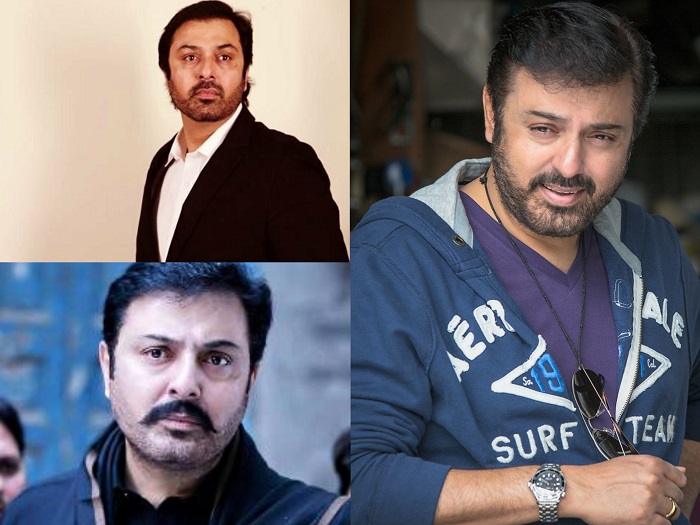 Nauman Ijaz belongs to the old school of thought which is why he is continuously seen criticizing social media. He also believes that social media has turned into a shortcut to fame and has demotivated people in the sense that they don't want to work hard. Nauman Ijaz has stayed so fit by staying focused on his goals.
Hadiqa Kiani
Hadiqa Kiani has been around for several decades and in all these years her sense of style has only improved in so many ways. Hadiqa Kiani is 49 years old yet she looks as young today as she did when she joined the industry. Hadiqa Kiani is not only a wonderful singer but also a strong woman who talks about real issues very often. She is also a single mother who takes pride in bringing up her son all on her own. She has often talked about her experiences on social media and in interviews.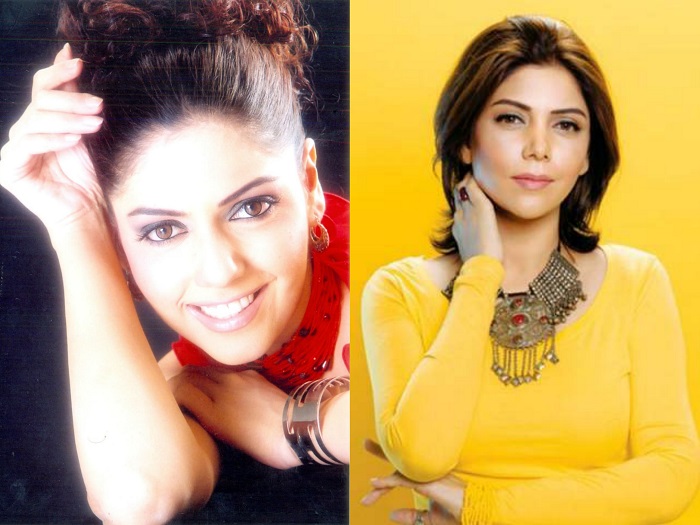 Hadiqa Kiani also has a proper healthy routine which includes clean eating and proper exercise under the supervision of trained professionals. Glute bridge, modified push-ups, squat thrust, and shin box are some of the exercises which Hadiqa Kiani does on regular basis in order to look great. Hadiqa Kiani also travels a lot which helps her spend quality time with her son and get a break from her work routine.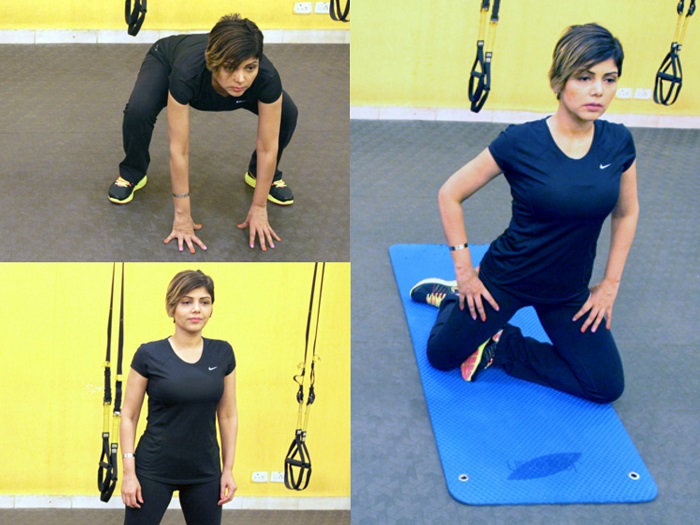 Hadiqa Kiani looks fabulous at 49. She is definitely an inspiration for all those people out there who want to look young even in their late 40s.
Sajjad Ali
Sajjad Ali is one of the best singers in the Pakistani entertainment industry. We have all been watching him on our television screens for the longest time now. He always looks young and vibrant whenever he makes an appearance in a video or on television. If we look at Sajjad Ali's pictures from decades ago and a recent one, there is barely any difference in his looks. He still looks young and more graceful than ever.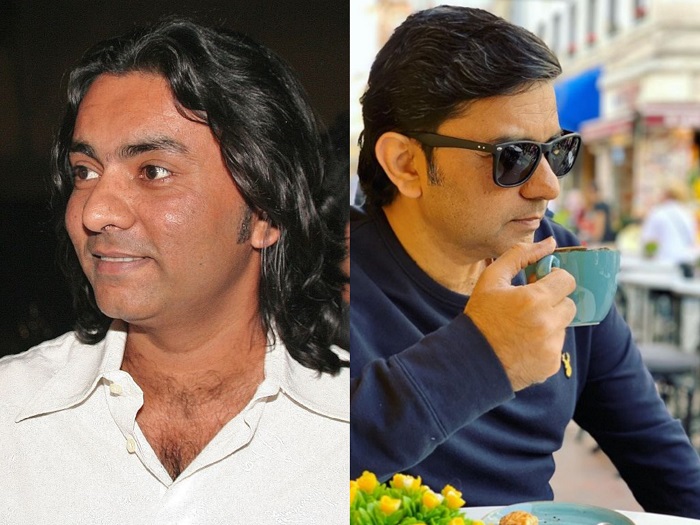 Sajjad Ali still has the thickest hair and the perfect skin for his age. He is now passing on his legacy to the younger lot and chose not to become part of the commercial music scene. He has made appearances in Coke Studio but overall he prefers doing his own thing. He stole the show with his live performance at the HUM Awards last year.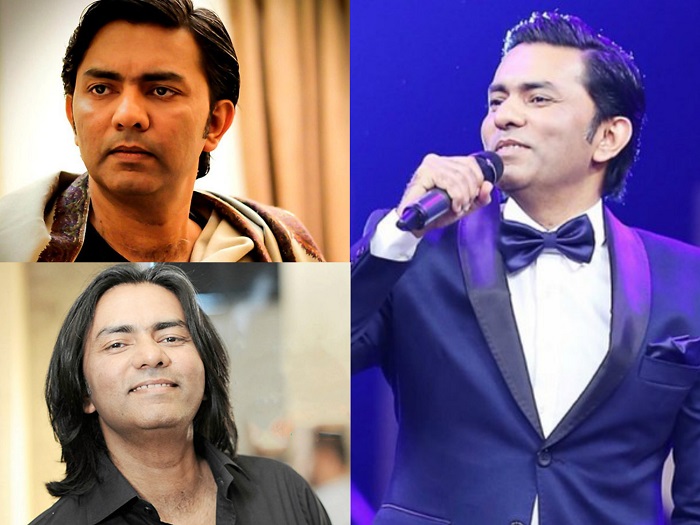 A singer who is unmatchable, Sajjad Ali still looks great at 53. We wish he would share with us the secret to his youthful looks.
Zeba Bakhtiar
Zeba Bakhtiar is extremely beautiful, and she has also retained her youthful looks for so many years now. She is an actor, director, and producer, most importantly a woman of substance with a very clear vision. Many people might not know that Zeba Bakhtiar has type 1 diabetes, a condition that does not allow her to be careless with her diet or routine. Zeba Bakhtiar is someone who has not only stayed young but she also looks better than ever now on award shows and when she is endorsing different brands in fashion shows. Zeba was also the Pond's Miracle Mentor for 2016.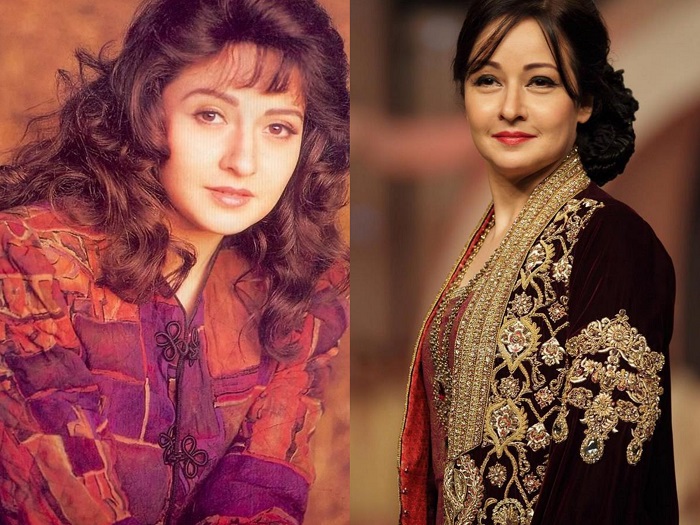 While talking about her diet and the secret behind her beauty, Zeba revealed that she loves to eat and sleep but she never overeats and always sleeps on time. She also shared that extreme diets were a complete no for her and that she always sleeps on time. Zeba does not and cannot stay up till late. She also shared that she keeps her meal timings and routine in check, always. Apart from this, exercise is a constant part of her daily routine.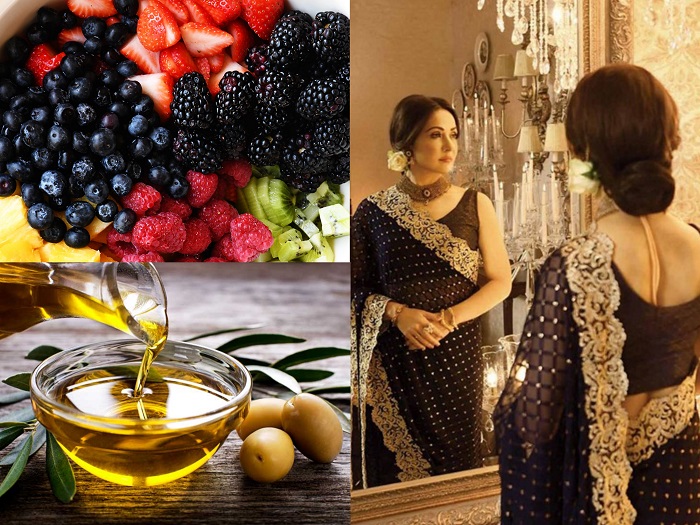 Another reason why Zeba Bakhtiar looks great at 59 is that she eats a lot of vegetables and fruits. She thinks that vegetables and fruits keep the skin fresh and keep it from sagging. She also shared in an interview with Express Tribune that she never uses any chemicals for cleaning her skin and uses olive oil as a natural cleanser. For her hair, Zeba uses almond oil. Using all these natural ingredients is the main reason why she still looks so young and radiant.
Faysal Qureshi
Faysal Qureshi was actually quite overweight and unfit when he joined the industry. His acting skills however were always on point which is why he never had a problem making a name for himself. Soon after joining the industry Faysal Qureshi realized that he needed to get fit because apart from good acting, looking like a hero would help him further his career. That is when with the help of a few friends, he changed his lifestyle altogether.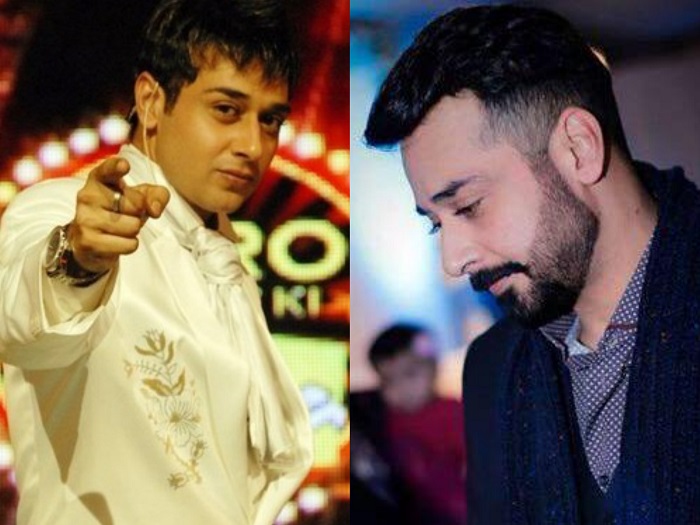 Faysal Qureshi especially starting taking care of his health after he turned 40. He looks great now after putting a lot of hard work into it. Faysal Qureshi thinks that a good workout with variations plays an important part in weight loss and in keeping him fit and healthy. He also believes that a balanced diet is the key to success. Faysal Qureshi shared in an interview that he feel he needs to take care of his body because his work is really demanding so if he is not fit, he will not be able to do everything he is doing today. Faysal Qureshi has a really valid point there because surely no one can lead an active life if they don't have the stamina to lead such a lifestyle.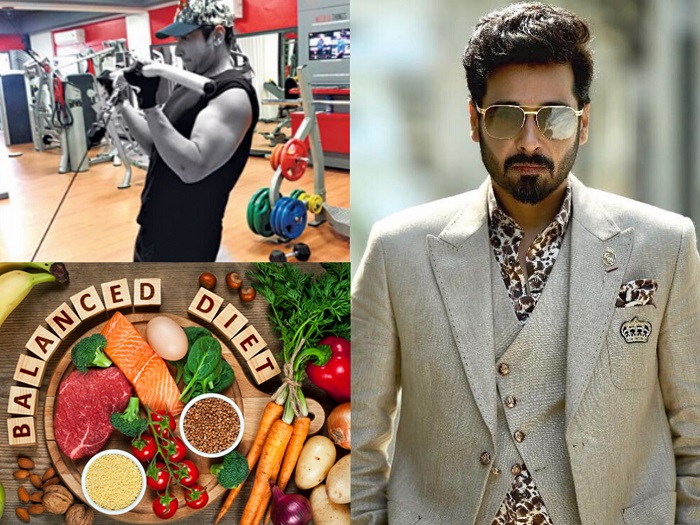 Faysal Qureshi admits that without the support of friends like Aijaz Aslam, he wouldn't have made it this far. Therefore, being around people who share the same fitness goals makes a big difference in ultimately achieving these goals. Faysal Qureshi makes sure that he exercises an hour every day.
Sahiba
Sahiba has not changed in the past few decades, which is why even at 47 she looks like she is in her early 30s or late 20s. Sahiba makes a conscious effort to stay young. She has talked about how seriously she takes her fitness because she wants to look young and fresh for long.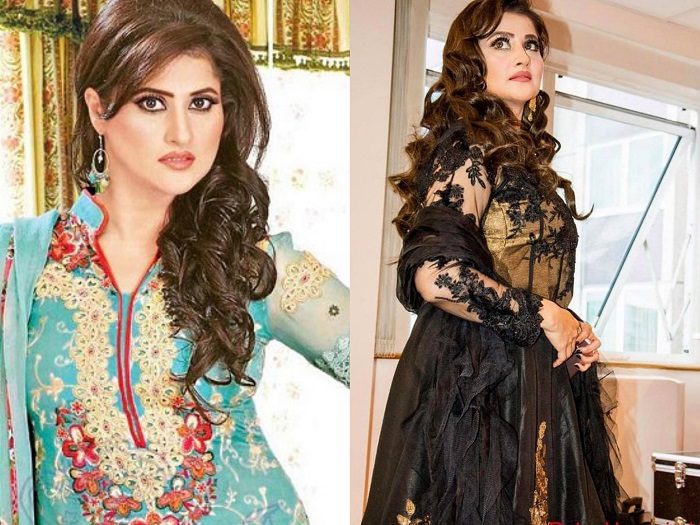 Sahiba shared her complete meal plan in one of her videos. She shared that she starts her day with a special drink which includes chia seeds and lemon. This drink is known to kill fat cells and it is also a natural antioxidant. Her breakfast consists of two boiled eggs, one with yolk and one without, and multigrain bread. Sahiba also has a cup of tea in the morning with a very little quantity of skimmed milk. Sahiba believes that fruits are the best snacks therefore she has any low-calorie seasonal fruit as a snack between her lunch and breakfast to curb hunger. Sahiba recommends red beans with lots of salad as lunch for rapid weight loss. She has lemongrass tea instead of regular tea in the evening. For her dinner, she has either baked or grilled fish or chicken with salad. Sahiba also eats brown rice because it is low in calories. Another important tip that Sahiba believes should be followed in order to look young is to add a tea spoon of aloe vera to your regular curries.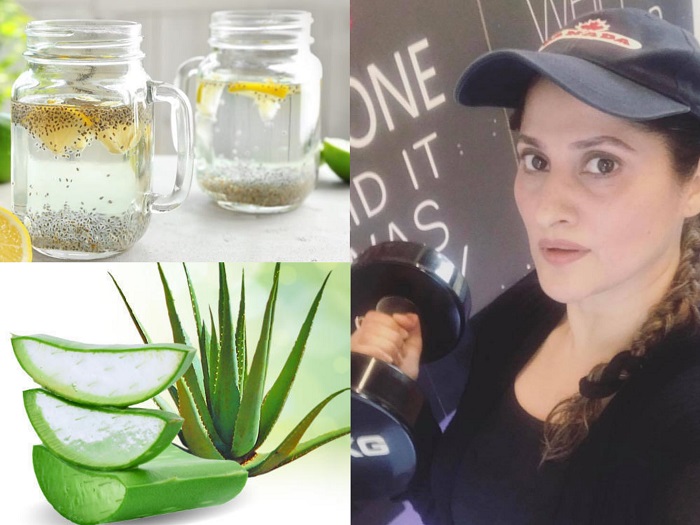 Sahiba is one of those few celebrities who have no qualms in sharing the tips and tricks they use to look young. Sahiba also shared that she swears by apple cider vinegar, which she drinks before going to bed. She also works out to stay fit.
Humayun Saeed
This list will be incomplete without Humayun Saeed who literally refuses to age. Humayun Saeed's age is continuously the topic of discussion and usually the center of jokes as well. He is the only celebrity on this list, who doesn't get the appreciation he deserves because he has been labeled as the 40 plus actor who refuses to play character roles. Humayun Saeed has often openly confessed that he has no intention to stop playing leading roles in films. Anyone who has watched Punjab Nahi Jaungi will agree that Humayun Saeed can still nail the role of a hero on the big screen and he does not look like he is 48 years old.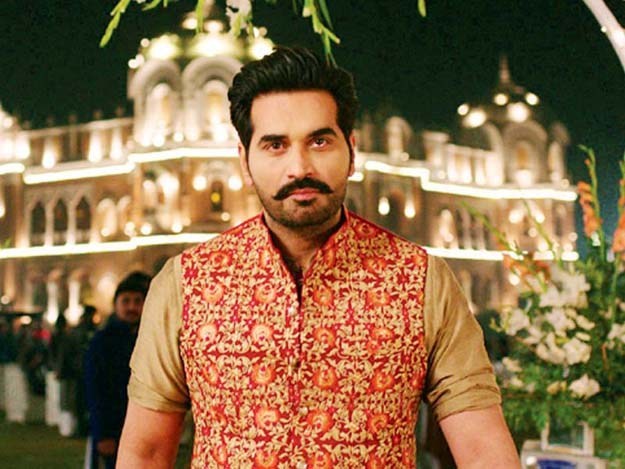 Humayun Saeed, unlike other celebrities on this list, isn't too diet-conscious which is why sometimes he gains extra weight. But every time he has to do a new project, he knows how to get back into shape. Recently in the drama serial Mere Pass Tum Ho he looked overweight because the role does not demand a smart hero but now that his next film is in the pipeline, Humayun Saeed has gotten back in shape.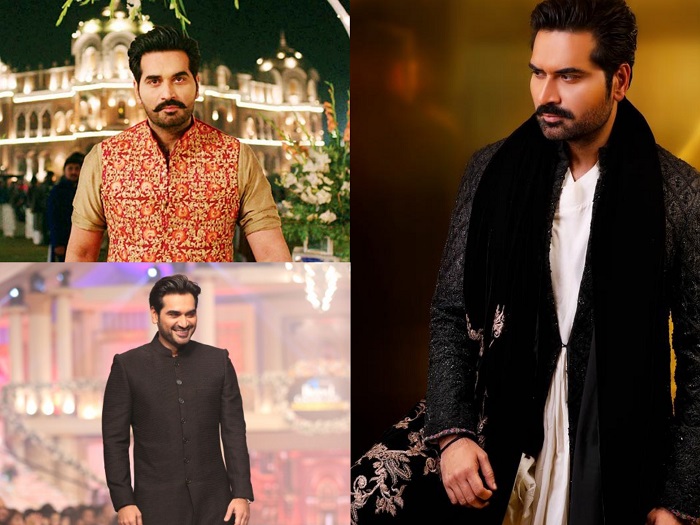 Humayun Saeed has admitted many times that he is a foodie. He loves eating biryani, nihari, and all kinds of high-calorie desi foods. The secret to his fitness is that he also knows when to stop. Humayun Saeed also works out really hard to make sure that he burns all the calories he consumes. There are some celebrities who prefer watching what they eat instead of burning whatever they are consuming because they find exercising more difficult. Humayun Saeed would much rather eat and work out, that is what works for him best.
Shehzad Roy
Shehzad Roy is a 43-year-old singer and philanthropist who has looked the same in the past 20 years or so.  Although he is not as old as some of the other celebrities on the list, everyone will agree that he has not changed at all in the past two decades. He can still easily pass for a college boy. It is almost as if he simply stopped aging in the past few years. Here is a comparison of Shehzad Roy's pictures, one from his teenage years and another one from a recent concert.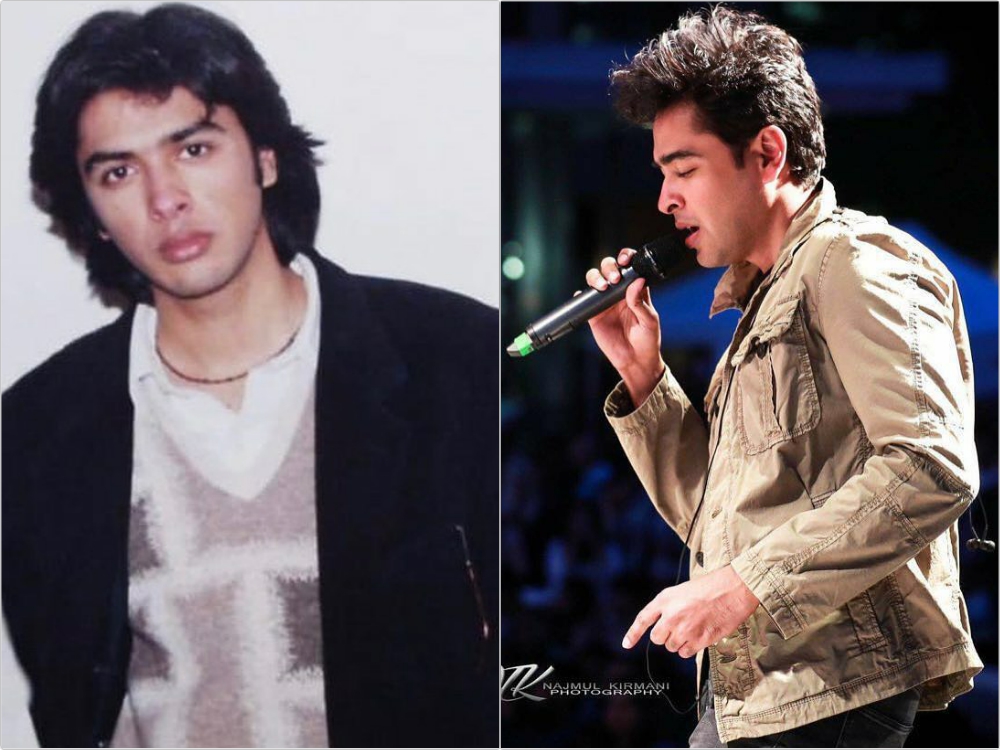 People have often asked Shehzad Roy the reason for his fitness. In his latest comment, the reason he mentioned was completely different from the one we anticipated. Anyone would think that the reason for his youthful looks must be a strict diet routine but apparently, that is not the case! Shehzad Roy eats everything he likes and wants to including junk foods but he never misses out on his gym routine.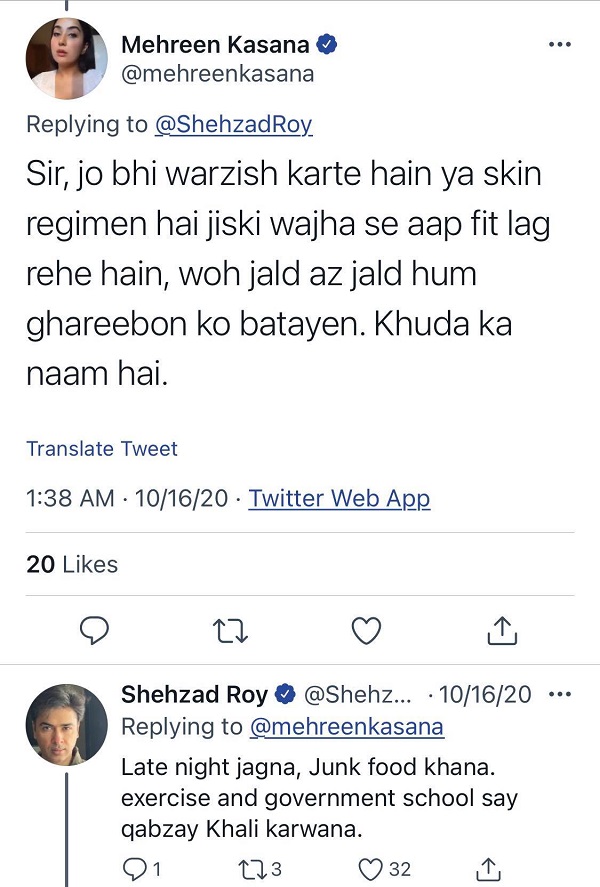 Resham
52-year-old Resham stopped aging at 30! She is another Pakistani celebrity who has proved that age is just a number. She has never shared the secret behind her youthful looks but is one of those few film actresses who have been really honest about their age. Resham has never lied about her age perhaps because she does not feel the need to do so, her youthful looks get her enough compliments. Resham is also known for her great sense of style which has evolved for the better with every passing year.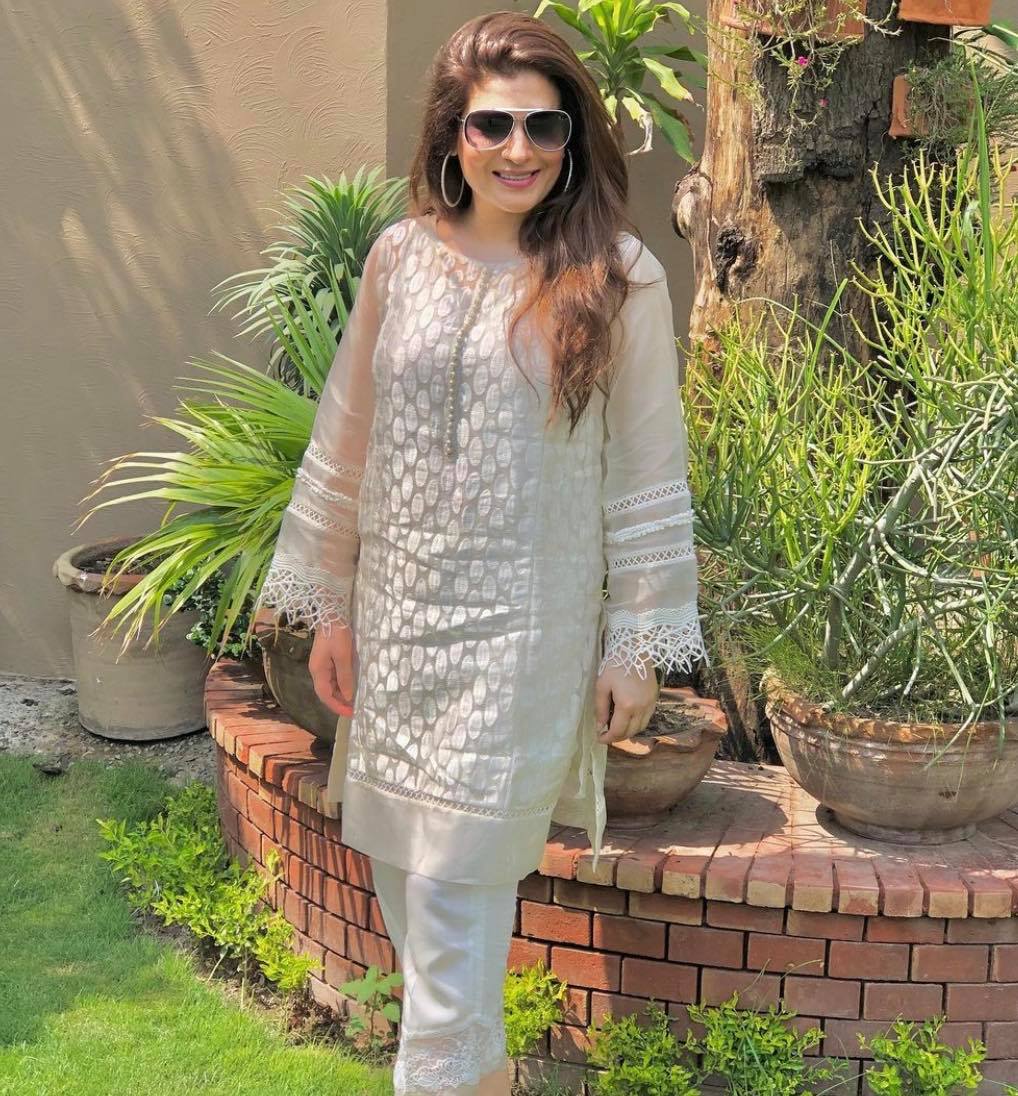 All these celebrities surely are an inspiration for those people out there who are trying their best to maintain a healthy lifestyle and also all those people who wish to follow in their footsteps. The diet plans and fitness tips shared by all these celebrities will be of great use for all the readers and followers for looking fresh and young for longer. These celebrities have proved that following the right diet and adding some exercise to your life can do wonders.
Which one of these celebrities inspires you? Are you going to follow some of their diet plans? Share your views in the comments section.