Snapchat controversy in India has been creating a lot of buzz in the media. For those who don't know, a few online reports state that the CEO of Snapchat called India, a poor country. This, unfortunately, didn't go well with the Indians. Former Pakistani singer (now Indian) Adnan Sami took to twitter to share his opinion on the matter.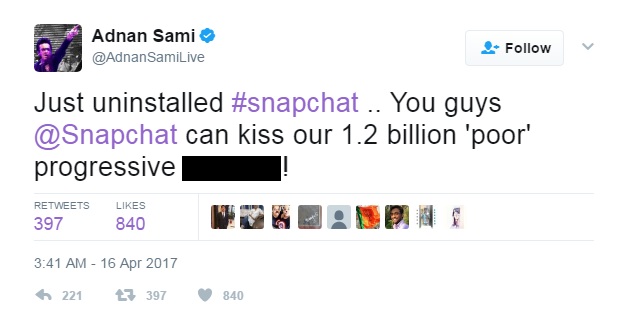 Here's how the Pakistanis reacted:
Even Indians should disown Adnan Sami. What a piece of crap with existential and identity crisis.

— سمعیہ (@saneschizo_) April 16, 2017
If life gives you Sami, try to be even Mohammad Sami but never be an Adnan Sami !

— M Asim Ameer Khan (@itsasimameer) April 16, 2017
Would rather listen to Taher Shah than @AdnanSamiLive (the man who hates his own father)#AdnanSami

— Nida Feroz (@NedaFiroze) April 17, 2017
In the fiasco of #snapchat & poor #india, #AdnanSami is trying hard to look relevant.
Someone give him a glass of "lassi" please.

— Sheep (@Another__Sheep) April 17, 2017
And then, Adnan Sami hit back to prove his patriotism for India. Adnan being Adnan (anti-Pakistan)!
Dear Pak trolls,
My tweet wasn't bout U.It ws bout Snapchat.Stop trying 2 jump in & b relevant like a jilted lover!Get over it.Jai Hind!???

— Adnan Sami (@AdnanSamiLive) April 16, 2017
I know ur BS 2 well 2 b intimidated by it! U can fool d world. Not me! I grew up midst d Pak Corridors of Power & Know its Truth btr thn U! https://t.co/r2Ce3s7uWx

— Adnan Sami (@AdnanSamiLive) April 17, 2017