Priyanka Chopra at an international event asked a question by pakistani girl Ayesha Malik, she asked from Priyanka that why did you encourage nuclear war between Pakistan being A UN ambassador? , Priyanka got shocked at the very first moment the girl later tried to complete her question that we people supported you in your business and you are encouraging war and right between this sentence the security just snatched mic from her and Priyanka said are you done venting and came up with bogus replies of I have alot of Pakistani friends, I am not a war supporter but I am patriotic.What a foolish answer given by a UN ambassador and all that time she got faded and completely gone.
We just say to the girl Ayesha Malik, taka a bow on your courageous question, you spoke it, the girl Ayesha Malik later tweeted along with the video where security misbehaved with her and the whole crowd saw how she used her power.
Armeena Rana khan also tweeted about it saying where have humanitarians gone? , no body let her completed her most valid question. Armeena also pointed out this thing earlier when Priyanka was bashing Pakistan and supporting nuclear war. Armeena also desreve salutes for her efforts.
"Whenever you're don't venting". Sorry, didn't realize that speaking on a humanitarian crisis was "venting" pic.twitter.com/OqCLgjDNa1

— Ayesha Malik (@Spishaa) August 11, 2019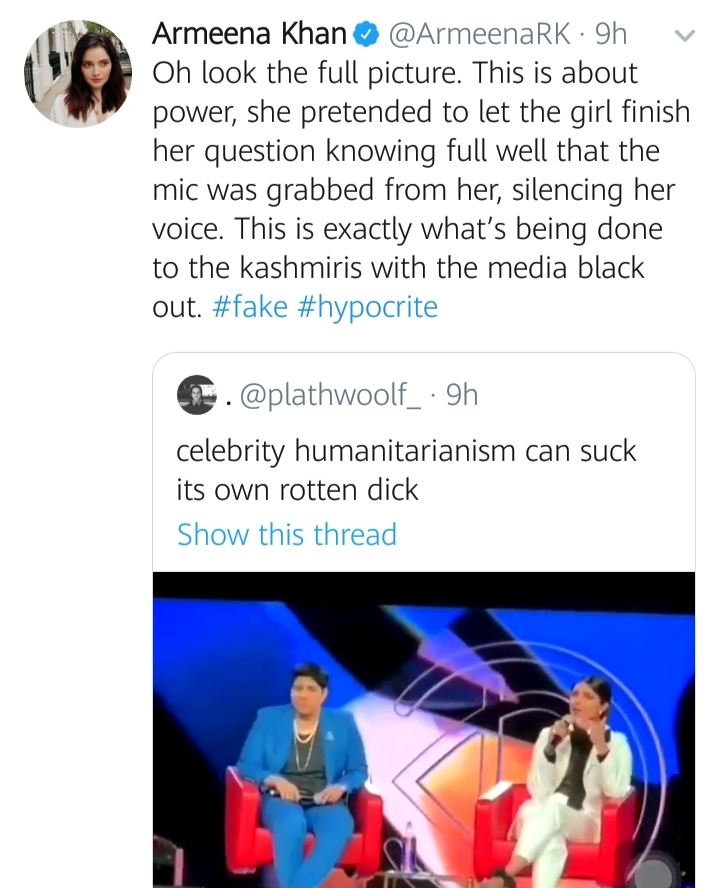 Mansha pasha also tweeted against it.

Most of the pakistanis are bashing Priyanka that she wasn't being able to give a proper response whereas indians being as usual took it as she has won the entire world. Every time indians take cringe as reward and it was one of those moments. And yes every sane person thinks that she is not eligible for any UN post as its a peace keeping force, but such acts by ambassadors are biggest questions of UN's credibility. That's why our vocal celebrities are not taking this hypocrisy