While Muslims all around the world fast and pray fervently in the month of Ramzan, it seems, in Pakistan, a whole new drama begins. Television channels join the race of Ramzan Transmissions, each trying their best to bring in the most popular of celebrities to get more ratings. The war of ratings in Ramzans becomes more of a crusade for TV channels, each trying to surpass the other with antics.
Some channels have game shows going on specific for Ramzan, others have clerics sitting together with celebrities, trying their best to impart Islamic teachings and discuss one issue after another.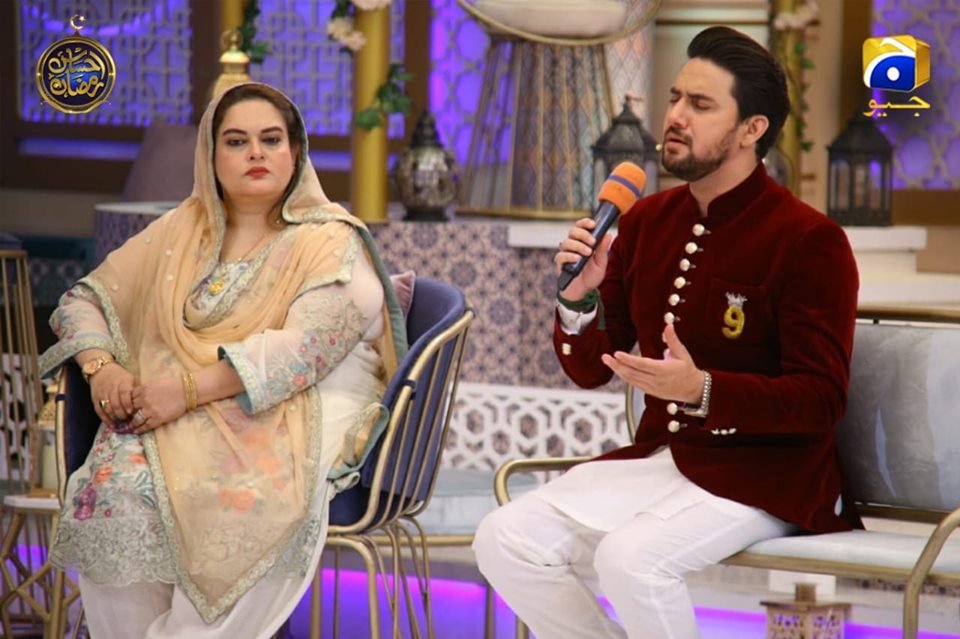 This year, however, when PEMRA announced that live audience wouldn't be present in transmissions, the channels came on the frontline with a new plan altogether. They now have celebrities gracing their production sets and playing games and doing their stuff, live on camera for the audience.
People have been heavily criticizing the channels for Ramzan Transmissions amidst the coronavirus breakouts, where they have been endangering their own lives, those of the celebrities on sets and of course the participants, because lets put it straight, we don't see anyone wearing masks, there are spots boys and whole production teams on the sets and because this COVID19 is highly contagious, hundreds and thousands of lives are being put at a risk, all because of these ratings that the channels are after.
Whatever the reason, whether coronavirus or wasting time that could have otherwise been utilized for prayers, Ramzan Transmissions are nothing but a waste of time.
Here is what people have been saying regarding Ramzan Transmissions this year in general;
People wanted ramzan transmissions free of celebrities.
#JIWomenAndRamazan2020
Ramzan transmission should be free of irrelevant activities and unrelated Media personalities . pic.twitter.com/xCgj6Ks5np

— umm e Abdulrehman. (@KiranWaseem9) April 6, 2020
#JIWomenAndRamazan2020 we don't want film and drama actors in ramzan transmission

— Saadia Farrukh (@SAADIA_10) April 6, 2020
Yeah Islamic scholars should be appointed instead of drama actresses. They aren't suitable for hosting in Ramzan transmissions. https://t.co/H1b2MKG5ll

— Fizza Wasim (@wasim_fizza) April 8, 2020
Some people pointed out how it was unfair that people with no knowledge of Islam appeared on national television to teach people their religion.
Hareem shah abb ramzan transmission main deakhy gi pic.twitter.com/hqfEBqA9AL

— muznasyed (@muznasy) April 22, 2020
Tik tokers And Actress are being signed for Raman Ramzan transmission kuch tu sharm KrU ….🙇😡 https://t.co/qLoNRPyQ7c

— ابوہریرہ (@Abu_Huraira686) April 23, 2020
Some people actually called out the gravity of the situation which had the mosques lockdown but not these ramzan transmissions.
Speaking of this great stand against Masajid lockdown, Can our ulemah take united stand that nobody would take part in these wahiyat transmission during Holy month of Ramzan esp Aamir liaquat show?

— Furqan (@LongAwaitedHero) April 21, 2020
I always watch ramzan transmissions but in times like these, it was not so necessary, that famous cute little boy was also on the show today, wonder how his parents allowed

— Fatima A. Malik (@FatimaAsiff) April 25, 2020
Some people made a valid point
I do not watch such transmission during ramzan holy month should be utilised more in prayers rather than sit before tv

— Qamar Uz Zaman (@qamarz1964) April 21, 2020
Some were just plain sarcastic but made a valid point.
Ramzan transmissions with no live audience this time around? You mean to say we will not witness an undignified circus, people sucking on mangoes & what not for a Mehran? Shame.

— Safia (@_safiamahmood) April 16, 2020
I hope and pray that the TV channels will keep Ramzan transmissions sombre and not indulge in the usual circus.

This is just not the time.

— Azam Jamil (@AzamJamil53) April 18, 2020
Ramzan Transmissions should be placed under lockdown too.

— Abeer Asif (@AbeeerAsif) April 26, 2020
Its my humble request to stop these ramzan transmissions which are not at all contributing in any way to improve the knowledge and character of a common Pakistani. These are more like prepaid promotions,fashion parade and irrelevant people talking about useless matters.

— Sidra Noman (@SidraNoman11) April 25, 2020
Ramzan transmission is the biggest scam in the name of religion. Even watching dramas and seasons is better than watching ramzan transmissions.

— Uzair (@Ozzair_Oz) April 25, 2020
"And they planned yet Allah is the best planner"

Finally a Ramzan without useless & immoral ramazan transmissions is one of the best thing happening due to corona hence more time to spent in prayers and to seek forgiveness rather to watch that shit "sare mil k bolo kholo"

— Muhammad Zahid Shafi (@MissterBrown) April 24, 2020
People believed coronavirus was sent for a reason
Coronavirus was sent to stop post iftar kanjar khana on Tv in Ramzan transmissions.

— Biya Ali Zaib. (@BiyaAli9) April 7, 2020
Covid-19 brought everything to a halt but still couldn't stop Ramzan transmissions

— Mahnoor Sheikh (@mahnoorrsheikh) April 25, 2020
Officially thanking coronavirus for saving us from the wrath of Ramzan Transmissions.

— Ayesha Shahid (@IntroverStories) April 24, 2020