Sadaf Kanwal was disappointed with all the releases this Eid. Four Pakistani movies released this Eid and two of them did decent business. Sadaf was not happy with any of them and pointed out that none of these films would have done well in case the Bollywood movies were allowed to release: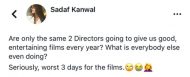 Sonys Hussyn who was the lead actress in Azaadi responded to Sadaf's post and also told her that 7DMI and Azaadi are doing well on box office. But Sadaf had a point too: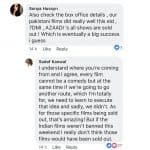 Who do you agree with in this debate? Share your opinions!