Film Dobara Phir Se is going to be the fouth film of the proficient actress Saman Saeed, in the year 2016. She played the spunky character of Aliya in Bachaana and then the character of manipulative charmer, Naina Kanwal in film Mah e Mir.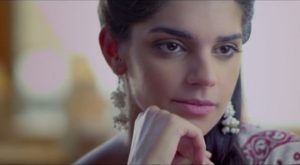 Sanam As Naina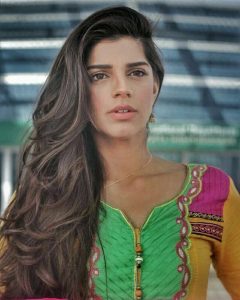 Sanam As Aliya
"So, when Sanam landed in the US for a vacation, I couldn't resist bagging the chance to chat with her about Dobara Phir Se and more." says Sheeba Khan from Images.

Images: Hi Sanam! What brought you to the US?

Sanam: I was here on a short vacation with my friend Zoe Viccaji.

Images: How are promotions for Dobara Phir Se going?

"Promotions are insane! It's the toughest part about making a movie for us actors at least."says Sanam.

She also added; "We are on the go from 8.30am to 8.30pm. From morning shows to radio interviews, bloggers meet ups, media junkets, mall visitors, cinema visits, fashion show walks, magazine shoots, college visits; the list goes on. It's a universal trend now. Audience interaction and participation plays a huge role in film promotions. Hollywood and Bollywood mega stars are having to do it too now. With the birth of social media, a film gets left behind if the actors don't go and present their film and energy to the public.So for four weeks straight, life is committed to promoting the film across Pakistan. From next week, closer to the release date, we will be travelling all over Pakistan — Multan, Sialkot, Islamabad, Lahore, Faisalabad, etc. Then Dubai and the US and UK for the international premieres."

Images: What are your expectations from the film? How was the experience?

Sanam stated that; "I always enjoy working with [director] Mehreen [Jabbar]; this is my fourth project with her".

"The entire cast had met each other before or worked together. Hareem and I were in Diyar-e-Dil, Tooba and I had worked as models for about a decade and Adeel and I did Mehreen's other projects together. Shaz Khan and I, it turned out, went to school together in third grade. And Ali is someone it doesn't take long to make friends with! We were all in New York together and it was a lot of fun. The girls were living together, working together, unwinding together. We all bonded really well and got along like a house on fire." she added.

Images: Can you tell us a little bit about your role? 

"My character is called Samer. She is like the life of the party; lighthearted, friendly and free spirited. Ali and my character are engaged in the story, They are a laid back fun couple who are friends with Adeel and Hareem's characters respectively". replied Sanam.
Vaneeza Fatima
---