Sarah Khan is the most popular actress in the Pakistani drama industry right now. She is known for her personal style and make-up looks as much as she is for her acting projects. Over the years, Sarah Khan has transformed her personal style a great deal. Now, she can pull off every look and is also known for dressing up decently. She has frequently talked about how important it is to follow certain limitations set by society and the religion on the females therefore she does not like to wear revealing clothes. One of the main reasons why she has not been seen in a film is this. Sarah has proved that in order to look stylish and trendy, actresses need not wear revealing clothes. 
Ever since she got married, she has sported different formal looks for her projects as well as for the functions and talk shows which she has attended in the past few months. Here is a list of the best formal looks of Sarah Khan after she got married:
[lwptoc]
Blush Pink Lace Gown
There are so many beautiful shades of pink which designer like to experiment with and this particular blush pink lace gown designed by Halina Khan looked exquisite on Sarah Khan. The intricate pastel embroidery and sparkling Swarovski embellishment made this gown an absolute stunner. Sarah Khan sported a glowy look with this outfit and wore jewelry that completed this stunning look. 
Elegant and Stylish Formal Look
Sarah Khan looked gorgeous in this royal saree which was intricately designed. Sarah Khan's entire look was perfect because her make-up and accessories complemented her beautifully designed saree. We also love the color combination and the way she carried this entire look. Sarah Khan is always comfortable wearing sarees and some of her best looks have been in the attire. 
Florals on Organza Fabric 
Floral designs are in fashion nowadays, even lawn designers are giving their dresses an interesting twist by complimenting the lawn suits with floral organza dupattas. When Lulusar launched its Eid collection many such floral designs were a part of it. This stunning ivory dress has vibrant colored flowered patterns on it. The fabric and the sequins make this dress perfect for formal occasions. Sarah Khan's make-up and earrings make this formal look even more appealing.
Timeless Pishwas 
Sarah Khan looked absolutely stunning in this timeless Pishwas designed by Nilofer Shahid's designer label Meeras. Nilofer Shahid has often chosen Sarah Khan to be her brand ambassador since she carries her elegant designs with the utmost style and confidence. The 3D embellishments and embroidered motifs make this Pishwas the best formal outfit for summers.
The Perfect Formal Look
Sarah Khan was seen wearing the most beautiful fully embroidered lime dress on Eid. The dupatta was equally stunning and she complimented this look with exquisite jewelry pieces and kept her hairstyle simple. Those high heels also looked great with this look and this ended up being one of the best formal looks she has sported recently. This well-designed stylish piece was designed by one of the leading designers Kanwal Malik. It was one of the best sellers from her Eid collection.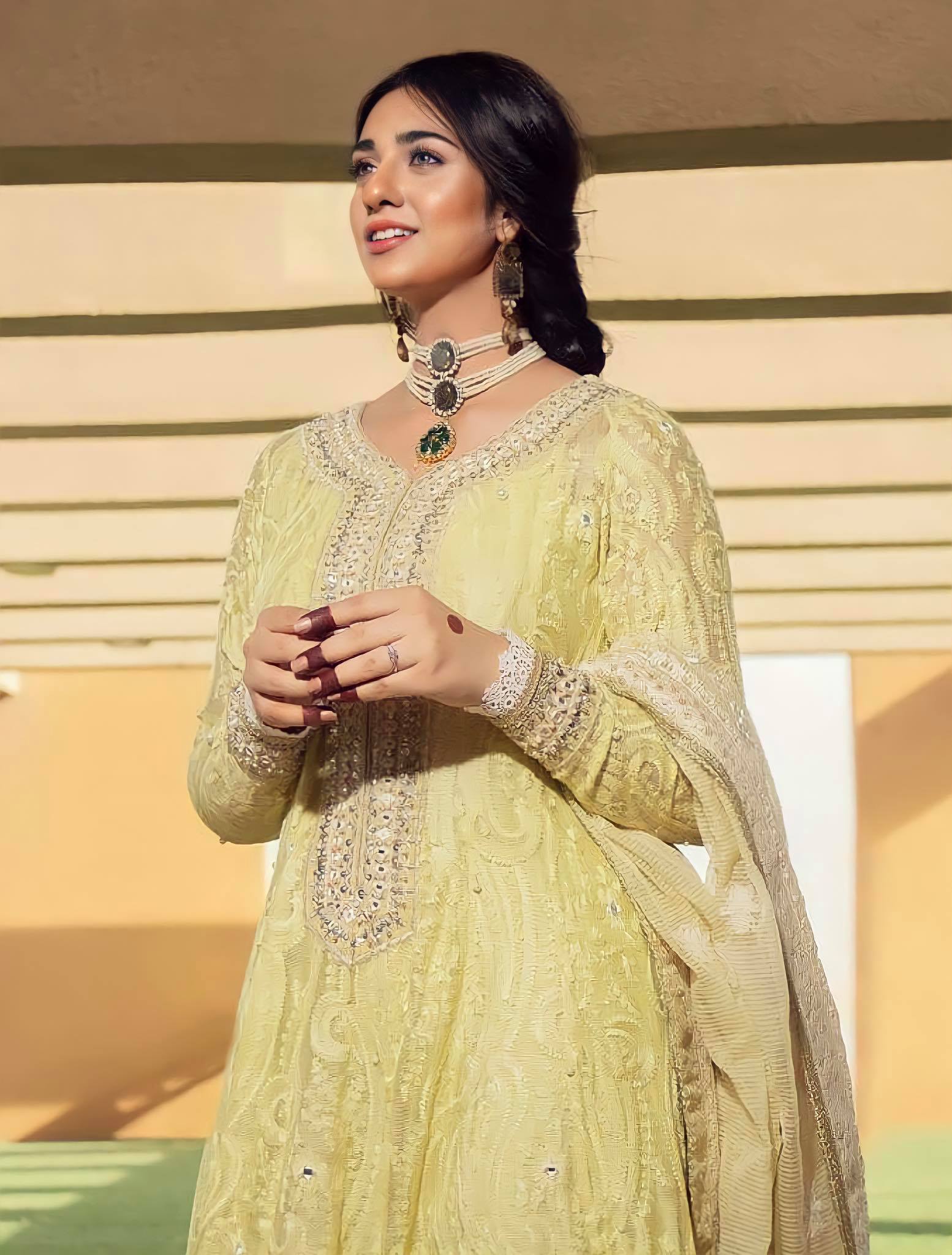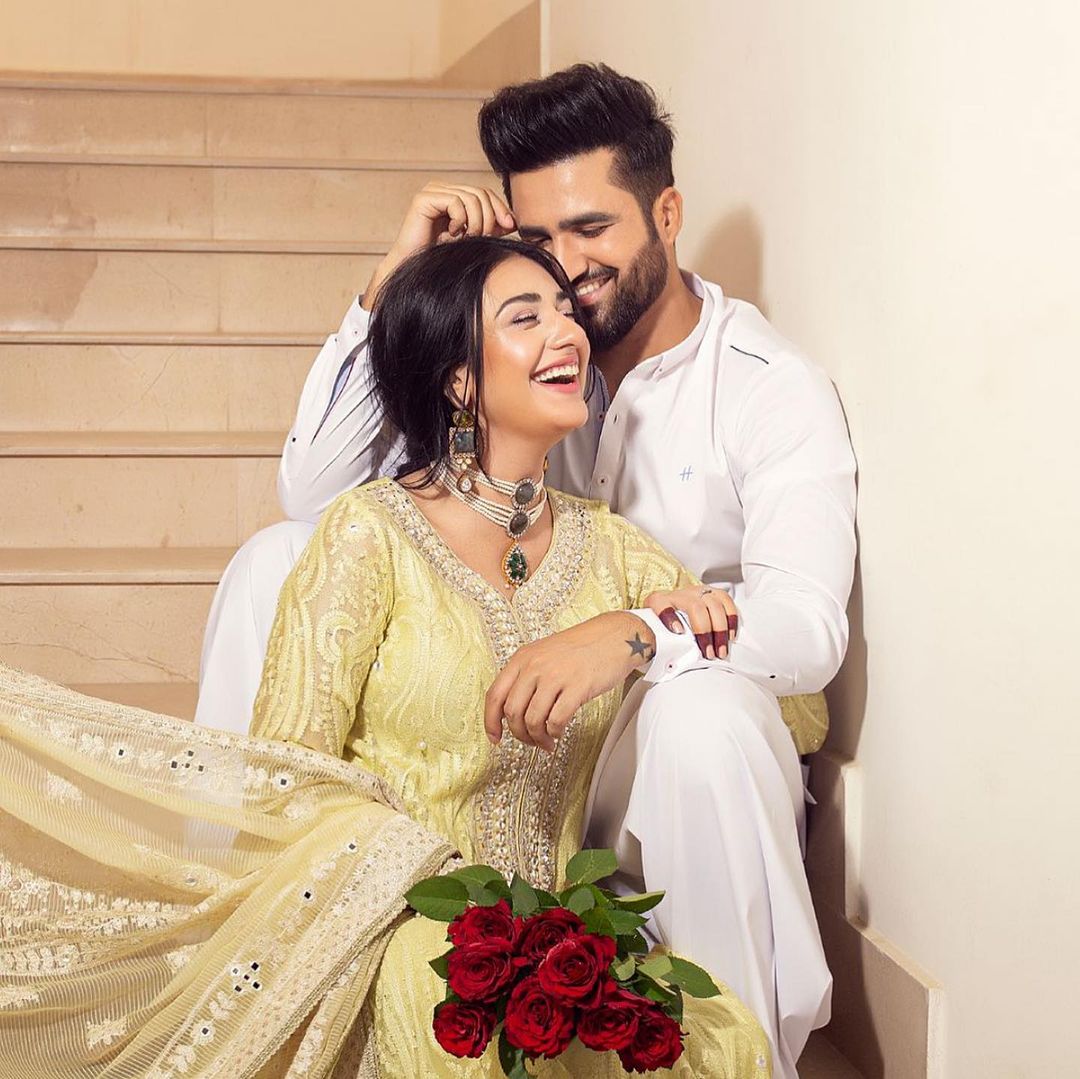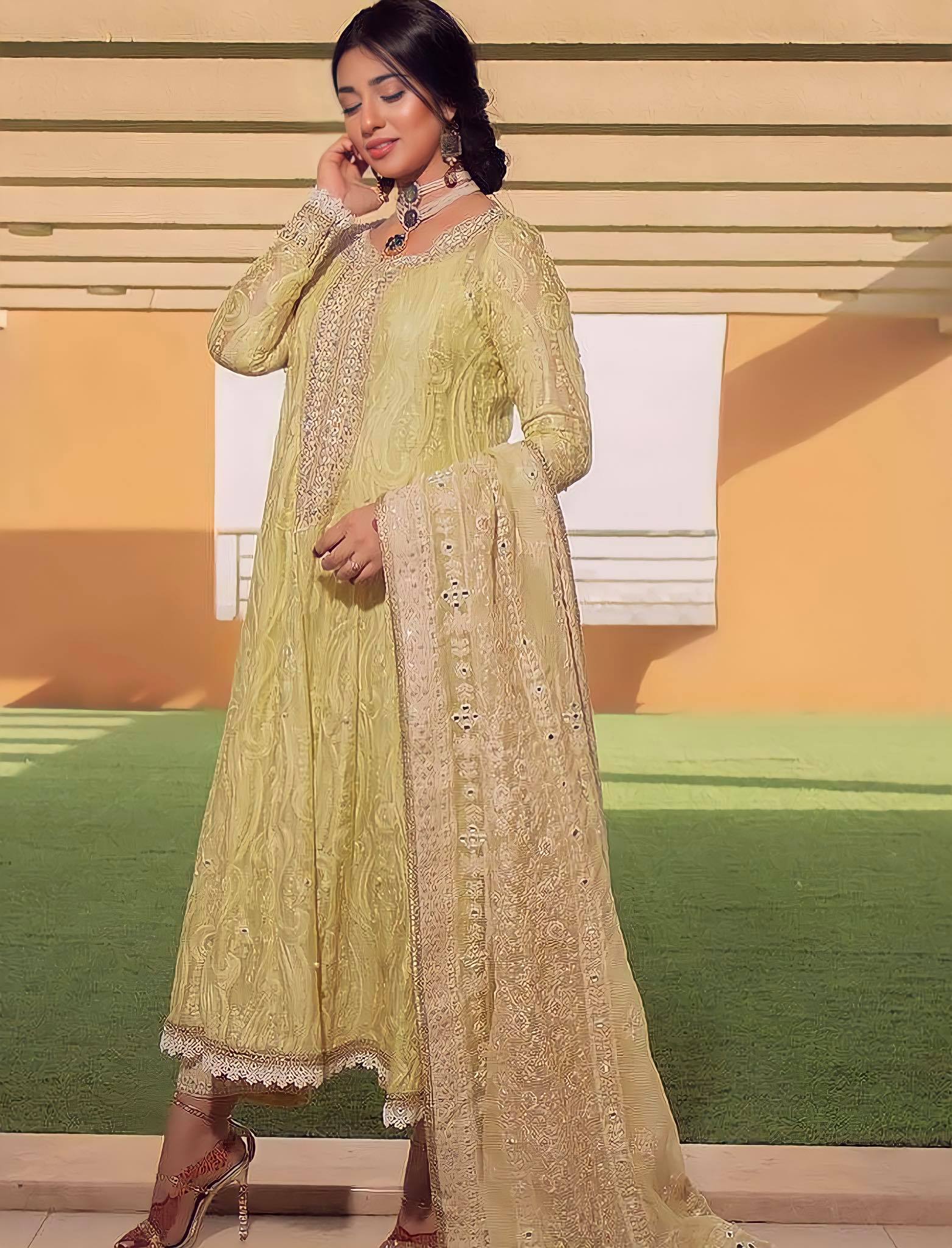 Exotic Black Dress
The color combination of black and gold is always a winner. It looks especially stunning when the designing is most attractive and appealing. This dress designed by Afroze is a perfect outfit for formal occasions, especially for the most festive ones. Sarah Khan looks enchantingly beautiful in this entire look.
Aesthetically Bright
While pastels are definitely among Sarah Khan's favorite colors, there is no denying the fact that she looks just as stunning in brightly colored outfits. This bright pink and orange outfit worn by her looked stylish and festive with formal jewelry.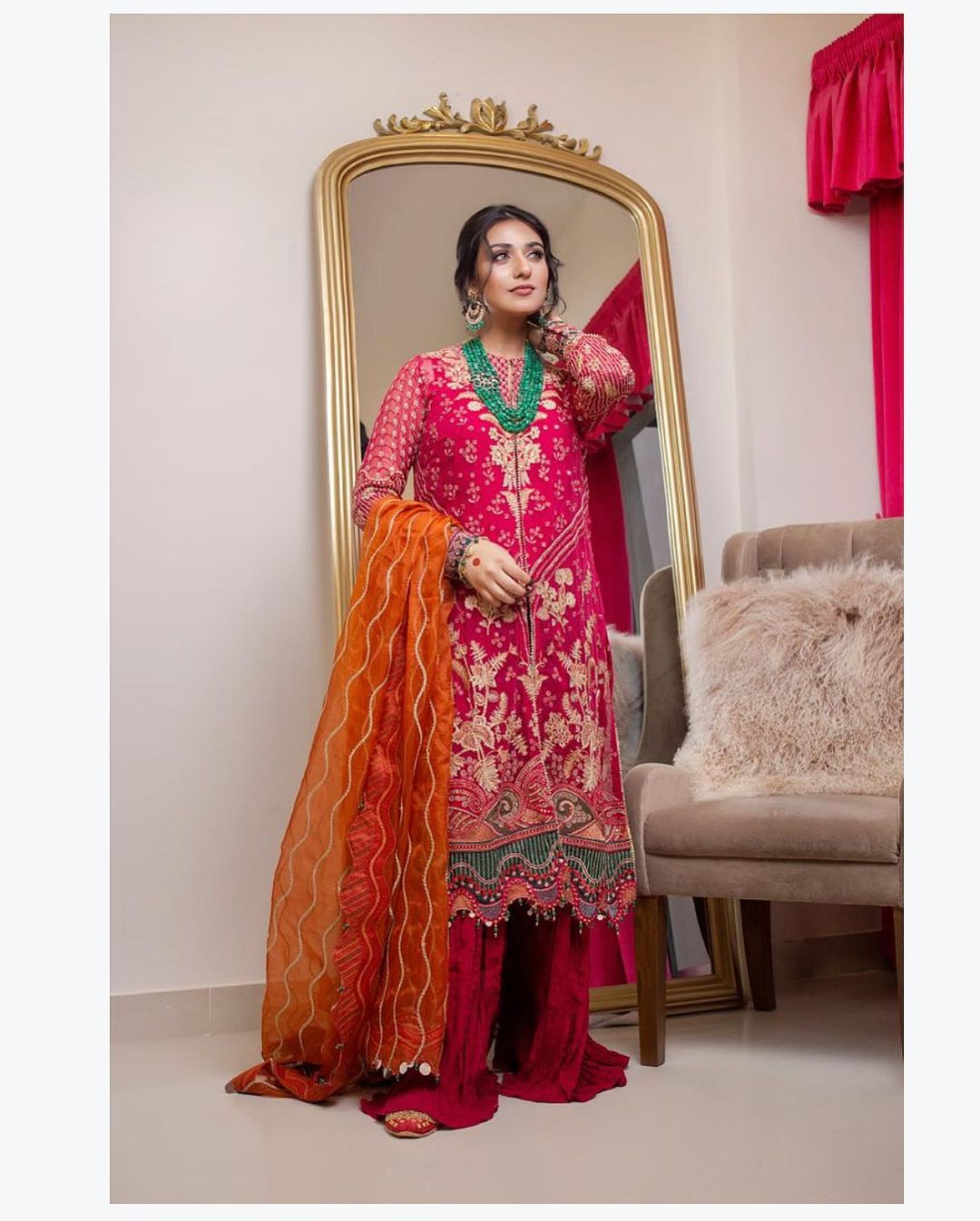 Classic Peach and Pink
Every shade of pink looks really good on Sarah Khan therefore it is no surprise that the leading designers often want to see her wearing their designs in these colors. This classic peach and pink formal outfit have been designed by Hussain Rehar who is known for his unique designs. Celebrity make-up artist Imran Aslam did Sarah Khan styling and make-up for the look. He is the one who gave Sarah Khan her stunning bridal looks as well. This was one of the looks Sarah Khan sported for her first Eid after her wedding.
Ravishingly Royal
Sarah Khan exuded elegance and royalty in this beautifully designed outfit. It seems as if the designer took inspiration from royalty. The organza and silk fabrics have been combined together to make the perfect formal outfit which is a mix of Eastern and Western cuts. 
Pretty In Pink
Pink color is every girl's favorite and there are so many different shades to choose from. Sarah Khan was seen wearing this beautiful pink outfit which is rather simple but it has enough going for it to make it the perfect outfit for a formal evening. The shade of pink and the fabrics used definitely make all the difference! We love that Sarah paired this outfit with a maroon and gold khussa, making a statement that you do not always have to match your shoes with your outfit!
Which one of these formal looks is your favorite? Share your views.