After an amazing win against Sri Lanka, skipper Sarfaraz Ahmed was praised for strong performance with his partner Mohammad Amir. However, right after the match, the latest hero of Pakistan became a target of the trolls on social media and it was totally unexpected.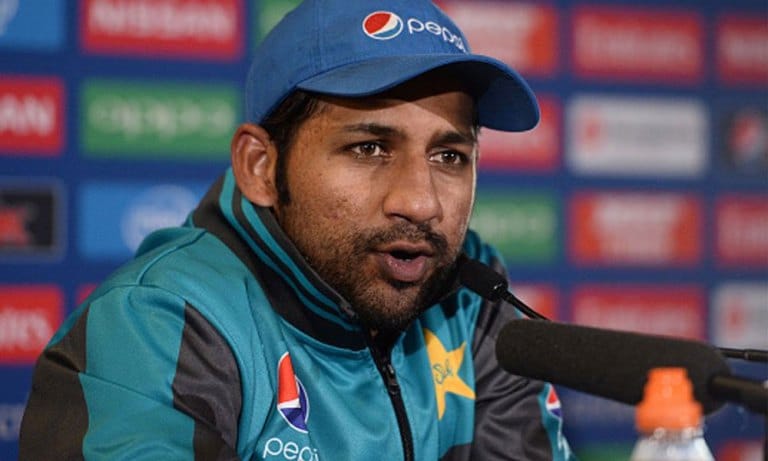 While making his way to the press conference Sarfaraz had no idea that the camera was recording and he ended up saying "Saray English Ke Hai", while he seemed concerned about the question being asked in English. He asked it twice before the press conference started officially.
Unfortunately, it did not take long for people to take a laugh and troll the cricketer. It is heart breaking to see people judging a hero because of his speaking power! The 14-second long clip went viral on the Internet and the nation trolled Sarfaraz like nobody's business.
#PAKvSL
after won against Sri Lanka

"Best moment"
Sare English Wali Hai
???
Sarfaraz Ahmed press conference pic.twitter.com/TiZ7wDCcej

— Ab – HMP (@12345678ab988xx) June 12, 2017
False news. Sarfaraz can never speak this much in English that too so accurately!! :p @fakingnews

— Mihir Shah (@mihirhshah88) June 13, 2017
i respect every religion. Was just mocking Sarfaraz english, he was repeating that sentence on every question asked

— ßєคɾɖ ßɷყ ??? (@BeingFlicked) June 13, 2017
Sare hey English bethe hain?? ??#PakVsEng #CT17 #PCB #Sendhafeezhome #PAKvSL #Sarfraz Sarfraz pic.twitter.com/Zaa2sH59rE

— Zaeem Amjad (@izaeemamjad) June 12, 2017
semifinal is not the challenge for #Sarfaraz , orignal challenge is he has to face British media one more time whetr they win or loss ??? https://t.co/sLMRxff9IR

— sunny yadav (@ysunnyyadav) June 13, 2017
Hahahahha. #Sarfaraz #SendHafeezHome #PakvsSl https://t.co/K1coxDB2GU

— Shayan (@PleaseResist) June 13, 2017
Sarfaraz Ahmad Feel Fear from English Press Conference – Funny Pakistan Clip 2017: https://t.co/uJolFLlkvK via @YouTube

— ViralOnSocialMedia (@justforfails) June 13, 2017
The magnitude of the trolling is clearly not justified.