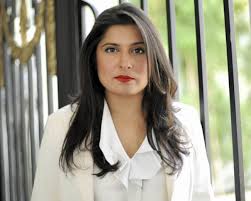 Sharmeen Obaid, the woman who won Oscars twice and made her mark, is all set to go for yet another unique project. Her new project "home1947" revolves around the Indo-Pak independence stories. The name holds immense significance as it depicts what home meant to people of the time and how the two nations living together were like.
"People know me for my political and social work, but in 2007, I thought of this idea and thanks to the Manchester international festival I was given this opportunity to showcase this here in Manchester for 9 days, an unmissable experience for those who want to experience what their families have gone through during the partition, and how they have lived, felt, survived during that period."
"The idea is unique as it's not only reflecting the partition, but also all those people who have lost their homes and can't go back to their homes. The project in itself will bring people from different races and colours to experience what people have gone through during the partition,"
This is what Sharmeen told the media as she explained what her new project holds.She, furthermore said:
"My main motive is to preserve the history of 1947, we are into 70 years of our independence so we don't have enough people who have experienced partition, so the idea is to either film or write down the personal experiences of those who have seen or experienced partition. Those nations who don't preserve their history always struggle to find their true identity, so this project will help in preserving our history and acknowledge our true history. I would also love to showcase this project in other countries especially India and Pakistan so more people can come forward with their stories."
Sharmeen's new project will project the idea of largest migration ever witnessed 70 years ago and how how difficult it was for people of the time to leave what they called "home". The best part that will add spark to the documentary is that the two most talented singers ( Sanam Marvi and Harshdeep Kaur) from Pakistan and India will be performing together for the first time ever in the opening scene of "Home1947".