Simplicity never goes out of style and this is the reason why even those actresses who have a dominant glamorous side are sometimes seen wearing simple dresses. While wearing such dresses, these actresses keep their make-up minimal and most of these pictures are also taken in a simple setting. Such outfits and even the style in which these pictures are taken can be a style guide for all those young girls and women out there who like the way these actresses dress up. Since it is not possible for all the fans to copy those looks and outfits of these celebrities which are designed by the top designers, these simple yet beautiful outfits can easily be replicated by the fans. Some of the trendiest pictures of these actresses would serve as the perfect inspiration for young girls who want to look stylish by putting in minimal effort.
Here are some stunning simple and beautiful pictures of Pakistani actresses:
[lwptoc]
Alizeh Shah
Alizeh Shah is one of the youngest Pakistani actresses who is often seen in looks that are simple yet she most often manages to pull them off effortlessly and stylishly. In this picture, Alizeh Shah serves as the perfect inspiration for all those girls who want to wear a denim dungaree but are not sure whether they can pull it off or not.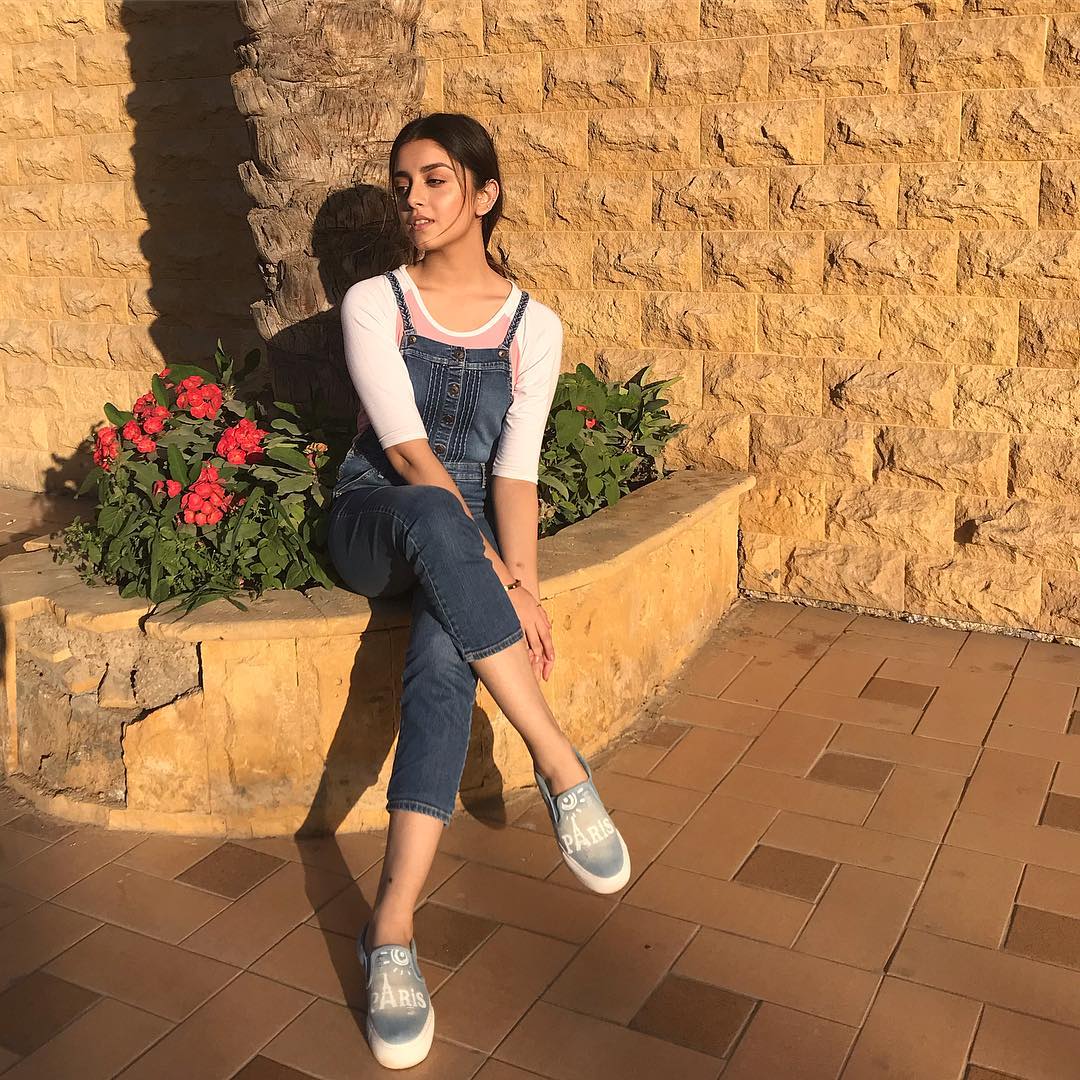 Sanam Jung
Sanam Jung is a stylish actress who has been seen in different casual looks in her latest dramas. This is one such simple yet beautiful picture of the actress in which she is seen wearing a plain shalwar kameez with a tie and dye chiffon dupatta. The plain colorful bangles give her look the oomph it needs.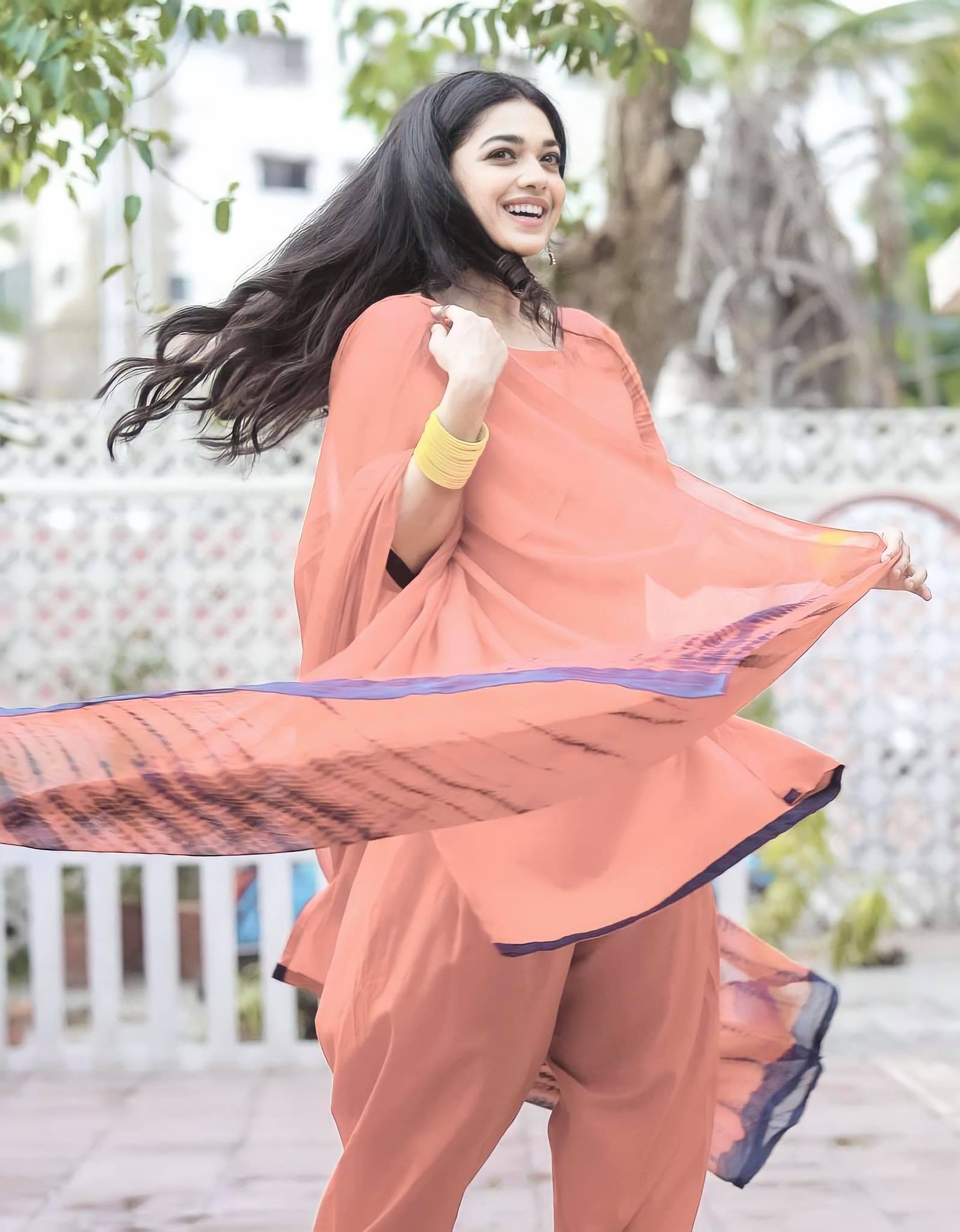 Ayeza Khan
Ayeza Khan is one of the most followed Pakistani celebrities on Instagram. All the pictures that she posts are always shot on a professional level, however seeing Ayeza Khan in this simple avatar was refreshing. She has been sporting touristy vibes with straight hair, basic makeup, and an oversized baggy hoodie, combining style and comfort together.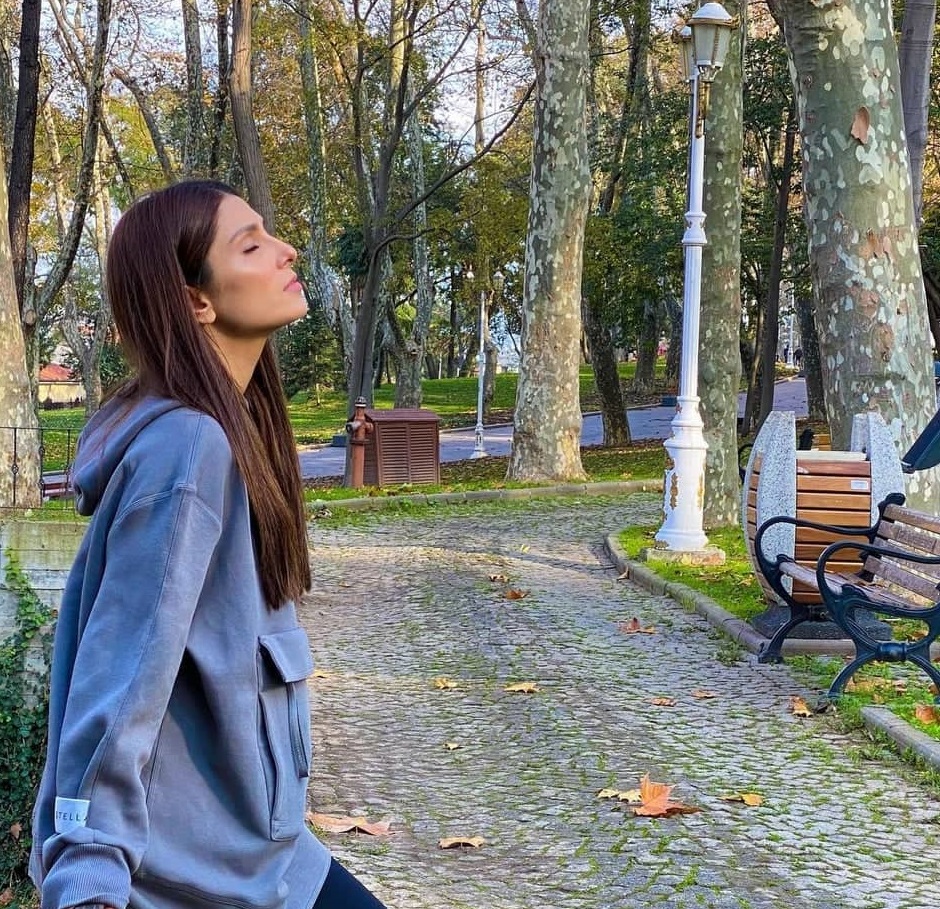 Hania Amir
Hania Amir is one of the young actresses who is looked up to by many young girls for style and fashion inspiration. In this picture, she shows how gracefully a shalwar kameez can be carried, keeping your personal hairstyle and makeup simple and fresh. A pair of sparkly earrings are an accessory that is tieing the whole look together.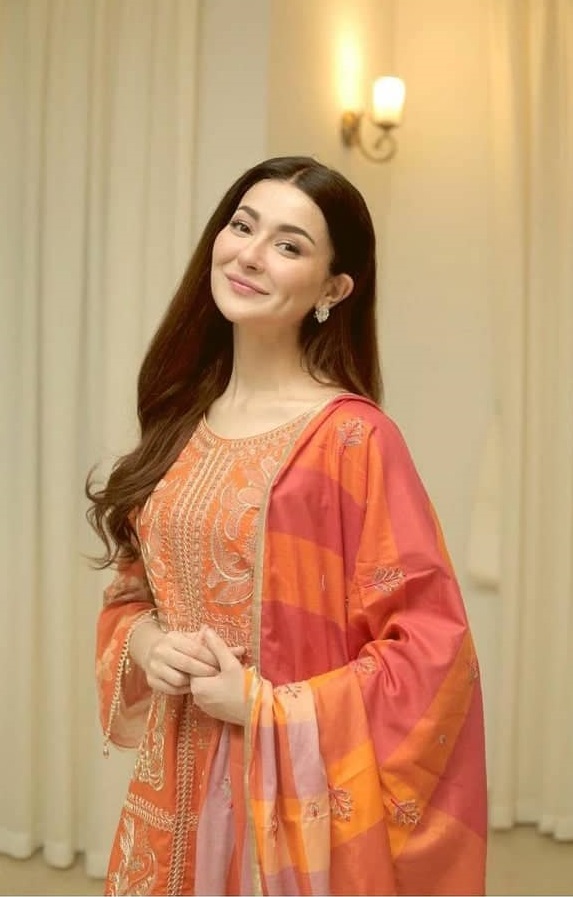 Sarah Khan
Sarah Khan keeps on experimenting with her looks. In this picture from the set of Sabaat, Sarah Khan is seen sporting the most stylish hairstyle with minimal make-up and a casual top. She completed this simple yet trendy look with equally trendy earrings. This is the perfect look for a get-together with friends.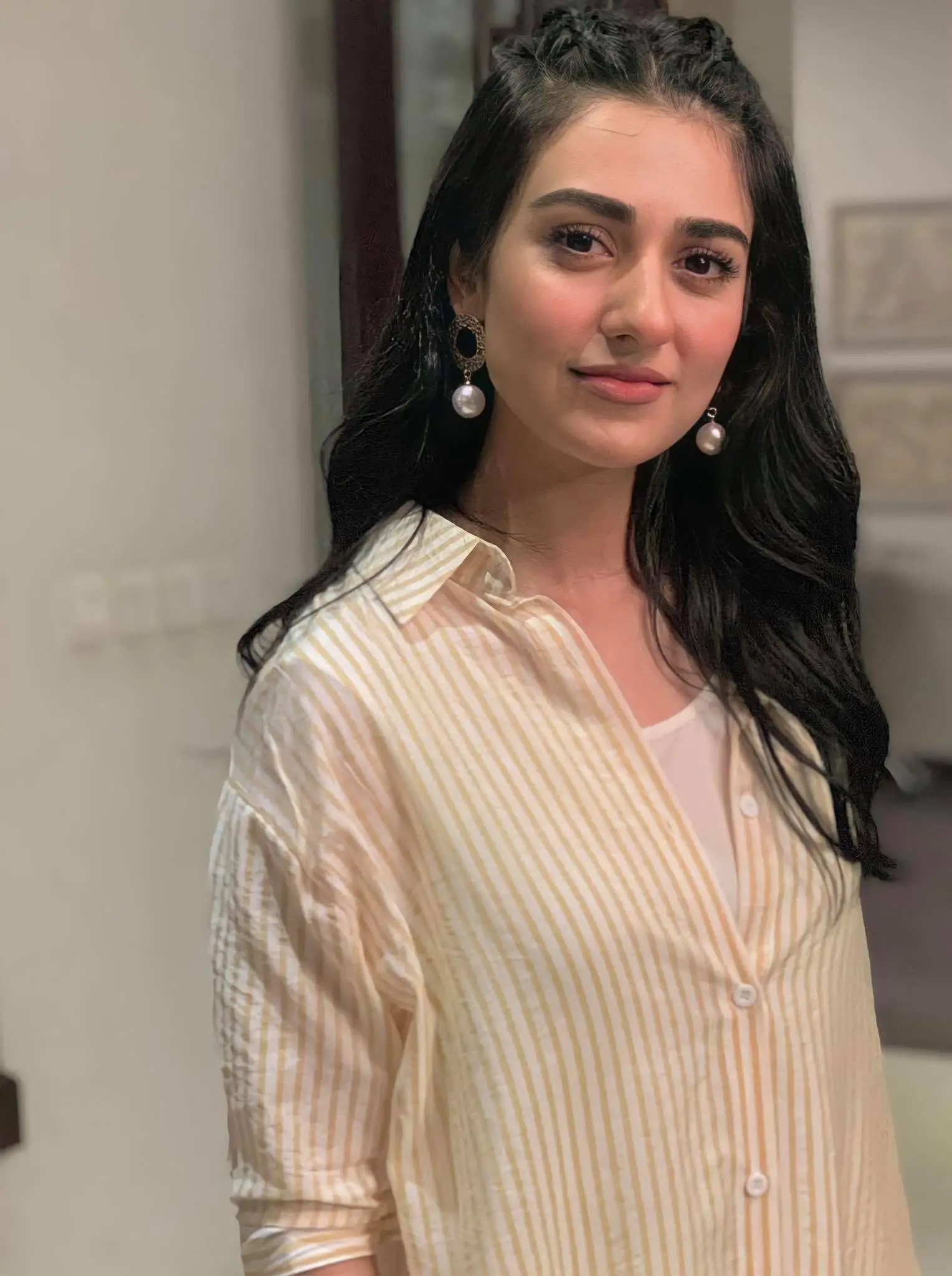 Mahira Khan
Mahira Khan definitely deserves the credit for making simplicity a style statement, especially when it is a given that this job demands you to be glamorous and well made up all the time. Mahira has always kept it simple with her hair and makeup, this is what makes her looks stand out a lot more. In this picture, she is seen wearing a gorgeous semi-formal dress with her signature hair and makeup look. She has amped up the look with statement jhumkas and this is quite an inspiration for girls who want to keep it simple and stylish.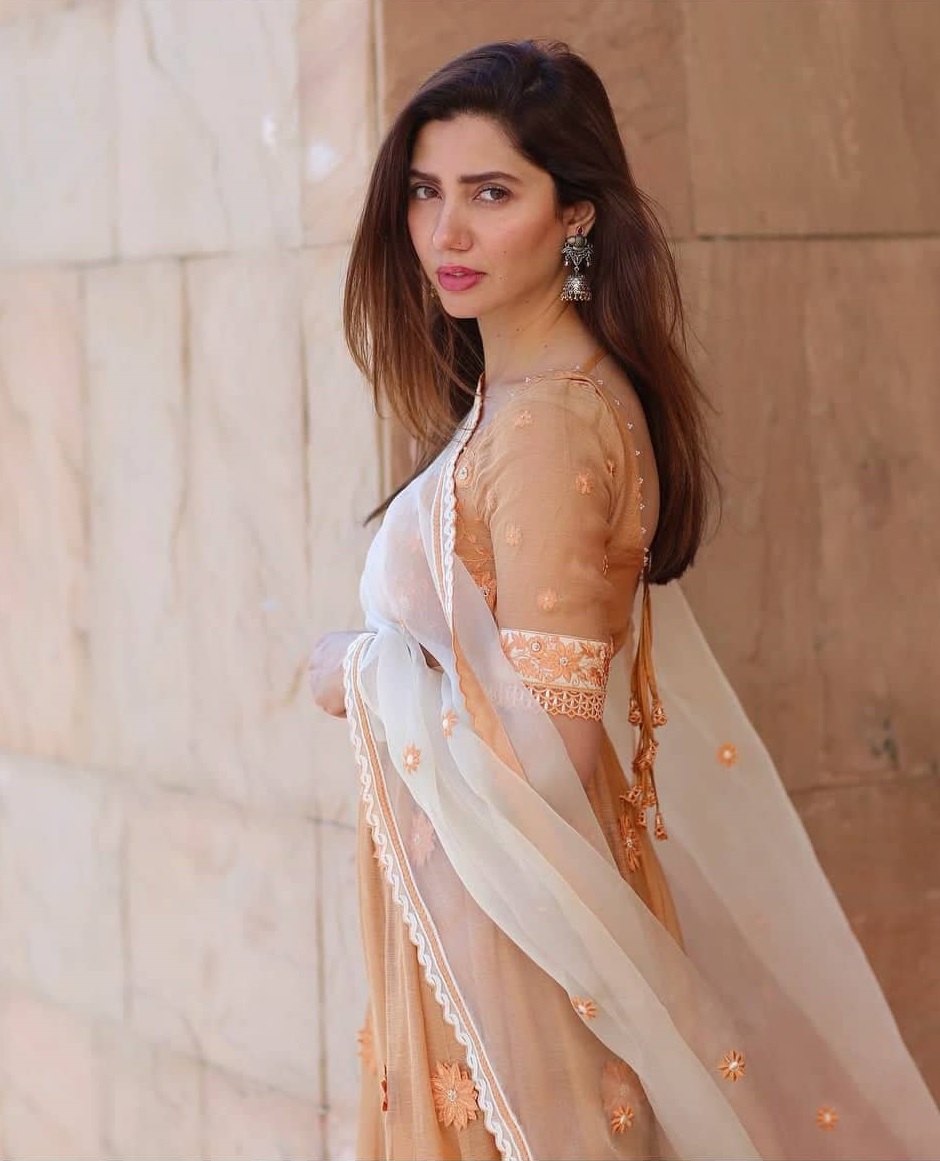 Maya Ali
Maya Ali has experimented a lot and over the years she has become a diva of the industry. The best part is that her looks are always simple, stylish, and stunning. In this one, she has paired a pair of denim and a white blouse. The combination of straight hair, hoops, and sunglasses with minimal fresh makeup is a perfect look for those who like to keep it stylish while still being simple.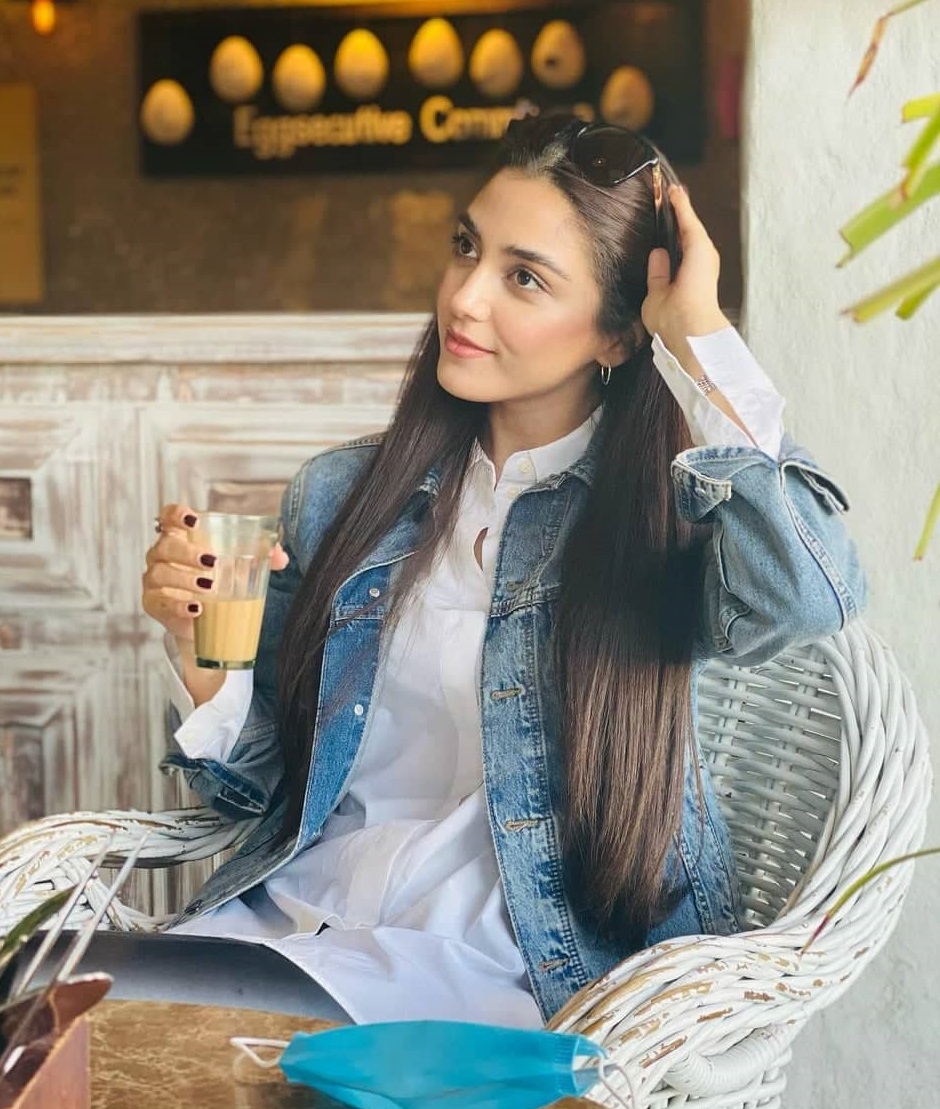 Yumna Zaidi
Yumna Zaidi definitely has come a long way and she now seems more confident with the idea of trying out new styles and wearing different kinds of dresses. However, as stunning as she looks, it is a fact that no one does simple looks like Yumna. Just like in this picture, she can wear a simple white dress shirt, pair it with dainty accessories, wear her hair in a natural state and look effortlessly stunning.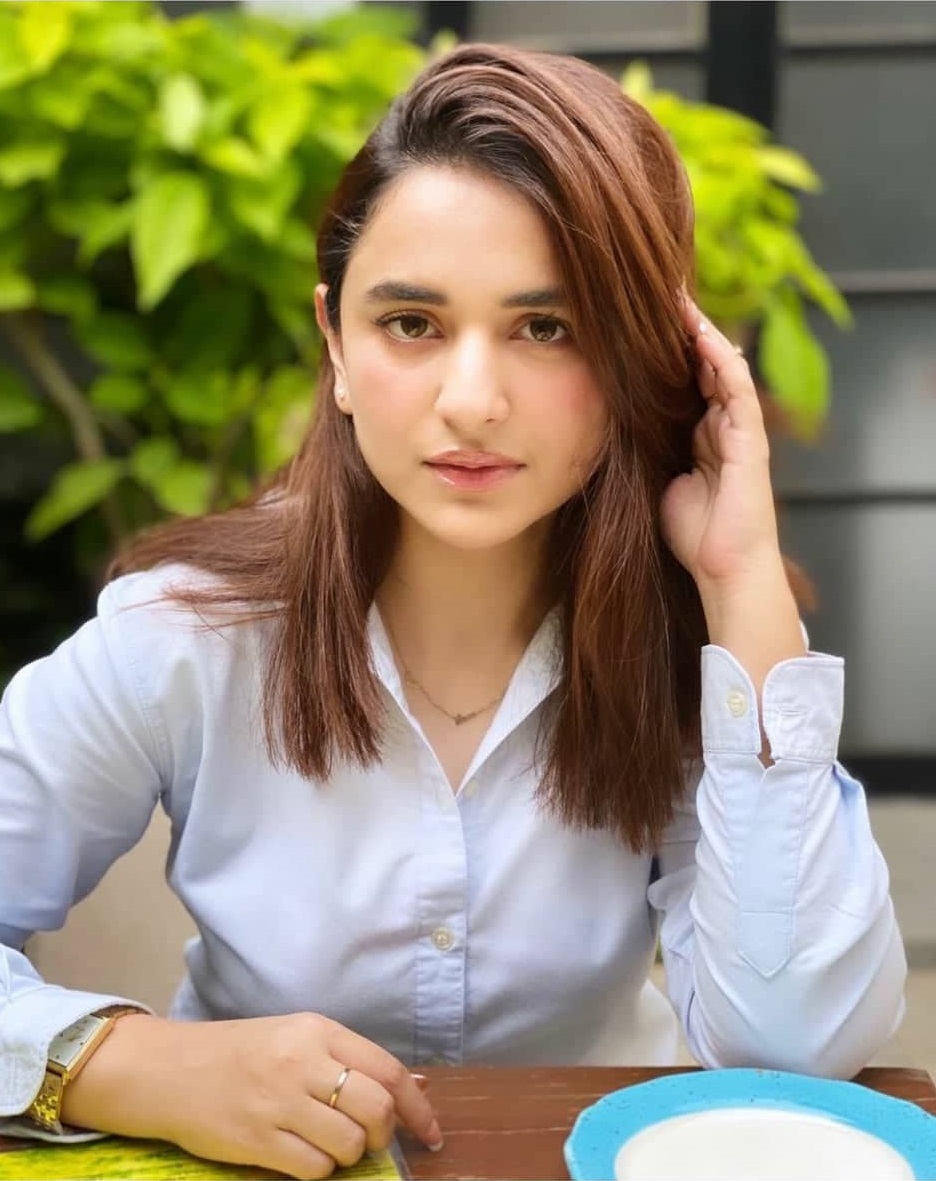 Kinza Hashmi
Kinza Hashmi is one of those few actresses who keep their style simple mostly. In this recent picture, Kinza Hashmi wore a beautiful plain white kurta with a red chiffon dupatta. This color combination never goes out of fashion and there are so many different ways one can carry this style.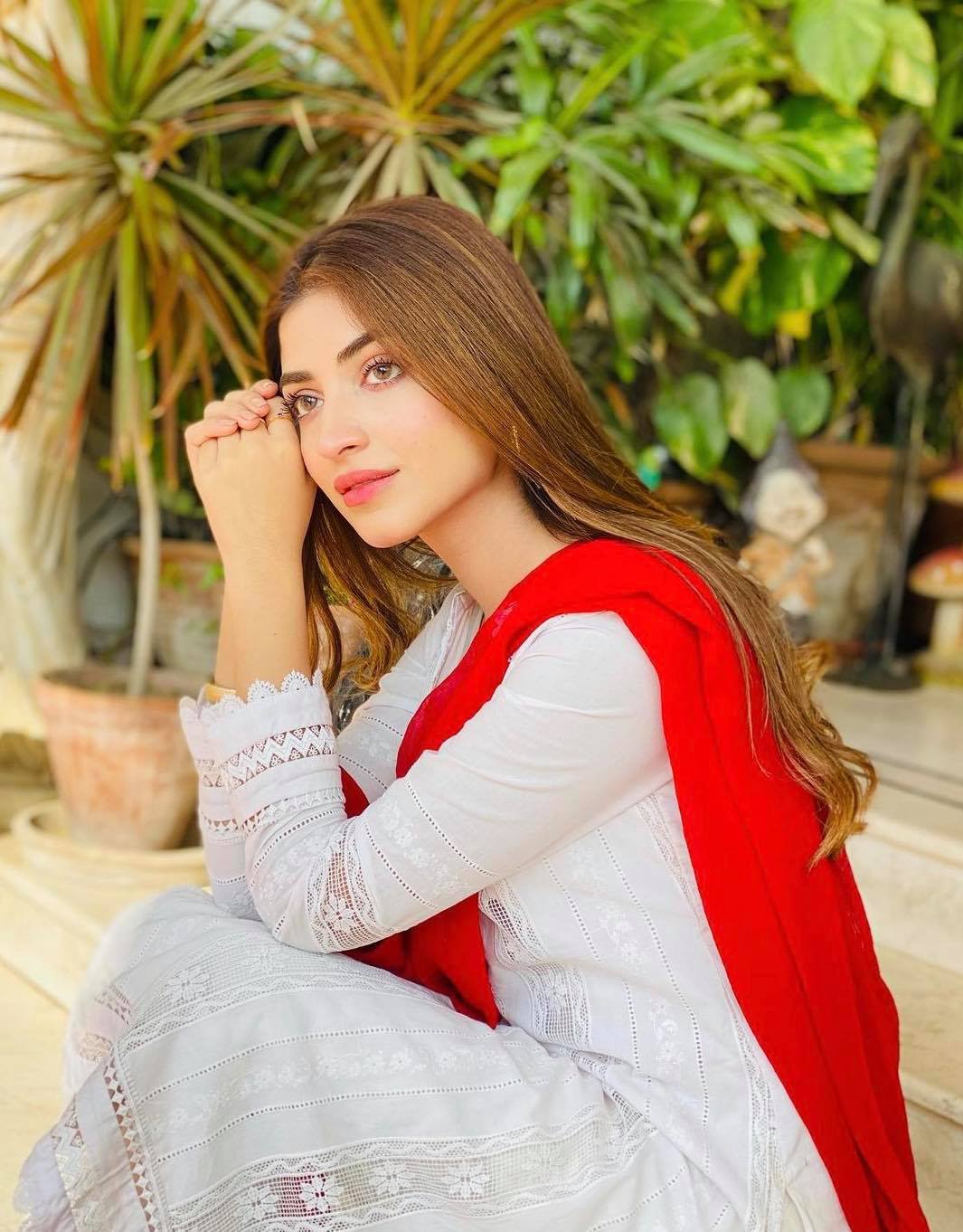 Sajal Aly
Sajal Aly is one such actress who can make any look work and turn it into a statement. This one is from her drama serial Ye Dil Mera, where she wore a long jacket, grey skin-fit top, denim, long boots, and a pashmina stole, a perfect look for those who are going to travel to colder regions.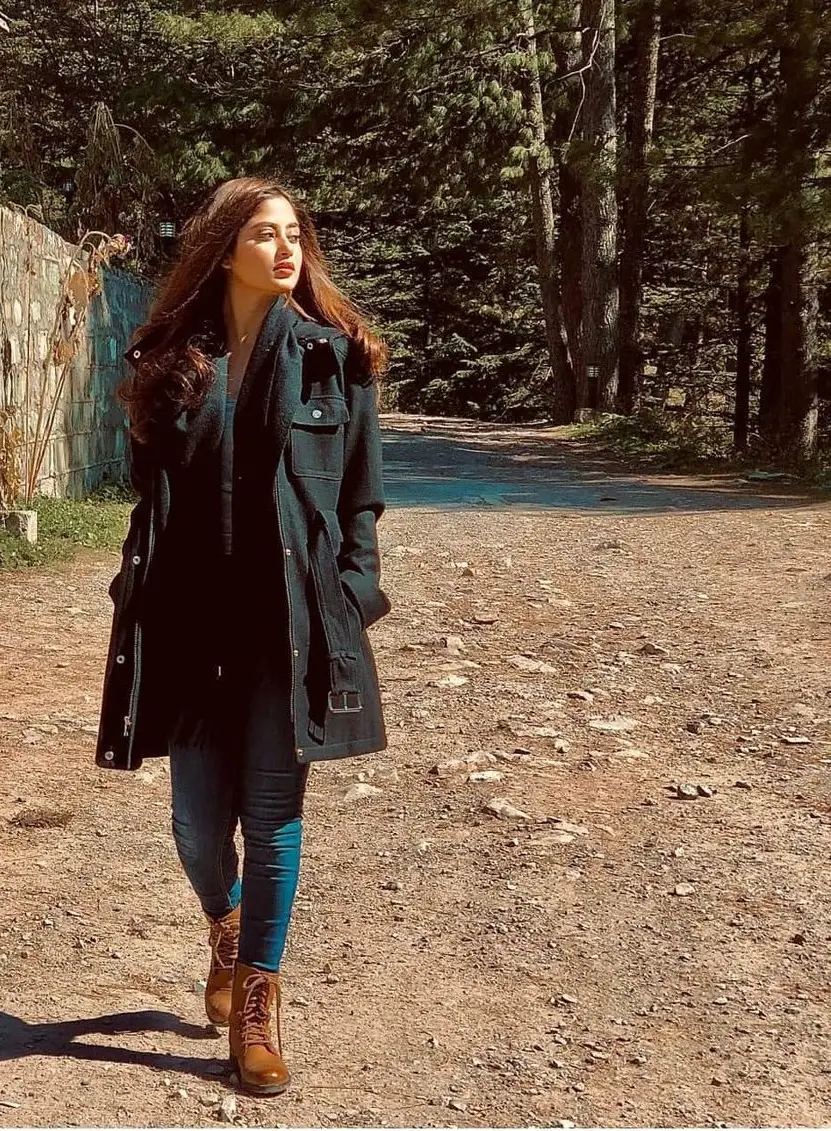 Mawra Hocane
Mawra Hocane is often seen wearing casual shalwar kameez and nailing the look by using accessories that are always attractive. This beautiful picture of Mawra wearing the most stunning shade of pink is all the style inspiration any girl needs for a daytime university function or a day out with friends. Mawra Hocane paired her gorgeous outfit with khussas.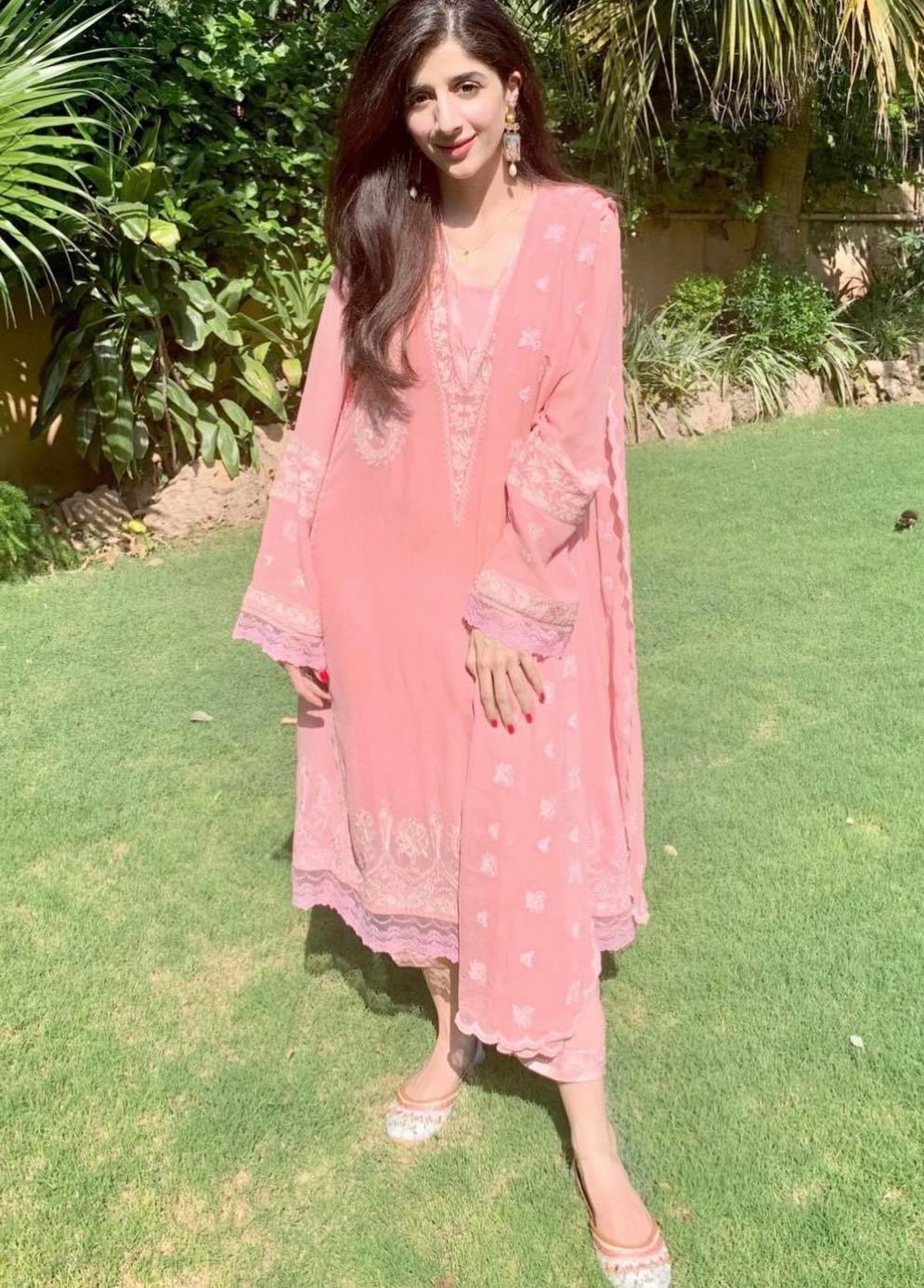 Ramsha Khan
Ramsha Khan is a young actress who has her own unique sense of style. She is one such celebrity who can make simple look stunning. In this picture, she is wearing a plain black shirt and has paired it with a bright pink dupatta, a combination that can never go wrong and is always going to work. With a fresh face of makeup and a wavy hairstyle, this is a super chic look to carry.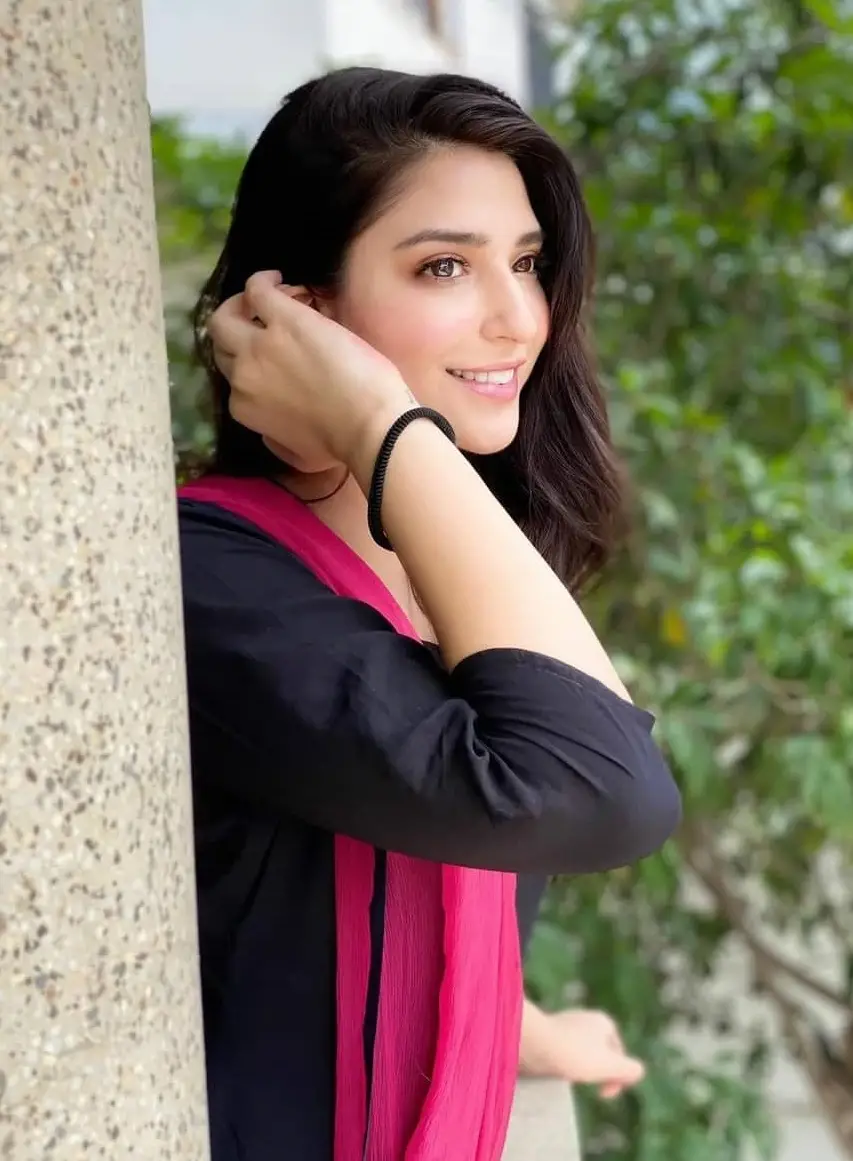 Saba Qamar
Saba Qamar likes to keep it real with her fans on her Instagram. It is always interesting to see her posting super glamorous pictures and then bringing in the real charm with such pictures which show how easy it is to carry simple looks. In this picture, she is wearing a stunning buttoned bow-tie blouse. The no-makeup look and textured hair are quick and easy to achieve, making this a perfect dine-out look.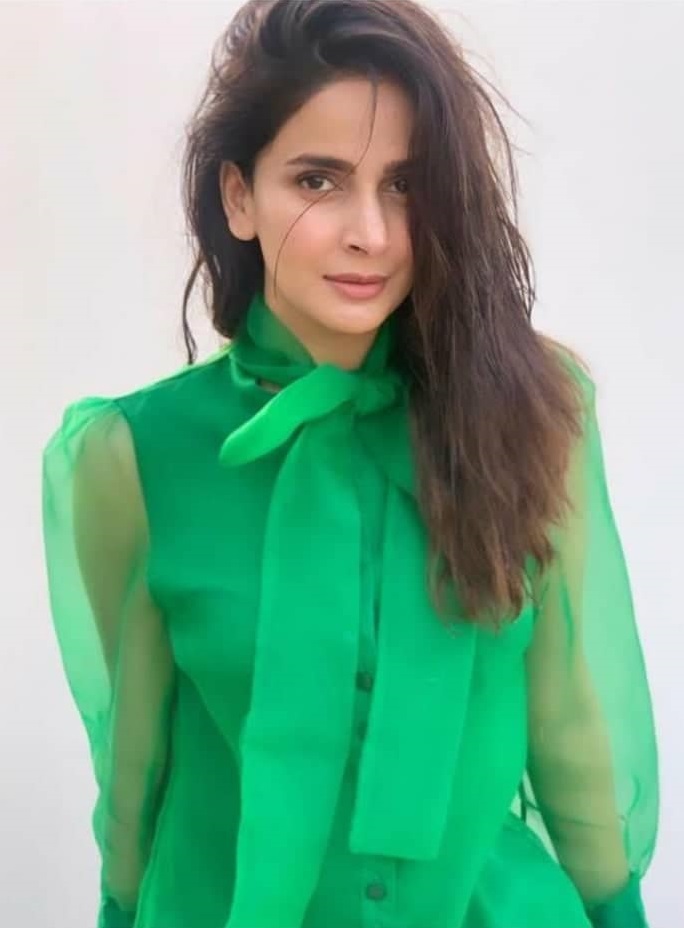 Urwa Hocane
When it comes to carrying simple and gorgeous dresses no one can beat Urwa Hocane. She looks beautiful in every shade of pink and this one is perfect for both spring and summer. She made the most of sunlight and that is all the filter she needed to get the perfect picture.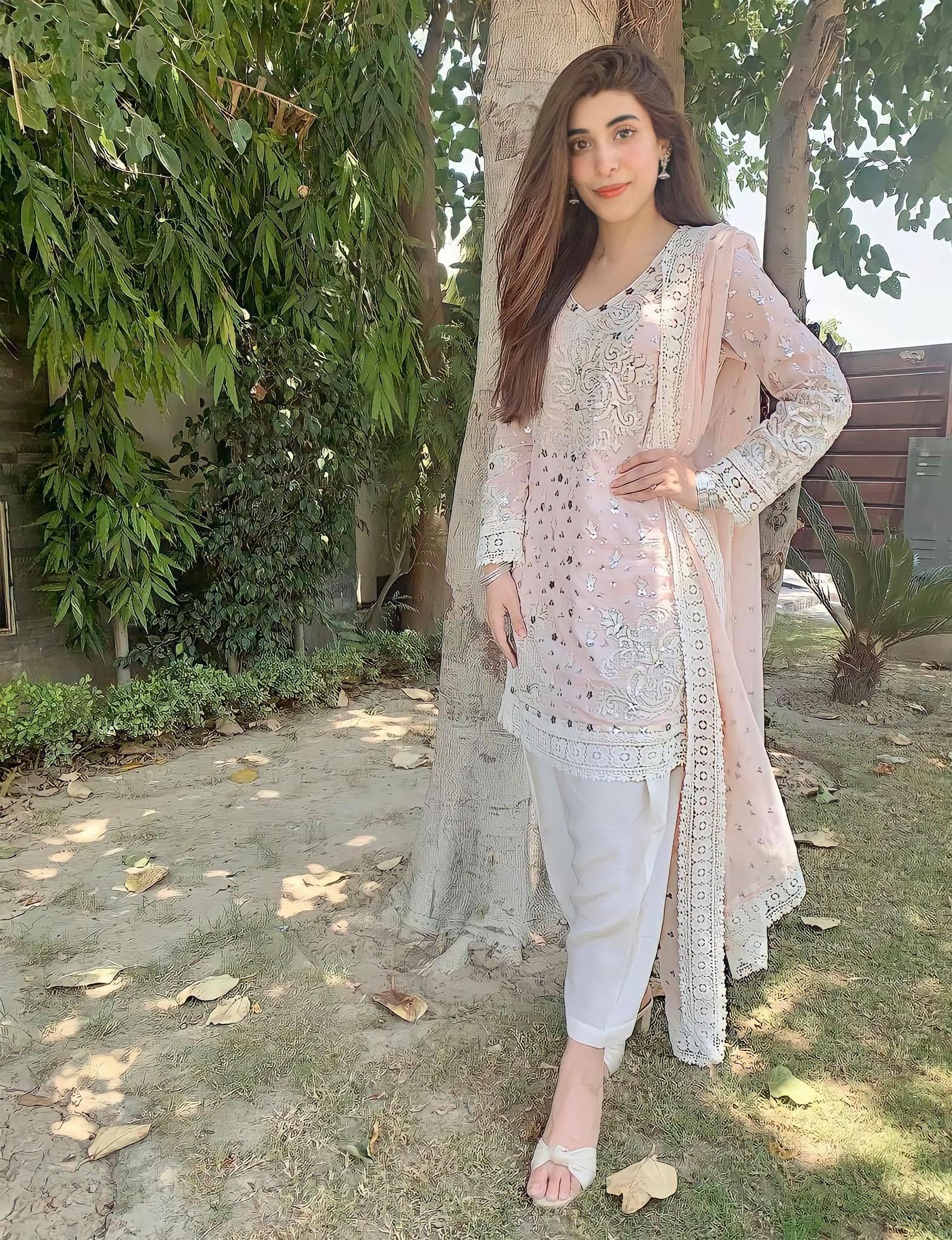 Hajra Yamin
Hajra Yamin is really comfortable in her own skin and she always carries styles that are easy to draw inspiration from. In this latest click, Hajra looks simple yet beautiful in a casual look which is every girl's dream since it isn't just trendy but also really comfortable. This is the perfect look for winter.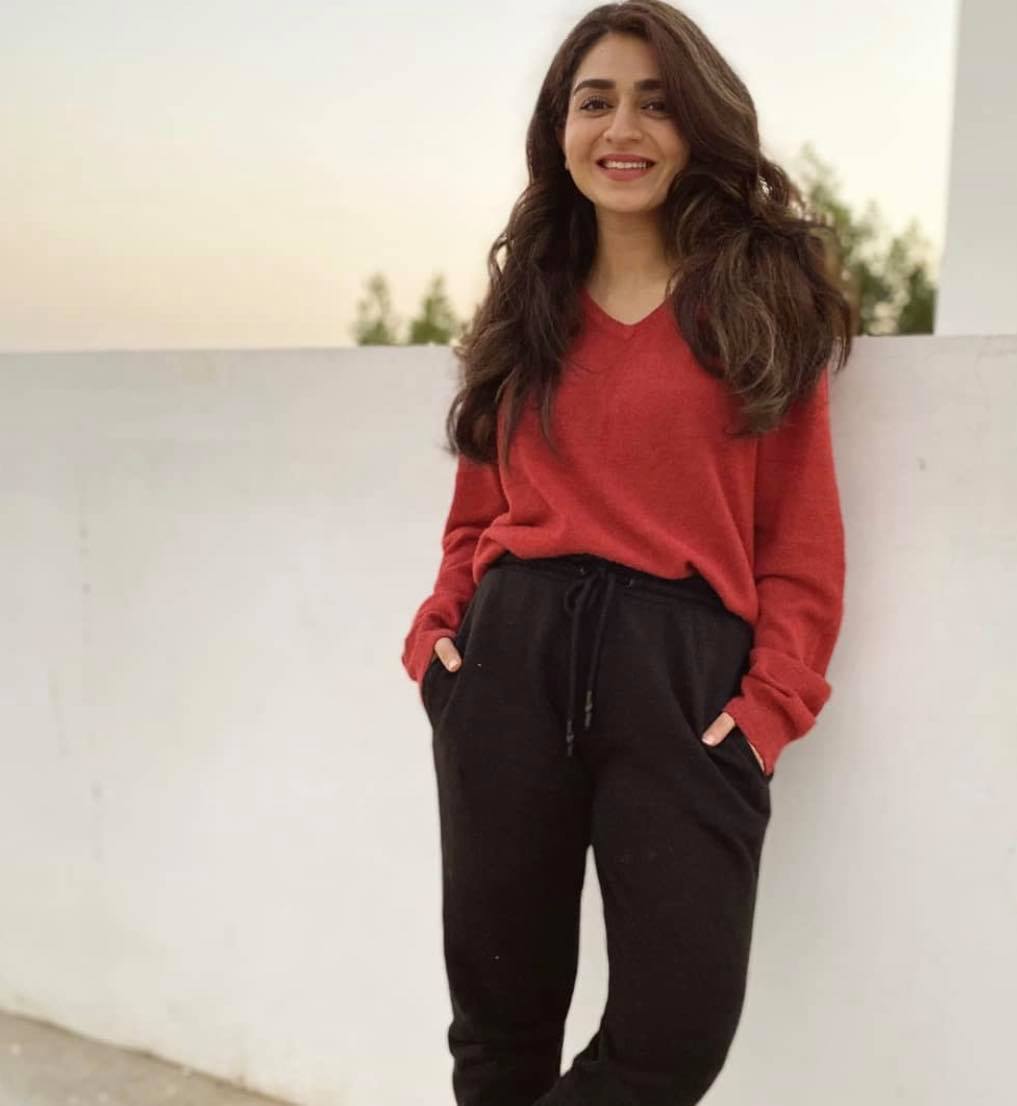 Hira Mani
Hira Mani likes to keep it absolutely simple and she is one such celebrity who shows that she is very much comfortable in her skin. As much as she has started doing glamorous looks, in this particular look from her drama she shows how wearing a simple outfit like this one can look super stylish too. All you need is a fresh face of makeup, a comfortable hairstyle and you're ready for the day!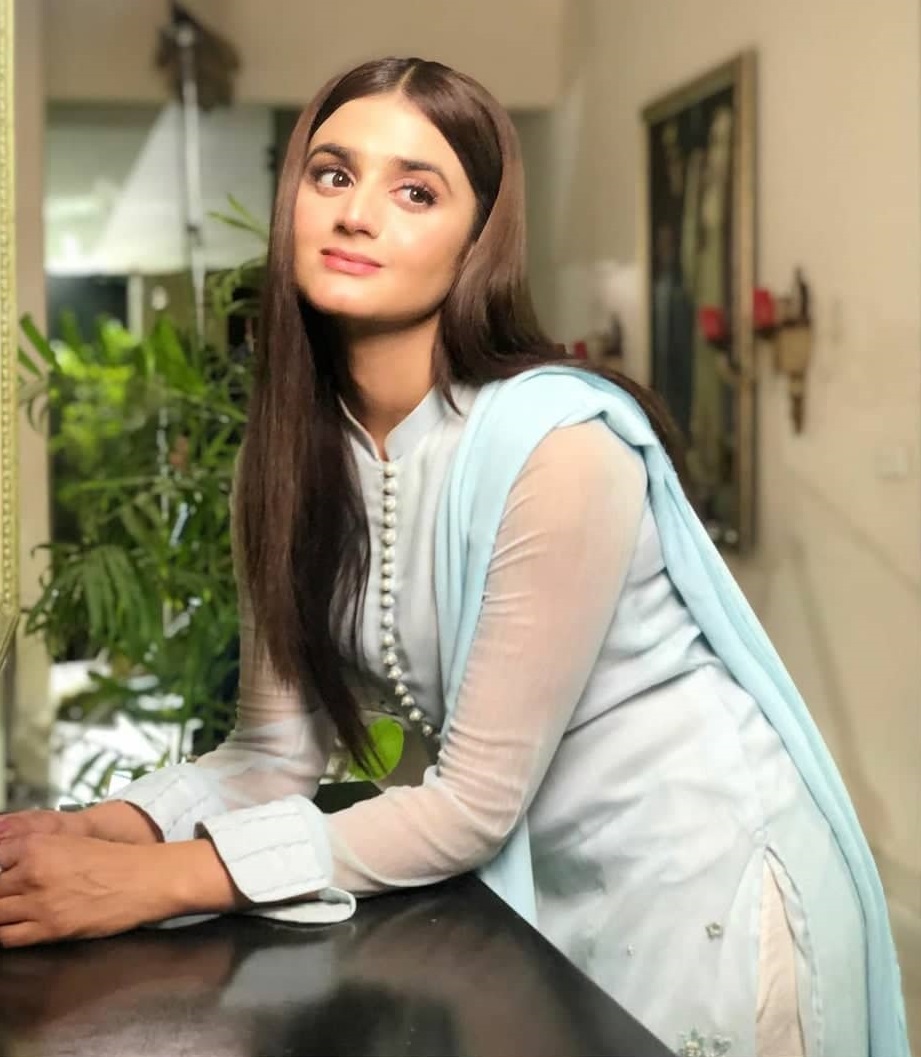 Minal Khan
Minal Khan has a huge fan following and she has become an icon for the young girls because of the looks she carries and the way she dresses up. Minal Khan wore this simple gorgeous suit on Eid, tied her hair in the most simplest of twists, kept her accessories simple, and voila, created a perfect Eid look.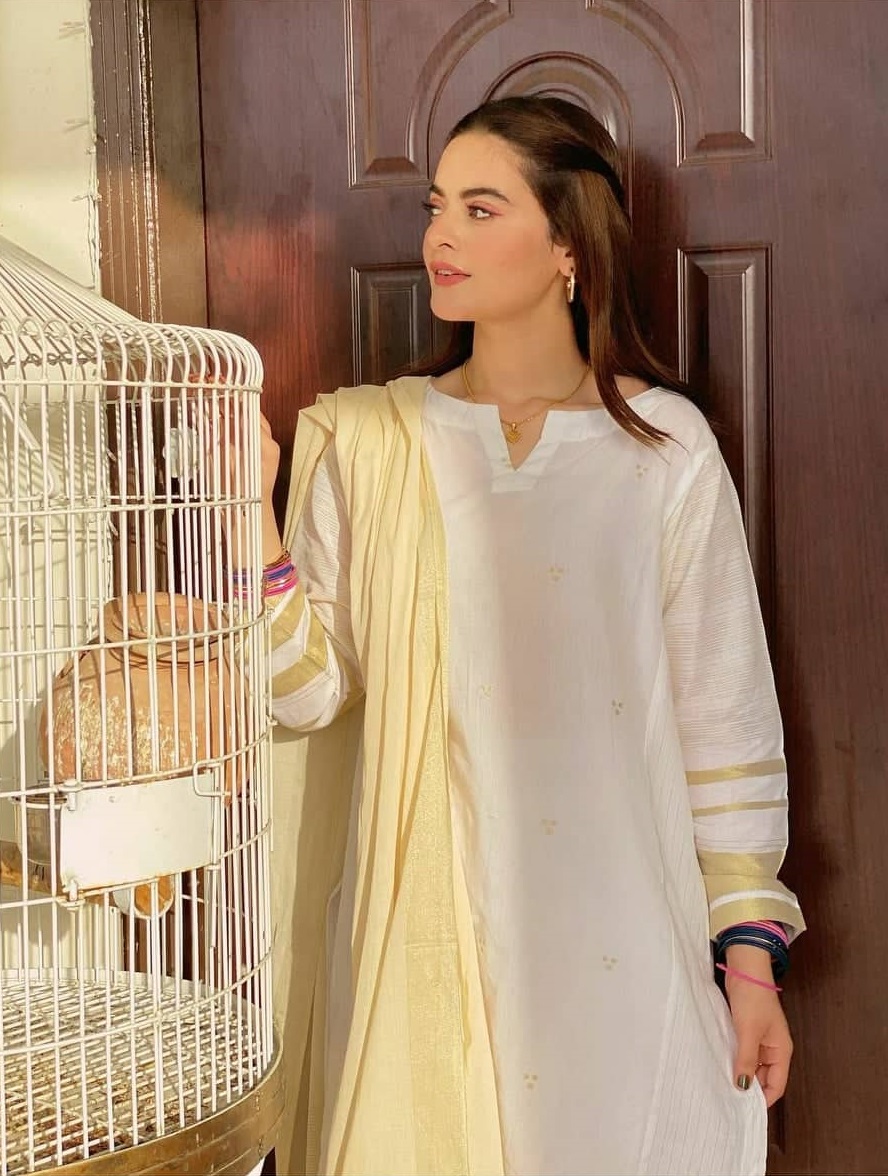 Srha Asghar
Srha Asghar is a really stylish actress who usually keeps her looks simple. Even after getting married, she was seen in some of the most appealing simple looks. In this picture, she is seen wearing an intricately embroidered casual kurta and she paired it with black tights. Her simple but cool hairstyle paired with those lovely shades makes this look complete.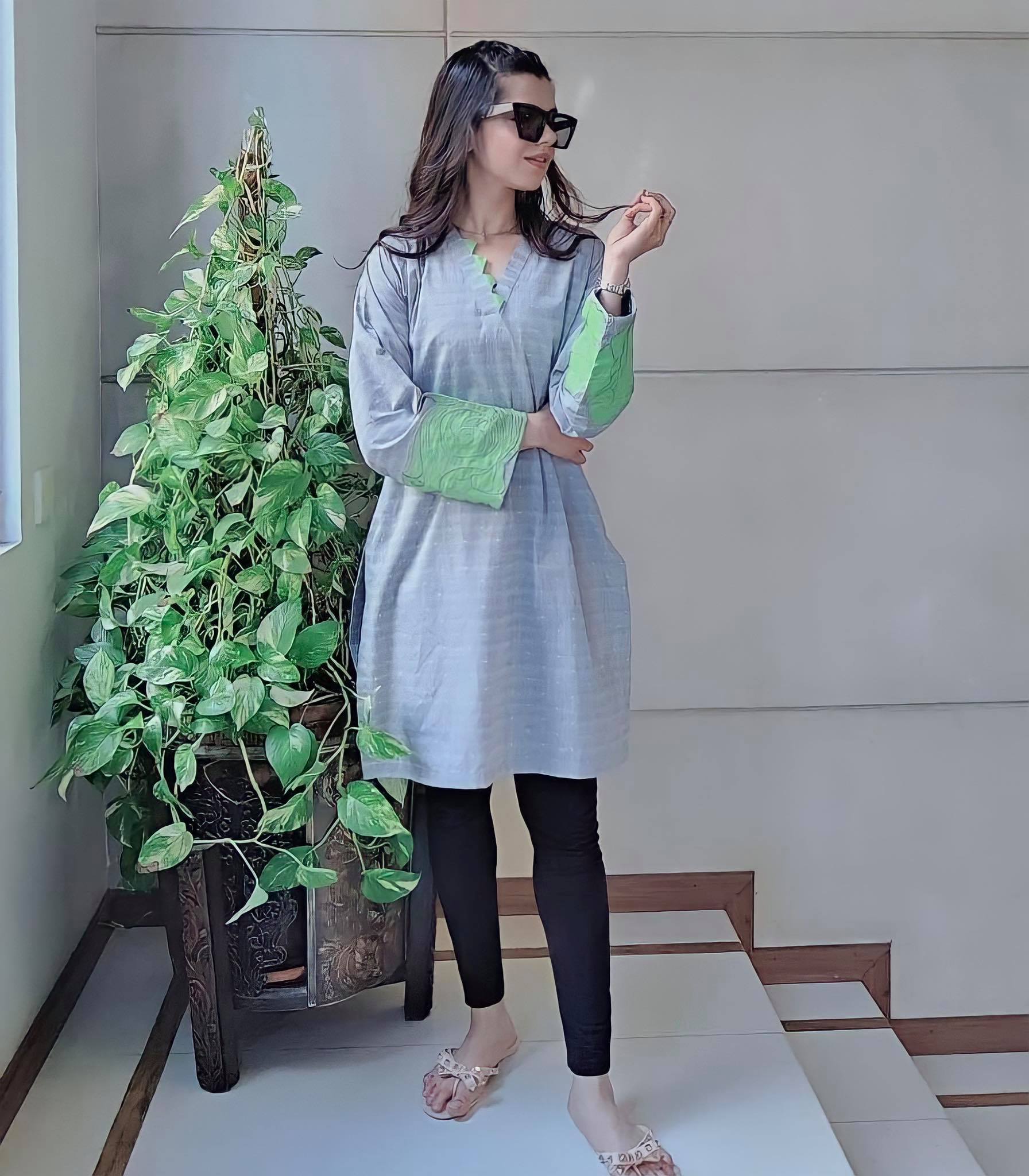 Hina Altaf
Hina Altaf has been seen in many simple and beautiful dresses in the recent past. In this particular picture, she is seen wearing the most stunning shade of grey, the dress is both simple and elegant. It is also stylish at the same time. Her slippers are also designed beautifully and her pose is the cherry on top!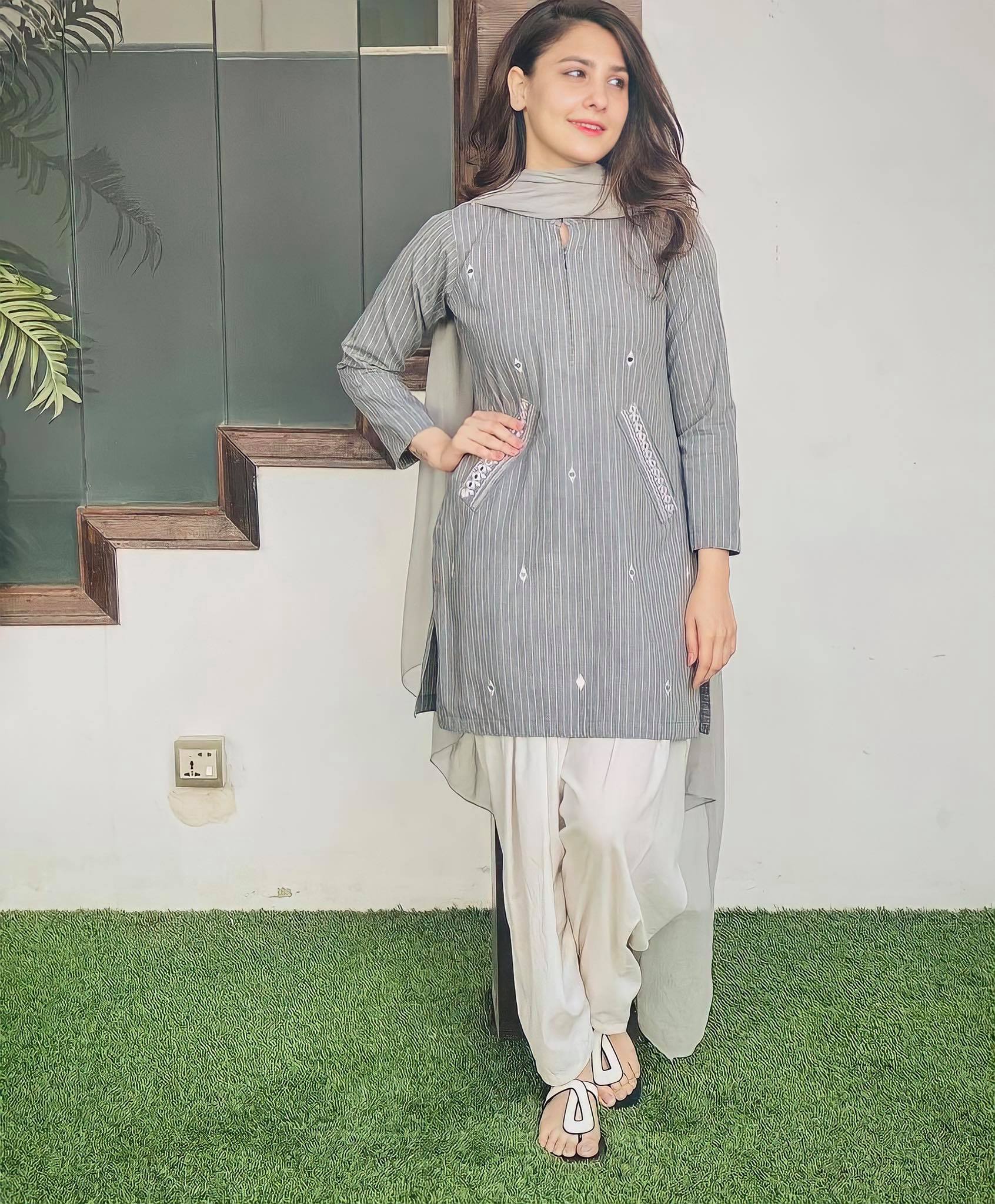 Tuba Aamir
Tuba Aamir has just stepped into the world of acting and she is being liked for her performance just as much as she is for her effortless and minimal style. In this picture, Tuba Aamir is seen wearing a solid color simple outfit which is attractive because the color suits her, and the stitching is beautifully done.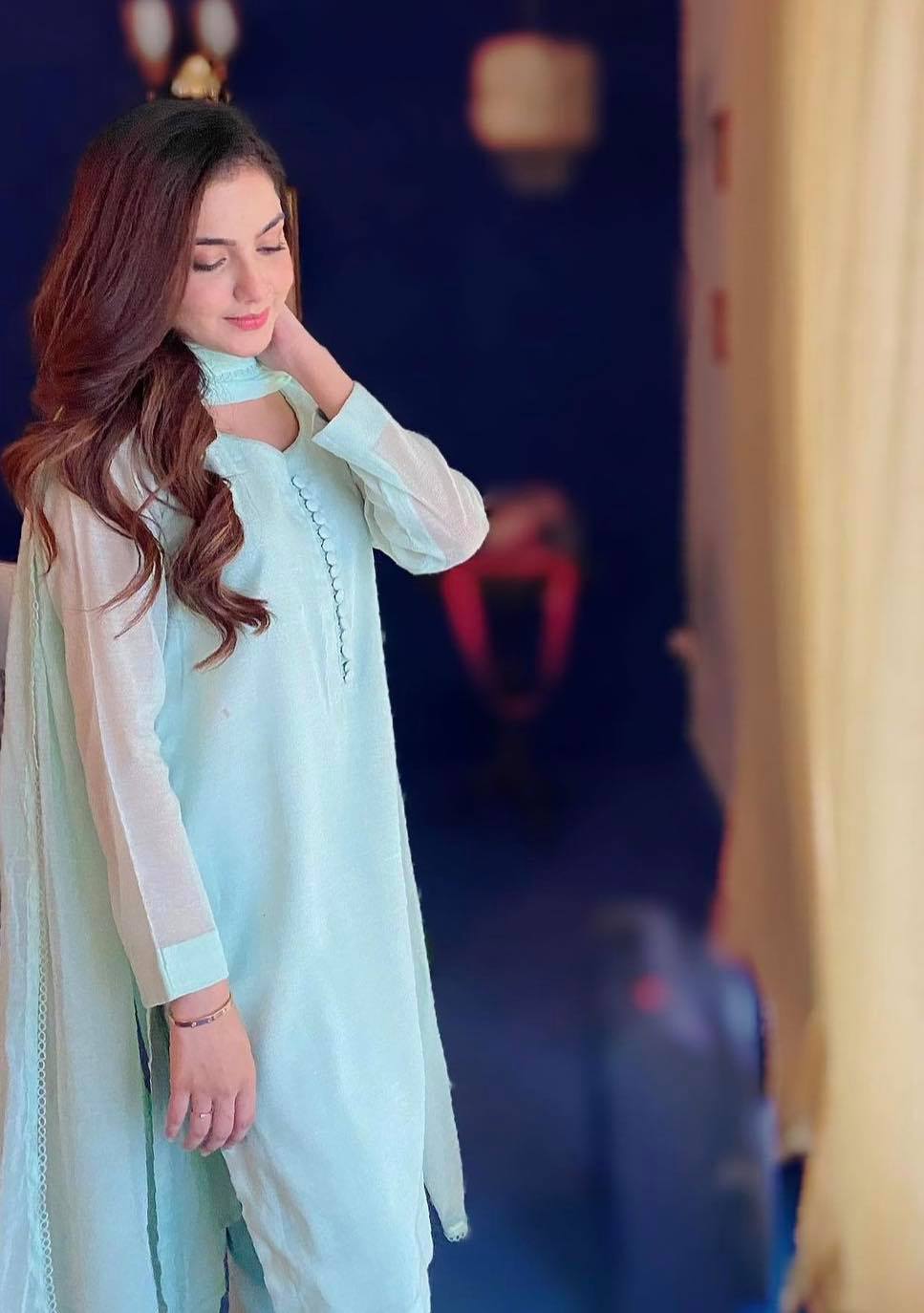 Faryal Mehmood
Faryal Mehmood is not seen in simple outfits often but for her drama Raqeeb Se she has been seen wearing the most stylish casual dresses. This look is perfect for college going girls who want to look simple yet stylish in their daily wear look.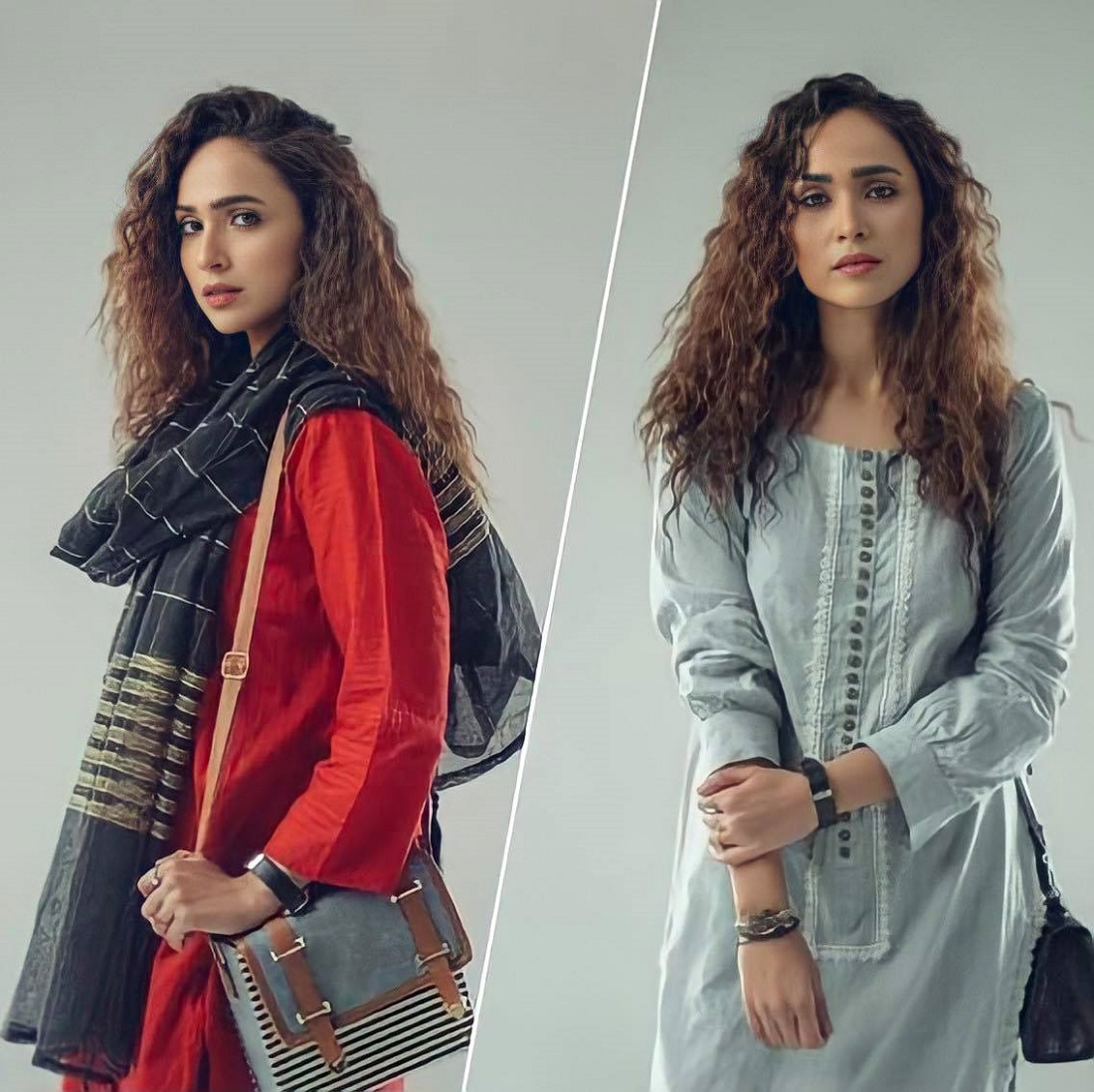 Aiman Khan
Aiman Khan is one of the most followed Pakistani celebrities on Instagram, therefore it is obvious that a lot of young girls look up to her be it for her lifestyle or her glamorous style. In this picture, Aiman is seen at her utmost casual daywear, showing that a pair of denim and a white blouse can never go wrong. Pairing it with sparkly earrings and wearing your hair in a natural state is all that you need to look effortlessly cool and simple.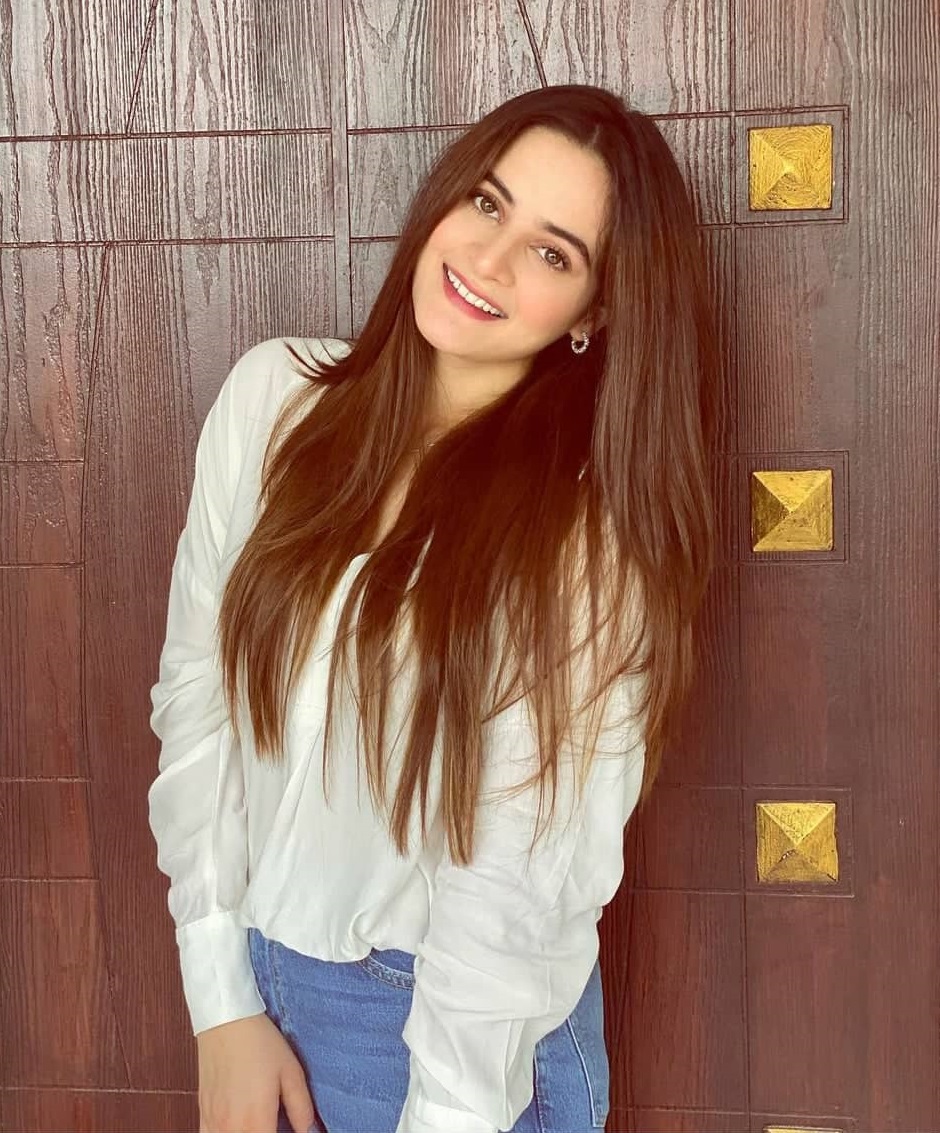 Ayesha Omar
Ayesha Omar is known for her elaborate red-carpet and TV appearance looks. She is a diva who is never afraid of experimenting, therefore to see her in this simple get up shows that she too likes wearing hoodies. This is a simple style statement coming from Ayesha Omar where all you need is fresh minimal makeup, your hair in a natural state, and your favorite hoodie.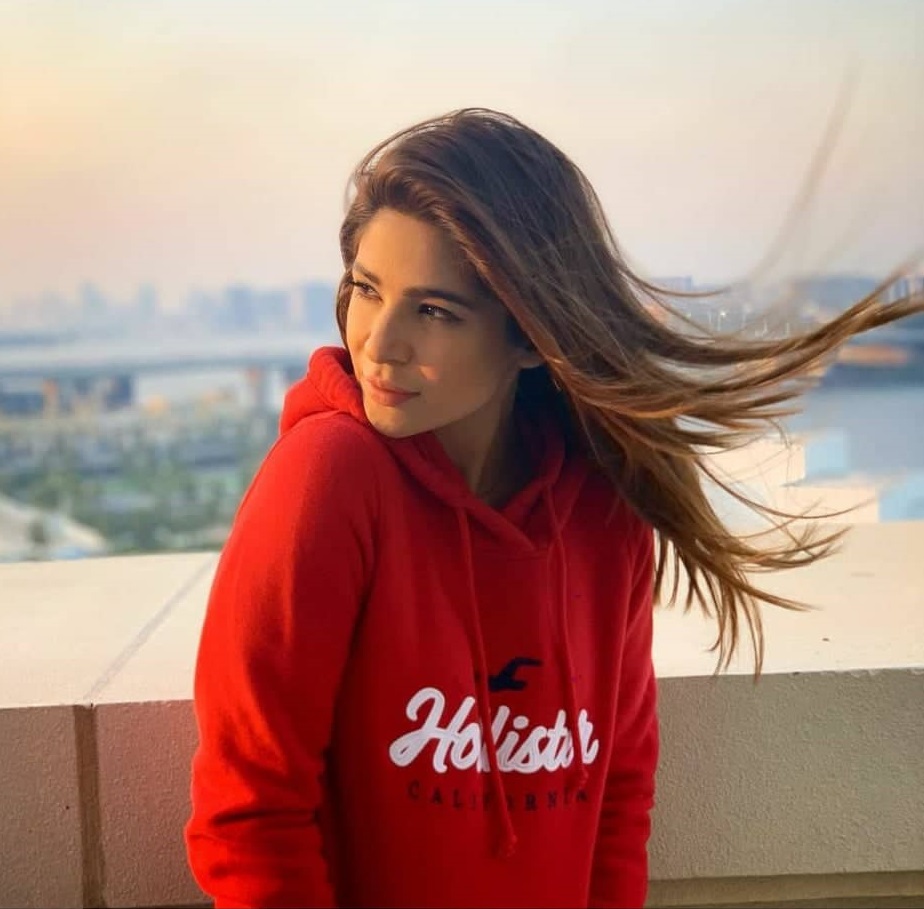 Saboor Aly
Saboor Aly has come a long way in terms of personal grooming and styling. This is the reason, now she posts such pictures that can serve as an inspiration to her young fans. In this picture, she is wearing a gorgeous white outfit and has kept her styling simple. The most endearing part is how she has completed the look with a pair of khussas, a true ethnic and traditional look being served by Saboor.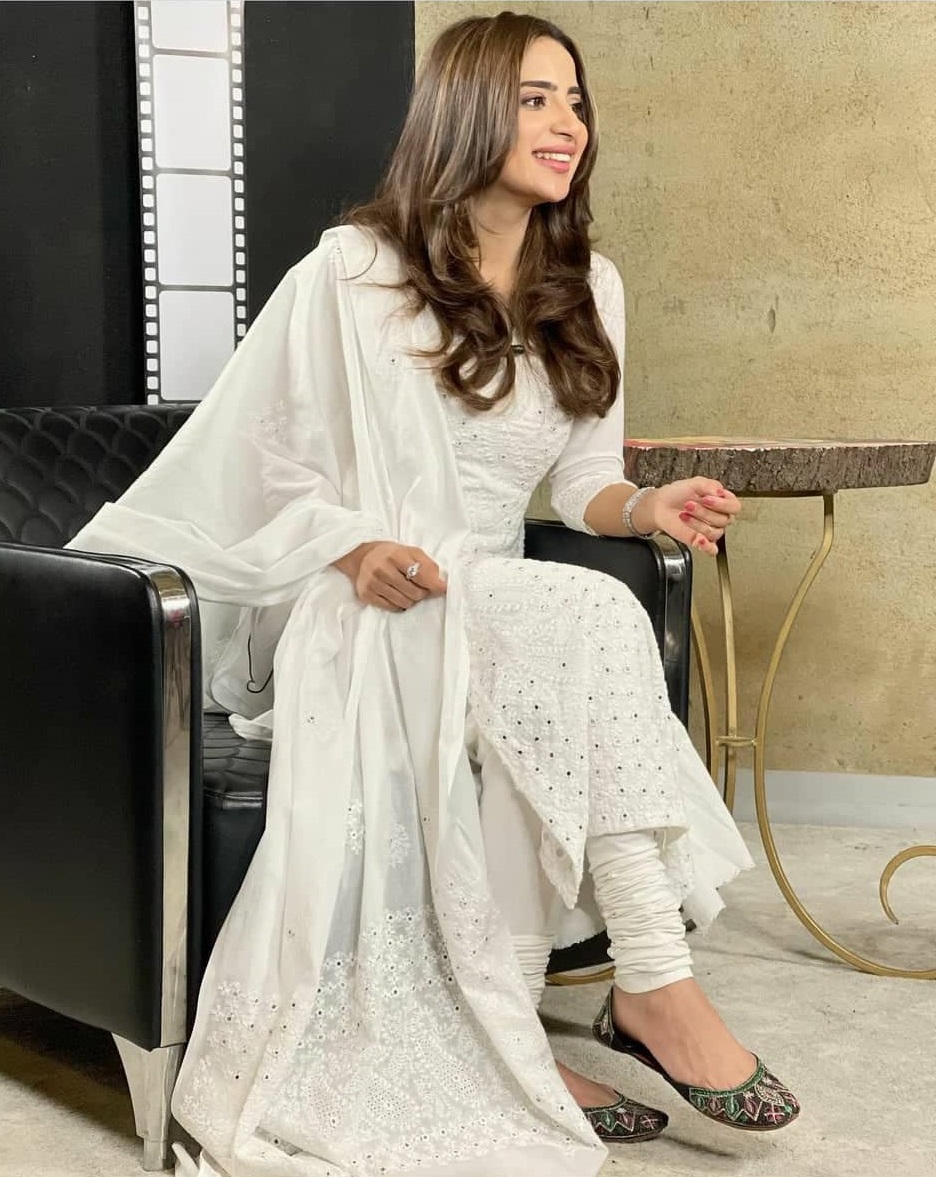 Zara Noor Abbas
Zara Noor Abbas's sense of style has evolved over time and her casual pictures are always the best. She posted this stunning picture of herself in a casual pose wearing the cutest polka dot top and she paired it with black jeans. Polka dots never go out of style and they always look uber cute.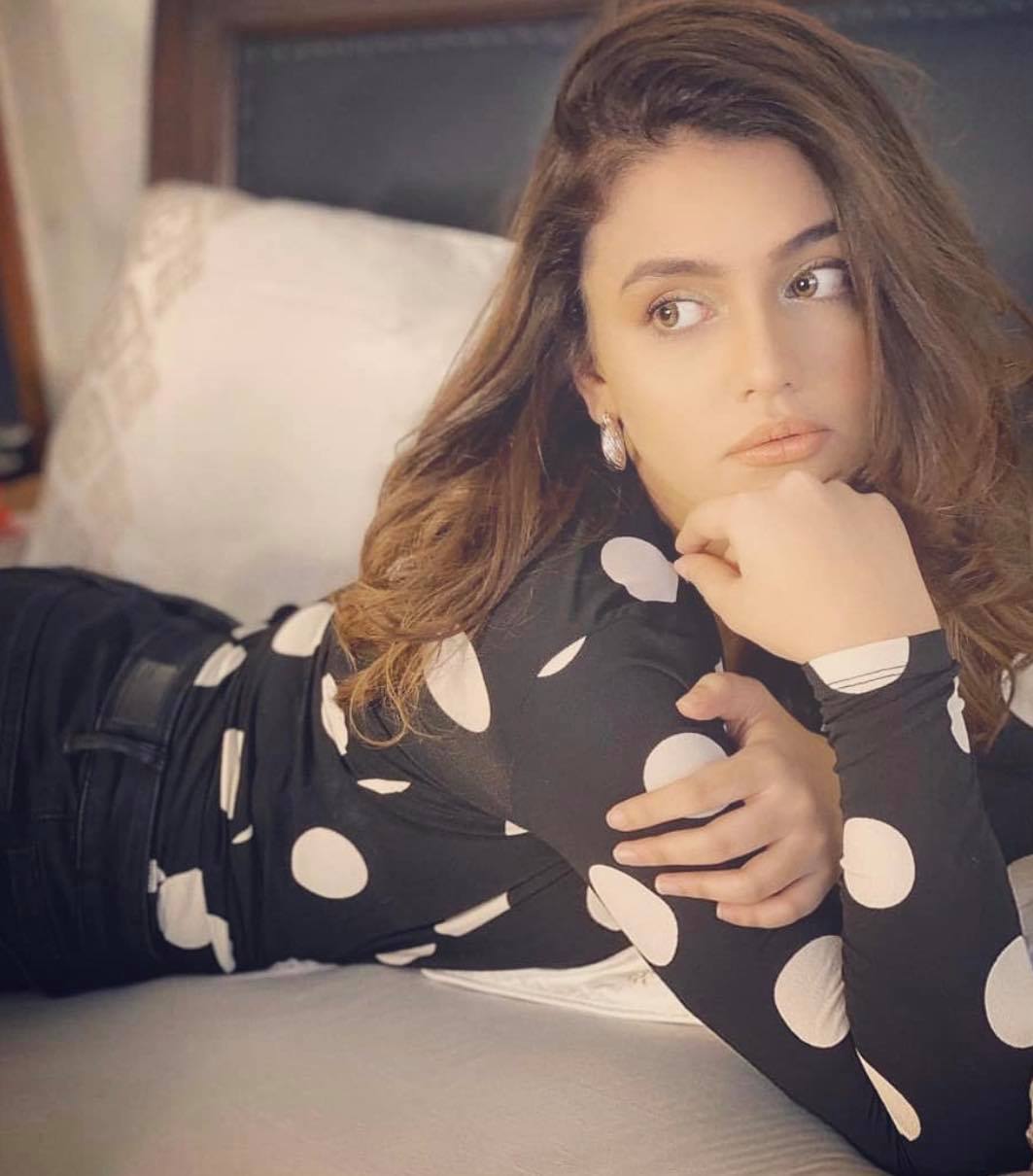 Komal Aziz
Komal Aziz's style is different from many of the other actresses. Very often she is seen wearing ethnic dresses which Pakistani actresses most often do not wear. In this picture as well she wears one such beautiful kurta which looks great on her. It is the most comfortable look for summers.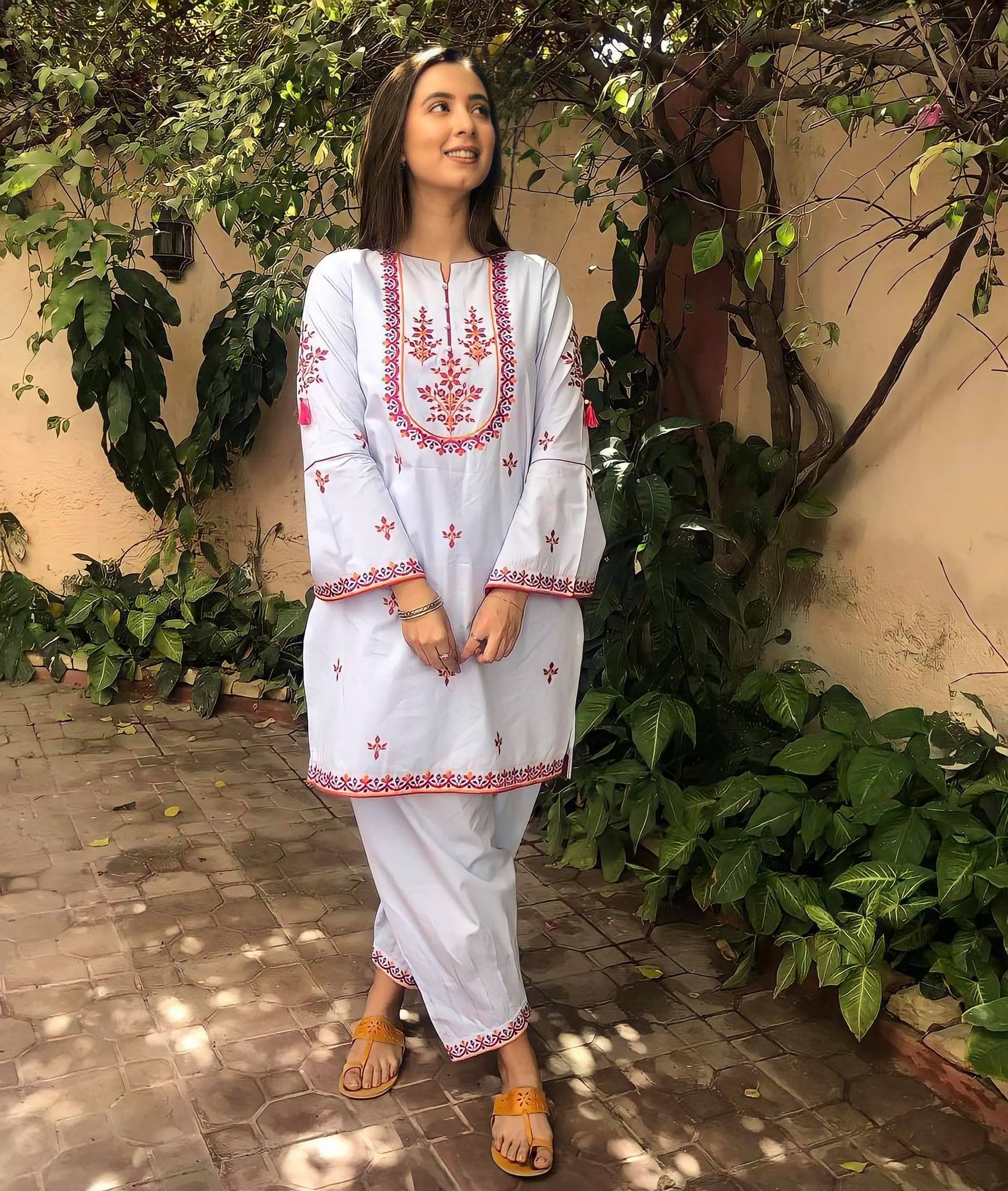 Ushna Shah
Ushna Shah's smile is always the most vibrant and attractive part of any look she is seen sporting. Recently, when she went to visit an animal shelter she wore this stunning and elegant kurta and was looking really stylish in a ponytail. Her accessories are on point too, who says you cannot wear jhumkas with such a look, they look great on her.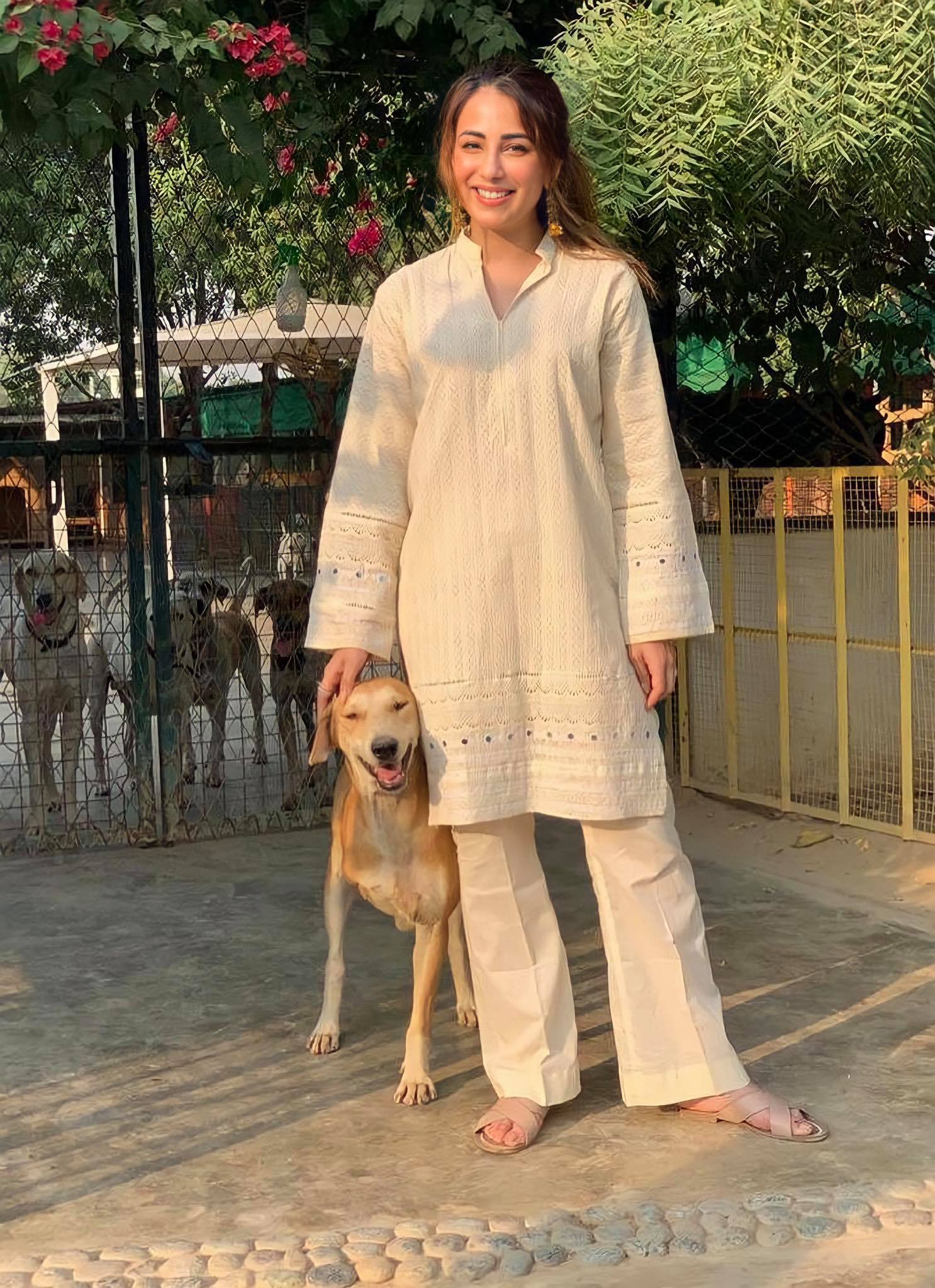 Zarnish Khan
Zarnish Khan recently lost a lot of weight and since then she has been experimenting with different looks more than ever. In this picture, she was seen dressed up casually but in the most stylish manner. She said that she picked up random outfits and the result was this look!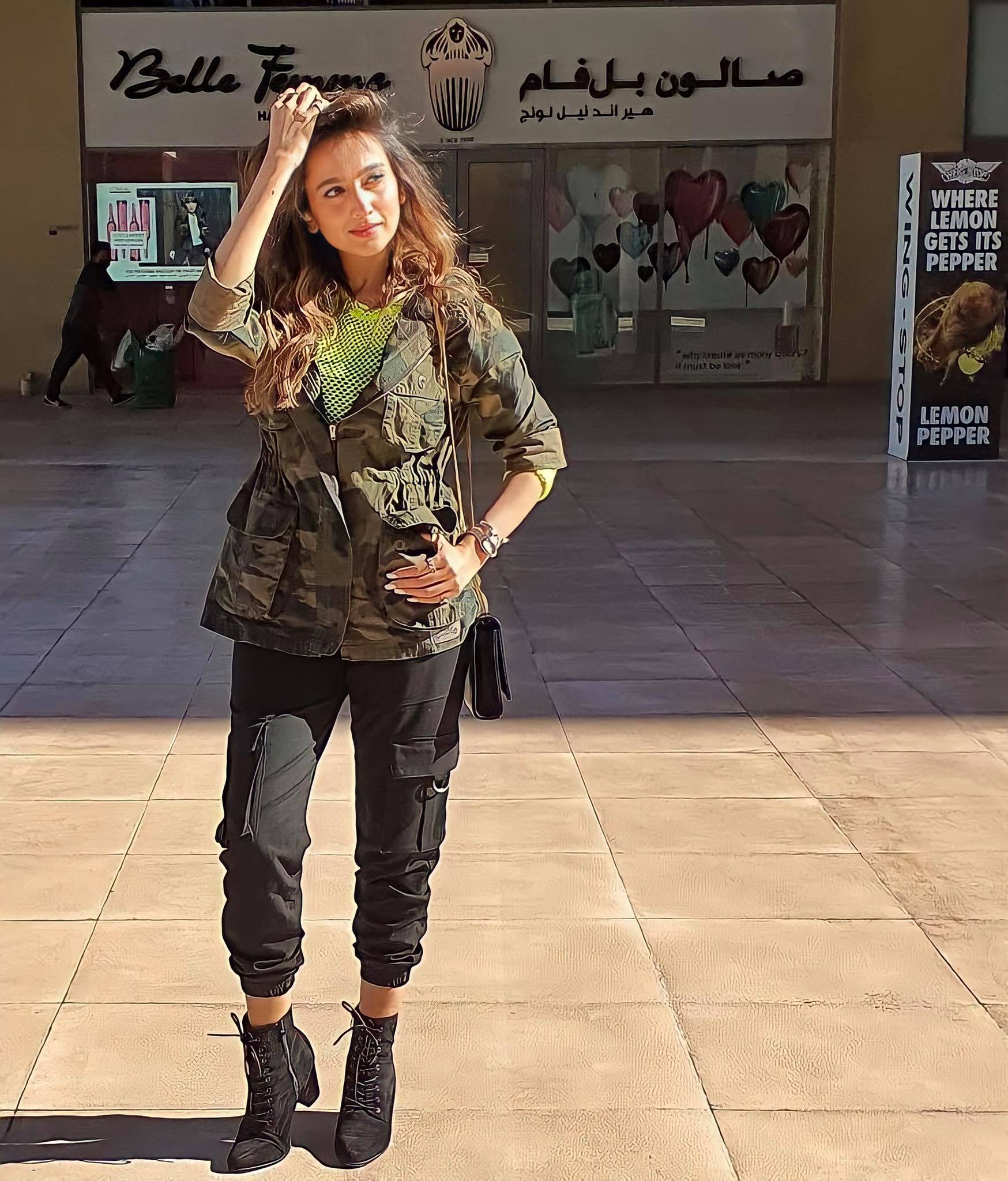 Madiha Imam
Madiha Imam looks pretty no matter what she wears and her style is more simple than any other actress. This recent picture of her is the perfect example of how she makes the most out of a simple look. And just like always she looks super cute in this look.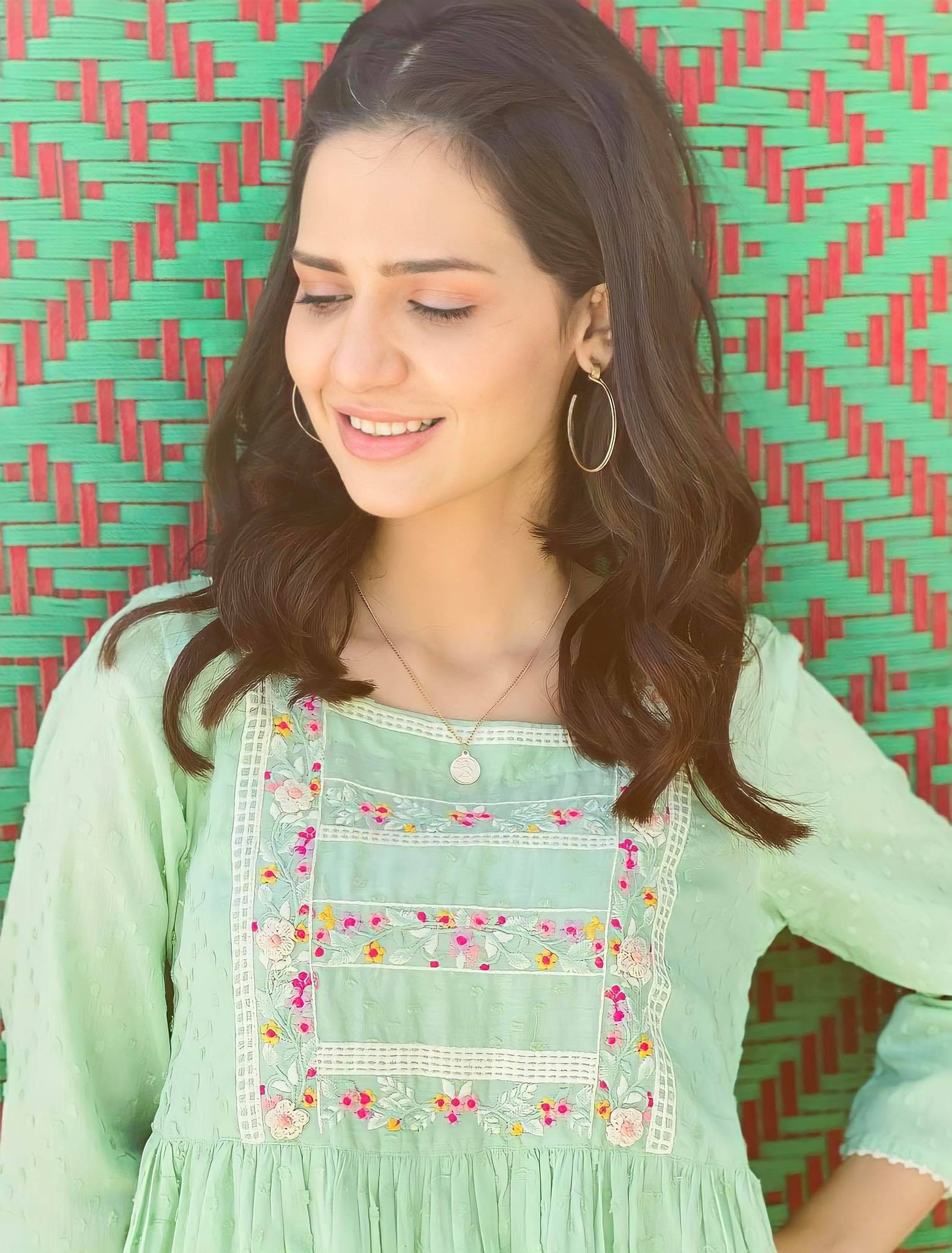 Sana Javed
Sana Javed has come a long way in terms of grooming and styling. Her Ramzan looks from last year became everyone's favorite where she wore such gorgeous semi-formals and carried them with utmost style while maintaining the simple look. In this picture, she is wearing a pastel mint green shaded dress with white embroidery. Her hair and makeup look are clean and fresh. The teardrop earring is another cute accessory to complete the look and make it event-ready.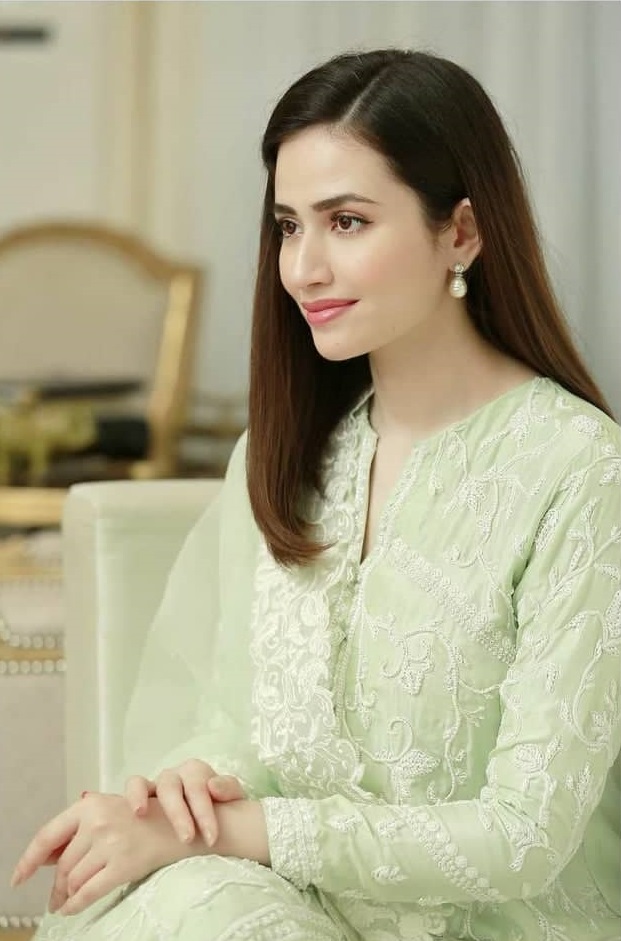 Sonya Hussyn
Sonya Hussyn is always seen experimenting with her looks and wearing elaborate dresses, however, this picture of Sonya Hussyn was refreshing to see. This was when she celebrated her birthday while shooting at a location. She is seen in next to no makeup, with her hair flowing in its natural state. She is wearing a simple black shalwar kameez and looks absolutely adorable.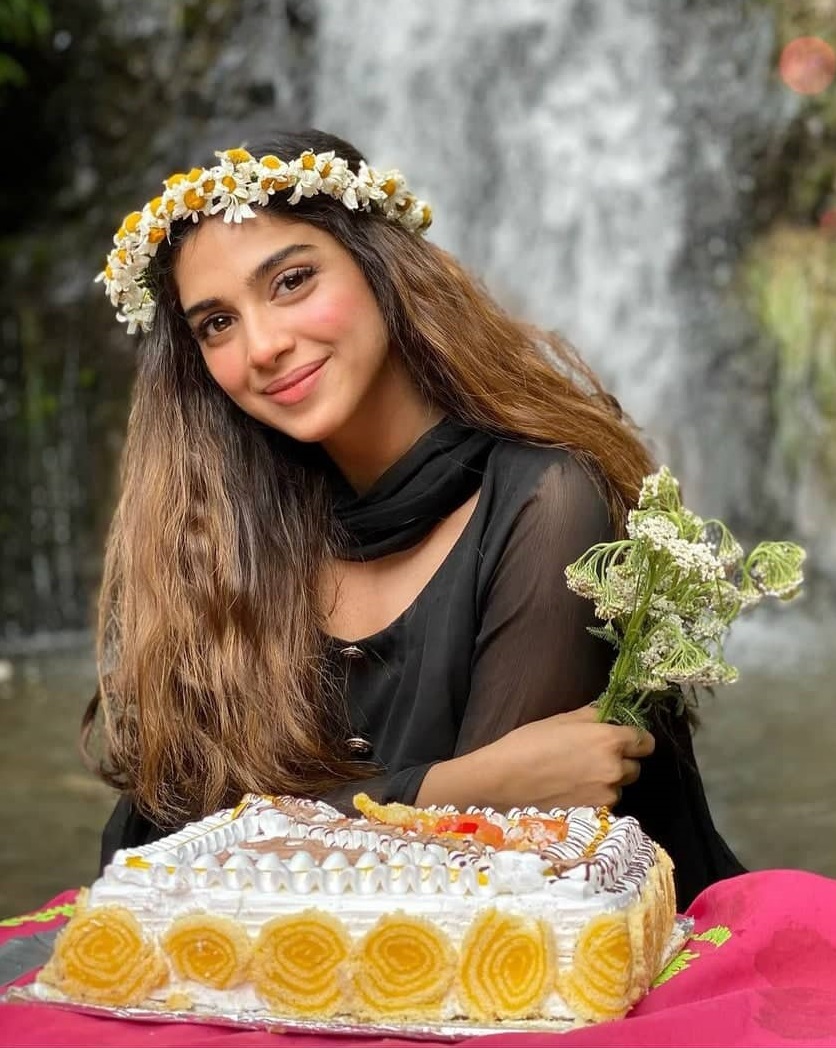 This completes the list of beautiful and simple pictures of Pakistani actresses. Do you like to see such pictures of Pakistani celebrities, do y you feel it leaves a good impression on their fans? Which of these simple looks is your favorite? Feel free to share your opinion.