Urdu Daily Jang is the largest circulated Urdu newspaper in the world. As per a report of Daily Jang, Subh Pakistan the new morning show of its associated channel Geo Entertainament has made new records on its first day i.e. on 19th November 2014.
As per the report the show continued for four and half hour and thus made the record of longest time duration of a morning show. Further adding the report says the show has also made new record of popularity (though metrics of these popularity records are not mentioned in the report).
As per report, the show is the talk of the town and it relieved the curiosity of many viewers. The unique style of Aamir Liaqut has won the hearts of television viewers. As per observers (name not mentioned) the show has the tendency to make further new records. The show started with reciting of Holy Quran and then National Anthem which was first such instance of its kind.
Informing about the rationale behind this morning show, Aamir Liaqut told that this show is for audience of every walk of life. The show is a light of hope to entertain, unite and amuse the audience. In past few years, the way mornings of television audience is destroyed in the name of morning show and the non eastern ways are adapted by morning show host has motivated Aamir Liaqut to start his own show. Through this show Aamir Liaqut wants to show how an eastern, muslim society should start its day and morning.
The first show has various segments and many renowned religious scholars participated in the show. A young lady who lost one eye in an accident in the show and told her tragic story making everybody sad. The host, Aamir Liaqut promised to bear all the expenses of the wedding of the lady.
Here is the full report published in Daily Jang today.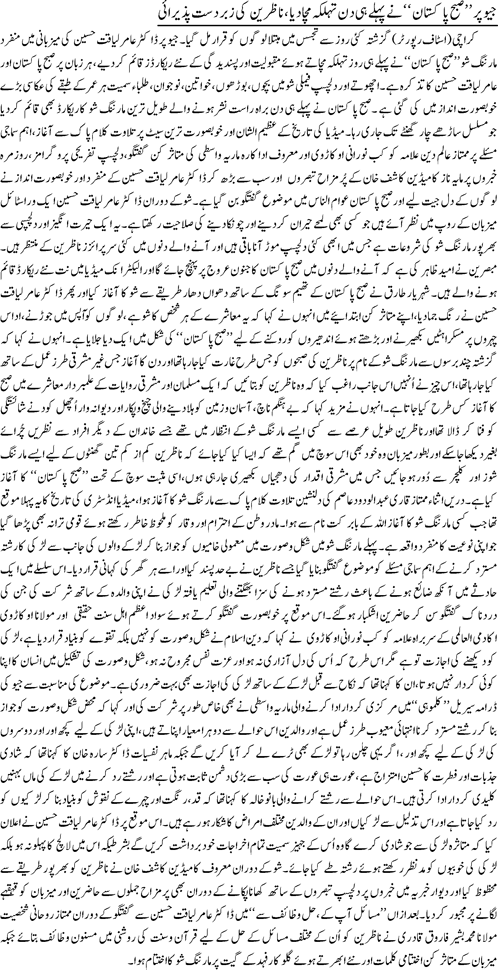 Rashid Nazir Ali