Eid is considered a lucrative occasion for the film business. Due to prologned holidays films released on Eid generate good revenue. But this Eid there are very few Pakistani films lined up for screening. Sultanat is the only film with higher production quality, the rest are quite inferior nothing much to look for to.
. It is a high budgeted movie, produced by Aslam Bhatti, written by Syed Parvez Kaleem and directed by Syed Faisal Bukhari. The cast of the film includes Aslam Bhatti, Javaid Shaikh , Sila Hussan , Deepak Shirke,Akashdeep Saigal, Shweta Tiwari ,Zainab Qayyum ,Nayyar Ejaz ,Shabbir Jan ,Mustafa Qureshi and Mona Lizza (Sara Loren). The cast include some big names from Pakistan and India. Syed Faisal Bukhari the director is famous for making commercial masala films and dramas. His earlier two films 'No Paisa No Problem'(2002)  and 'Bhai Log' (2011) had done average business, though Bhai Log performed much better than No Paisa No Problem.
Artist Sara Loren has done an item number in the film. The film is shot in Bangkok and Dubai, while post production and music is completed in India. From trailer it looks a pure formula masala film. It is the story of some Don type Aslam Bhai played by Aslam Bhatti who is also producer of this film. The film is produced under the banner of AB productions (Aslam Bhatti productions)
Earlier Aslam Bhatti has also produced a high budgeted film 'God Father The Legend Continues' in 2007 to launch himself as a film hero, but it failed at box office as Mr. Aslam Bhatti was terrible in leading role. The cast of 'God Father The Legend Continues' consisted of  indian and pakistani actors; Vinod Khanna,Meera,Arbaaz Khan,Ajab Gul,Mikaal Zulfiqar,Shafqat Cheema,Aslam Bhatti,Hrishitaa Bhatt,Maria Khan,Atiqa Odho,Preeti Jhangiani,Kim Sharma,Mehmood Akhtar,Amrita Arora and Aslam Bhatti. This film 'Sultanat' is his second attempt to appear as hero.
Here is the trailer of Sultanat
Full content from Urdu Daily Dunya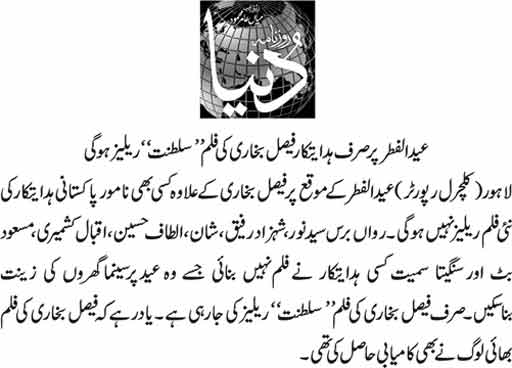 Rashid Nazir Ali