I believe everyone here on Reviewit knows what I personally feel about our commercial morning shows & the level of the detest that I have for them. I think when I first started writing for Reviewit, may be the 2nd or the 3rd article that I wrote was about morning shows discussing their ridiculousness & sadly, in all these years, that opinion of mine in general hasn't changed. However, I will definitely say that I am glad we have 'The Morning Show' on ARY News which is hosted by Sanam Baloch. Yes, I will admit that I am quite biased when it comes to Sanam Baloch because she is one such celebrity that I like & enjoy watching on screen as an actress and also as a morning show host. I remember liking Sanam Baloch's hosting when she was conducting her morning shows on Hum TV & ever since, I have really liked her personality & energy on screen because I feel if there is one such lady who knows how to conduct an interview & make the conversation interesting, it is Sanam Baloch.
Even though I am not too much into morning shows but every now & then, I do tune to them to see the interviews of the celebrities that might interest me but I will say, every time I have tuned to The Morning Show, it has been a pleasant surprise because of Sanam Baloch. I really feel the team of this morning show puts a lot of hard work & does a whole lot of home work before inviting their guests because of which their host always seems well-informed & the show looks well-researched. Even though Sanam is mostly seen fan-girling over every single celebrity that comes to her show but I find this quality of hers quite admirable because she seems genuine & honest.
To be honest, I always skip those episodes where she is seen discussing the benefits of fruits & veggies or the episodes where she invites beauticians or health experts but then again, since these shows are watched by ladies as they have an access to the television in the early hours of morning, these sort of topics are covered to cater to the people who might have interest in them so these episodes seem justified & necessary as well. Though I may be wrong, but I think this has to be one such show where Sanam Baloch doesn't rub skin whitening & lightening to everyone's face, which is something that I appreciate the most as it shows her caliber, her maturity, her mentality & her vision as a person & also as a host.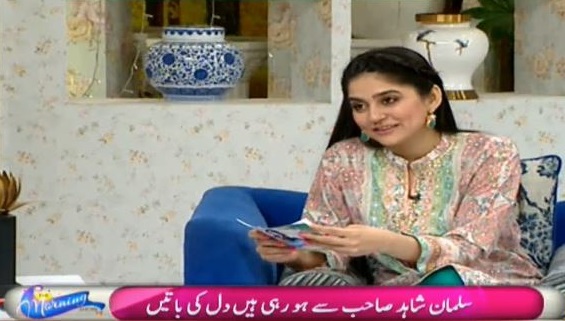 I will say that the way the team of The Morning Show makes sure to invite legends to their show is commendable but their job doesn't end there because they make sure that their guests feel special & are given utmost respect which they are entitled to. I have seen a few interviews of celebrities like Mr. & Mrs. Rahat Kazmi, Bushra Ansari & her sisters, Rashid Farooqi, Touqeer Nasir & today, I got to watch the interview of Salman Shahid. In all these shows what I liked the most was how all these senior actors were treated by Sanam Baloch & how interesting & decent her questions were. It is actually refreshing to see such big names being welcomed to the show for the sake of a conversation so that the viewers can get to know them better in stead of just using them as TRP generators or just fillers which is something that usually happens in the rest of the shows mostly. May be this is exactly why those celebrities who never ever make appearances on any other shows choose to share a conversation with Sanam Baloch because of the nature of her show & also because of Sanam Baloch herself as she engages in a conversation in such a wise manner that you enjoy watching the entire episode.
This is something that I & Fatima intend to continue where we will be randomly watching a celebrity interview & will cover it to spark a discussion. So, as this was the first time I was writing about Sanam Baloch's morning show, I decided to give a general overview so that the readers who want to tune to her show for the sake of these interviews but are skeptical about it know that they shouldn't be because her show is not like Jago Pakistan Jago or Good Morning Pakistan where they will find the hosts discussing about their newborns or husbands!
So, Salman Shahid, the legendary actor who has given almost 40 years to the industry was the guest of The Morning Show & I must say, I enjoyed each & every bit of this episode as it was actually quite interesting getting to know him & listening to all of his experiences. Salman Shahid has been a part of the industry for such a long time & he started off by telling that he was a student of Government College Lahore when he first made an appearance on PTV by doing a 25 minute play called Jawan Fikar, which was written by Sarmad Sehbai. After this he was approached by Shoaib Hashmi for his first drama & then there was no turning back. It was quite interesting to know that Salman Shahid's mother was also the part of the industry & she had the honor of working in the first ever live drama that was broadcast on PTV.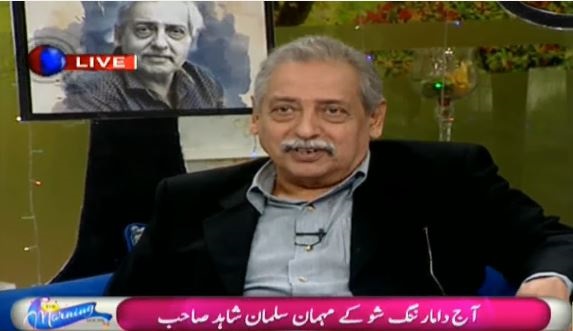 Salman Shahid told that he wanted to become an architect but became an actor as he had this aptitude for acting which he believes he inherited from his mother. Since, he was exposed to the industry at such a young age because of his mother, he felt that this was something that he could do. It was interesting how Salman Shahid discussed the dynamics of the industry back in that era because according to him, this job didn't pay much but since he was a college student, for him getting Rs. 60 per drama was more than enough.
While talking about the nature of his work, he said even though he has earned quite a lot because of the dramas but what he enjoys doing the most is theater & movies because there's a time restriction & these projects get completed in a short span of time in comparison to dramas. He also recalled his first experience of facing the camera which was interesting. Salman Shahid also discussed how he started enjoying his fandom in later stages of his career because at first when people started noticing him, he would get agitated by the idea of someone following him around to have a conversation with him.
Sanam Baloch then did a rapid fire round & it was amusing because it looked like he was trying to get past most of the questions. What's even more interesting is that he didn't have much to say about the young actors like Mehwish Hayat, Mahira Khan or Fawad Khan, so he just tried to ignore those questions with a smile & a little bit of excuse. The rapid fire might not have given us much insight but it did however shed a light on his easy going approach towards life.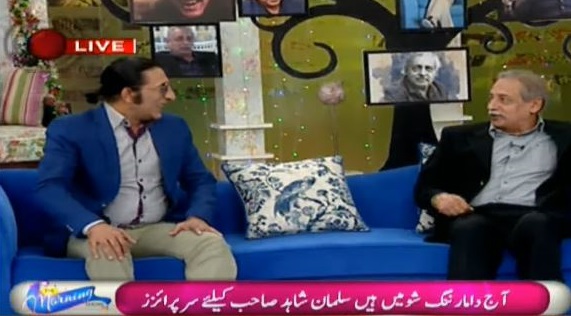 Adnan Shah Tipu later joined in the show only to give tribute to him & share his side of the story about what it was like being Salman Shahid's friend. The Morning Show's team also arranged video messages of Mehreel Raheel, Abdullah Farhatullah & Sadia Khan where they only had good things to say about Salman Shahid which in general told that he was quite a supportive senior & shared a great rapport with all of his co-actors.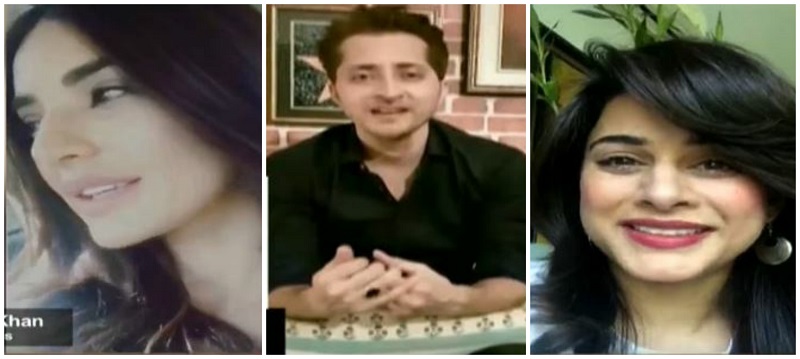 At the end of the show, Salman Shahid parted by saying that everyone should remember that their work is bigger than them because if they'd do that, they will respect it even more. Overall, it was quite an interesting conversation & the way the interview was conducted was brilliant too. I really hope we get to see more interviews of such celebrities who have been a part of our industry for such a long time as we only know them by face but because of shows like these, we'll be getting to know them as a person too.
You can watch the show here:
https://www.youtube.com/watch?v=jRHlV2-8fKE
Please share your thoughts as well.
Zahra Mirza.