Popular television host and politician Dr Aamir Liaquat Hussain tied the knot with the 18-year old, Syeda Dania Shah in February 2022. Aamir Liaquat while sharing a wedding picture with his third wife Dania, revealed the news on social media.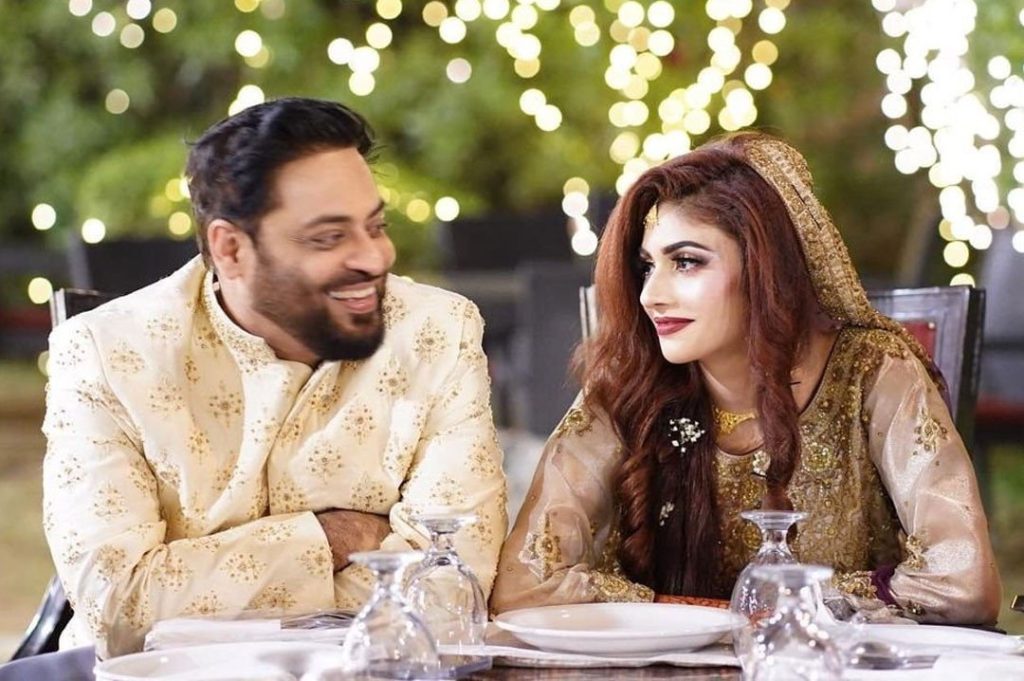 Yesterday, Aamir Liaquat's third wife Dania Shah reached family court and filed for divorce with shocking allegations against her husband. Dania claimed that four months of her marriage were no less than a torture as Aamir Liaquat was alcoholic and used to beat her. On the other hand, Aamir Liaquat while defending himself mentioned that he's not alcoholic, neither did he inflict any violence upon Dania, instead Dania should get medical treatment and then wait for what I am releasing.
Right after the news started circulating on social media, the audience was quick enough to respond. Netizens have been reacting to the news of Amir Liaquat Hussain's divorce and accusation's, making him trend on twitter, have a look!
Pakistani internet is a disgusting place today. An 18 year old who was obviously groomed & trapped by a 50 year old – is being blamed for wanting to escape from the abusive marriage and for asking for protection.
For us, it's ALWAYS the woman's fault.#DaniaShah #AamirLiaquat

— Kanwal Ahmed (@kanwalful) May 7, 2022
It is alleged that #AmirLiaqat's wife, #daniaamir was abused by him and she wants to no longer stay in the #marriage. We are continuously shocked and surprised how many women become victimized at the hands of #amirliaquat and go through the same vicious cycle again and again. pic.twitter.com/lZCs7E0D1r

— Beti (@betinomisogyny) May 8, 2022
Lmao as if she didn't know about amir Liaquat before marrying him.
11 Crore ki phainti laga dee ab yaad aya k Amir Liaquat to shaitan hei#Women #AmirLiaquat#DaniaShah pic.twitter.com/zcqsNpx3BF

— ꜱ ʜ ᴏ ᴀ ɪ ʙ 👀 (@Lame_Grunge) May 7, 2022
Pathetically disgusting acts

Ruining a life for quirky whimsical flaunting by flirtatious acts these theatrical persons indulge in!

It's scoffing at a sacred Relation God enjoined & ridiculing it by making it Legalised debauchery
Blessings#SS

#AmirLiaquat Staggering fine👇🏾 pic.twitter.com/geSWtxdPDE

— Hamid M. Sandhu (@sandhu_hamid) May 8, 2022
Man like #AmirLiaqat is curse to society…He deserve nothing but a dreadful end..@AamirLiaquat
And Woman like #DaniaShah is curse to society. She need to get out of shall cuz she is not much innocent as she is pretending to be.
They both are wrong & responsible for all this.

— A Life ❣️ (@gum__nam) May 8, 2022
No surprise. This is what happens when Syeda #DaniaShah 18 year old girl marries an half a century old man
Amir Liaquat who has no ethics and shame.#daniaamir #MothersDay

— Sameena Ismail (@sameena_ismail) May 8, 2022
I am ashamed of calling myself a man in a society where amir liaqat like perverts are preying on young girls in the name of so called Nikah. That misogynist needs to be thrown in Arabian Sea.#DaniaShah #amirliaquat

— Asad Khan Shinwari (@ShinwarayAsad) May 8, 2022
All of it wasn't more than a publicity stunt, someone pls give Amir bhai some more attention or he'll marry rakhi sawant:) #DaniaShah #amirliaquat pic.twitter.com/Kz2RFVwy0h

— Zawaar Ahmed (@zawaarahmedd) May 8, 2022
This is very heartbreaking, This should be investigated n whoever is found guilty get max punishment. #daniaamir #DaniaShah #amirliaquat #amirliaquathussain pic.twitter.com/lu0oR3uZ0i

— Dr. Amna Jamal (@amnakegossips) May 8, 2022
#amirliaquat shouldn't do nikkah….he should do partnership……such man don't deserve the sacred relation (nikkah)…

— i.tmirxâ (@Iqramirxaa) May 8, 2022
No one should feel bad for #amirliaquat dude is a pedophile. You really though an 18 year old married you for love? Creepy ass weirdo he needs to be put on a separate island fr fr

— Kalim (@pakiladka420) May 8, 2022
@AamirLiaquat Deen ka libada orh k shetani kam krne waly ALLAH na tjhy dunya ma e zaleel o ruswa kra dea ha himmat ha to comment section open kr ab#DaniaShah

— Hunny (@ITdeveloperr) May 8, 2022
If you marry a shetan, you deserved this treatment. Lalach buri Bala hai #daniashah

— SB (@TraderSB1) May 8, 2022
Not to victim blame or anything but in my opinion Dania Shah married him for clout. He already had red flags all around him. #DaniaShah #werejectPMC2022policy

— Talha (@DrTalhaGrewal) May 8, 2022
Exactly! Very unfortunate mentality of Amir Liaqat
A black spot on the ethics and Relationships .
He is not even discussable person …
Btw
The bird is finally out of the cage from this hawas ka pujari#AamirLiaquat .🤕😤#DaniaShahhttps://t.co/uDBSwxvxU3

— Syeda Saba (SS)🇵🇰💚 (@SyedaSaba12) May 8, 2022
Pathetically disgusting acts

Ruining a life for quirky whimsical flaunting by flirtatious acts these theatrical persons indulge in!

It's scoffing at a sacred Relation God enjoined & ridiculing it by making it Legalised debauchery
Blessings#SS

#AmirLiaquat Staggering fine👇🏾 pic.twitter.com/geSWtxdPDE

— Hamid M. Sandhu (@sandhu_hamid) May 8, 2022