Ushna Shah takes a dig at the haters who are criticizing Hamza Ali Abbasi on his announcement about his marriage. She said why is everyone worried about the way he announced it, if you dont like please ignore it and stay away.
She said kashmir Issue and Amazon Rainforest fire are much bigger issues and needs our concern.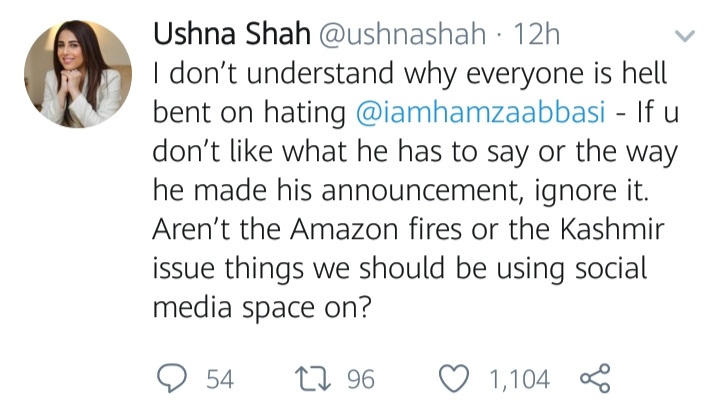 Well yes, we need to do criticism all the time it has become part and parcel of people 's lifestyle and they can't live without criticising . We mean if He is doing Marriage and wrote long notes about that and expressed his views.
Why are you bothered?
Wasn't it his own twitter and facebook?
Wasn't it his own opinion?
Wasn't it for his fans?
Yes, it all was for his concerned friends and fans.
If you're not his fan or friend or family, it should not bother you unless you are his real life enemy.
Ushna Shah always stand up for the right without taking care of others, her tweets are blatantly Savage when it comes to the issues and haters. We love and respect such actors who defends friends.