Every person has the freedom of speech. With social media's popularity, we now more than ever get to see "the freedom of speech" in action. From a common man to celebrities, everyone wants to share their stances on events, occasion and even on people.
It is a trend now to be aware of everything and have an opinion about anything that goes down. Our celebrities try to be updated with the events that take place and there are a lot of them who share their views with the public.
Recently Ushna Shah took to twitter to share her views after the First Lady's interview. She said, "Moral after First Lady interview: when Oxford education doesn't work. Captaincy in World Cup doesn't work. Cancer hospital doesn't work. Namal doesn't work. Dharnas don't work. Try Baba Farid?"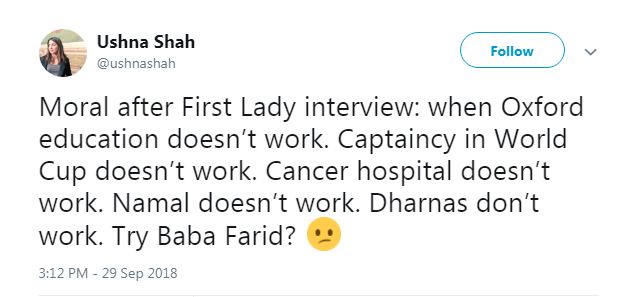 People at once took notice of what Alif Allah Aur Insan Starlet was referring to. A fan of hers replied to her tweet by saying, "Huh seriously delusional tweet. He won world cup as captain, his cancer hospital is in two cities giving treatment. Third one in karachi under construction. Namal is an awesome college giving free education and boarding to less fortunate. Very sad tweet. Ppp is ur party BUT???"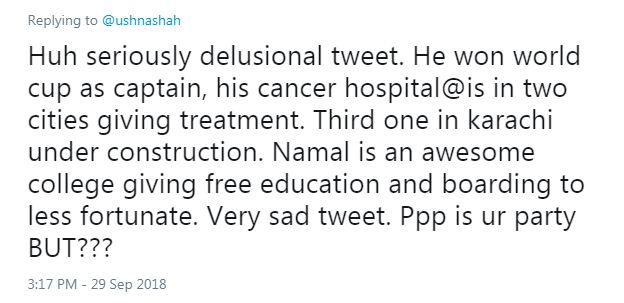 To this Tweet Ushna Replied,

After this, there was a storm of tweets about how irresponsible this tweet was on part of Ushna.


Some people made some sarcastic comments about her acting as well.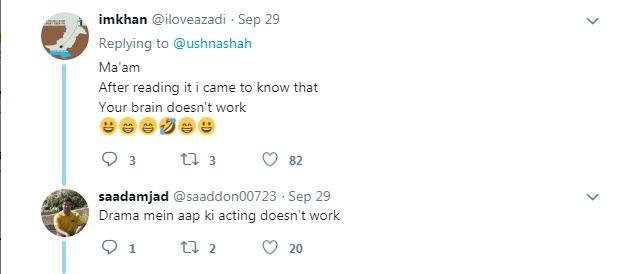 It is everyone's right to have any opinion that they want but celebrities have to be extra careful of what they say on social platforms.