Pakistani actress Veena Malik has ended her three-year-old marriage with Asad Khattak after a family court granted them divorce.
The 33 year old star filed for divorce in January this year. "There were issues between Veena and Asad but no one knew about it. Asad is still in shock after she filed for divorce. Asad will try his best to continue the marriage because he does not think it is a practical decision, especially now that there are kids involved," a source close to Asad told The Express Tribune.
The insider further revealed, the differences between the two started when Veena resumed working in showbiz. "They started fighting a lot when she began participating in the entertainment industry again," added the source.
However, earlier this month Asad tweeted some candid pictures with Veena and wrote, "A successful marriage requires falling in love many times, always with the same person. I LOVE U my world,"
"A successful marriage requires falling in love many times, always with the same person." I LOVE U my world @iVeenaKhan ???❤️❤️❤️ pic.twitter.com/KYJ66kKSTG

— Asad Bashir Khan (@Asadbashirr) March 2, 2017
According to sources, Veena filed a plea in a Lahore court on January 6, 2017 for a khula (dissolution of marriage) from her husband, which was issued in favour of the actress on January 31, 2017.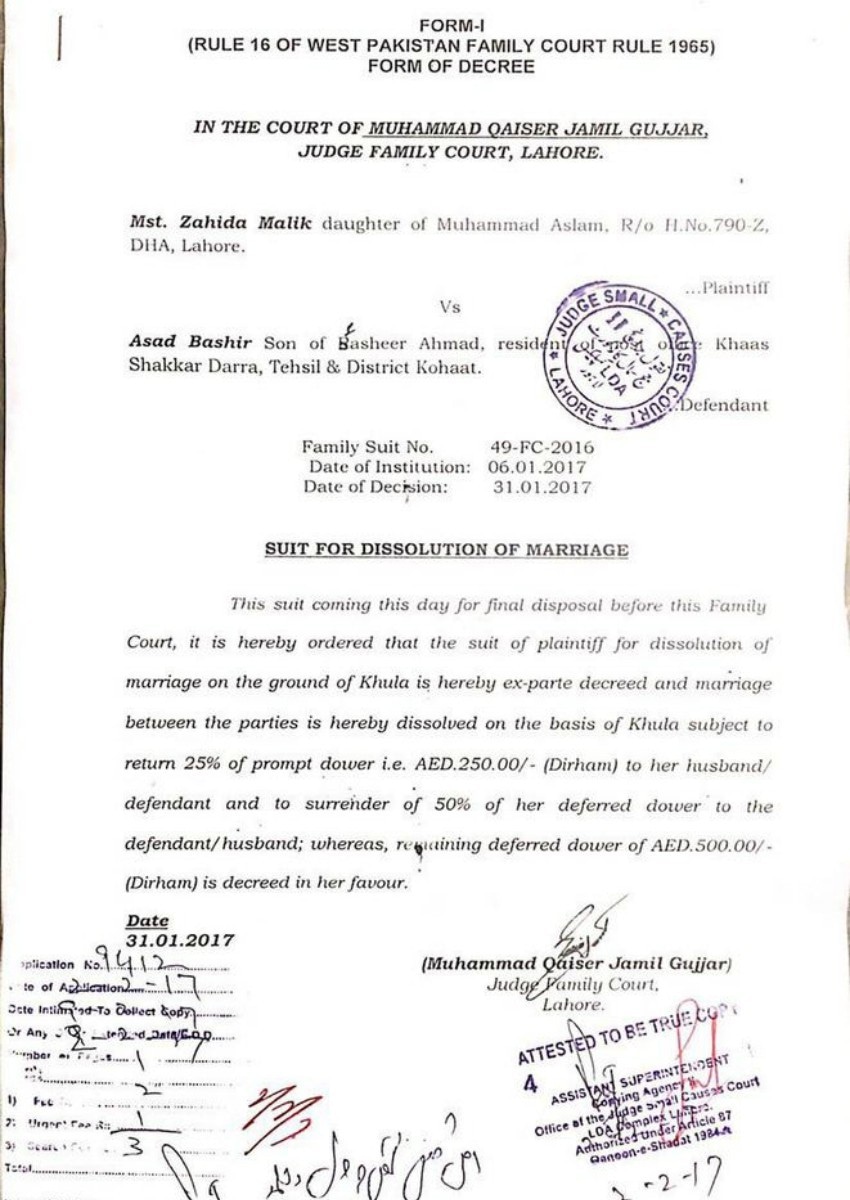 In conversation with Images, Veena's lawyer revealed, "According to the court, three notices are sent to the defendant to present himself before the court, if he fails to do so (which Asad did in this case) then the court issues an order in favour of the plaintiff (Veena)."
"Veena's reason for the dissolution of marriage is that Asad changed after marriage, his personality became 'complicated' and his demeanour became negative," he added.
The court has given a unilateral decision because of Khattak's unavailability. "The couple have 90 days to reconcile and if the defendant still fails to show up in court the divorce will not be reversible," shared the lawyer.
Veena's father, Malik Aslam revealed to Images, that even though Asad was a partner in his business, "he was not as financially stable and the couple had a lot of problems."
"We all tried for three years to make things right, including Veena. When controversies regarding her shoot in an Indian publication came out, I was the first one to support her and stand up against what was being said to her and this time I am with her, the decision (for a khula) she made was right and I stand by her."
He added further, "Even though their marriage has ended, my relation with Asad will remain the way it was, like a son and a business partner."
Speaking to Samaa News, Veena's father revealed more details.
Summing up the whole conversation: Veena's father revealed that they tried to solve the issues but the marriage failed and he's satisfied with his daughter's decision. He further shared that Veena was bearing all household expenses.
Veena Malik married Dubai based businessman Asad Khattak in Dubai on December 25, 2013. They have two children and according to the father, Veena will have custody of the children as she is the mother.