Waqar Zaka has always had an opinion about the most controversial of topics in Pakistan and he has no qualms about expressing them. He had received quite a backlash after his posts on social media forums.
This time the actor and host has spoken up about Qandeel Baloch, Pakistan's most controversial social media star who was murdered at the hands of her younger brother. She has been in news recently both due to her death anniversary and also in the wake of Baaghi, an Urdu1 drama that has been promoted widely. The drama will be airing shortly and veteran actress Saba Qamar will be playing the main character, Qandeel Baloch. There has been many speculations as to whether the drama will glorify her life and death or will be used as a medium to denounce evils of all kinds in our society.
Amidst all the questions and answers about Qandeel, look at what Waqar Zaka has to say about her a day ago;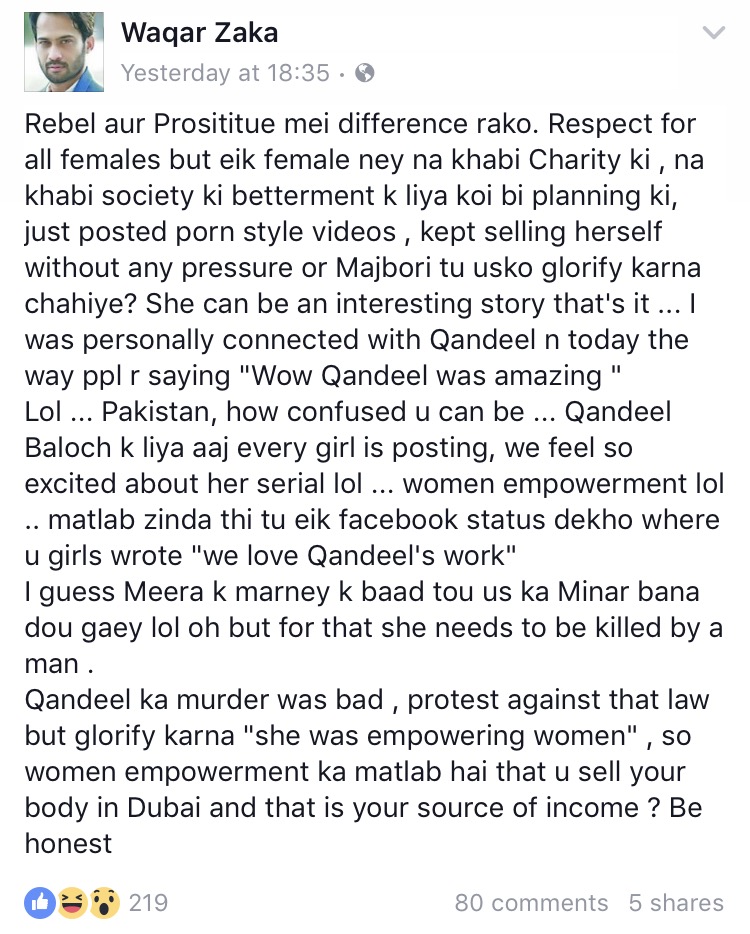 He wants people not to pay tribute to her just because she was murdered by a man. His point is that when you would not associate with Qandeel in her life or share anything about her because it was agreed by almost everybody that her activities were disgraceful, why would you want to glorify her now? Just because she was killed wrongly? She was wronged in the end but that does not make all the wrongs she had committed by choice take a right turn.
What do you think of Waqar Zaka's statements?