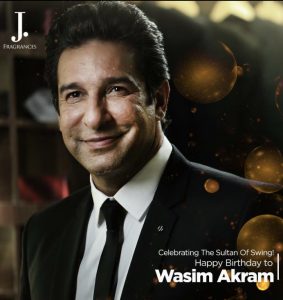 Wasim Akram is definitely the Sultan of Swing, one of the best all rounders Pakistan has ever seen. His fan following surpasses everyone else's and his charisma persists years after his retirement. We have seen him in many roles like batsman, bowler, sports commentator but the recent one, a game show host on Geo TV has made people remember that the King is as handsome and as charming as ever. He can still bowl over an audience, whether in a cricket ground or in a TV auditorium.
This 3rd of June, on his 51st birthday he celebrated on the sets of Geo Khelo Pakistan.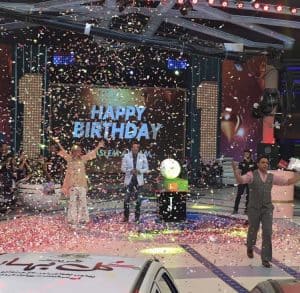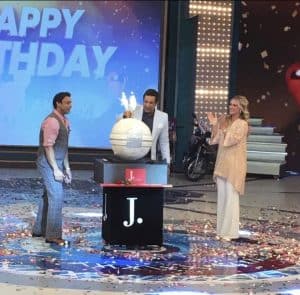 On his birthday, Wasim Akram announced the launch of his new signature perfume, 502 for him and for her, based on the 502 one day wickets he has taken. This has bragged him the second place  in the world of one day cricket regarding the number of wickets.
This perfume is manufactured, marketed and sold by none other than J.Fragrances By Junaid Jamshed. Akram thanked Sohail Ahmed for bringing out this fragrance so perfectly.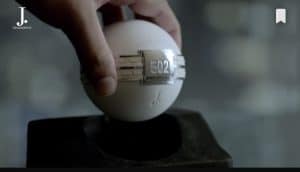 Wasim Akram then sprayed 502 on Shoaib Akhtar who was all praises for its seductive  smell as well for the man behind it. He called Wasim Akram his elder brother and mentor of all these years. The TV commercial for 502 was run on air in which depicts Akram as the personification of success and glorifies his take on life.
There was a surprise for Wasim Akram in the form of his wife Shaneira and a giant cake in the exact white hard ball shape as the perfume 502.
The audience were delighted on the announcement that all of them will get this unique fragrance, priced more than Rs 3000, as a gift after the show. A standing ovation with much applause was brought on after this amazing news.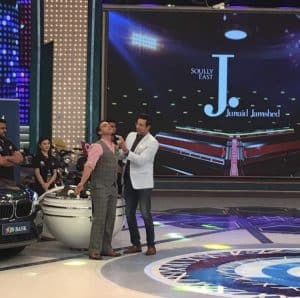 So let's see how 502 For Him and 502 For Her fare in the market after being launched by Wasim and Shaneira Akram in such a grand manner on a live show.