Okay so I thought that I should carry on with my trend to keep you guys updated in each Quarter as what is currently good to watch. In previous October-December 2014 quarter there were indeed many good dramas that went on air where some ended disappointedly like Firaaq and some in a perfect manner without being dragged like Shanakht.
It's good to see that each succeeding quarter is better than preceding quarter and I am glad that even in this quarter we are encountering ourselves with the quality entertainment.
So what's currently good to watch in this quarter?
Aik Pal: My drama week begin from HUM-TV mega project Aik Pal. Have you ever wondered why Dusri Biwi was promoted heavily by ARY DIGITAL despite having a monotonous storyline? The simple answer is just to compete Aik Pal. ARY exactly knew that it was hard to compete Aik Pal a drama whose facebook page received 0.2 million likes before even it goes on air. ARY wants TRP and they are finding it hard to compete Aik Pal on Monday. I am disappointed with Aik Pal team as they have revealed their whole story in OST video. Hence the story is interesting and I am happy with the pace but I am not curious anymore as what will happen next. This drama is ON-AIR on HUM-TV every Monday at 8.00 pm.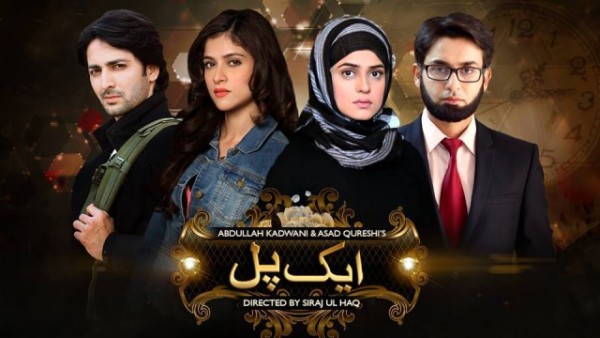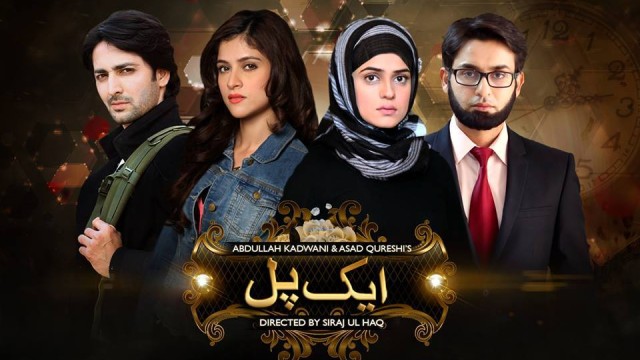 Zid: A new drama serial on HUM-TV which had replaced Shanakht. 5 episodes have been completed and I am enjoying it so far. I am glad that this topic is highlighted for the first time where we stand for our rights but others consider it as Zid because our way to ask for the rights is quite straight forward "Baat sahi thi tareeqa ghalat tha". Production Quality is really good and I hope so will be the storyline. So those who are not watching it is recommended to watch this drama every Tuesday at 8.00 pm on HUM-TV.

Chup Raho: Rameen ke liye Arz kya hai "Aik sitam aur meri Jaan abhi jaan baqi hai" Does anyone know when this drama will end and up till when we have to face illogical twists in this drama. I had seriously no idea where this drama is heading and to be honest it is being dragged unnecessarily. Only Yasir Nawaz direction is keeping me hooked up and I am rooting for Numair to confess for his heinous crime otherwise I should have left watching it but still as I watch it on internet so there is a facility to keep forwarding unnecessary scenes ;-). I wonder what ARY will offer on Tuesdays when this drama will end in order to compete successfully with Zid. This drama is ON-AIR on ARY Digital every Tuesday at 8.00 pm.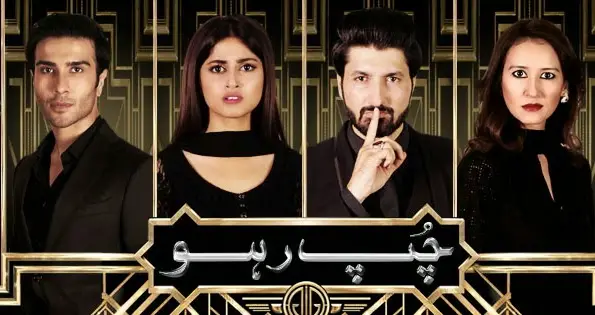 Still nothing much exciting on Wednesdays still. Tum Mere hi Rehne failed to make an impact. I hope some channel will bring quality entertainment on Wednesday prime slot.
Main Bushra: "Mene qismat se buhat jangein lari hain aur kehte hain jise qismat baddua de de usse Ishq hojata hai aur jise ishq hojai usse kisi ki baddua nahi lagti". So Moving on to Thursdays now I don't know but there is something in "Main Bushra" drama that keeps you engaged either dialogues or pace. So far 20 episodes have been completed and anyone who wants to catch up with this drama again can watch it every Thursday at 8.00 pm on ARY Digital.


Sadqey Tumharay: Well I left watching this drama as it is not my cup of tea. Anyways no need to recommend as I am pretty sure most of the audience is still watching it every Friday at 8.00pm on HUM-TV.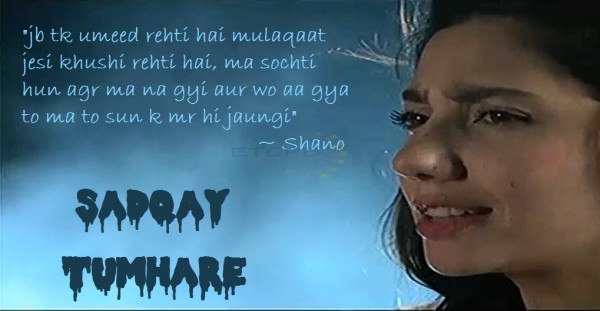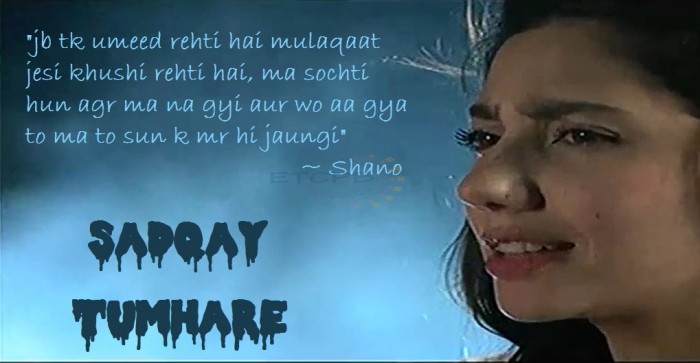 Jackson Heights: This 24 Instalments drama might have dragged in between but now it has entered in exciting phase. The way Bhatti finally expressed his feelings for Salma reminds me of Sajjad Ali song "Chahe jis Mulk bhi jai, chahe jis shehar bhi jai mein hi Mahiwal hun tera sonhi meri gal sunja". I am curious to know whether Sikandar will actually shoot Bhatti in next Installment or not. To stay tuned keep watching this drama every Friday at 9.00 pm on Urdu 1.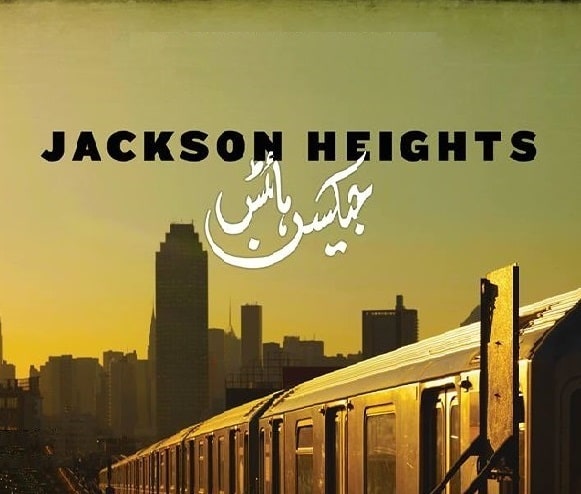 Digest Writer: I guess there is no need to recommend this drama as most of you are already watching it. However I do want to say one thing that for past few episodes this drama is losing charm which was there at start, this drama now seems to be like a typical saas bahu stuff. I do hope that Fareeda's professional phase will be soon put on front. This drama is ON-AIR every Saturday at 8.00pm on HUM-TV.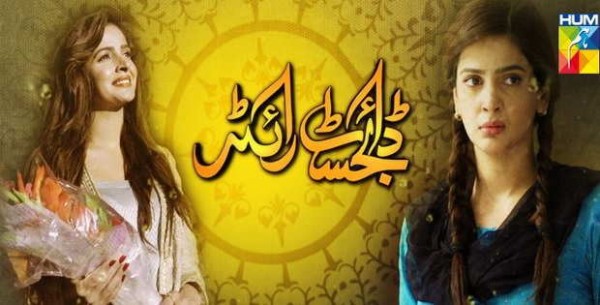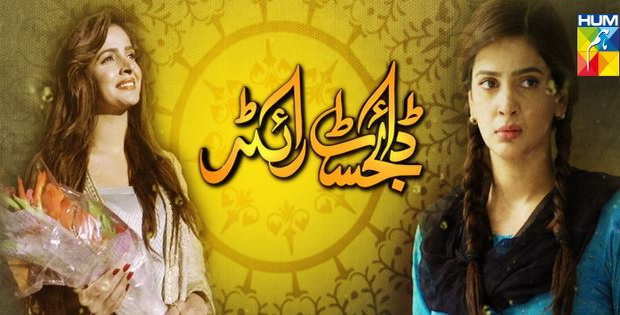 Goya: Will I consider it currently the best drama on screen? This is something new and super exciting on-screen considering the fact how our dramas remain incomplete without prolong unnecessary wedding functions but you will not find as such thing in this drama. Another reason to love this drama is the cast, it's good to watch young and old talent performing impeccably in this play specially I want to mention the short role of Adnan played by Gauhar Rasheed. Those who are still not watching this play, it is highly recommended to tune on to this play every Saturday at 9.00pm on ARY Digital. Previously this play is on-air on prime slot at 8.00pm but I don't understand the strategy of changing the time. Is it just because to avoid competition with Digest Writer and to increase TRP?


There is nothing good on-screen on Sundays but yet another substandard drama "Nikah" revolving around two wives and all those wedding craps. However if you want to watch something hilarious then you can watch HUM-TV new sitcom Mr.Shamim every Sunday at 7.30pm.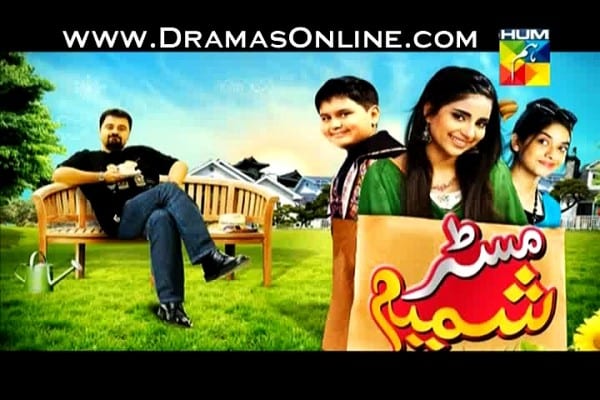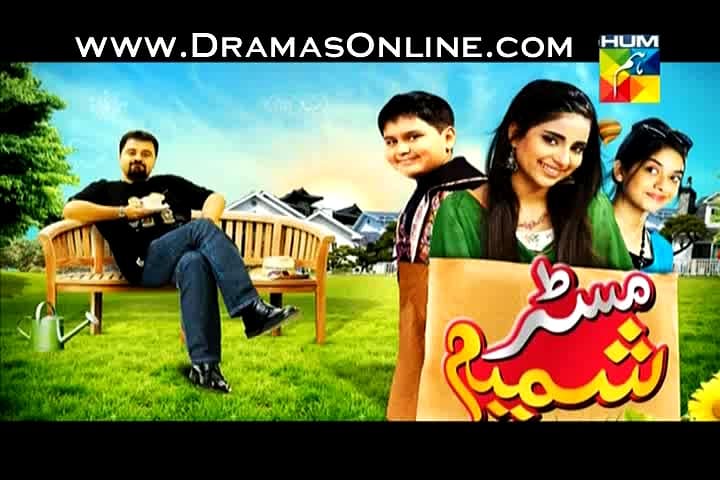 So what are you watching nowadays?