20 Celebrities To Follow On Instagram & Snapchat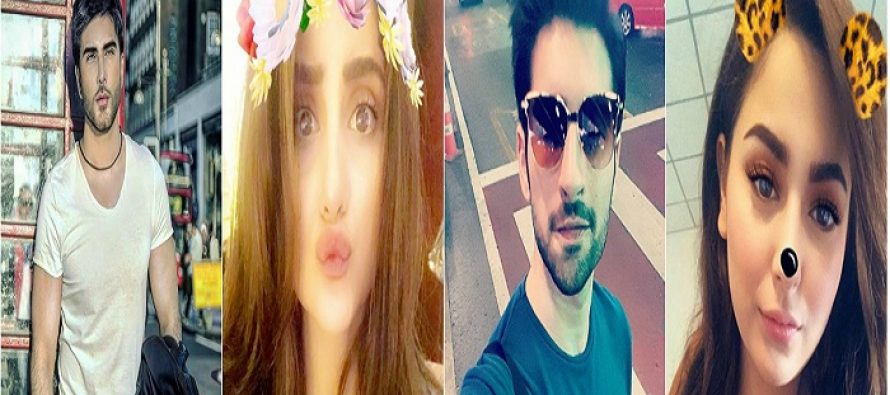 The Internet has changed the way we (fans) interact with the celebrities. Snapchat and Instagram are the favourite social media platforms of the celebrities and many of them love to share stuff with their fans. Celebrities share silly, glamorous, and behind-the-scenes moments with us. Be it our friends or popular celebrities, we always want to add more people on Snapchat and Instagram and take a sneak peek into their lives. So, to make things easier, we've rounded up top 20 celebrities you all should follow on Instagram and Snapchat.
1) Imran Abbas Naqvi
Snapchat username: imranabbasnaqvi
Instagram username: imranabbas.official
2) Hania Amir
Snapchat username: thehaniaaamir
Instagram username: haniaheheofficial
3) Bilal Ashraf
Snapchat username: iambilalashraf
Instagram username: ashrafbilal
4) Minal Khan
Snapchat sername: minalkhan9
Insagram username: minalkhan.official
5) Sanam Chauhdry
Snapchat username: sanamchauhdry
Instagram username: sanamchauhdry
6) Anoushey Ashraf
Snapchat username: anoushey
Instagram username: anousheyashraf
7) Mehreen Syed
Snapchat username: mehreensyed
Instagram username: imehreensyed
8) Osman Khalid Butt
Snapchat username: aclockworkobi
Instagram username: aclockworkobi
9) Hareem Farooq
Snapchat username: hareem.farooq
Instagram username: hareemfarooq
10) Uzair Jaswal
Snapchat username: uzairjaswal
Instagram username: uzairjaswalofficial
11) Nadia Hussain
Snapchat username: nadiahussain_nh
Instagram username: nh_nadiahussain
12) Sohai Ali Abro
Snapchat username: sohaialiabro
Instagram username: sohaialiabroofficial
13) Aiman Khan
Snapchat username: aimankhan2
Instagram username: aimankhan.official
14) Muneeb Butt
Snapchat username: buttmuneeb9
Instagram username: muneeb_butt
15) Shoaib Malik
Snapchat username: realshoaibmalik
Instagram username: realshoaibmalik
16) Danyal Zaffar
Snapchat username: danyalzafar
Instagram username: danyalzee
17) Ayeza Khan
Snapchat username: Ayezakhan
Instagram username: ayezakhan.ak
18) Ali Rehman Khan
Snapchat username: alirehmankhan
Instagram username: alirehmankhan
19) Urwa Hocane
Snapchat username: urwatistic
Instagram username: urwatistic
20) Mahira Khan
Snapchat username: mahirah
Instagram username: mahirahkhan
...
---
---