Iqra Aziz and Yasir Hussain's wedding has come to an end. It won't be wrong to say that it was the highlight of the month of December and ended the year on a high note for all of their fans and followers. This wedding was a star studded affair and a lot of big names of the industry joined in to be a part of it. Iqra Aziz and Yasir Hussain's couple has always been in the limelight for different reasons. Their couple has always made a buzz and stayed in the news for one thing or the other, therefore their wedding was a widely followed and closely watched event. People have had different opinions about the duo but their wedding has definitely put an end to everything and has shown that side to the people which they were able to relate to. Iqra Aziz and Yasir Hussain's wedding was beautiful and super special because there were a lot of such beautiful aspects that came as a pleasant surprise and wowed their fans.
Let's take a look at the 10 best things about Iqra Aziz and Yasir Hussain's wedding:
The Cute Wedding Invitation & The Hashtag
The moment their wedding cards made it to social media, everyone knew it was going to be a fun event because the invitation card denoted Yasir Hussain and Iqra Aziz's personalities perfectly. It was a beautiful illustration and design done by Ameer Ali. The content of the invite was written by Yasir Hussain. It was quirky, fun, to the point and showed Iqra Aziz and Yasir Hussain as a married couple. They also made it super easy for their fans by creating a hashtag #iqyasirdaviyah themselves, which meant people didn't have to look any further to follow the wedding shenanigans.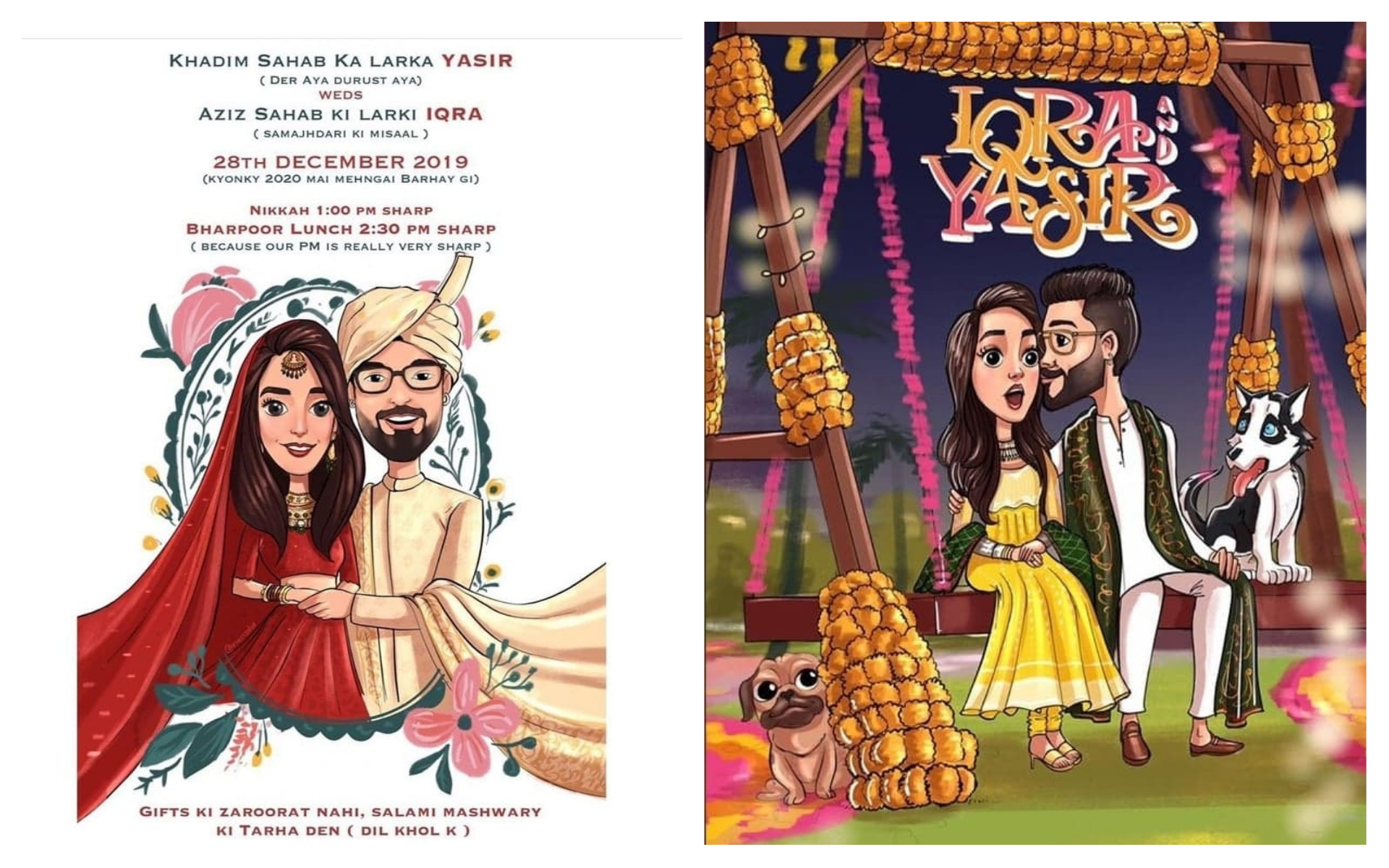 Behind The Scenes
Yasir Hussain and Iqra Aziz kept transparency with their fans. They shared almost all the details, be it the decor that was being done at their place before mehndi function or Iqra Aziz being at her absolute comfort, getting her henna done in unicorn pyjamas. Iqra Aziz and Yasir Hussain's openness and transparency made their wedding an event which was closely followed by everyone. They also showed that arranging a wedding is no easy feat and a lot goes into bringing everything together.
Live Coverage
The couple didn't not stop the official photographer of the event, Saad Nadeem of SS photography from sharing every detail, be it behind the scenes, live coverage on Instagram or live stories. The photographer got the chance to not only click the beautiful pictures of the couple, but he also made sure to do share everything that was happening at that point in time. It was like Yasir and Iqra wanted to give back to their supporters by making them feel like a part of their wedding. This definitely allowed everyone to enjoy their wedding festivities and see all the big names of the industry under one roof. Starting from mehndi dances to the ultimate Qabool Hai, the supporters of Iqra and Yasir got to see it all.
Star Studded Affair
This has to be one of those weddings of 2019 which was a star studded event. All the friends and colleagues of Iqra Aziz and Yasir Hussain made it to their wedding and attended it enthusiastically. Anwar Maqsood, Bushra Ansari, Noor ul Hassan, Zara Noor Abbas, Asad Siddique, Hania Amir, Asim Azhar, Aiman Khan, Muneeb Butt, Minal Khan, Sajal Aly, Ahad Raza Mir, Mrs. Asif Raza Mir, Nausheen Shah, Nida Yasir, Yasir Nawaz, Moomal Sheikh, Shehzad Sheikh, Kubra Khan, Aijaz Aslam are a few names that were spotted at this wedding and turned it into a star studded affair.
Short and Sweet Wedding
When the news of Iqra Aziz and Yasir Hussain's marriage was broken, people speculated that they are going to make it a grand affair but the couple surprised everyone with their practical approach in keeping their wedding short, sweet and the kind that allowed themselves as well as the attendees to enjoy it to the fullest. Iqra Aziz had intimate mayon celebrations at her home but the official events were of Mehndi, Nikkah and Walima. The couple had a mehndi function at their home, they got it decorated and everyone gathered at their place to have fun. Nikkah and Walima were a day event with gorgeous decors.
Day Events & Beautiful Floral Decorations
After having a mehndi night at their place, the couple had the rest of the functions in the daytime. It is good to see celebrities opting for day events, it highlights the importance of keeping the wedding ceremony short and sweet. It saves time and after the wedding event is over, everyone can carry on with their day and it is also less tiring for the newly weds. Another advantage of day event is the bright sunlight which is perfect for gorgeous photographs. This is the reason why the couple has had such gorgeous pictures and all of those who attended the wedding got perfect photographs as well. Iqra and Yasir definitely wanted their wedding to be a floral dream, that is why they opted for those event planners who mastered in floral settings. Their mehndi and Nikah decorations were dreamy and stunning.
Their Pet Dog
No picture of Iqra Aziz and Yasir Hussain is complete without their furry family member, their pet dog named Mogambo. He was very much a part of their wedding festivity and was seen calling for Yasir's attention in insta stories when he was busy being a groom and was posing for pictures with his newly wedded bride. Mogambo also made it to their mehndi invitation card and it shows he holds a very special place in Iqra and Yasir's heart.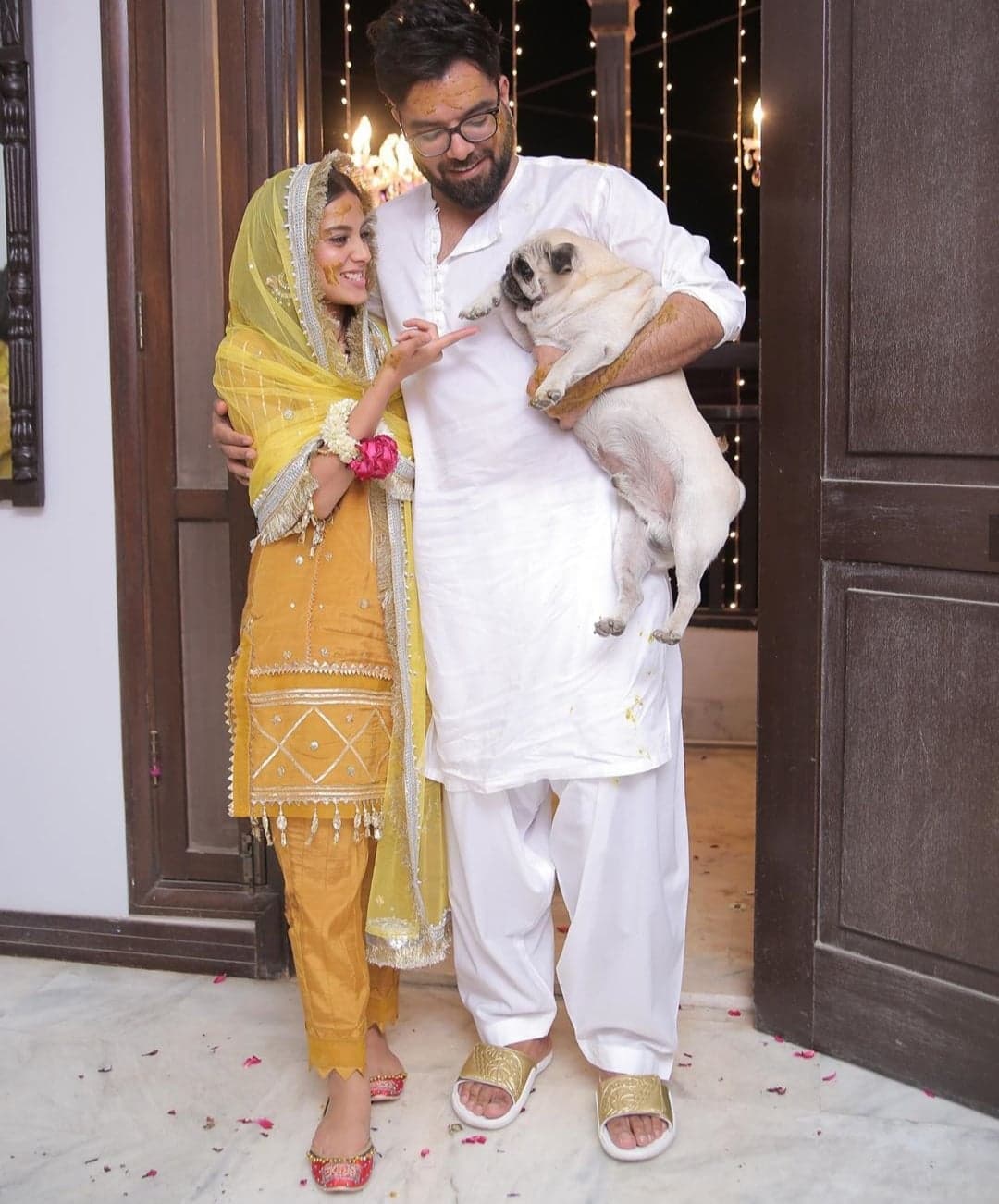 Iqra and Yasir's Wedding Outfits
Iqra Aziz and Yasir Hussain opted for the traditional Pakistani wedding fashion. Their wedding ensembles were beautiful. Iqra Aziz wowed everyone with her gorgeous choices and Yasir Hussain complimented her gracefully by going for simple palette of colors in his clothing as well. Their wedding outfits were designed by top designers of Pakistan like Faiza Saqlain and Nomi Ansari. On Mehndi night, Iqra wore a gorgeous yellow Pishwas designed by Faiza Saqlain and Yasir wore a plain kurta pyjama with handcrafted velvet shawl, which was designed by Mulabis Clothing. At Nikkah, Iqra's stunning bright red bridal was designed by Nomi Ansari. Yasir also wore a beautiful beige sherwani designed by Nomi Ansari. On Walima both Iqra and Yasir wore beautiful outfits designed by SFKbridals, a brand owned by Sadaf Fawad Khan. Iqra wore a gorgeous light lime green gown and Yasir wore churidar kameez with beige waistcoat. They both looked at their absolute best and quite comfortable in their stunning wedding outfits.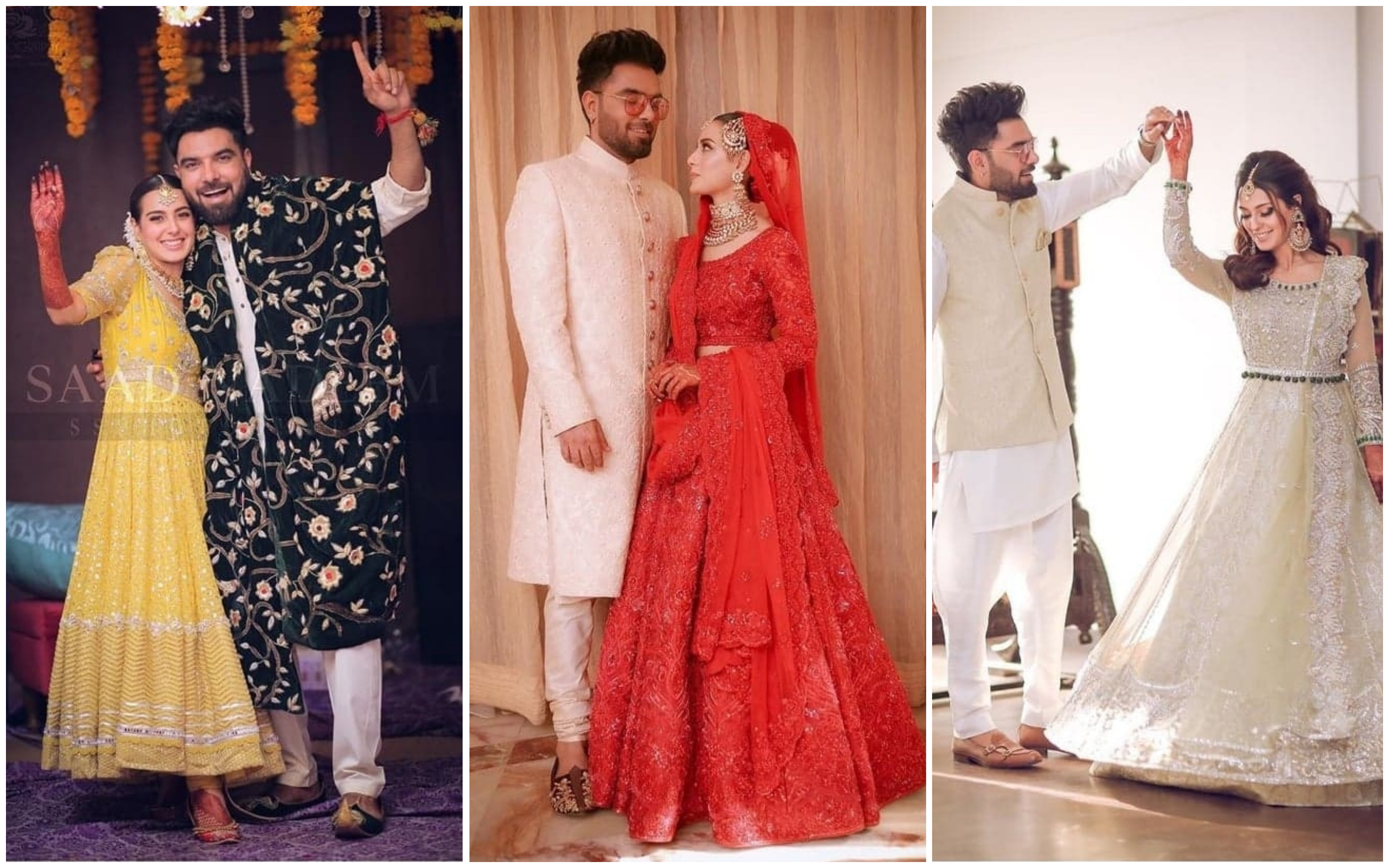 The Funny Captions
It won't be a Yasir Iqra thing if it is not filled with humor. Iqra and Yasir were very much active on social media and kept on posting pictures with cutest captions dedicated to each other. Yasir Hussain is known for his humor but what's cute is Iqra Aziz also gave him a tough competition. Iqra and Yasir have exchanged funny comments on their Instagram posts and it just shows that humor plays a huge part in their lives and is a part of their personalities.
The Simple Wedding Public Service Message
Just when people thought it couldn't get any better, Yasir Hussain topped it off by posting a beautiful and heartfelt message about how important it is to simplify the weddings. He discussed the details of how he arranged mehndi at home and also wanted to have his Nikkah at home too but because he could not accommodate so many people, he had to opt for a wedding venue. He also did not ask for dowry, the couple and their families did not exchange expensive gifts or made demands from one another. Their wedding was a beautiful event which was carried out with love, respect and mutual understanding for and towards each other. Yasir Hussain gave Iqra Aziz his late mother's bangles and they also were recorded as her Haq Meher. Just when we thought they already won the internet over with their transparency and openness, Yasir Hussain was saving the best for the last.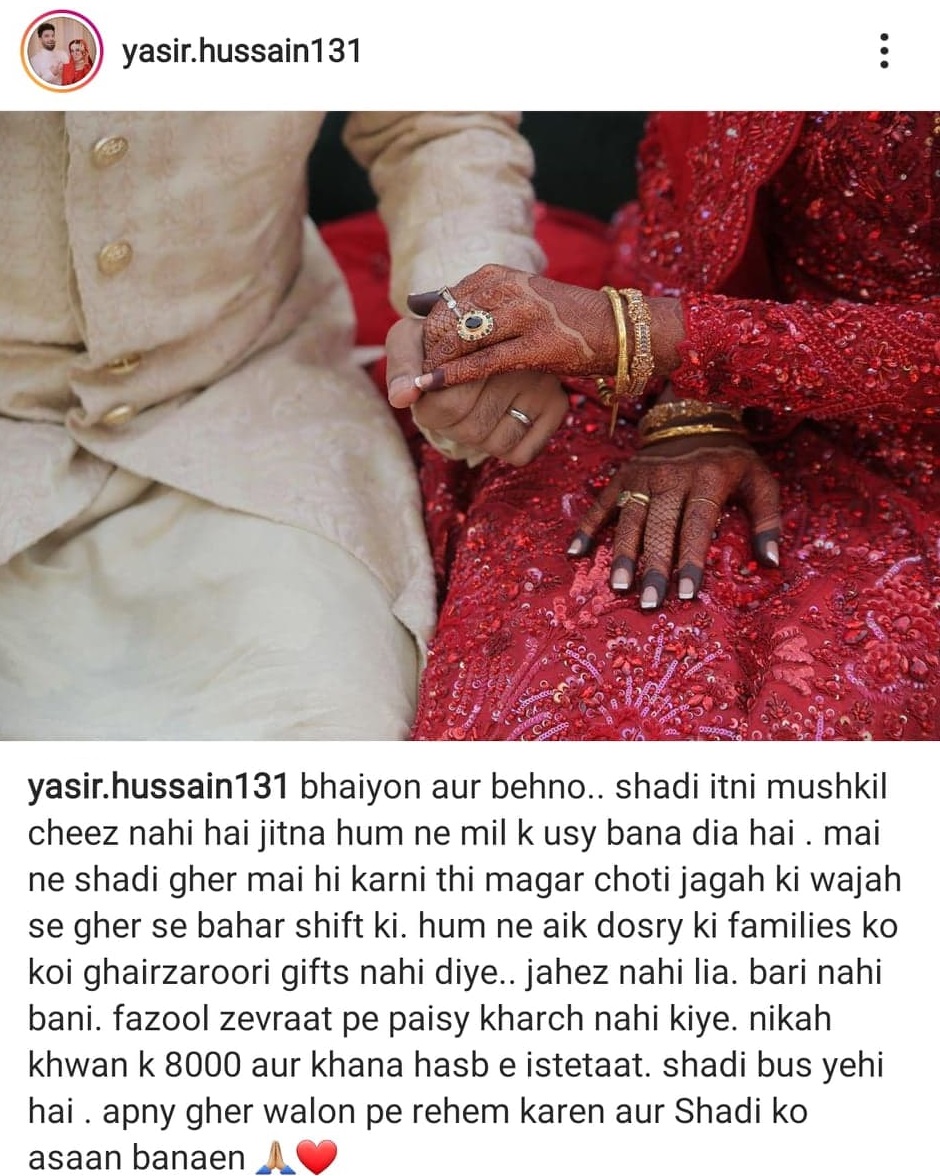 Iqra Aziz and Yasir Hussain let the people know that for getting married, all you need is love and mutual understanding. Their demeanor and persona showed how happy and in love they were. They both got to enjoy the wedding to the fullest and also gave a chance to all of their friends to join in the fun. This is the kind of wedding which no one expected but was something that only Iqra Aziz and Yasir Hussain could pull off. Another thing which Iqra and Yasir deserve to be commended for is the fact that they gave credit to every single person who was involved in making their dream wedding a reality, be it their wedding card designer, the mehndi lady, makeup artists, hair stylists, photographers or event planners, each and everyone was given credit and attention so that their work could be noticed and appreciated.
We wish Iqra Aziz and Yasir Hussain love, light, happiness, togetherness and bright future as a married couple. Feel free to share your thoughts about this beautiful wedding in the comment section below.