Marriage and divorce is a common phenomenon that takes place all over the world. However, in any showbiz industry, the marital status of all the celebrities get a lot of attention because of the association of so many people with them; be it in the form of paparazzi, media, or their fans in general.
It is not an overstatement that the Pakistani fans and followers put their favorite stars and idols at a pedestal and they are deeply revered, this is why any news related to them gets a lot of attention especially when it revolves around their marriage or divorce. In some cases, the celebrities get a lot of positive attention, similarly, in other cases, there are always a few celebrities who spark controversy with the way they either handle things or how it gets blown out of proportion on social media.
In this day and age, the responsibility solely lies on the celebrities as to what they want to share with the fans and public in general because anything that they put out means they are giving an open invitation to the people to form an opinion about them. This also makes it one of the biggest disadvantages of social media that a lot of people not only form an opinion but also start spreading rumors and add more fuel to the fire. This is the reason, in the past few years when the usage of social media became widespread, quite a few marriages, as well as divorces of the Pakistani celebrities, became controversial with people feeling the need to have a say about it and also because of the role played by the celebrities in tackling the entire situation.
Here is the list of 10 controversial marriages and divorces of Pakistani celebrities:
[lwptoc]
Amir Liaquat's Marriage To Syeda Tuba Amir
In 2018, the rumors of Amir Liaquat's second marriage were already spreading when he decided to address the issue. Amir Liaquat not only defended his decision of a second marriage but went all out by taking his second wife Syeda Tuba Amir on a different morning shows to prove his point further. Amir Liaquat and his second wife had all the right to defend their sacred union. However, the role morning show hosts, especially Sanam Baloch played in giving the new couple coverage and clean chit based on her limited perception added fuel to the fire.
On the other hand, Amir Liaquat's first wife Bushra Amir along with their daughter Dua Amir tweeted out the reality and didn't hold back in sharing their disappointment with his decision, which then made things quite controversial. It was obvious that Bushra Amir was never happy with his decision but decided to stay quiet until she saw the way her husband was introducing his second wife to the general public through TV interviews. Amir Liaquat also didn't hold back in sharing how he had given the entire house and financial security to his first wife and children, which made things worse because then people felt he crossed the line in order to prove that he was doing more than he was required to, which in general was the right his first wife and children had on him.
After quite a few times, the dust settled and Syeda Tuba Amir co-hosted Ramadan transmission with her husband. Bushra Amir also got her own Ramadan show where she received a lot of love and appreciation from the general public for the knowledge that she had and also how she conducted herself with utmost grace and dignity.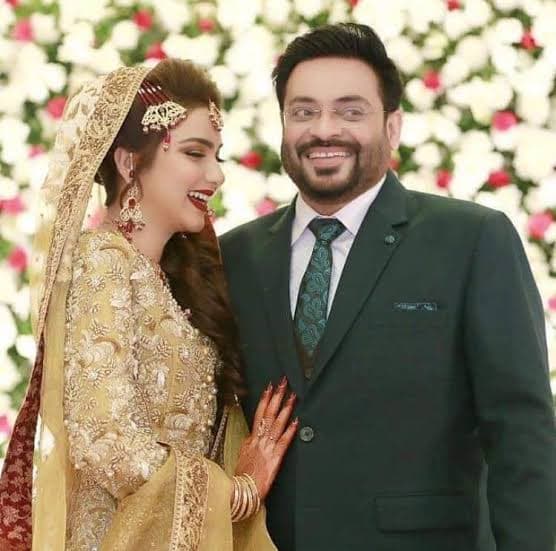 Syra Yusuf and Shehroz Sabzwari's Divorce
Syra Yusuf was quite dignified in how she tackled her divorce, however, it was her fans and the general public who made things worse for the couple and called Shehroz Sabzwari out for cheating on his wife. Before that happened, people had already started noticing that Syra was not posting pictures with her husband anymore and it had been happening for months now. That's when rumors started to spread and people became a lot more curious. Syra Yusuf chose not to say anything but then the news of Shehroz Sabzwari's affiliation with Sadaf Kanwal started circulating and that's when the entire equation became quite controversial.
Once again, Syra Yusuf chose not to utter a word but in the meantime, Shehroz Sabzwari came out with his side of the truth and stated that Sadaf Kanwal and he were just 'good friends' and that people were wrong in dragging her name into his personal matters. However, months later both Shehroz and Syra took it to their social media handles to announce their divorce on February 29, 2020. However, it is nice to see that both Shehroz and Syra are co-parenting, and both the parents often share snippets of the time they share with their daughter Nooreh. She lives with Syra but she often visits her father where she is showered with a lot of love. This aspect of their equation is now being respected and appreciated by people where they feel that the rights of their daughter are being fulfilled and she is not getting neglected.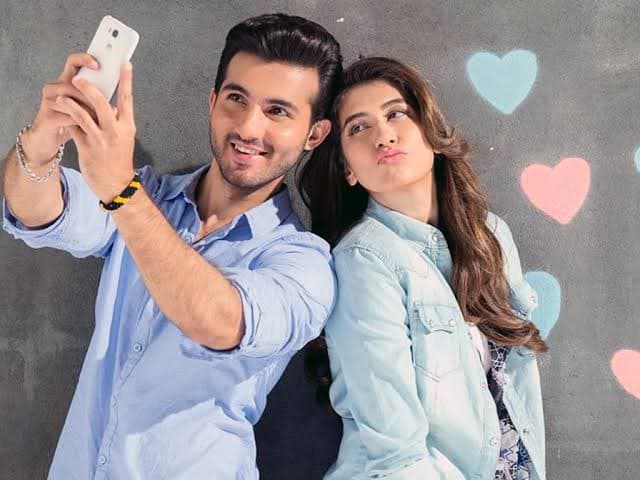 Shehroz Sabzwari's Marriage To Sadaf Kanwal
When Shehroz Sabzwari was in the process of getting divorced from his first wife Syra Yusuf, people already started speculating that he was having an affair with Sadaf Kanwal. It was because the two were spotted together on different occasions and they weren't being too discreet about it. This is when the people accused Shehroz Sabzwari of cheating on his wife and held Sadaf Kanwal responsible for being the homewrecker and the reason behind the couple's divorce. When the rumors started circulating, Shehroz Sabzwari as well as his father Behroz Sabzwari took it to social media to clear the air and stop people from making speculations.
Shehroz and Syra announced their divorce and just a few months later, Sadaf Kanwal took it to her social media to post the pictures of her Nikkah with Shehroz Sabzwari. It was at that time when people unanimously called the couple out because they believed the rumors of Shehroz cheating on Syra were true and that Sadaf actually was the reason why Syra parted ways with Shehroz. After their marriage, the couple received a lot of backlash but then once again, Shehroz decided to share his part of the truth where he made it clear that he and Syra were already separated from August 2019. Shehroz stated that he did not want to divorce Syra but because the couple was unable to come to terms with each other and come to a common ground, they decided it was better for them to part ways. Shehroz then stated that he met Sadaf in February 2020 for the first time during the PISA awards because they worked together and then they got involved with each other. Shehroz never cheated on Syra and months before meeting Sadaf, he and Syra were separated. After his video went viral, people were divided but now the dust has pretty much settled and the couple is not at the receiving end of hatred anymore.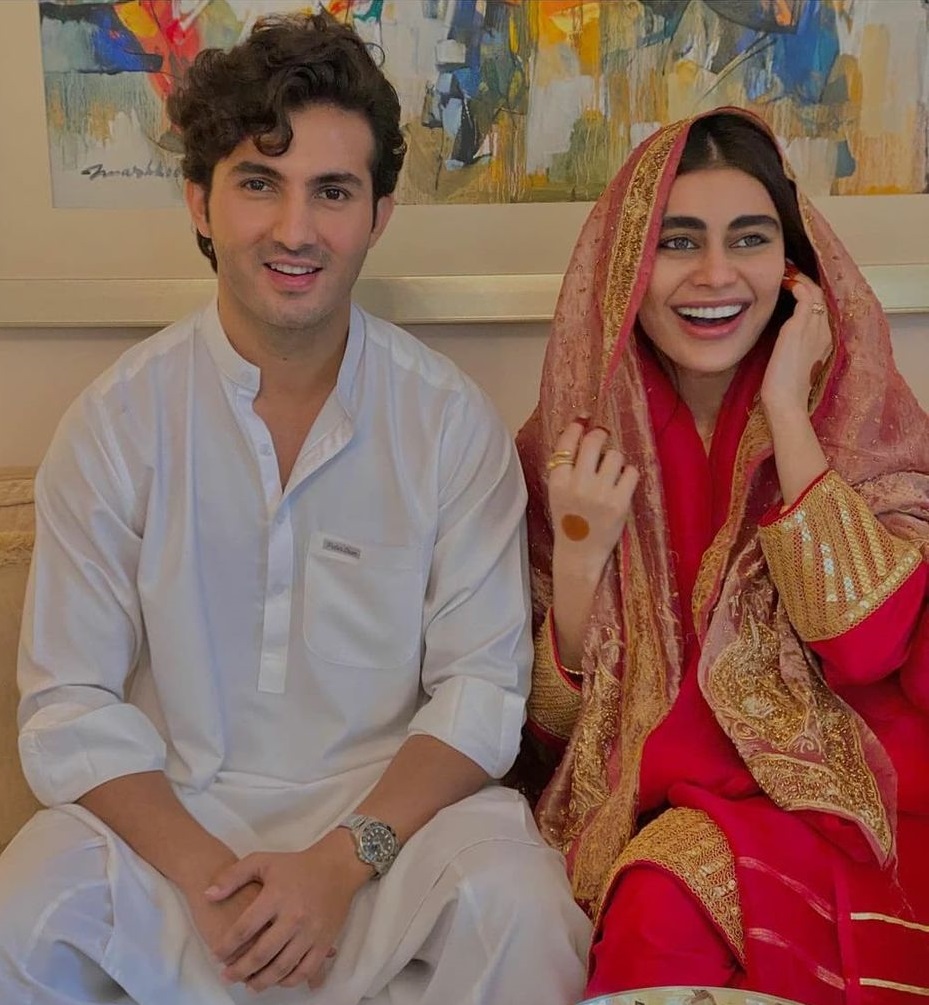 Hamza Ali Abbasi and Naimal Khawar's Marriage
The news of Hamza Ali Abbasi and Naimal Khawar's marriage took the internet by storm. Hamza Ali Abbasi had gone for Hajj in 2019 and right after he returned, he shared that he was getting married to Naimal Khawar. Naimal Khawar's debut drama serial Anaa was all the rage in the year 2019 and people were loving her as Izza. Pakistani drama fans were also excited because they assumed that they will get to see Naimal Khawar in more dramas in the future. However, things became controversial when Hamza Ali Abbasi took it to Facebook to share his sentiments behind the decision of marriage. He explained things according to his perspective and received a lot of backlash. In the meantime, Naimal Khawar also announced that she was not going to pursue her acting career and people felt it was a decision influenced by Hamza Ali Abbasi, to which Naimal gave a clarification that this was her own decision and had nothing to do with Hamza.
Even before the wedding, the couple was being held responsible for the personal choices they had made and because everything got too overwhelming, both Hamza and Naimal had to come up with a lot more explanations to settle the wrong assumptions and speculations that were being made about them. However, things turned quickly and the couple became Pakistan's one of most-loved couples overnight when people saw how simply and beautifully the two got married. Hamza Ali Abbasi and Naimal Khawar went for a simple Nikkah ceremony followed by a grand Valima hosted by Hamza Ali Abbasi in Marriot Islamabad. Since then, the two have received nothing but love and appreciation for how gracefully they have conducted themselves as a married couple. Hamza Ali Abbasi and Naimal Khawar Khan have moved to the USA and recently had a baby boy Mustafa.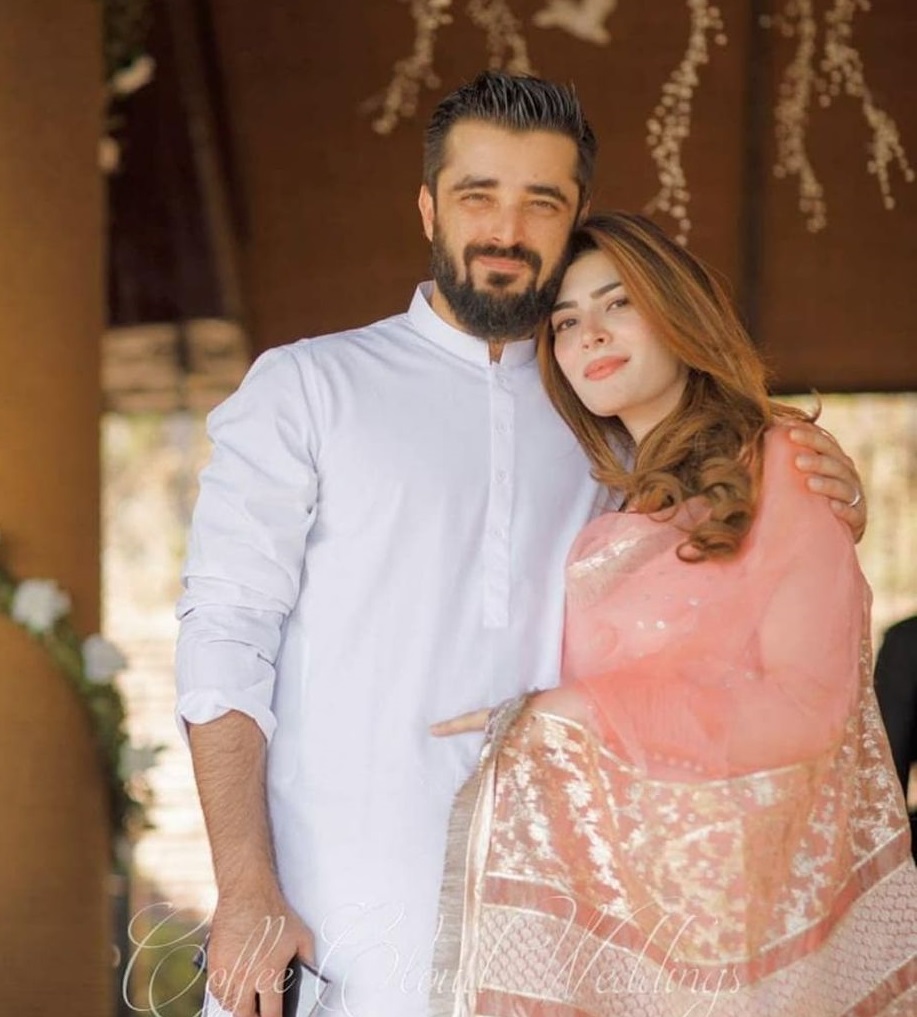 Mikaal Zulfiqar and Sara Bhatti's Divorce
The divorce of Mikal Zulfiqar and Sarah Bhatti turned controversial because firstly people never saw it coming and there was always this air about the couple that they were happily married. However, things turned sour when Mikaal Zulfiqar took it to his Facebook and shared the news with his fans. The couple got married in April 2010 and were married for 6 years, they also had two daughters who now live with Sara Bhatti.
At the time, the parted couple received a lot of good wishes however a year after the divorce, Sara Bhatti found the courage to open up and she then shared what her marriage with Mikaal was like. She stated that she had to financially and emotionally support her kids while being married to Mikaal Zulfikar and now that she has parted ways, she feels an additional responsibility has been alleviated and she can fully focus on her daughters and their well-being. In an Instagram post, Sara Bhatti also kind of hinted at the fact that Mikaal Zulfiqar was cheating or maybe there were some other women in the picture. Sara Bhatti has definitely received a lot of love and appreciation for her resilience in raising her two daughters bravely and strongly.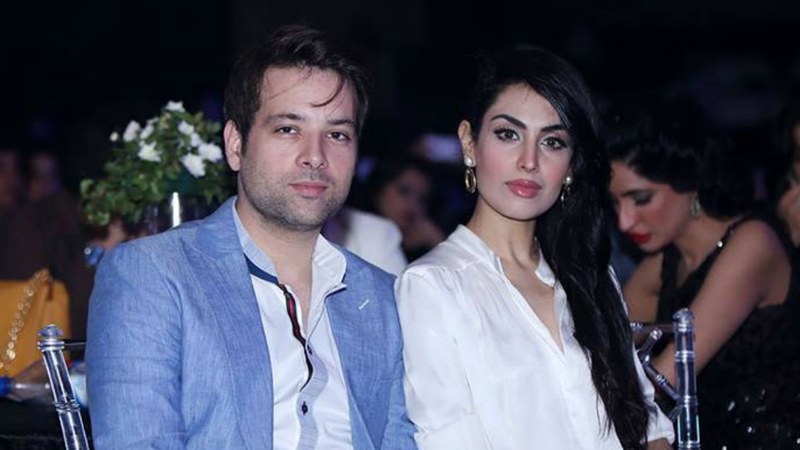 Noman Javed and Fariha Parvaiz's Divorce
In 2016, the news of Noman Javed and Fariha Parvaiz's divorce came as a shock because the couple had not made the news of their marriage public. It was right after the rumors started spreading that the two had tied the knot and wanted to be discreet about their relationship. However, things became quite serious when Noman Javed was hospitalized after his suicide attempt in which the people found it easy to speculate that the reason behind was his breakup with his wife. Fariha Parvaiz did not issue any statement but just mentioned that she could not live with Noman Javaid anymore.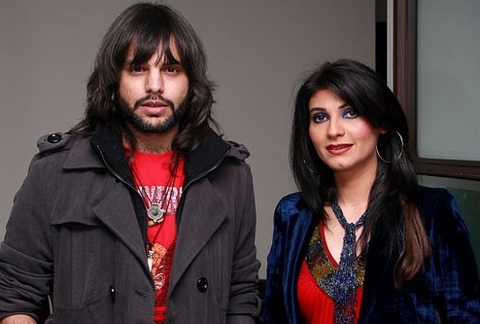 Noman Javed and Jana Malik's Divorce
In September 2016, Noman Javaid and Jana Malik tied the knot in a simple Nikkah ceremony. Right after their marriage, the couple started appearing on different morning shows and stated how they just met randomly and started talking to each other, and just within a couple of months, they decided to get married. Jana Malik shared that she and Noman were making a bucket list of things they wanted to do and they both casually discussed how they wanted to get married. It was right then and there Noman Javaid proposed marriage to her and she said yes. Jana Malik was pretty happy with how things progressed because her family was supportive of this decision as well. Right after almost 6 months, the couple announced their divorce.
Noman Javaid stated that he had no idea what was brewing in Jana Malik's mind because the couple was also planning to have a baby. Noman Javaid shared that he holds Jana Malik's mother responsible for this divorce because she was not too happy and continued to brain feed Jana Malik against him. Jana Malik didn't appear in a lot of interviews after that but the one time she was asked about her divorce, she said she parted with Noman on a happy note and things were not working, therefore it was perfectly fine for two individuals to make a decision that guarantees their mental peace and happiness. Noman Javaid on the other hand seemed a bit too depressed when he appeared in different morning shows right after his divorce. It was probably one of the most short-lived marriages of Pakistani celebrities.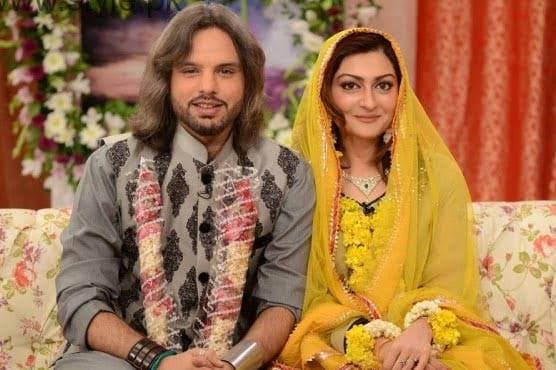 Mohsin Abbas Haider and Fatema Sohail's Divorce
Mohsin Abbas Haider and Fatema Sohail tied the knot in 2015. In 2017 the couple had their first daughter who unfortunately passed away when she was 7 weeks old. The couple later had a baby boy and just when everyone thought that their life was back on track now that they have become parents again, the shocking truth surfaced about the kind of abusive and toxic relationship the two shared. Fatema Sohail took it to her social media handles to inform everyone about the domestic violence actor Mohsin Abbas Haider put his wife through. She shared the pictures of her bruised face and Dua Malik along with Gohar Rasheed vouched for her that she was stating the truth and that they both were aware of the kind of husband Mohsin Abbas Haider was.
It was in 2019 when Fatema Sohail exposed Mohsin Abbas Haider, this entire case spread like a wildfire with a lot of support that poured Fatema's way. It became ugly when Mohsin denied everything during a press conference. Fatema Sohail also mentioned Nazish Jahangir's name in the equation saying that Mohsin was having an extra-marital affair with Nazish. This was not denied by Mohsin and as the days passed by, everyone got to know that Moshin and Nazish actually were dating and are still together. The couple officially got divorced after a long legal battle. Fatema Sohail ventured into acting and is an inspirational single parent who has given hope to so many girls who are in the same boat as her.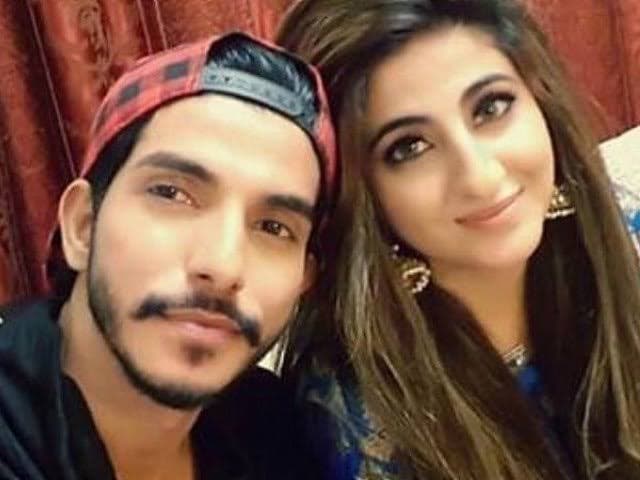 Noor Bukhari and Wali Khan's Divorce
Noor Bukhari and Wali Khan starred together in Noor Bukhari's directorial debut Ishq Positive. That is when the two tied the knot in a simple Nikkah ceremony in 2015 and hid their marriage from the public as well as Wali's family. The movie was released in 2016 and soon after that, the news of their marriage became public. This was Noor Bukhari's fourth marriage and the couple was already under a lot of scrutiny because of the age difference between the two.
However, they both started making public appearances and posed to be happily married but within a few months, the news of their divorce surfaced. Noor Bukhari parted ways with Wali Khan and the two got into a fiasco publicly which was circulated all over social media as well. Noor Bukhari has now remarried her 2nd husband Awn Chauhdry and has recently had a second child as well.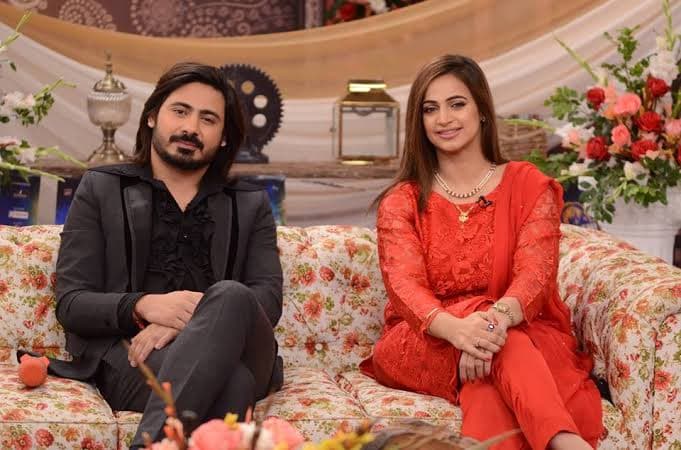 Azfar Ali and Naveen Waqar's Marriage & Divorce
Azfar Ali was married to Salma Hassan for 11 years and the news of their divorce broke many hearts because they were one of the finest and most-loved couples in the Pakistani drama industry. Their OG followers from the Sub Set Hai days were emotionally shattered because they never imagined that they would get to hear the news of Salma and Azfar's divorce. Soon after, the news of Azfar Ali and Naveen Waqar's marriage circulated which sparked controversy and people started calling the couple out. People felt Azfar was selfish for parting ways with not only his first wife but his children too and then Naveen Waqar was labeled as a home-wrecker.
The couple stayed low-profile for almost a year after their marriage because the backlash was too much for them to handle. The couple made a public appearance and explained how hard it was for them to deal with the negativity that they were subjected to. However, it came as a shock to everyone when Azfar Ali made it public that he and Naveen Waqar got divorced too. Their marriage was short-lived and it seems they both were quite unhappy, this is the explanation that Azfar Ali gave while stating that the reason behind the divorce is unimportant, what matters is that it's better to part ways and not drag the relationship further which is not making both the people involved unhappy.