There is no denying the fact that Ayeza Khan is naturally beautiful. She is also one of those celebrities who never get tired of trying out different make-up looks. No other Pakistani female celebrity gets so many photo shoots done as Ayeza Khan. There was a time when Ayeza Khan played it safe and mostly had the same look. That is something that has definitely changed over the years. Since Ayeza Khan has sported some of the most enchanting make-up looks in recent times, her fans expect nothing but the best from her. There were some make-up looks over the years which did not add to Ayeza's beauty or compliment it.
Here are those 10 worst make-up looks which did not go well with Ayeza Khan's features.
Excessive Highlighting
This make-up look was trending at the time when Ayeza Khan also joined the bandwagon and decided to go with the flow. While some other models successfully carried this look, Ayeza Khan did not look like herself in these pictures. There is a lot of highlighting on the cheeks and not enough color on the face. From a distance, this make-up look seems pretty cool but a close-up shows that this is definitely not the kind of make-up look that looked the best on Ayeza.
The Most Made-up Bridal Look
Ayeza Khan looks gorgeous in bridal looks. In fact, she has been the one who sported some of the prettiest bridal looks ever since she joined the industry. There have however also have been times when the make-up artists did not do justice to her pretty face. This bridal look is one such example of a bridal look gone wrong. The color of those lenses and the shade of the lipstick, in particular, gave Ayeza Khan an overall look which was not at all soft.
Glowy But Unappealing
Glowy skin is trending nowadays but Ayeza Khan's look in this photoshoot was more dusty than glowy. It was almost as if the make-up artist tried to make Ayeza look like a mannequin. Ayeza Khan's soft features did not look the same because of excessive highlighting and contouring. This is definitely not among her best looks.
Experimenting Gone Wrong
Ayeza Khan decided to experiment a lot when she did one of her photoshoots with Natasha Salon. This was one of those looks which went terribly wrong. It is clear by looking at this look that Ayeza cannot pull off the nerdy but stylish make-up look. The choice of the color palette is another problematic aspect of this look.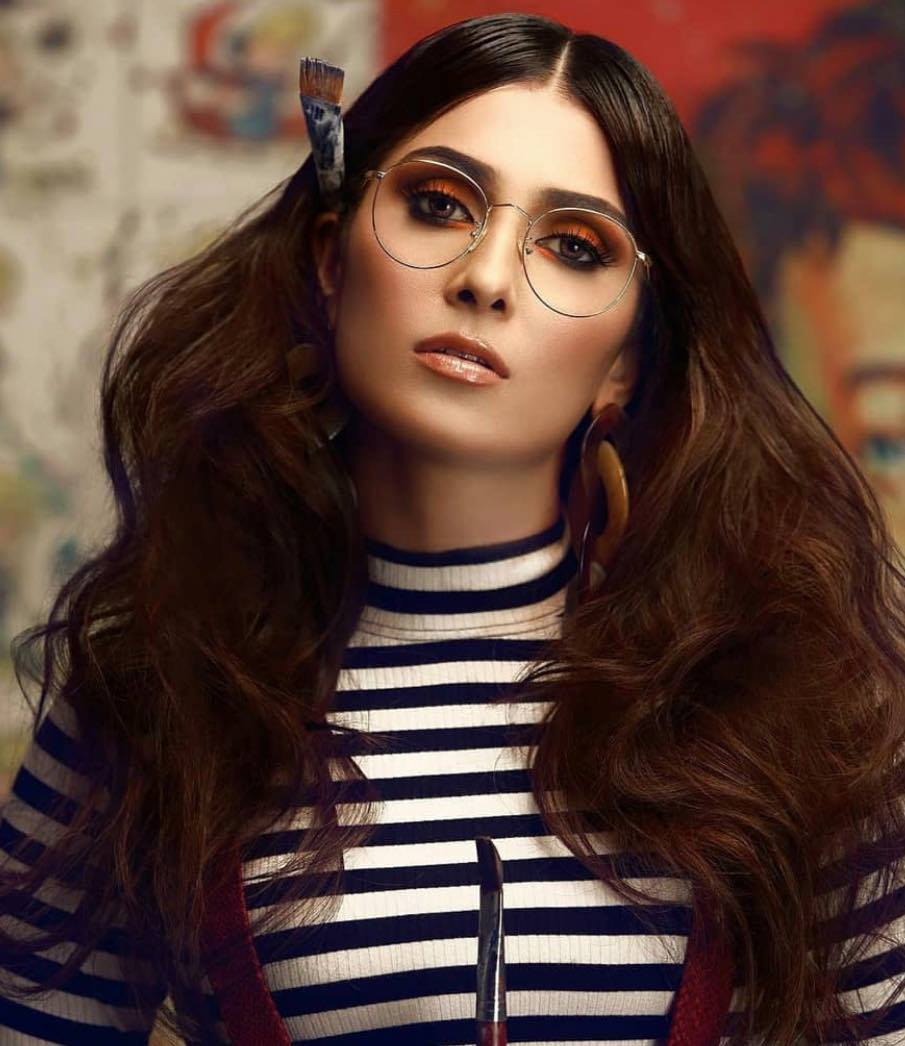 Ayeza Khan or Mehwish Hayat?
While looking at this picture one has a difficult time figuring out whether this is Ayeza Khan's picture or Mehwish Hayat's! Celebrity make-up artist, Akif Illyas has given Ayeza Khan some of her best bridal looks but this is not one of them. He has a tendency of changing the face cuts and features of the celebrities so much with his make-up techniques that sometimes they are unrecognizable. In this look, the hairstyle and the make-up are such that Ayeza's face looks longer and at first glance, she looks like Mehwish Hayat. The contouring and blusher are also not on point and the choice of lipstick color is terrible.
A Little Too Traditional & Heavy
With new make-up trends and styling techniques, it is difficult to imagine how a make-up artist can give a celebrity with such beautiful features such a not-so-fresh but more sparkly look. This picture was part of a photoshoot that Ayeza Khan did for Nadia Hussain's salon. Nadia Hussain's classic glittery eyes and bold lips style did not suit Ayeza Khan at all. The hairstyle also looks too primitive.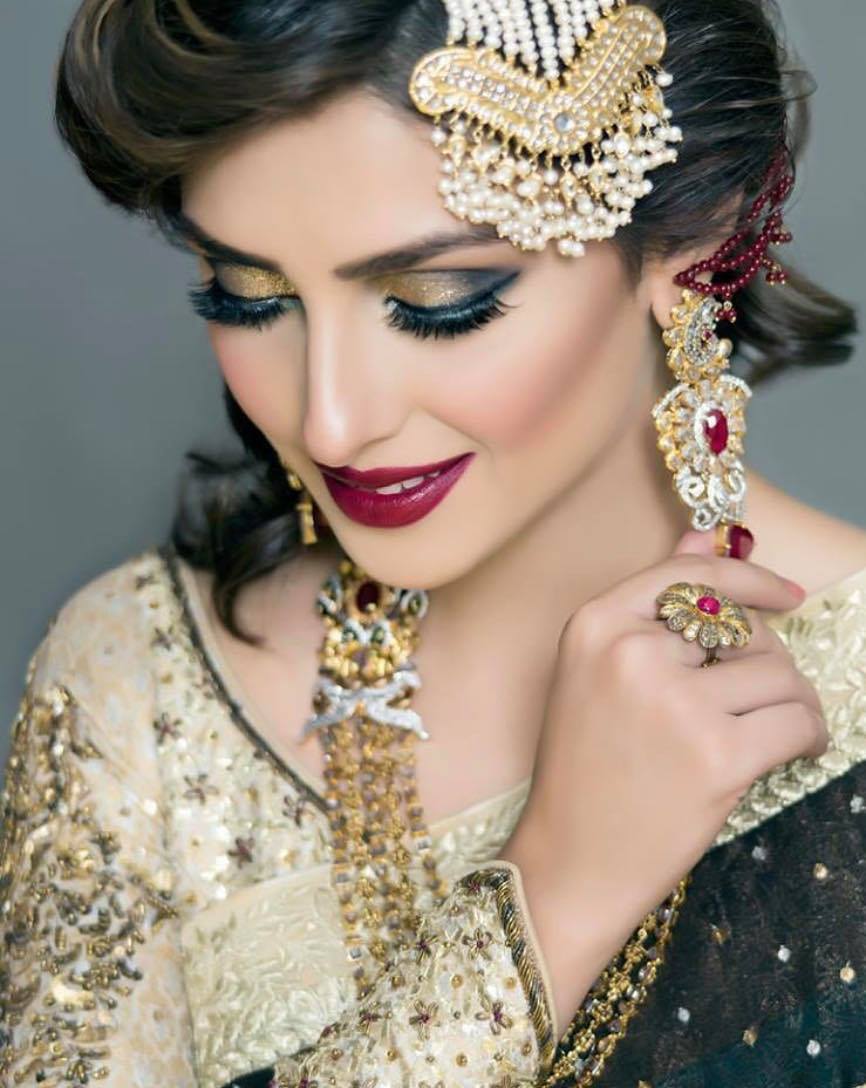 Too Caked-up
The brides nowadays prefer a look which isn't too caked-up yet Ayeza Khan looked anything but subtle in this bridal look. Everything about this look is wrong from the make-up to the heavy jewelry. The purple lipstick just adds to the reasons why this look is one of the worst Ayeza sported in the past few years.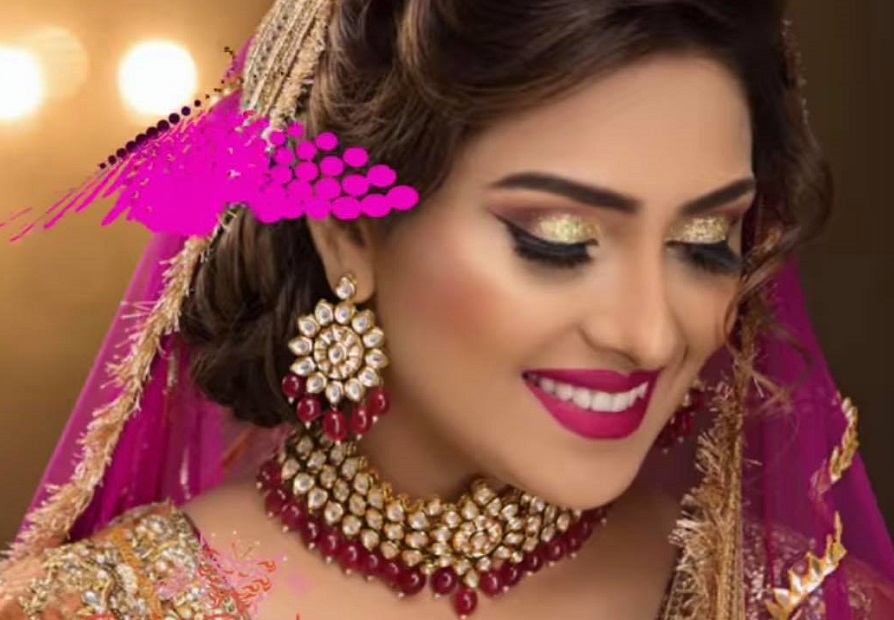 The Unfinished Look
Looking at this bridal look it seems the make-up artist was in a hurry and therefore did not give the finishing touches to this make-up look. The lipstick if too casual for such a formal look, the styling does not compliment Ayeza's face-cut at all and there is barely any contouring to define the jawline.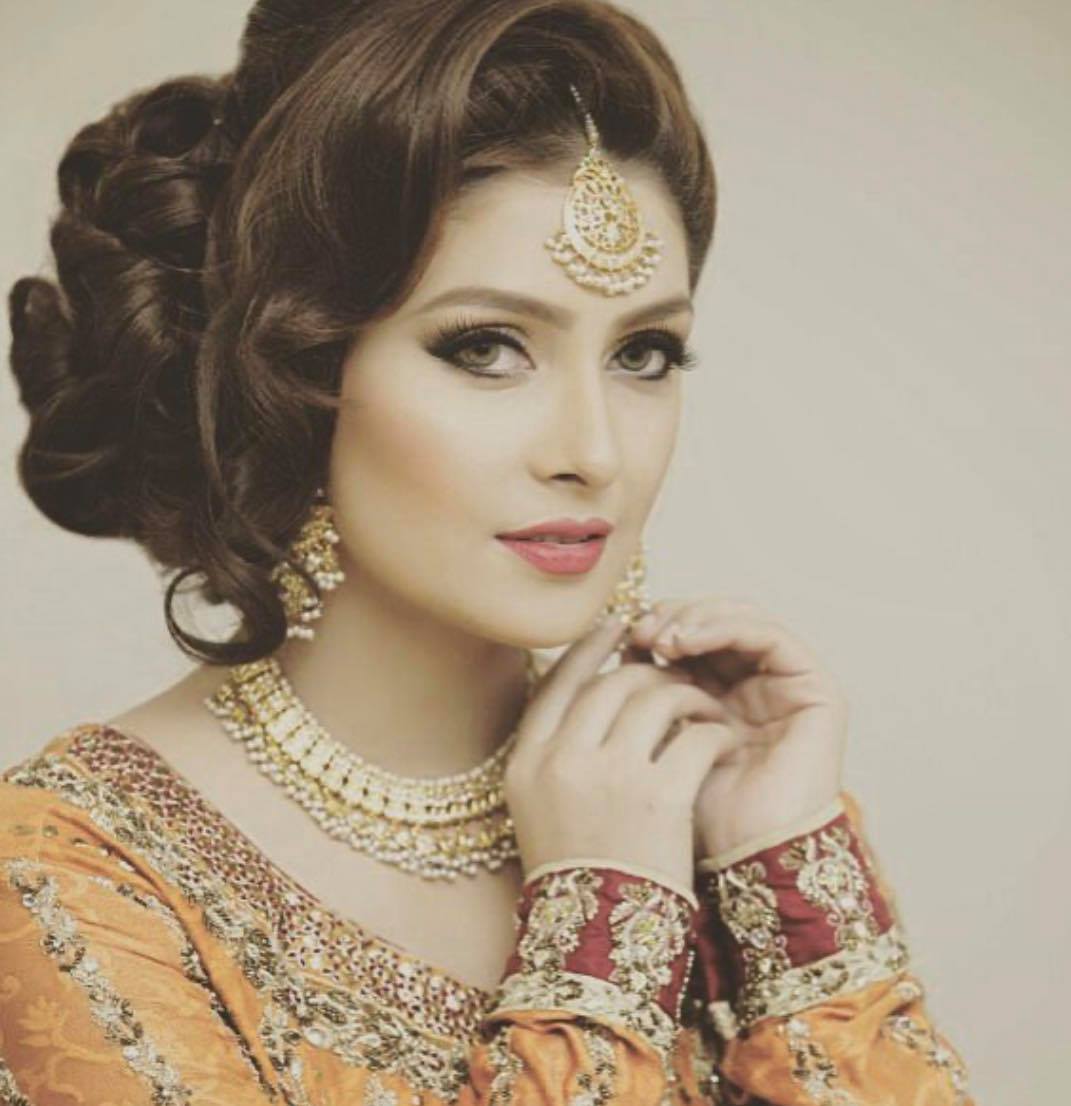 Ayeza Khan or Javeria Saud?
This is yet another one of those make-up looks which transformed Ayeza Khan to such an extent that in the first look it seems like this is Javeria Saud and not Ayeza! Whether it is editing or the make-up itself, this look does not pass as one of the best.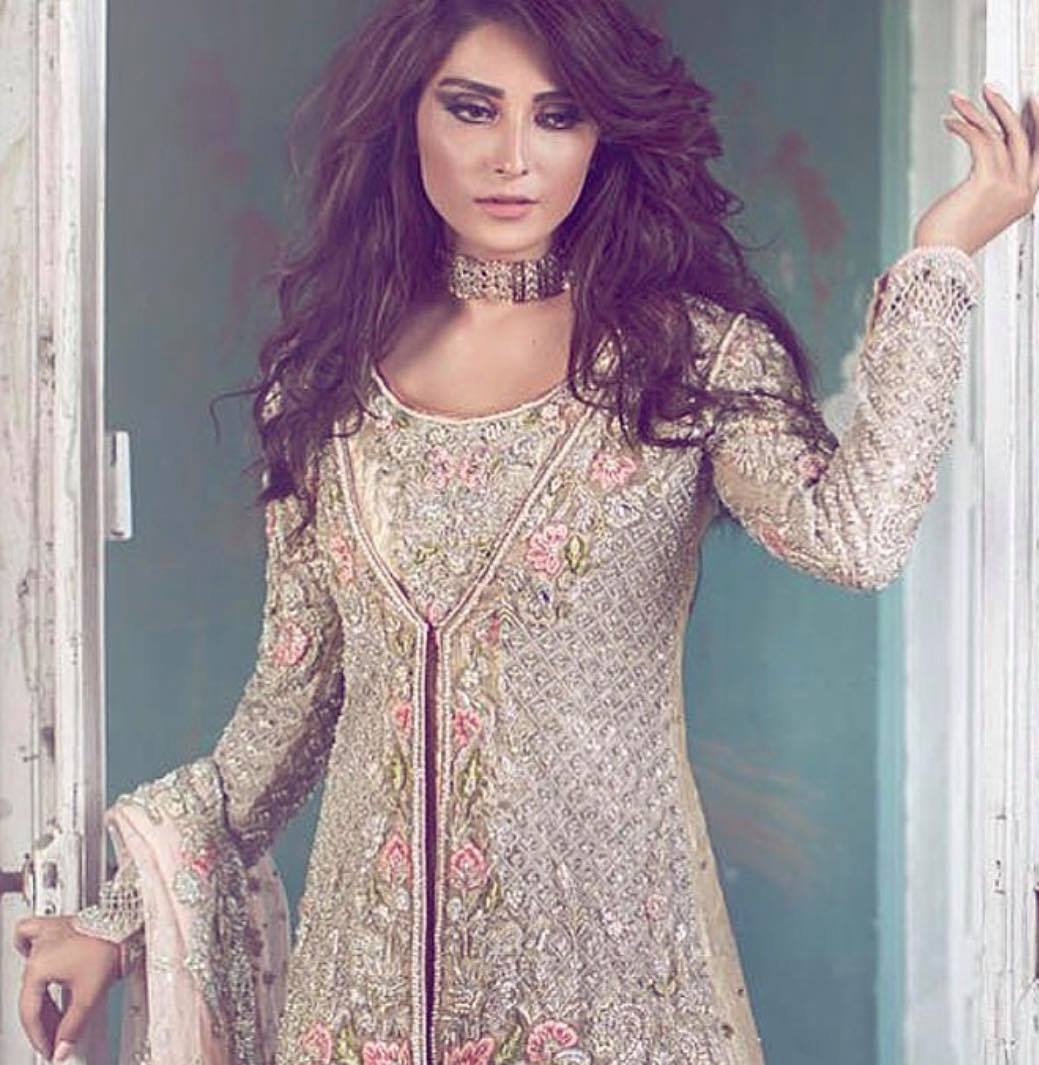 Overdone Eye Make-up
This look would have been perfect had it not been for the overdone eye make-up. The liner on the top and under the eyes gives Ayeza Khan an overall look which is not pleasing to the eyes. She looks like an angry woman ready to attack someone! One thing is for sure that such looks do not look appealing on Ayeza's soft features.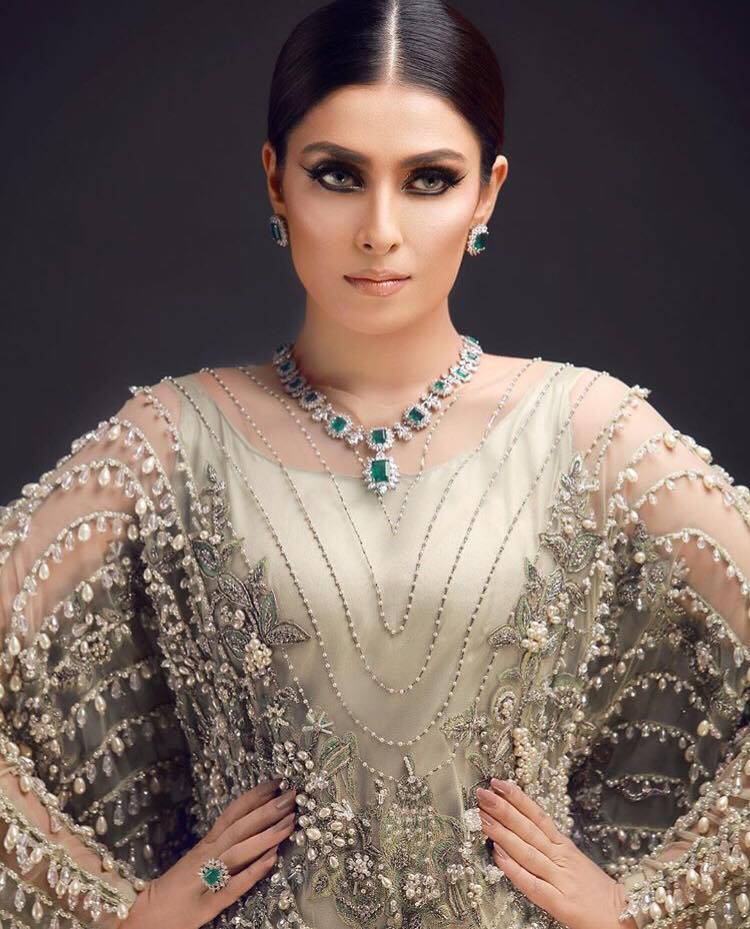 Some of these make-up artists definitely did not do justice to Ayeza Khan's pretty face but she still manages to pull many such looks through which others can't.