Sabaat continues to disappoint because of a weak storyline. This isn't the first time that a leading channel has used star power and great production values to get the attention of the viewers. The script is going downhill with every passing episode and right now I am honestly watching this play to find out how ridiculous Miraal's track, in particular, can get. Once again after watching this episode I was wondering why Fareed and Miraal were the only ones who were not 'struggling' and of course Yasir Qureshi as well. Every Pakistani drama shows how the negative character usually drives the story forward but this drama has more than one such character. Not only this all the relatively pleasant characters seem to be in constant turmoil. There isn't a moment of happiness in Hasan and Anaya's life!
Hasan's character had potential but he is too busy feeling sorry for himself. In this day and age, he does not have access to social media which does constantly remind you of other people's birthday. Usman Mukhtar's monotone dialogue delivery and this psychiatrist's lack of understanding of his wife's character is making this track a repetition of all the other relationships in Miraal's life. There is absolutely no character development and Miraal's naani visions proved to be another useless track! She needs to see a proper professional, one who does not fall for her. 20 weeks of one dead end after the other have made Sabaat a star-studded disaster. Mawra Hocane and Ameer Gillani have acted so well yet their track has nothing grand to offer.
Anaya's Growth and Hasan's Frustrations
Ever since Hasan and Anaya moved out of Hasan's house, Anaya has been the one who is keeping things together while Hasan's frustrations are never-ending! I felt for Anaya today when she was celebrating her promotion and had no idea what was going on in Hasan's mind. Of all the people in the world, Hasan is actually listening to Atif. While Hasan's frustrations were understandable, it was sad that he questioned Anaya about that phone call. Looking back at the kind of relationship they had and most importantly the kind of faith he had in Anaya, it was truly sad watching Hasan even think on those lines. Well, Miraal is still 'winning', Atif is doing all this to please her but the preview of the upcoming episode gave some hope. Hasan will hopefully resign from his present job and that conversation he was shown having with Anaya in the preview of the upcoming episode promised that he will finally realize his mistake.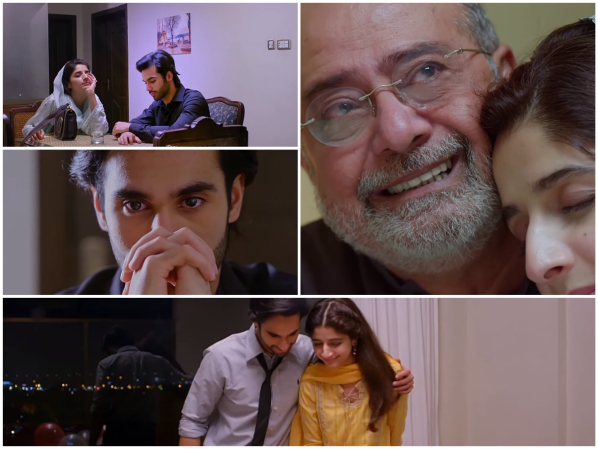 There is no romance between this newly married couple at all. They are too busy making ends meet. Hasan keeps on thinking about the present situation and Anaya is too busy making chai and keeping him happy! It was finally good to see Anaya and her parents together. It would be sad watching Anaya's father die but it seems that will eventually happen. Anaya's scenes with her father have been the most emotional and some of the best ones. There were so many different directions in which this track could have been taken. Anaya and Hasan could have moved in with Anaya's parents and lived a happy fulfilling life but they are struggling otherwise and Anaya does not even know that her father is unwell!
Miraal – The Narcissist