Controversies are always a part of celebrity's career and journey. There will hardly be any such celebrities around the globe who have not landed themselves in controversies at least once in their careers. Pakistani celebrities are no different. With the wide usage of social media and the growing fans and followers, everything that our celebrities do or say is closely followed and put under scrutiny. There are a lot of times when the celebrities do not intend to stir the pot or land themselves in hot water. Other times, celebrities intentionally and knowingly make such statements that bring them the limelight they are after.
Year 2019 was full of such controversies for quite a lot of celebrities associated with Pakistani showbiz industry. This year went by quickly but every now and then, people kept on getting scoop of different controversies that the celebrities became a part of.
Let's take a look at all the major controversies of 2019.
Firdous Jamal's Comments on Mahira Khan
It won't be wrong to say that this was one of the biggest controversies of 2019. In ARY Zindagi's now halted morning show Salam Zindagi, while giving opinions about different actors, Firdous Jamal stated that Mahira Khan was a weak actor. He also continued to say that she was overaged and should not play the role of heroines. This caused an uproar where a lot of people came in support of Mahira Khan, her fans as well as her friends from the fraternity took a stand in her favor. Mahira Khan ended the controversy with a handwritten letter stating that everyone should spread love.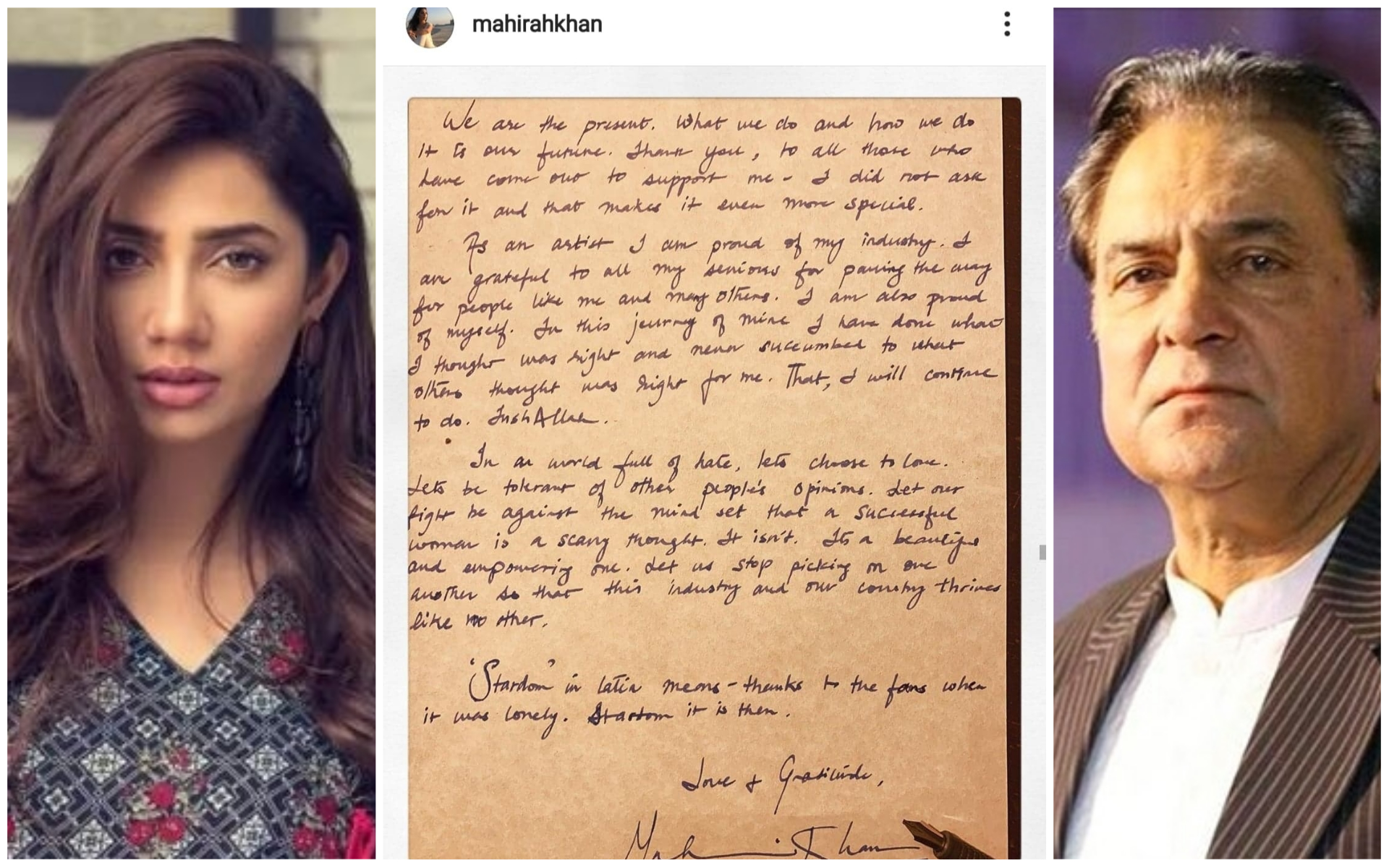 Momina Duraid's Decision of Banning Firdous Jamal
As a result of Firdous Jamal's comments on Mahira Khan which were not well received by all of her supporters and fans, Momina Duraid, the owner of MD Productions issued a statement stating that she has decided to put a ban on Firdous Jamal and that MD Productions will not work with him again. This decision was not well received and a lot of people then came in support of Firdous Jamal. His son Hamza Firdous also started a trend on twitter #isupportfirdousjamal which a lot of people became a part of.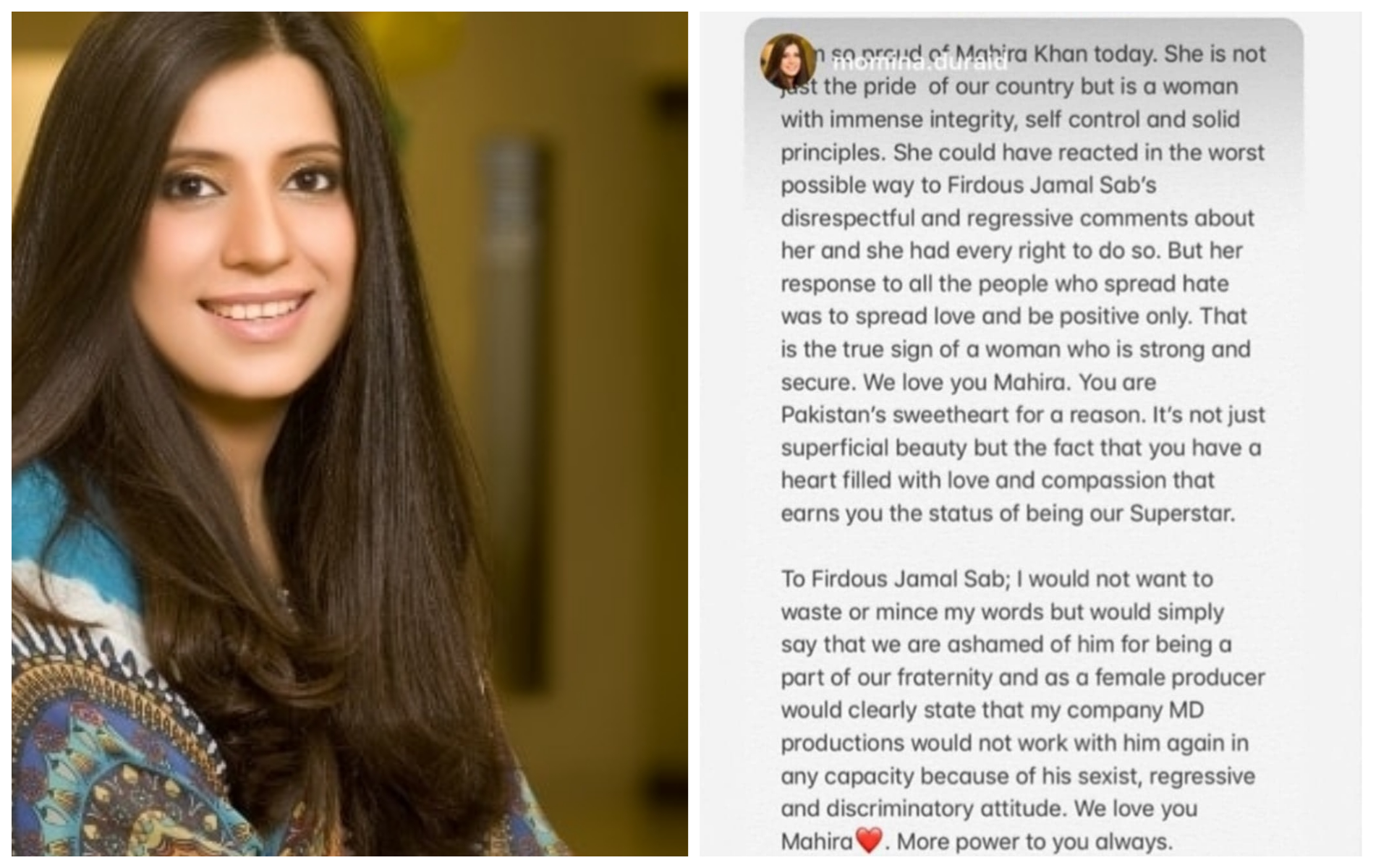 Mohsin Haider Abbas, Fatima Sohail & Nazish Jahangir
This was also one of the biggest controversies of 2019 where the wife of Mohsin Haider Abbas, Fatima Sohail came forward and posted the pictures of physical abuse that her husband of 4 years was putting her through. Fatima Sohail spoke about the physical and verbal abuse she endured while being married to Mohsin. Fatima also stated that Mohsin was cheating on her with the new actress Nazish Jahangir. Dua Malik and Gohar Rasheed came forward in support of Fatima and stated that they were eyewitnesses of the abuse Fatima was put through. During a press conference Mohsin Abbas Haider took an oath on Holy Quran that he had never touched Fatima but the court has found him guilty of threatening and abuse.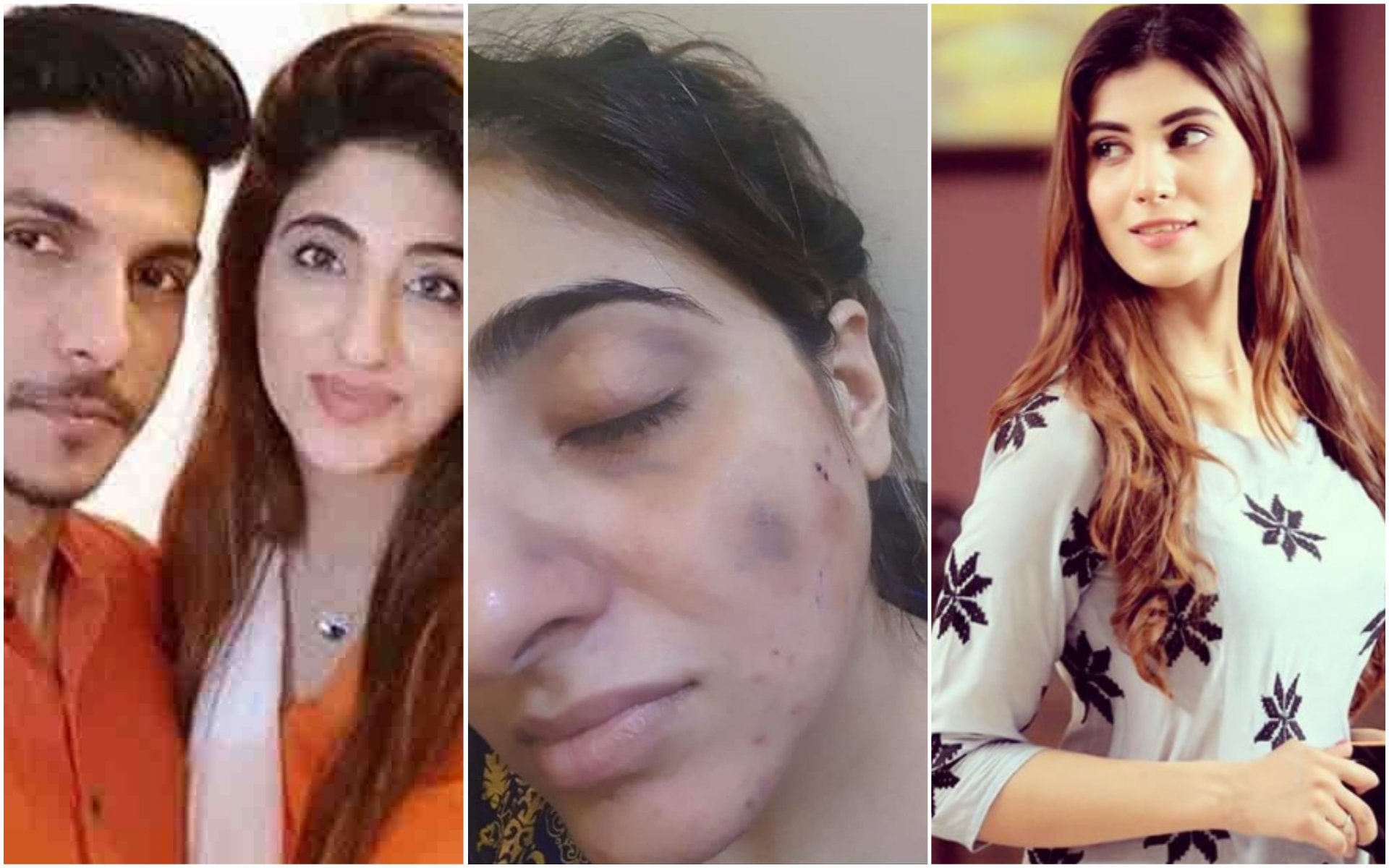 Hamza Ali Abbasi's Pre-Marriage Status Update
Hamza Ali Abbasi got married to Naimal Khawar Khan in August 2019. The news of their wedding came as a surprise and their wedding ended up being one of the most appreciated weddings of the year. However, before that happened, Hamza Ali Abbasi took it to his social media handles and decided to give a detailed explanation of his idea of love, marriage and approaching his spouse-to-be. This sparked a debate where people accused Hamza of sugarcoating everything. Some people called him a hypocrite where others came in his support. This can also be labeled as one of the biggest controversies of 2019. However, after Hamza and Naimal got married, the criticism turned into appreciation and love for the couple.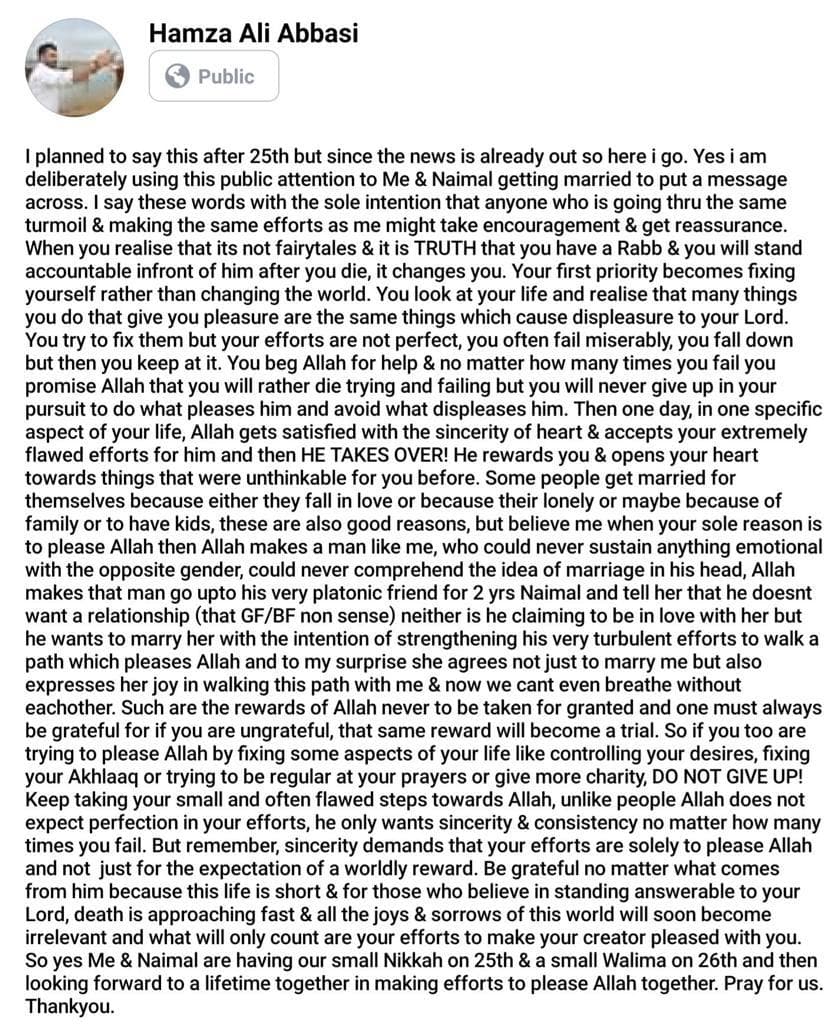 Yasir Hussain & Iqra Aziz's Proposal & Photoshoot
Yasir Hussain and Iqra Aziz landed themselves in a controversy when at the event of Lux Style Awards, Yasir Hussain decided to propose Iqra in front of the entire crowd. Yasir Hussain called himself the 3rd award that Iqra will be getting that day. The couple's public display of affection was heavily criticised. People also felt that this was a publicity stunt because Yasir and Iqra already got engaged a few months ago in a very small ceremony celebrated with Iqra's family and close friends. After the proposal, Yasir Hussain and Iqra Aziz also did a couple photoshoot which also sparked a controversy.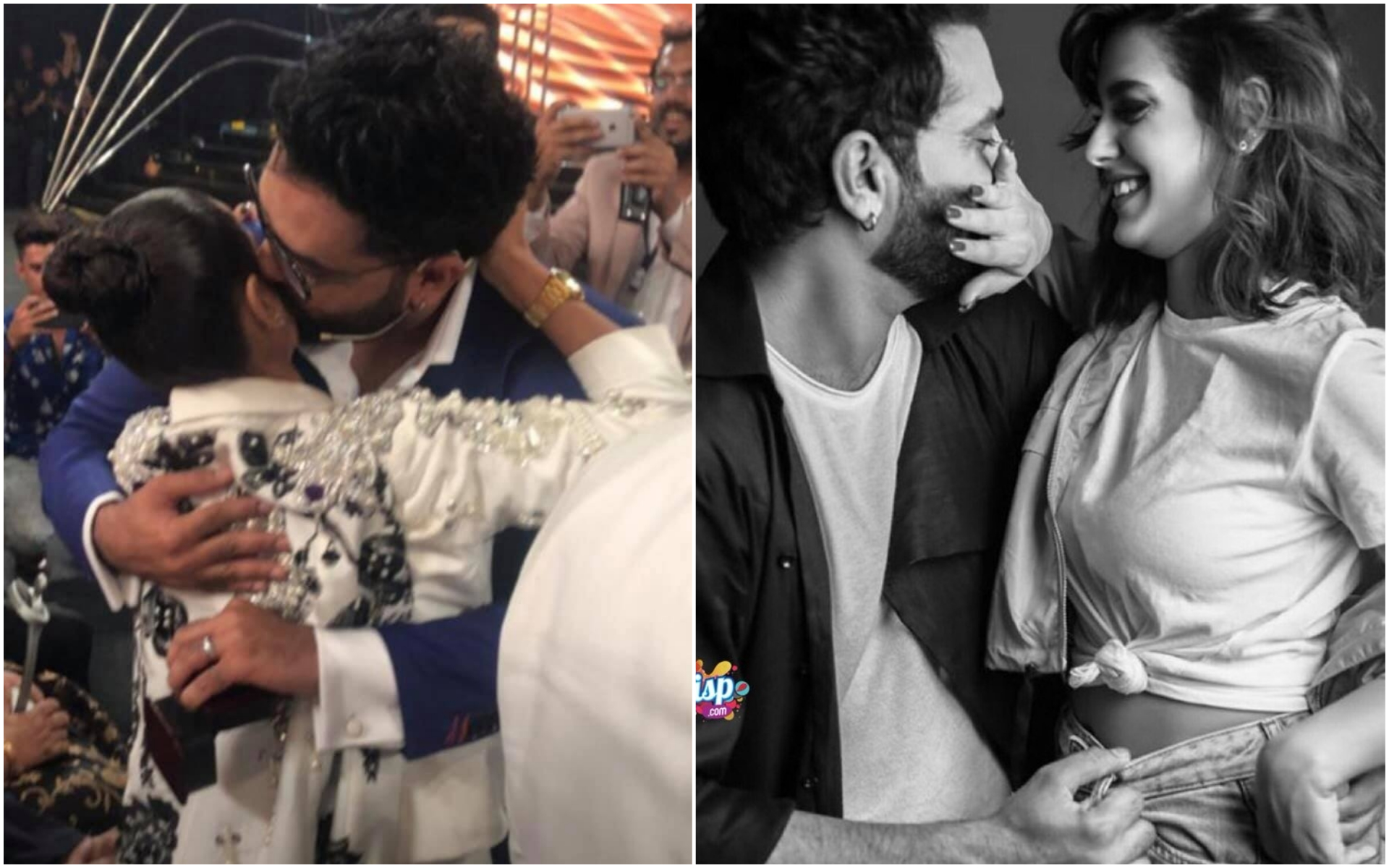 Mawra & Urwa Hocane's Comments on Diet & Depression
Mawra & Urwa Hocane have launched their clothing line under the label of UxM. They appeared in Good Morning Pakistan to promote their brand. Urwa and Mawra also spoke about how healthy eating has helped them a lot. Urwa stated that healthy eating also cures depression, this was something that she spoke about through personal experience. These comments made by the star sisters were not well received by the general public and everyone felt the actresses made a poor judgment. Urwa came forward and openly spoke about her struggle with depression and Mawra Hocane also shared a lot of studies which proved diet and depression are correlated.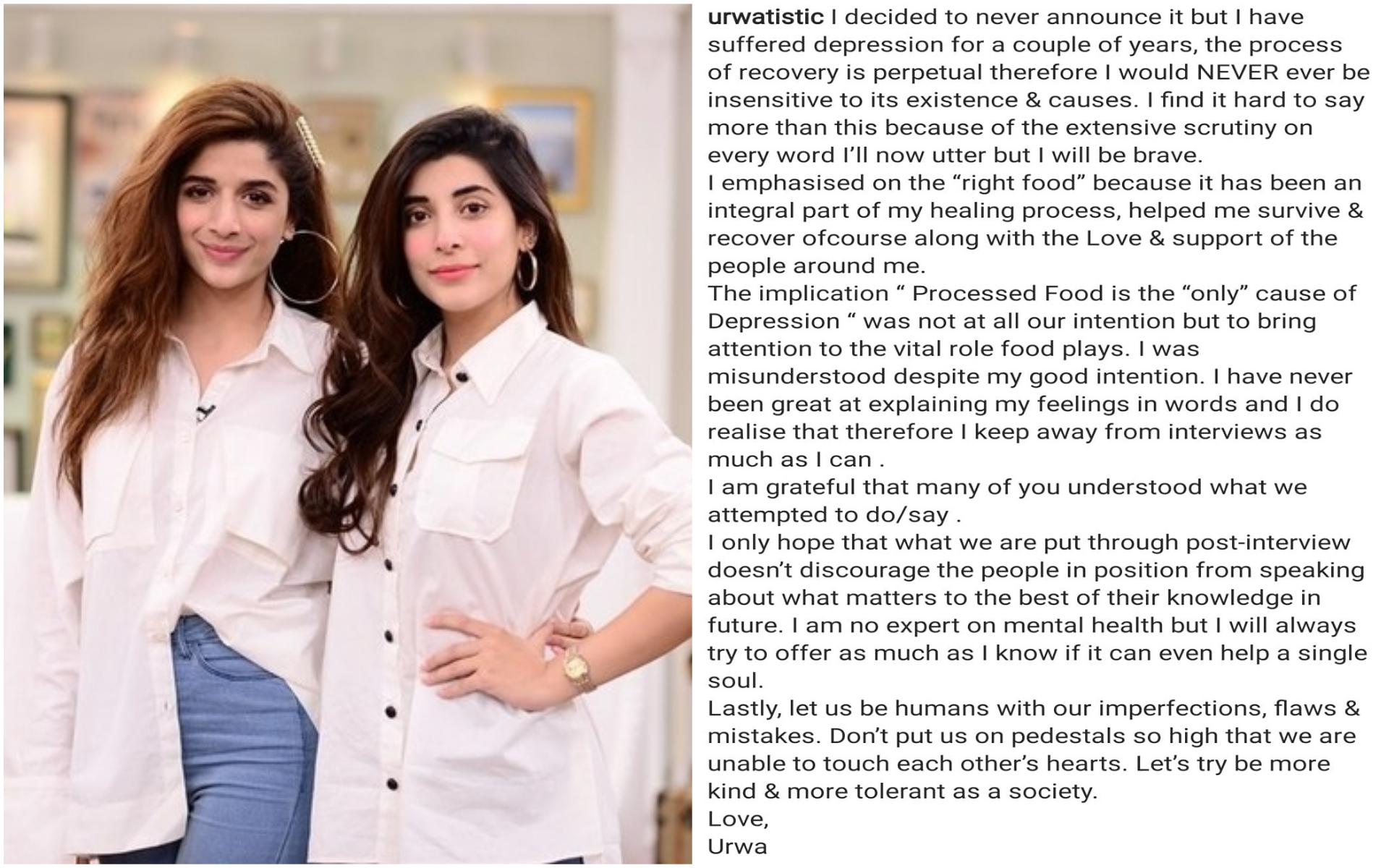 Imran Ashraf's Response To Senior Actor Firdous Jamal
After stating his views about Mahira Khan, Firdous Jamal continued to make comments about Imran Ashraf. For Firdous Jamal, Imran Ashraf's phenomenal performance in Ranjha Ranjha Kardi was not a performance but just an act. He continued to say that this was nothing new and it has been done before a lot of times by senior actors. Imran Ashraf however graced Firdous Jamal with a very dignified and respectable response and won the internet with his niceness.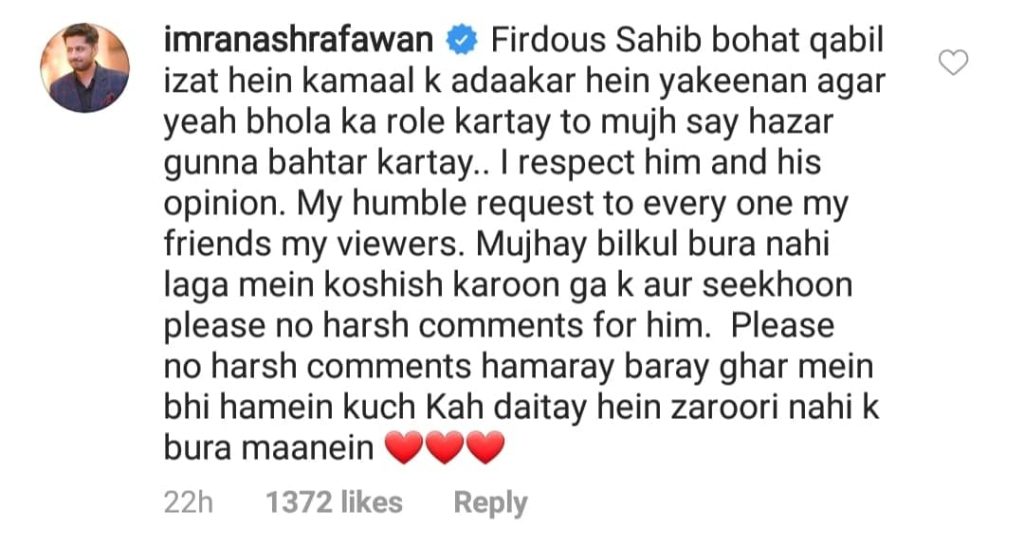 Nida Yasir & Soul Sister Pakistan's Misjudgment
Nida Yasir got involved in an online war with the group owner as well as group members of Soul Sister Pakistan. Nida Yasir's mother in law passed away and while she was on a break, mourning the loss of her mother in law, ARY Digital decided to air a recording of one of the shows that was aired last year. In that episode, Nida Yasir showed the shopping that she did from her trip to Europe. The group members of SSP misjudged and thought Nida was being inconsiderate that she was showing off her things when her mother in law had just passed away. They group members believed that because when Yasir Nawaz's mother actually passed away, he along with Nida and kids was on a vacation. The group members of SSP started contacting Yasir Nawaz and bashed Nida for displaying her shopping but Nida clarified it. She also took the names of those ladies who messaged Yasir Nawaz. The founder of SSP Kanwal Ahmed did not do the damage control and clearly stated that she could not stop those members whose names were mentioned.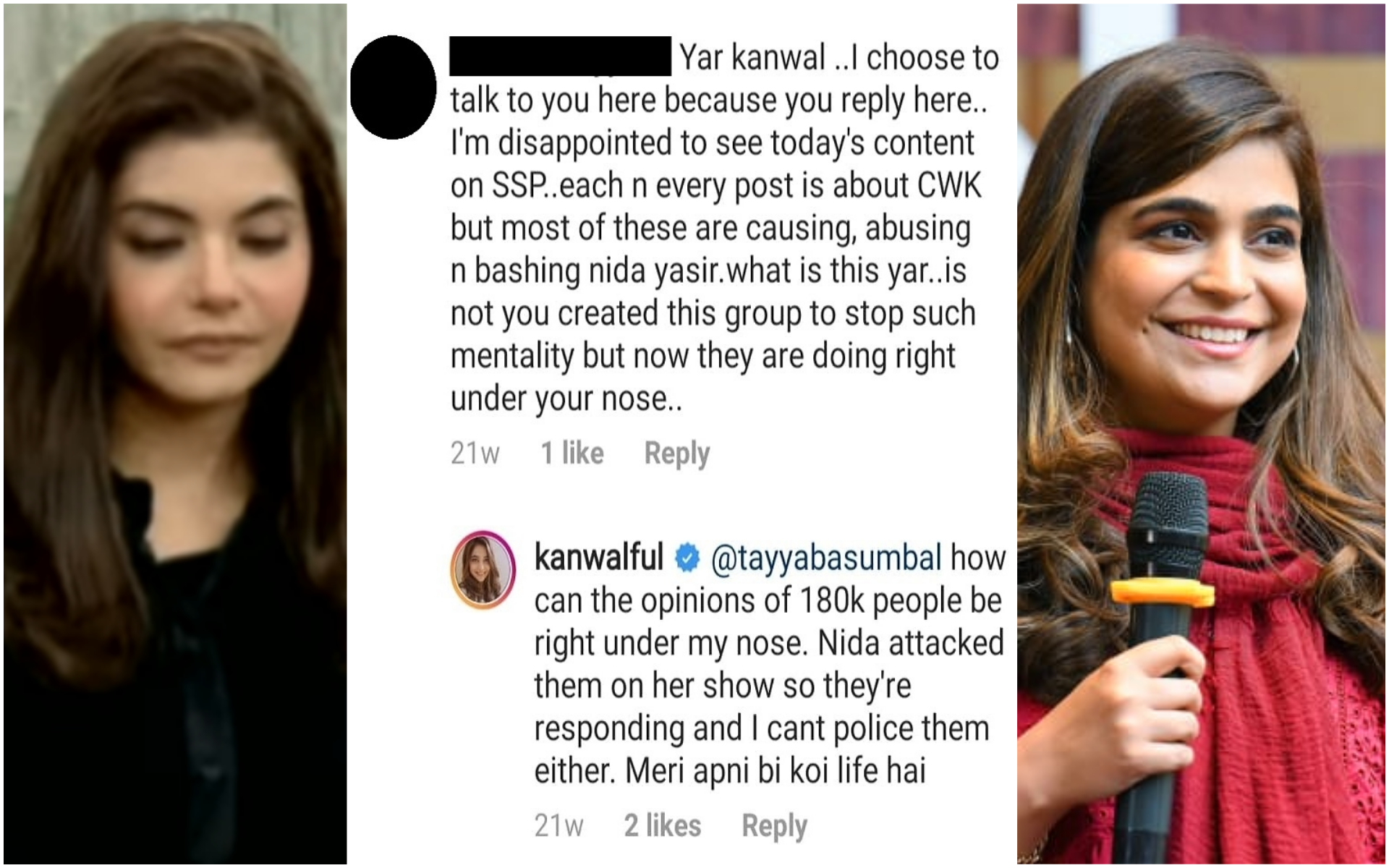 Sadaf Kanwal's Remarks on Mansha Pasha
Sadaf Kanwal & Mansha Pasha had a tiff in the past and it continued this year too. In Bol Nights with Ahsan Khan, Sadaf Kanwal stated that she feels Mansha Pasha should stay at home because she can not act. A few days later, Mansha Pasha's movie Lal Kabootar came in the news for being Pakistan's selection for the Oscars' International Feature Film Category. A lot of celebrities came in support of Mansha and she herself settled the tiff with a graceful reply to Sadaf Kanwal.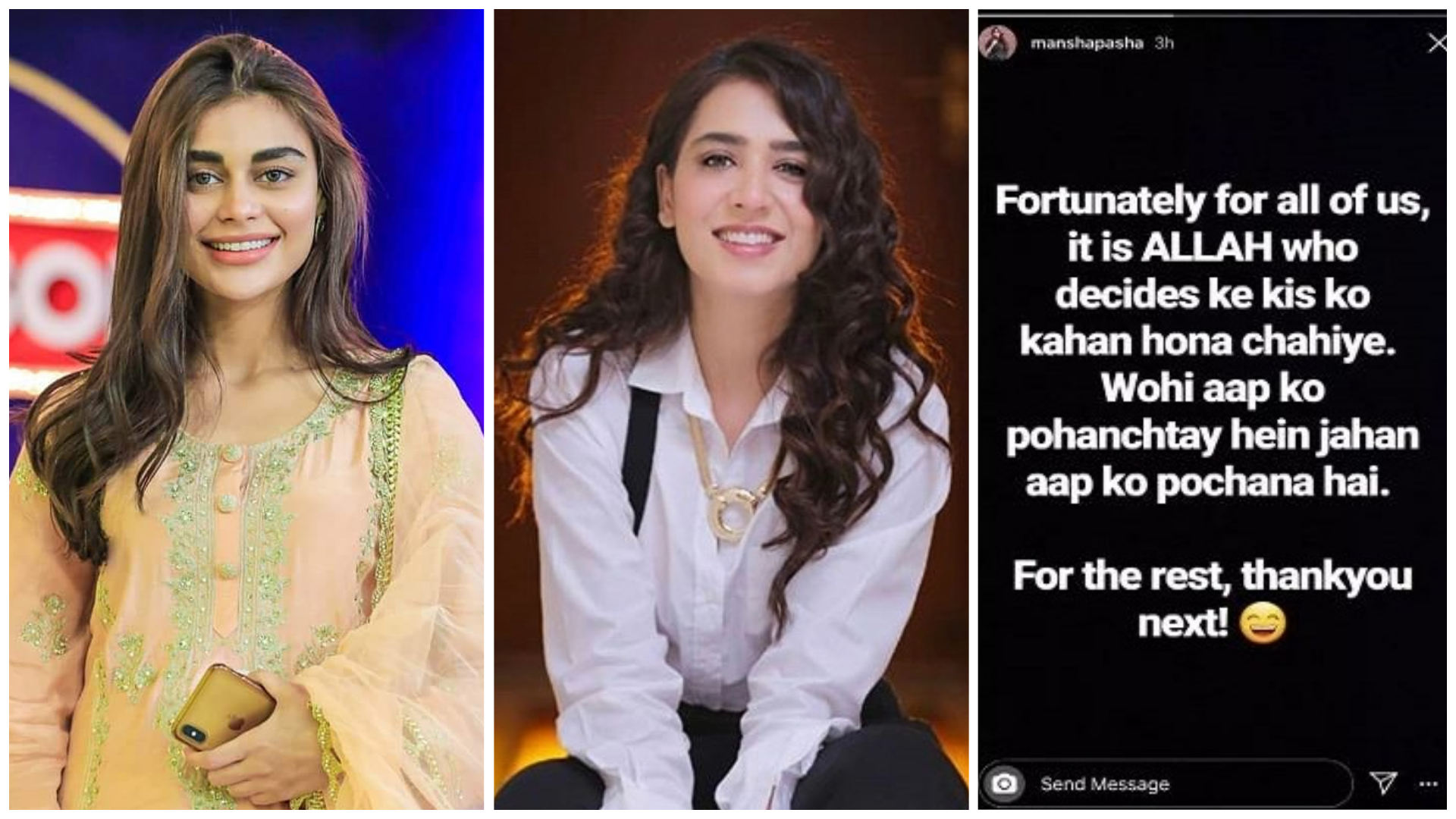 Shehryar Munawwar, Hala Soomro & Maya Ali
Shehryar Munawwar and Maya Ali worked in feature film Paray Hut Love together. During the promotions, people could not stop noticing the affection Maya had towards Shehryar. In the meantime, the news of Shehryar Munawwar calling his engagement off also surfaced and people started speculating that may be his closeness to his co-star Maya Ali was the reason behind this decision. Shehryar Munawwar chose not to give any reasons behind this decision but he did request everyone to respect the privacy. Sheheryar however stated that it is a personal matter where two families are involved.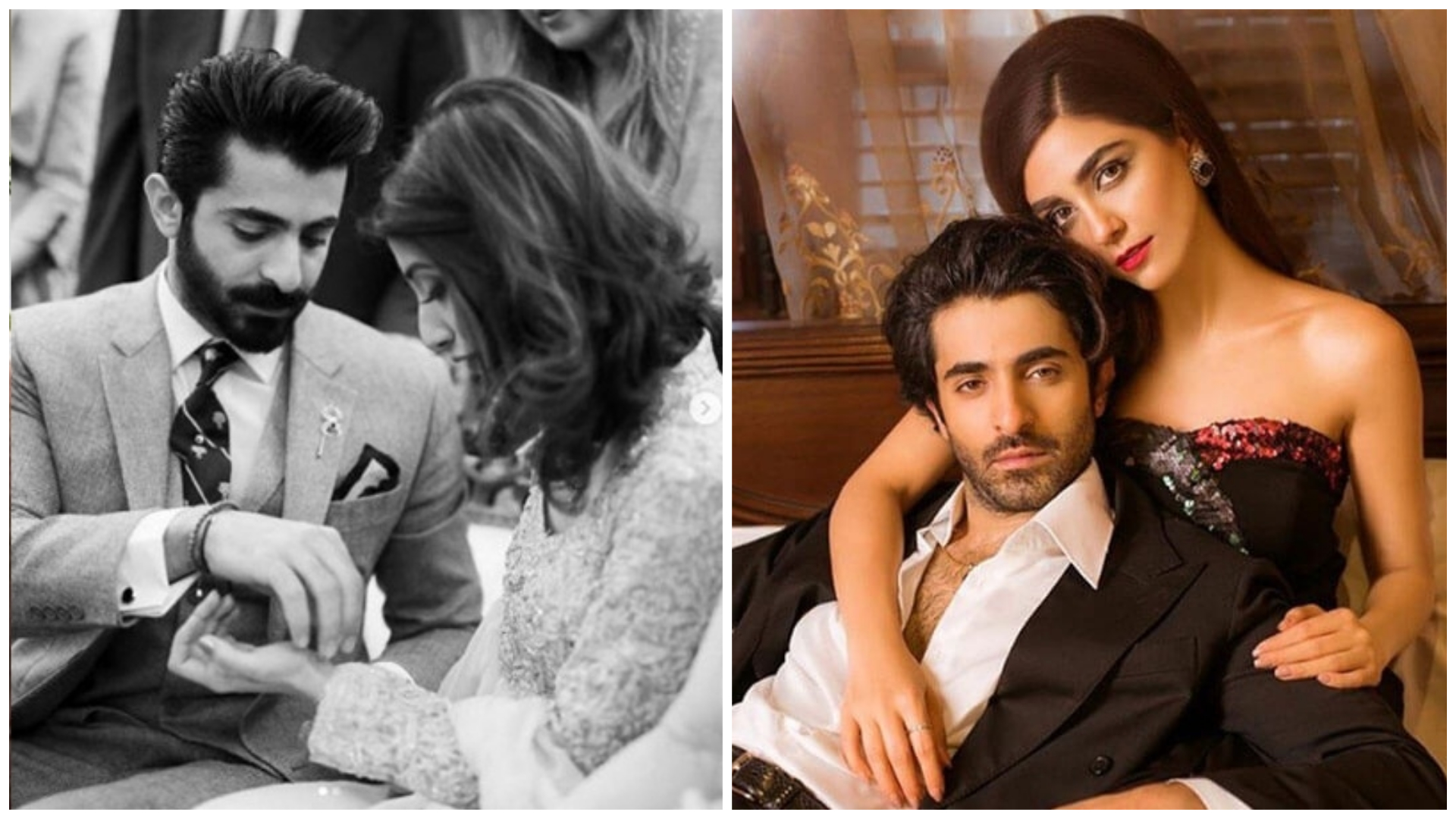 Khalil ur Rehman Qamar & Feminism
Khalil ur Rehman Qamar was in hot waters for his hurtful and insensitive comments about gender equality and rape. In an online portal interview, Khalil ur Rehman spoke about his idea of good women. He stated that he was the biggest feminist and was in favor of women's rights, only when women did not cross their limits. This interview caused an uproar and turned into one of the biggest controversies of Khalil ur Rehman Qamar's career. He was unapologetic about whatever he said and a lot of people from the showbiz industry spoke against him and his views, labeling him as a misogynist.
Khalil ur Rehman Qamar also spoke against Mehmood Aslam and Saba Hameed stating that he will never work with them because according to him, they are dishonest with their work. Khalil ur Rehman Qamar was also angry at Urwa Hocane and stated that her approach towards the film was non-serious, therefore he had to fire her from Kaaf Kangana.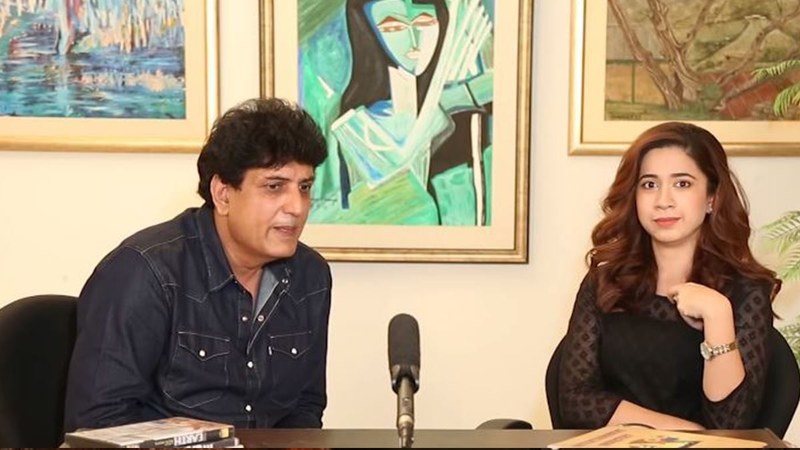 The Infamous '2 Takay Ki Aurat' Dialogue from Mere Pass Tum Ho
Just when Khalil ur Rehman Qamar was under scrutiny for his problematic views, the episode of Mere Pass Tum Ho aired which had the '2 takay ki aurat' dialogue. While this dialogue was appreciated by the fans of the drama because it was very much in the context of the situation, a lot of people felt it was a racist remark and an insult to women in general. Celebrities such as Samina Peerzada did not appreciate the dialogue either. This happened because after the interview, people saw these dialogues as a depiction of writer's mindset and his perspective about women.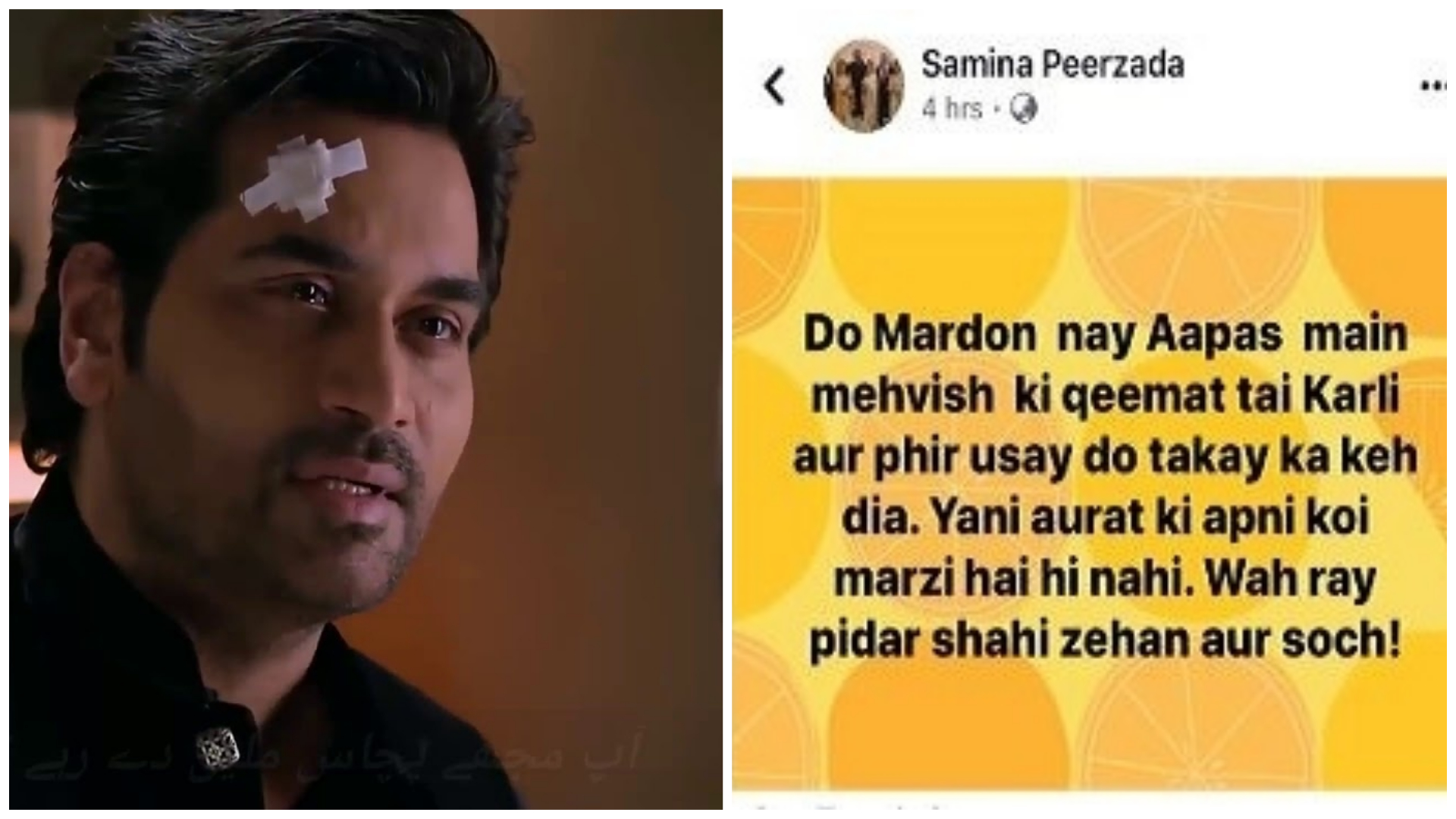 Neelam Munir's Item Song & Patriotism
Neelam Munir did an item song in Khalil ur Rehman Qamar's directorial debut Kaaf Kangana. Kaaf Kangana was a project of ISPR. Neelam Munir when criticised for doing an item song took it to social media to give an explanation which left everyone confused. This was the kind of excuse that was unheard of and new. Neelam Munir stated that due to Kaaf Kangana being ISPR's project, she agreed to do this item number. This was her way of showcasing her patriotism because she would do anything for Pakistan.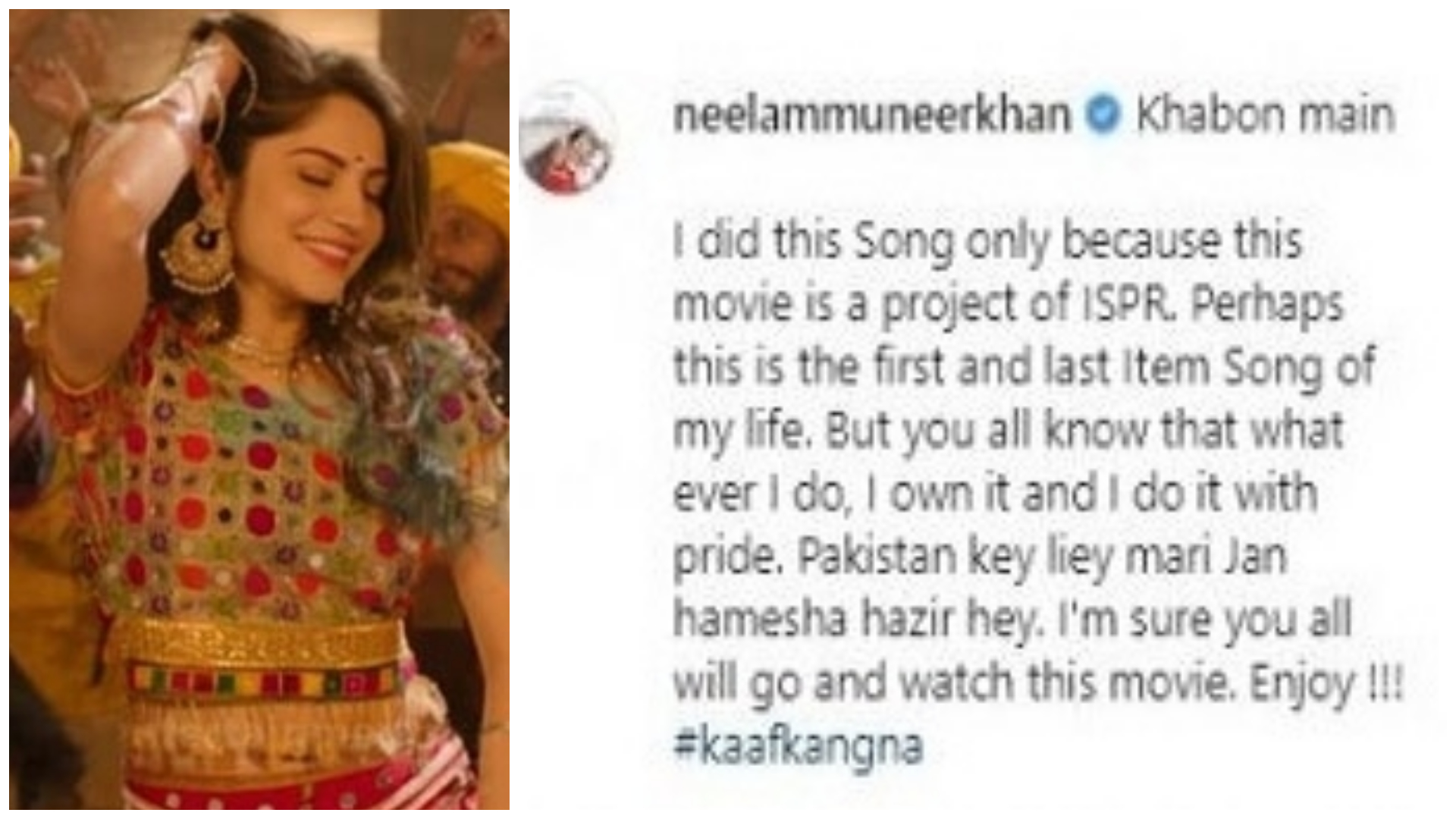 Hina Altaf's Remarks on Muneeb Butt
Hina Altaf landed herself in trouble when a clip from one of her interviews started circulating. When asked by the interviewer about the actor who doesn't know how to act, Hina Altaf took Muneeb Butt's name and continued to laugh about his wedding festivity. However, after appearing in Good Morning Pakistan, Hina Altaf clarified that the video was poorly edited to create a controversy. Hina also congratulated Muneeb and Aiman on the birth of their first child and Muneeb Butt accepted her gesture graciously.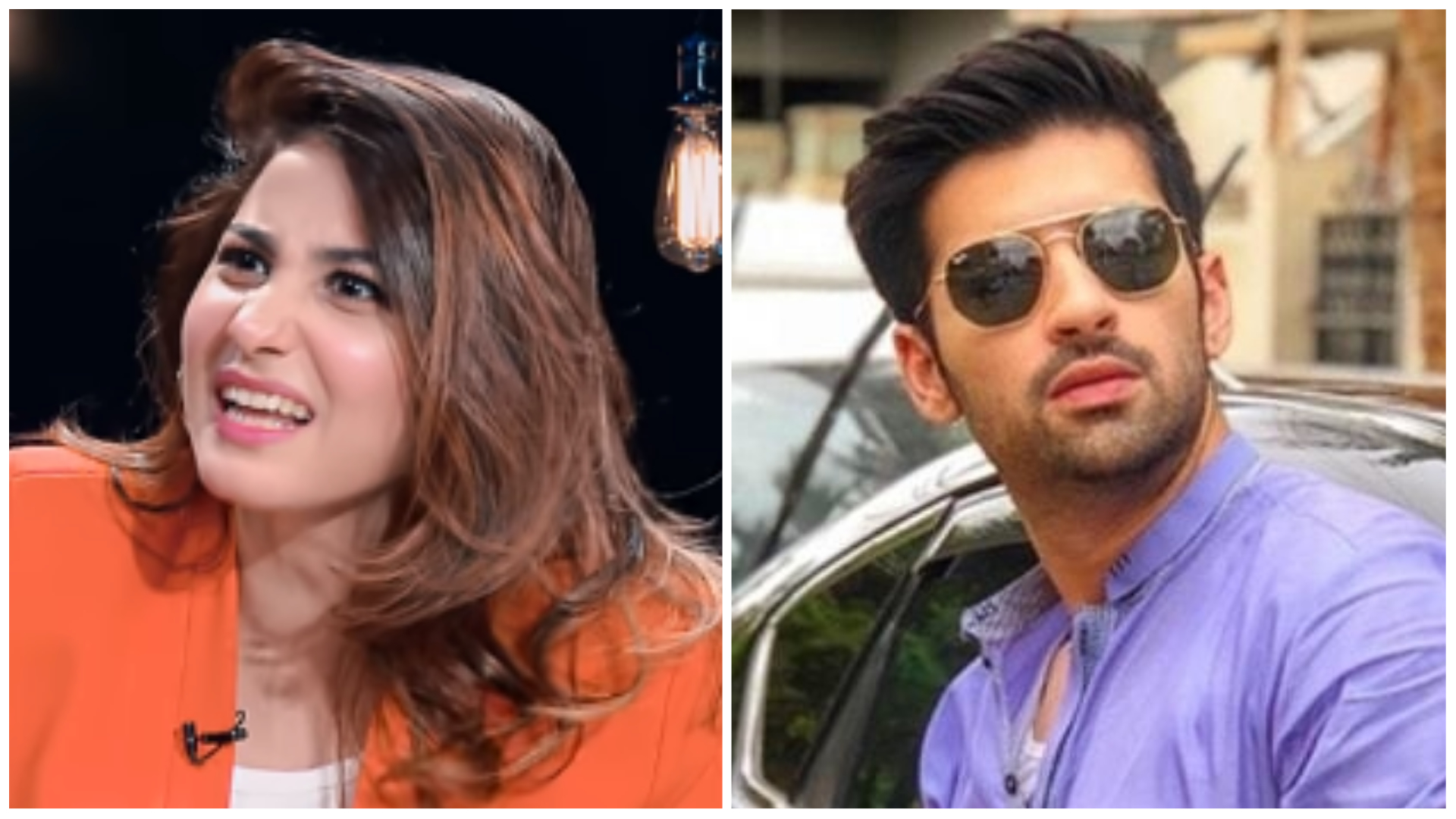 Rabi Peerzada's Leaked Personal Data
This was again one of the biggest controversies of 2019. Singer Rabi Peerzada's personal data such as her pictures and videos got leaked and went viral in a short span of time. This was one of the biggest scandals of Rabi Peerzada's career but she stayed silent. It was after a few days that Rabi Peerzada chose to make a video where she announced that she will be quitting the showbiz and will work on herself.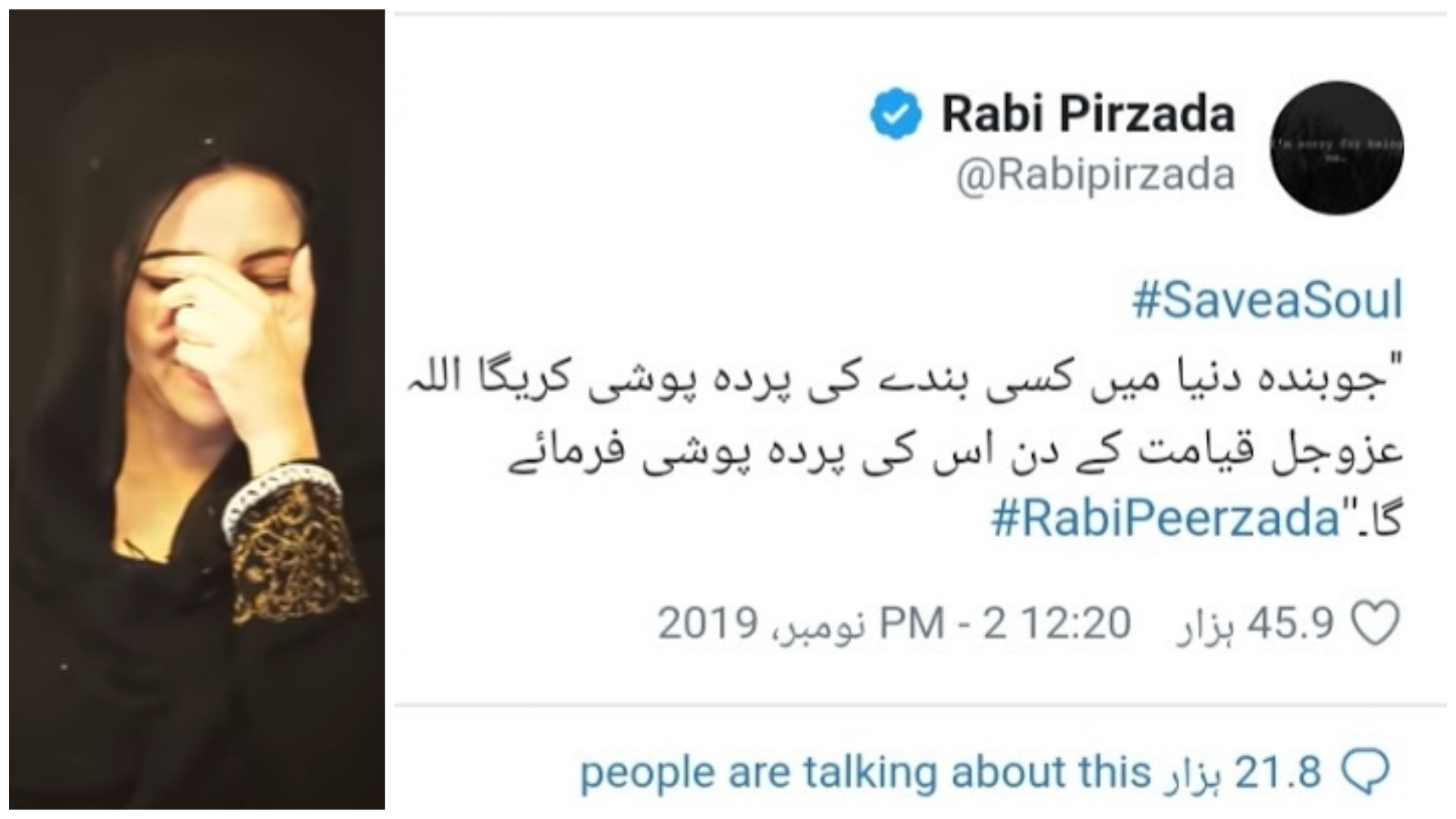 This concludes the list of biggest controversies that Pakistani celebrities were involved in the year 2019. Share your thoughts about these controversies in the comment section below.