Junaid Jamshed has been in the limelight for years. First for his music, then for his decision to quit music and now for his fashion label JJ.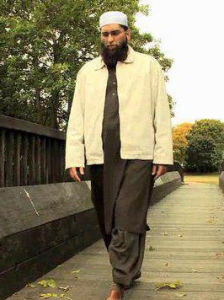 Junaid Jamshed was the most successful singer of his time along with his band mates in the legendary Vital Signs. When he quit music, he turned towards fashion designing and currently his label JJ has over 30 outlets all over Pakistan. Junaid never realised that he would get so much success in both music and fashion. "It was never about success," he says as he takes off his prayer cap and scratches his head. Junaid the man gives off a warm vibe.
Animated and easy, Junaid's hands move in all directions when he speaks, but his eyes hold yours. He makes eye contact and keeps smiling. He is a celebrity, but one that celebrities of the day would rather not acknowledge.
Despite having more stores than Amir Adnan, he is not as acknowledged by the fashion fraternity as a successful retailer. Perhaps they can't relate to his religiousity, but then again, that could also be his innate humility.
Junaid has no hang ups about admitting that his success as the lead vocalist in the country could be attributed to people like Shoaib Mansoor, Rohail Hyatt and Shehzad Hasan.  We caught up with JJ recently to talk about fashion, music and of course, the legend that was Vital Signs and in that process, give Junaid his due…
Q-: How do you feel about the Danish caricatures? What do you think of the way we are responding to it?
Junaid Jamshed: I feel exactly the way you're feeling. I am a Pakistani. I have more right over this country than you. This soil demands more from me than from you because it gave me a name. Today, if I go to America or India or Africa, people will know me because of the soil I come from. Our Prophet (PBUH) was called a lot of names including a magician, a poet and even a lunatic. By calling him names, his respect and honour wouldn't go down. Would anything happen to him or Allah? No, it wouldn't!
His companions didn't burn down houses and destroy their own properties. This is not the way to deal with the Danish caricatures. They need to be dealt, yes! But in a different way. We are more concerned about the cartoons than what we are doing and how our Prophet must be feeling. What about the believers who are not following his words in abundance every single day. Why aren't we reacting to that? I'm more concerned about that. Our lives are not getting affected because of what others are doing but because of what we are not doing.
Q-: Around the time Dil Ki Baat was releasing, you decided to leave music. Why?
Junaid Jamshed: Dil Ki Baat was very close to my heart. Even though I don't listen to those songs anymore but if I go back, some of those songs had a lot to say in my life. Shoaib (Mansoor) and I had composed the track 'Dil Ki Baat' six or seven years before it actually came out. Songs like 'Kaho Na' and songs like 'Intezaar Karna' were very close to me, but at that time I had a change of heart.
Q: How come?
Junaid Jamshed: Because I was going towards the path of Allah and I was learning new things. Things that held priority in my life then were losing their value. And right in the middle of it, Dil Ki Baat came out. It was neither here nor there. I wasn't even aware of its release because I had made plans to leave music. I personally feel that technically it was the best album we (me and Shoaib) ever made.
Q: You were also offered a part in Khuda Key Liye?
Junaid Jamshed: Initially I did take the role but I couldn't go ahead with it because there were a lot of conflicting ideas within the movie as far as I was concerned. My environment had changed. I tried to do it but I couldn't. You must realize that my relationship with Shoaib was not just of an artist and a producer. We were the best buddies. We were the most like – minded people when making music. We used to make a song while taking a stroll. He would make a line and I would make a line and those songs turned out to be huge hits.
Q: Give me a few names?
Junaid Jamshed: 'Tumhara Aur Mera Naam', 'Ab Jiya Na Jaaye', 'Teray Liye Hai Mera Dil', 'Tum Duur Thay', 'Naraz Hum', 'Yaar Nahie Haar Dey'. Now when I look back, it was the best musical duo in Pakistan at that particular time. But then, I realized that I had a huge responsibility on me. This entire youth was doing exactly as I was saying and what was I telling them? Where was I taking them? All these thoughts bothered me.
Q: Vital Signs were a revolution in the Pakistani music scene. You changed our music history forever. VS are legends to date. When you look back, what do you miss about those days?
Junaid Jamshed: I miss… what do I miss? Okay, let me put it this way, when I sit back and look at the past, I'm not ashamed of what I did. In fact when I look at it from the point of sincerity, I must say and I cannot comment on others, but we were the most sincere band when it came to making music. Money was always secondary. That's why myself, Rohail (Hyatt) and Shahi (Shehzad Hasan) never fought on money. There was never a problem with 'I did more; he did less' in the band. We were friends first and band members later. Even today we are friends. And we came to a point where we decided that we won't make more music because our friendship was getting affected. We were all superstars in our own capacity at that time (1997). We realized that we had done good work and we needed a break.
Q: So Vital Signs' separation was temporary?
Junaid Jamshed: At that point, yes. Because I wanted to do music on my own. VS were everyone combined. I wanted to try something on my own. Rohail wanted to do some videos and audio stuff. Shahi wanted to do some studio work. We all became better at what we were doing and it became difficult to get back together and give time to each other.
Q: You all did one concert later for Nazia Hasan. How was it getting back on that stage with VS all over again?
Junaid Jamshed: Oh it was magic! I made more money when I became a solo artist but the feeling I used to get when Rohail and Shahi were with me on stage is incomparable. It was the most beautiful feeling I've ever had in my life. Rohail liked what I did, I liked what he did and the same goes for Shahi. Rohail and Shahi were two of the most brilliant musicians of our times. Salman Ahmed, Rizwan ulHaq and Nusrat Hussain  these people were the best musicians of their times. And they still are. God had somehow put all these people together and it was revolutionary.
Q: Musician turns towards fashion . how did that happen?
Junaid Jamshed: When I left music, I had to do something. It was forced; I had to make a living but honestly I had little idea that our brand would one day become such a huge name.
Q: Do you design yourself?
Junaid Jamshed: I used to design myself but not anymore. Now we have professional designers.
Q: What is your design philosophy?
Junaid Jamshed: Less is more
Q: Really?
Junaid Jamshed: (Laughs) I don't mean it in terms of cloth. I mean in terms of embellishment. Since VS days, we used to design our own clothes. That is me, Rohail and Shahi. People used to ask us, "Which designer?" Woh jo ghar ke peeche darzi hota tha, he used to make it. So, I always knew that if I ever were to venture into fashion designing, I would be good at it. I had the brain and I strongly believe that in the Pakistani market, we haven't done enough with Eastern wear. I knew that if I were to make a kurta, it would be fabulous. Look at this (points to the kurta he's wearing), it's got stripes and its dull brown. My idea was to play with the cut, work on a fabric that's wearable as well as fashionable, put some nice buttons. You can go anywhere wearing this. I saw Amir Adnan doing it and I was very inspired. That inspiration encouraged me to go forward but I had a different approach. Once I played around with kurtas, I realised that the idea that men would wear anything was wrong. They too have a standard and it has to be met. When I became successful in that, I ventured into women's wear. I only manufacture cloth; I don't design dresses for women.
Q: What do you think of Pakistani fashion?
Junaid Jamshed: We don't do fashion shows, we're not in any sort of fashion programs so I really don't know. I feel that since JJ has gone to different parts of Pakistan, I've seen and understood that Pakistan is a country with very diverse taste. If you have a designer store in Karachi, you don't really know what's going on Gilgit or Swat. A woman in Swat has nothing in common with a woman living in Karachi. The kinds of colours that sell in Peshawar do not sell in Quetta. I still feel that there is a lot of room for growth. From whatever I know, Mashallah the Pakistani fashion industry is going very well. Some of the names are making great stuff.
Q: Like who?
Junaid Jamshed: I like what Rizwan Beyg does. It's very interesting. I like Faiza Samee and Hasan Shehryar Yasin. Apart from that, I'm a huge fan of Ather and Shehzad Raza, the kind of photography they do. I like Khawar Riaz, very professional, slick and up to date. These guys are doing great work.
Q: How do you feel about the Fashion Design Council?
Junaid Jamshed: I think it's incredible, it is wonderful and they have my full support. Anything that projects the image of Pakistan in a positive and honourable way, I salute people who take such initiative. Designers like Maheen who have gained a huge name in Pakistan, I respect them and I'm always here.
Q: Have you been called by either of the two parties?
Junaid Jamshed: Maheen called me. It was very kind of her and we spoke but then I never got a call from her again. If I am called, I will consult with my fellow members and see what it is.
Q: You have over 30 outlets all over Pakistan. What is your business strategy?
Junaid Jamshed: It's not about economincs, it's a proper system. First, research is done. What kind of market it is? Is it financially feasible? What will be the initial expenditure? We come to a figure and then decide if we should open a store in a certain area. If the sales are good, then one doesn't mind giving a higher rent.
Q: You advertise a lot. How feasible is that?
Junaid Jamshed: There are times when reaching out to people is more important than making money. One year we might not make a lot of profit on a certain product but the next year our advertising is less and we will gain more profit. You have to make a two or three year plan. It is the demand of a company that is growing. We cannot simply bank on the idea that today we open a shop and tomorrow we will make this much profit. We have outlets that make no money but they are there for a certain purpose, the reason being reaching people.
Q: What is your take on the current Pakistani music scene?
Junaid Jamshed: I am really not aware of the scene. However, I still meet my old friends from time to time if I come across them. The other day while I was recording my naat album, I met Ali Haider. It was really good to meet him after a long time. Somehow, he looks younger and younger every time I see him. But I must say something here that listening to the band members is very important. I remember that every time I did something that Rohail said "it won't work" or "don't," he was right. Every time!
Q: If you hadn't been a successful musician, do you think JJ would be so huge?
Junaid Jamshed: Yes, you're right in a way. People knew who I was. But once people come inside the shop, the name isn't enough to convince them to buy. The only advantage is they would know me and come to check out what I was doing.
You must have enjoyed the interview.. Drop in your comments and feedback beneath
S. Rasool