Kinza Hashmi is owning TV screens and Instagram feeds with her phenomenal performance and stylish avatar. She is undoubtedly the emerging talent of the Pakistan drama industry with many unconventional roles under her belt.
With over 4 million followers on Instagram, the Mor Mahal actress is the reigning queen of many hearts. Her popularity witnessed a surge with her role in Ishq Tamasha. She played the role of Rushna in Ishq Tamasha, her remarkable performance earned her a nomination for Best Negative actor at Hum Awards.
Kinza Hashmi is catching the eyes of many production houses and getting projects after projects. After her hit drama serial Ishq Tamasha, there is no stopping for her ever since. Hashmi's new drama serial opposite Azfar Rehman Tum se Kehna went on-air a few days ago and the actress is getting praised for her craft. The Uraan actress has reportedly signed another drama opposite Sami Khan.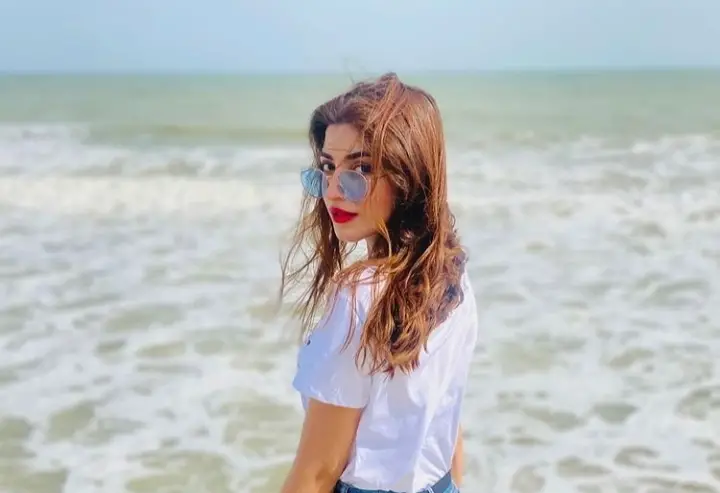 Interesting Facts About Kinza Hashmi 
Since the Gul-o-Gulzar actress is ruling hearts all over Pakistan and abroad, we decided to enlighten fans with some interesting facts about the actress. Go on, get to know your favorite actress a bit more. Happy Reading!
She's From Lahore
Kinza is from Lahore but ever since she's ventured into acting she mostly lives in Karachi. She said that Karachi feels more like home as she spends most of her time here. Karachi is closer to her heart than Lahore as she has made some good friends here.
Kinza's The Only Child
Kinza has no other siblings. She often gets asked what's it like being the only child, is she spoiled and bossy? Her answer always to that is that she is not a spoiled child rather she had a strict upbringing.
Career In Entertainment Industry
Since Kinza Hashmi got recognition with Ishq Tamasha, many assume it to be her debut serial. However, it is not true she has been a part of the media industry for 7 years. She has struggled a lot in her journey but Ishq Tamasha marked the end of her struggling days. She has played different roles in over 30 drama serials by now.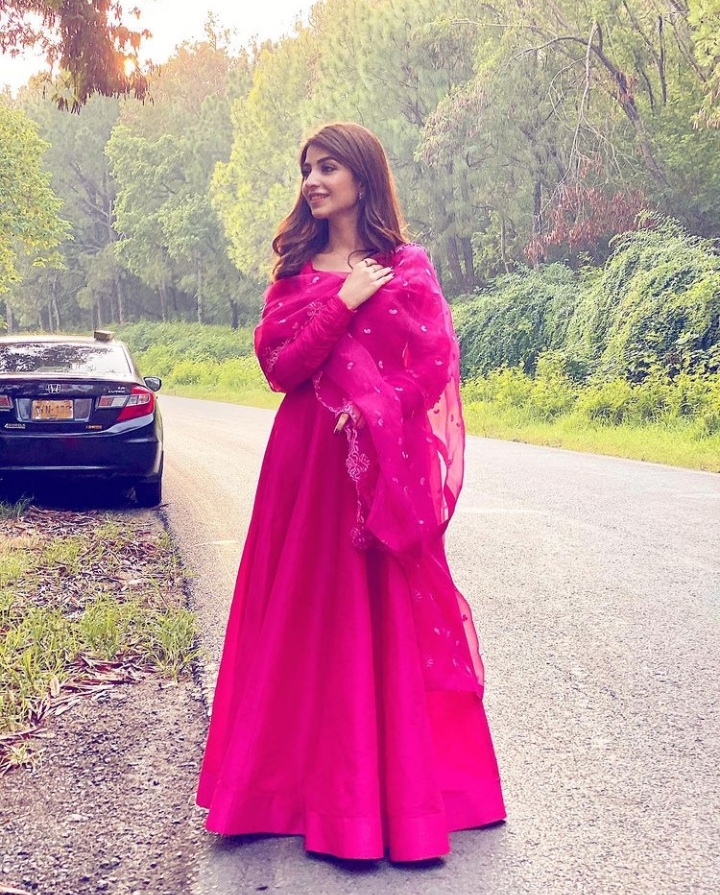 She Started Working At The Age Of 16
Kinza started pursuing her acting career at a very young age of 16. She used to come on set with her books as she didn't get much time to study. She shared that she used to study on set and senior actors would help her with her studies.
"Sajna" Cover
Kinza is not just a talented actress but has also tried her hands at singing. Fans were quite impressed when the Deewar-e-Shab actress released the cover of the song 'Sajna' earlier this year. She credits the singer Arif Ali and singer and songwriter Sheraz for bringing out this side of her.
Favorite Projects
She believes that her successful journey is the result of pure hard work. If she has to name her favorite projects, it would be Ishq Tamasha, Seerat, and Gul-o-Gulzar. She feels that these TV serials are closer to her heart than others. The reason being challenging roles and great scripts.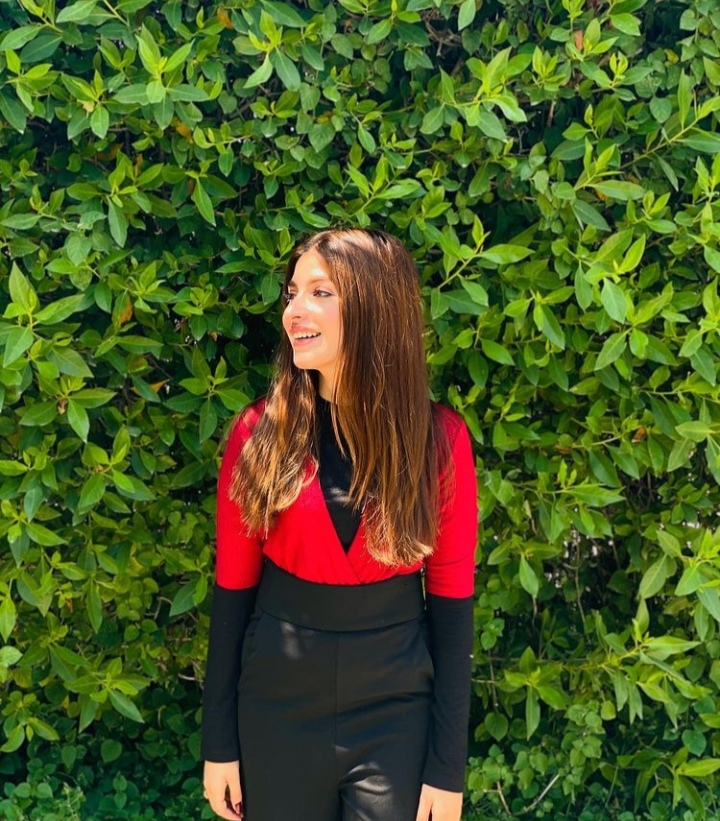 Fitness Routine
Kinza Hashmi sticks to her fitness routine and maintains her weight at 45 Kgs. When Kinza is busy shooting and does not get time to workout, she follows a strict diet plan to keep her weight in check.
Favorite Drink, Food, & Color
Her favorite drink is black coffee and she consumes 3 to 4 cups a day. She also drinks black coffee because it helps with weight loss.
She is a big desi food lover and love to eat Biryani & Daal Chawal.
Her favorite color is black. Her wardrobe is filled with black dresses. Whenever she steps into the shop, she looks for a black color dress.
Her Favorite International Labels, Perfume, and Eyewear
Her favorite International designer brands include Chanel and Sephora.
Her favorite perfume to wear is Daisy by Marc Jacobs.
She buys shades from the Vogue eyewear.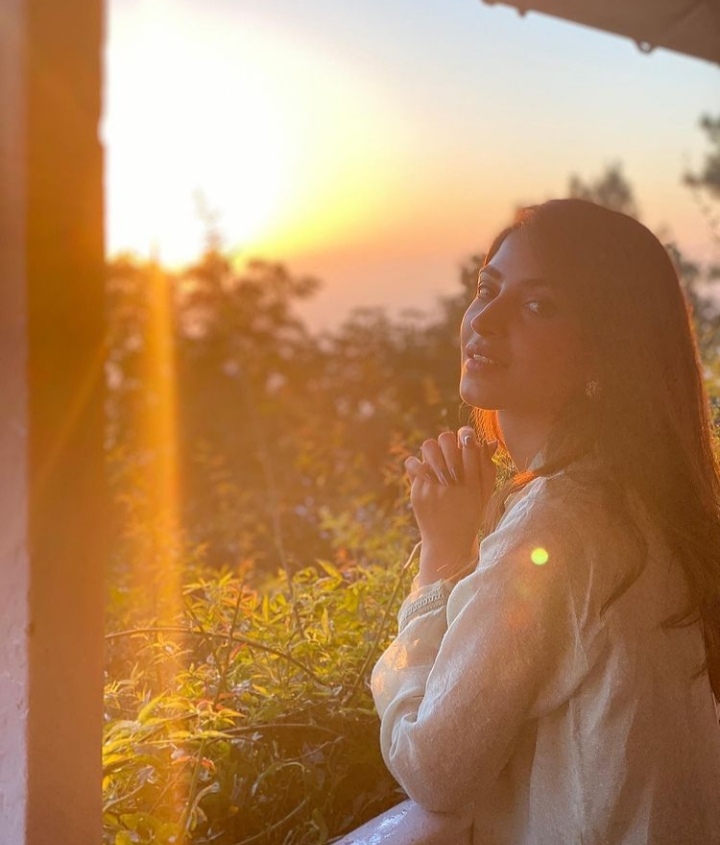 Favorite Film
Her all-time favorite film is Hum Saath Saath Hain and this is the film that makes her cry the most. Be it the happiest or the saddest scene, the film leaves her misty-eyed.
She Does Not Like To Party
She is often misunderstood for being an outgoing person. She does not go out and party often as she gets quite tired from the hectic shooting schedule.
She also likes to spend "me" time whenever she gets free time. Her favorite thing to do on a Saturday night is to stay home and watch movies.
Favorite Co-Star
Kinza's favorite co-stars are Imran Ashraf and Ayeza Khan. She considers Ayeza a gem of a person really helpful on set. Ayeza is like a sister to her and she has helped her improve her skills.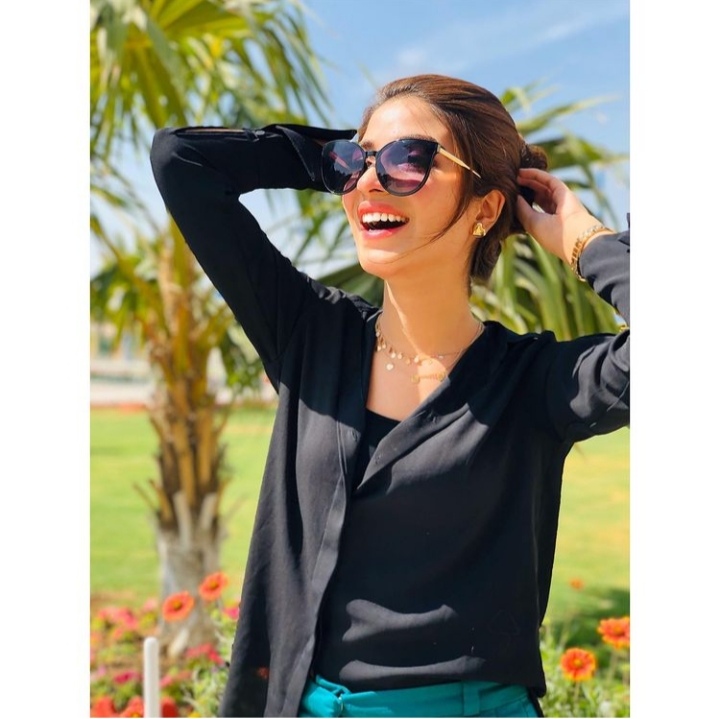 Dream Role
Kinza's dream role is to play herself. She deems that a biopic on her would make an interesting story. It is her dream to play Kinza Hashmi.
Acting Master Plan
When asked what is her acting master plan and where does she see herself in the next 5 or 10 years? She answered quite candidly that she has no "plan" in place rather she would like to go with the flow.
Why She Loves Being An Actor
As an actor, she loves to play different stories and characters. Acting allows her to experience the pain and joy of different characters by portraying them.
Working In Films
Every actor loves to see themselves on the big screen however, Kinza Hashmi is in no hurry to work in films. Even though she has established herself as a strong actor, she only wants to focus on Television projects for now.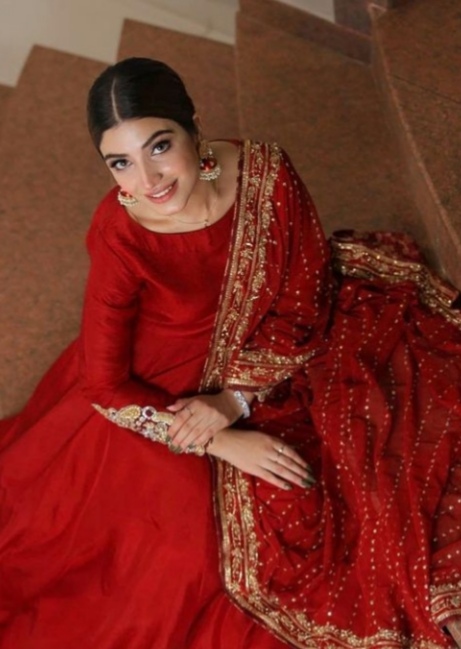 She made a debut with the drama serial Adhura Milan in 2014 but her amazing performances in Ishq Tamasha, Seerat, and Lamhay caught everyone's attention. She likes to do challenging roles that leave an impact. Kinza Hashmi is well-known to leave many spellbound with her beautiful looks and outstanding acting performance. We wanted her fans to know a little bit more about the Seerat actress so we presented you with some interesting facts.