Shahid Afridi, the star of Pakistani cricket team has decided to arrange a match to help the internally displace persons of North Waziristan. Shahid informed about this at the inauguration ceremony of a hospital named after him. Shahid told, he wants to arrange a T20 match in lahore, to give all its reveneu for the IDP's of North Waziristan.
Shahid further told that he has constructed a sixteen bed maternity hospital in tangi banda, near Khoat in the KPK province. He always planned to make a clinic in his hometown, which is now realized in the form of a hospital. He chose the remote area for this effort, as urban areas already have many facilities where as mortality rate in remote areas is much higher due to lack of facilities.
In past Shahid Afridi has actively participated in many humanitarian projects, and now he wants to provide some permenant center of facilities to his home town and province.
Like Shaukat Khanum hospital, Shahid Afridi also want to provide health facility center but in remote and distant areas where such centers are scarce.
Full content from Urdu daily Jang.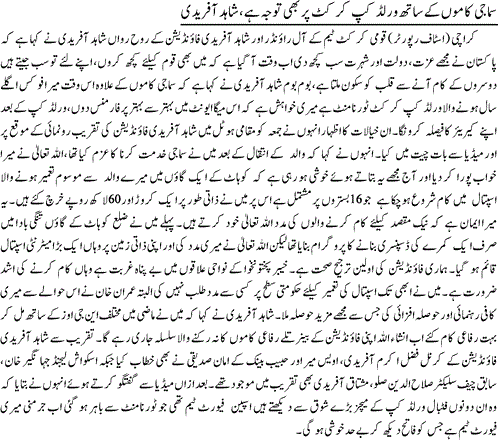 Rashid Nazir Ali