The festival of Eid is all about family, friends, fun, food, Henna and clothing. Eid clothing is an integral part of Eid celebrations, therefore everyone puts an extra effort into their dresses. Since celebrities are heavily followed by their fans, their Eid pictures and Eid dresses give everyone a good inspiration and an idea about the prevalent fashion in the country.
This year, white was the official color of Eid since everyone was seen incorporating it into their dresses one way or the other, but it is understandable because this happens to be the peak of Summers in Pakistan. Everyone was seen wearing comfortable and light colored dresses to suit the season while still making the most of the festival. Also for the ladies, Short Shirts paired with Ghararas was the style to go. Here's a list of all those female celebrities who rocked beautiful dress on Eid ul Fitr, 2017.
Yumna Zaidi
Even though Yumna spent her Eid abroad, she kept the spirits of this festival intact and chose to wear beautiful dresses on both the days. Adorned in Red Golden Shirt and Gharara on Day 1, Yumna looks like a doll. Yumna's choice of simple straight hairstyle with lesser makeup look definitely complements her the most. The choice of Red lipstick is going with her dress and minimal styling shows that she wanted to keep the attention on her dress only. On Day 2, dressed in a simple White Shirt and Trousers designed by Zahra Ahmed, Yumna brought the official Eid color in the limelight. This time around, she changed her hairstyle, kept her makeup minimum and paired it all with a lot of accessories, which definitely completed her look perfectly.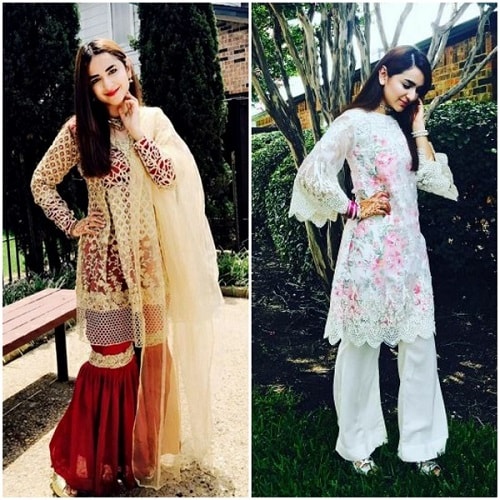 Hareem Farooq
Dressed in a simple White Shalwar and Short Kameez, Hareem Farooq was seen making the most of the Eid Festival while still keeping in mind the heat of Summers. The pop of Peach/Pink that the Dupatta adds in the entire outfit makes it Eid appropriate. The way Hareem kept her look simple with backcombed half tucked hair and statement earrings definitely give her a very neat look. Hareem Farooq was wearing Shazak Malik's creation and she surely carried such a simple but beautiful dress with a lot of style and elegance.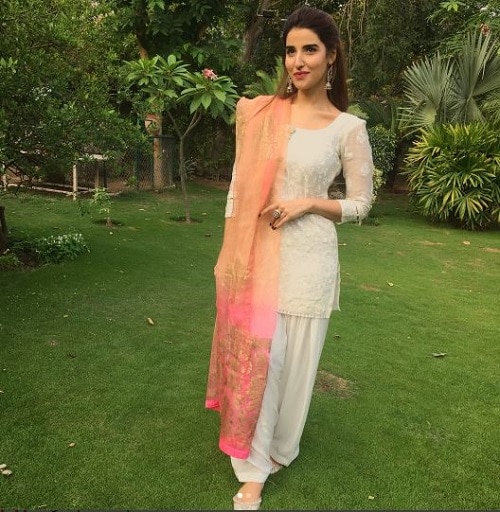 Hira Mani
Hira Mani's beautiful dress is giving us 60's vibes and the way she has parted her hair, chose a simple lose bun with next to no makeup and very less accessories complete her 60's look. Even though the light colors of Hira's dress are Summer appropriate, but the Pink and pop of Gold throughout the dress make it very Eid friendly. We are loving the Gota on her Dupatta, it gives more ethnic look to her overall dress. Hira's smile and confidence along with her amazing outfit also played a part in qualifying her to this list and she looks simply beautiful.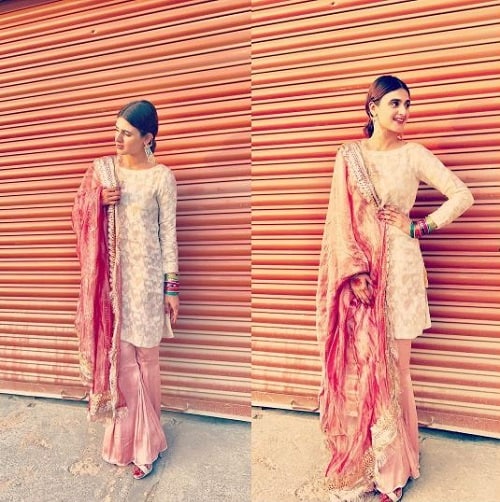 Anum Gohar
With everyone wearing White for Eid, Anum Goher's Black dress with a Pop of Red really stands out and the fact that she has carried it with so much of confidence really adds more charm to her overall look. The overall look of Anam is quite simple where it shows that she hasn't put much effort into everything else that is why her relatively simple dress is still making a statement. The black dress is complementing her fair complexion and colored hair. Traditional embroidery and tassels are giving her dress a rural vibe and it looks beautiful.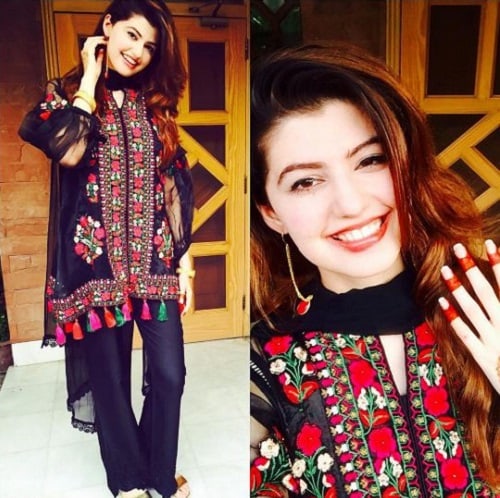 Neelam Muneer
Neelam Muneer's Eid dress is definitely going to inspire all those girls who are going to get married in the near future because her dress is not only beautiful but is Mehandi appropriate as well. Even though Neelam's dress also has white incorporated into it but the Yellow shirt and Dupatta take it to another level and break the monotony of White that everyone else resorted to this Eid. Neelam also chose a minimal styling which shows that she wanted to keep the entire attention on her dress and she definitely achieved that because we not only love her dress but her overall look as well. Neelam's dress is designed by Rozina Munib.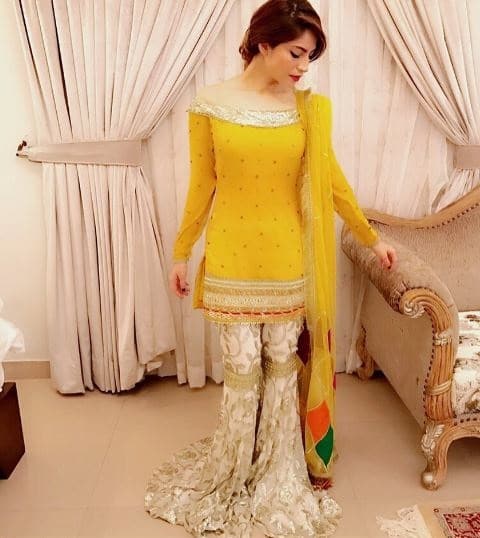 Sumbal Iqbal
Dressed in Rema Shehrbano's creation, Sumbal Iqbal effortlessly made it to this list because her choice of dress was perfect. Once again, Sumbal made it obvious that she had Summers on her mind, therefore she went for a light colored dress. Mint Green Short Shirt and White Bell Bottom Trousers are complementing Sumbal's petite figure. Hoop Earrings, Red Lipstick and effortless hair styling are giving Sumbal a very casual yet elegant look.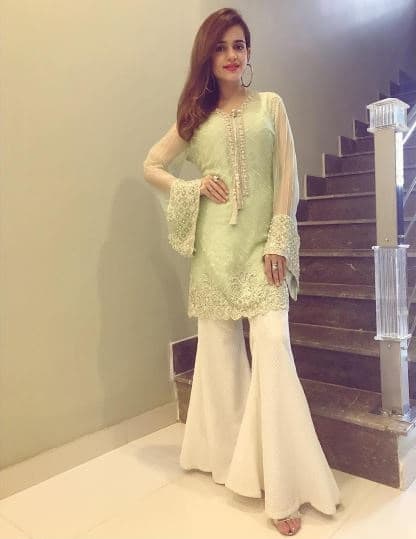 Sanam Chauhdry
Sanam Chaudhry's dress designer Mansoor Akram proves that Chunari can never go out of fashion and the way Sanam has carried this simple dress with so much of confidence and class makes it even special. Sanam Chaudhry also decided to showcase the festivity of Eid by choosing such a colorful dress which may look simple but is completely Eid appropriate and also complements her young age. Even though we have seen Sanam Chaudhry in quite elaborate makeup looks, this time around, she chose to keep her look simple and added some traditional touches to her look with big traditional earrings, white bangles and cute kolapuri chappals and she definitely looks peppy, vibrant and cute.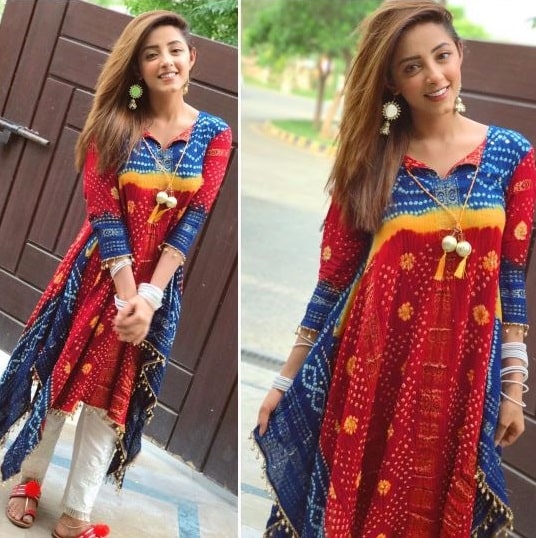 Maya Ali
Dressed in Mohsin Naveed Ranjha's creation, Maya Ali makes it to the list. Everyone knows that Maya is currently in Poland shooting for her movie Teefa In Trouble, so it really shows that Maya decided to put an effort for the special occasion of Eid. We have recently seen Maya in a lot of western looks on award functions and usually in jeans & Tees in BTS photos on her Instagram so to see her in an Eastern look was a nice change. The beautiful shade of Blue complements her skin tone and the frills bring out the feminine side of Maya and make her look dainty and girly.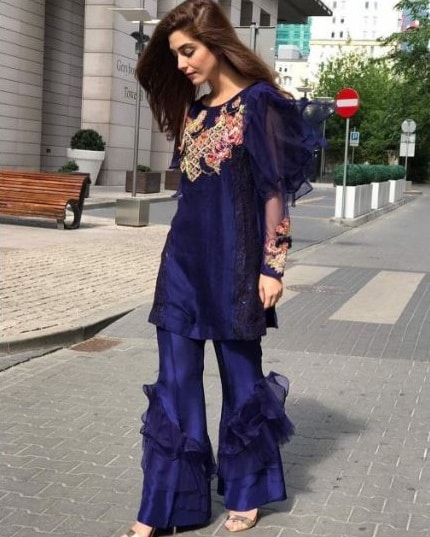 This completes the list of Best Dressed Celebrities on Eid. Feel free to add more names to the list and don't forget to share your opinion as well.