"Gaye gi Dunya geet merayyy !"
Madam Noorjehan was the greatest film and music personality in the history of showbiz in Pakistan.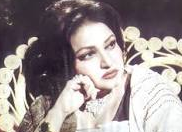 Early Life:
Madam Noor Jehan was born in a very poor family on September 21, 1926 at Qasoor, Punjab. She displayed signs of having a melodious voice, which became more apparent by the time she was four or five years old. She could pick up just about anything – be it a folk song or a popular number from a theatrical drama – she could imitate it to perfection. Realizing her immense talent, her mother began to believe that her daughter had something exceptional to give to the world. So, her mother arranged for her to begin her training in singing and dancing alongside her elder sisters, Eidan Bai and Haider Baandi. She received early music lessons under Kajjanbai (a singer between 1920 and 1930) who made her do "riyaz" up to 12 hours a day. After her morning "riyaz", a teacher would come to help her learn to read and write. She received early training in classical singing under Ustad Ghulam Mohammed who instructed her in classical music and voice production within the framework of classical forms of thumri, dhrupad, and khayal. In around 1930, she won a part in a silent feature film called Hind ke Tare (1930) made by Indian Pictures, Calcutta and after that there was no looking back.
Her Great Contributions:
She started her formal film career in the age of just nine years old in film Sheeal (Pind di Kurri – 1935) and became super star as baby artist. She was heroine in Punjabi film Yamla Jatt (1940) and was a top singer and actress in Indian movies in the 40s. After the partition in 1947, she moved from Bombay and started her film career in Pakistan as actress, singer and the first female film director with film Chann Way in 1951. Her last film as actress Ghalib was released in 1961. She did a number of films, which are as follows:
• Mirza Ghalib (1961)
• Koel (1959)
• Pardaisan (1959)
• Neend (1959)
• Anarkali (1958)
• Choomantar (1958)
• Nooran (1957)
• Intezar (1956)
• Lakht-e-Jigar (1956)
• Patey Khan (1955)
• Gulnar (1953)
• Dopatta (1952)
• Chanwey (1951)
• Mirabai (1947)
• Abida (1947)
• Jugnu (1947)
• Mirza Sahibaan (1947)
• Maharana Pratab (1946)
• Jadoogar (1946)
• Sofia (1946)
• Humjoli (1946)
• Dil (1946)
• Anmol Ghadi (1946)
• Bhaijaan (1945)
• Badi Maa (1945)
• Gaon Ki Gori (1945)
• Zeenat (1945)
• Dost (1944)
• Lal Haveli (1944)
• Naukar (1943)
• Duhai (1943)
• Nadaan (1943)
• Khandaan (1942)
• Faryad (1942)
• Dheeraj (1942)
• Chandani (1942)
• Susral (1941)
• Umeed (1941)
• Red Signal (1941)
• Chaudhry (1941)
• Yamla Jat (1940)
• Sajni (1940)
• Pyam-e-Haq (1939)
• Imandaar (1939)
• Gul Bakavli (1939) (as Baby Noor Jehan)
Since 1959 she became playback singer and dominated in more than 35 years. She sang appropriately more than six thousand songs in Urdu, Punjabi and Sindhi films.
She married twice, first with film director Shoukat Hussain Rizvi in 1942 and then film producer and hero Ejaz Durrani in 1959 and she had six children
Honour of "Malka-e-Taranum" :
Noor Jehan received the "Malka-e-Taranum" appellation by State of Pakistan in 1965. Noor Jehan's artistic career is over six decades, a long period of service to the Pakistan Media Industry along with great contributions that will always be remembered.
Today, it is her 13th death anniversary. She died on December 23, 2000 at Karachi as one of the richest woman in the country.
We really miss her. She had a legendary voice and will always be remembered as the finest voice of Pakistan. There is so much to write on her. Words are always less to define such great personalities.
Some people leave us with great memories. She was among such ones. She has left with us her beautiful voice. We still listen to her melodious songs and not only us, these songs are popular world-wide, spreading the word of love and harmony
Do leave us with your comments and feedback on this "tribute" article. As today is her death anniversary, we all should  pray "May her soul rest in peace in heavens"
S. Rasool