Bollywood actor Aamir Khan has issued a legal notice to a handful of Pakistani websites for running a 'fabricated' interview of the actor regarding his film. The interview featured questions on religion with reference to Khan's latest release PK, reports The Economic Times.
Anand Desai, Aamir's legal representative who sent the notice on behalf of the actor, said he was wrongly attributed to the interview.
Desai shared: "Mr Aamir Khan was shocked to find an interview attributed to him on several Pakistani websites in relation to his latest film PK. He has never given such an interview. It is clearly a fabrication by someone trying to impersonate him, done with the intent of drawing visitors to their website, and is defamatory to our client."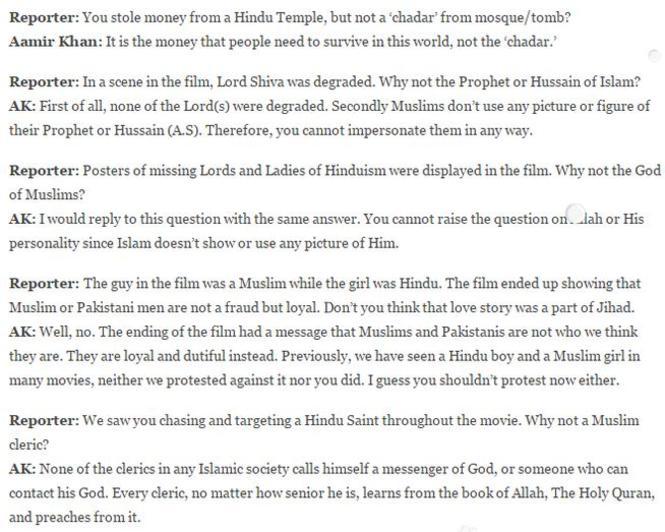 He added: "The impersonation is a very serious infringement of our client's rights, and we will take legal recourse. Mr Khan will be filing a criminal complaint with the Cybercrime Cell, Mumbai Police after he returns to Mumbai."
Currently, the Dhoom 3 leading man is in the United States of America.
Though the origin of this interview could not be traced, it was evidently picked up by a number of websites. The most common title of the interview was '5 questions Aamir Khan answered about PK.' Dawn is awaiting a response from the portal that appears to have published the first story.
Most websites have managed to remove the post after news of the legal notice became known. The post on Pakistan Ki Baatein now gives an error message. The website's Facebook page describes itself as a site about "latest media trends in Pakistan".

The short bio reads: "Along with media, we are also blogging on positive topics regarding education, people etc in Pakistan except politics. Our aim is to show positive side of Pakistan. We will share every topic of media whether it will be from Pakistan drama industry, Pakistan film industry or from Bollywood that is in gossips of Pakistanis."
Acknowledgement: Whole content is borrowed from Dawn.com
Source: http://www.dawn.com/news/1156745/aamir-khan-sends-legal-notice-to-pakistani-websites-over-fake-interview
Rashid Nazir Ali