Seems like all is still not well between Mehwish Hayat and Aamir Liaquat Hussain. Although Hayat seems least bothered by the MNA, Hussain has been throwing jibes at Mehwish's way, and that too uninvited. Recently the two again got into a Twitter spat after Aamir Liaquat Hussain commented on Mehwish's tweet, calling her an 'item' girl with no brains to comment on the foreign policy of the country.
Tweeting about the killing of the Iranian general Qasim Soleimani, Mehwish had written, "Can't believe that just 72 hours into 2020 & the world is already teetering on the edge of war. I guess this is wht happens when the "leader of the free world" takes unilateral decisions without regard for international laws. This isn't just abt Iran &USA.God protect us #Soleimani"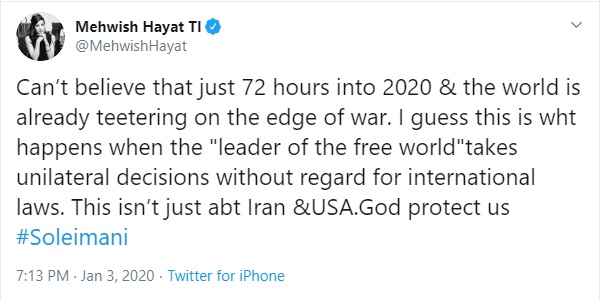 Although Hayat made a very sensible remark, using her influence to raise her voice about a cause that matters, Aamir Liaquat Hussain missed the importance of the gesture and went onto comment using vile remarks for Mehwish.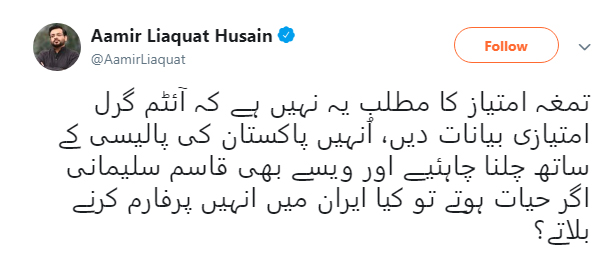 Calling her out for commenting on the country's foreign policy, Aamir Liaquat sarcastically remarked Mehwish Hayat as an 'item' girl, attacking her personally.
However, this time Hayat didn't let it rest peacefully and harshly put down Liaquat for making unnecessary remarks.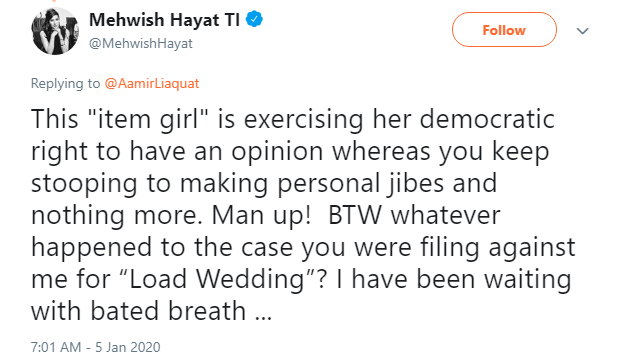 Responding harshly to him, Tamgha-e-Imtiaz Mehwish said, "This "item girl" is exercising her democratic right to have an opinion whereas you keep stooping to making personal jibes and nothing more. Man up!"
Not letting it rest there, Mehwish Hayat also pointed out about the case that Aamir Liaquat Hussain had threatened to file against the "Load Wedding" team for allegedly copying his show for fun without his permission and defaming him in the process.
Aamir Liaquat is yet to make any further comments on the matter.