Abdullah The Final Witness, is a film announced around 2013. This film is already screened at Cannes festival 2015. The film is produced, written and directed by famous fiction writer Hashim Nadeem. There is a misconception that this film is based on the novel Abdullah also written by Hashim Nadeem. Hashim Nadeem hails from Quetta, Balochistan and the film is also based in Quetta.
The film is based on the incident of 17 May 2011 happened in Quetta. The incident is known as Kharotabad incident in which five Russian and Tajik citizen (men and women) were killed by Frontier Constabulary (FC) claimed to be as terrorist at the check post of Kharotabad. The incident was filmed by a journalist and later media aired same videos claiming all the killed ones were innocent citizen. Then Chief Justice of Pakistan took sou motto notice of this incident, and a commission was asked to prepare the Kharotabad Inquiry Report. The findings of the inquire were never made public and the case is still unresolved. A key witness of this incident was murdered in Quetta in December 2011.
The trailer of the film was released in January 2015 while the film was expected to release in the summer of 2015. However as the subject of the film involves the role of security agencies, which is considered sensitive; the Central Board for Film Certification (CBFC) refused to issue the censor certificate required to screen a film in cinemas despite multiple meetings with Hashim Nadeem.
The fate of the film became uncertain until today when the distributor announced that the film is finally releasing.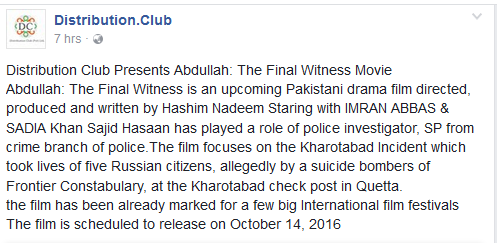 Here is the trailer of the film
Film:Abdullah The Final Witness
Starring:Imran Abbas,Sadia Khanmm,Hameed Sheikh,Imran Tareen
Music by:Roger John, Sohail keys
Edited by:Adeel Zaidi, Sheryar Bilaal
Directed by:Hashim Nadeem
Produced by:Hashim Nadeem
Written by:Hashim Nadeem
Production company: Taurus Films
Distributed by:Distribution Club
https://www.youtube.com/watch?v=x0Q3kJSzMps
Rashid Nazir Ali