Fawad Afzal Khan, there is absolutely no need to introduce this person, if you are a Pakistani celebrities fan then you must know him. Fawad Khan is a heart-rob of Pakistan, a true star Icon. He is not only a great artist but a charming and handsome personality who has taken the Pakistan Entertainment Industry by storm. There are only few people who have become both a Rock star and super star and Fawad is amongst them. His fans are desperate to meet him. Even Pakistani celebrities are inspired of him, the echo of his success is now going beyond borders. Starting his acting career from Jutt and bond in 2000 he has now become a pioneer actor. He rose to a prominence from drama dastaan and humsafar.
Fawad had already appeared with number of actresses. He acted opposite to Imaan Ali in film "Khuda ke Liye". His first drama was "Satrangi" in which he acted against Ayesha Gul, Sawera pasha and Ambreen Gul. Moving on he starred opposite mehreen raheel in drama (dastaan and ashk), Sanam Baloch in drama (Dastaan, Akbari Asghari and Kuch Pyar ka pagal pan bhi tha), Mahira khan in worldwide popular drama "Humsafar", Ayesha Khan in drama "Kuch Pyar ka pagal pan bhi tha", Aaminah sheikh in remake of a film "Armaan", Sanam Saeed in drama "Zindagi Gulzar hai", Nadia jamil in telefilm "Behadd" and opposite Kanza Wayne and Sania Saeed in drama "Numm".
In his entire career Fawad has made a hit couple only with Sanam Baloch, Mahira Khan and Sanam Saeed. Now I have made a list of some actresses that never appeared with Fawad Khan but can make a hit couple if starred in a big project.
1. Fawad with Ayeza Khan- Ahh! what can I say if you ask me what is the biggest thing that you want to happen in drama industry then I would say cast Fawad Khan and Ayeza Khan as a couple. Seriously I am dying to see them together as a couple in a mega project like "Humsafar" and don't come hard on me but in my opinion this will be the best couple better than Mahira Khan. Don't know if you pay much attention to commercials or not but Fawad and Ayeza had appeared together in a short Telenor commercial in 2012 and after watching it I am still hoping that they will appear as a couple in future. The commercial received more than 17000 views on YouTube that means this couple is huge in demand. Well Ayeza had already appeared with Shehrehyar and currently with Hamza Abbasi the next two heart rob after Fawad and now I am just waiting to see her performing opposite to Fawad Khan.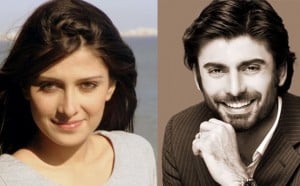 2. Fawad with Saba Qamar- They have appeared together in drama "Dastaan" but in an Aunt and Nephew role. Fawad can make a hit couple with Saba Qamar as well. Saba is an absolute dynamic she can do every role perfectly and so romantic as well. They will make a great couple if starred in a good serial or film.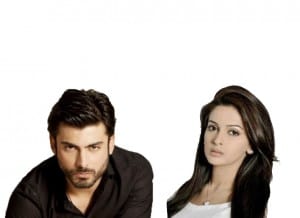 3. Fawad with Syra Yousuf- Syra Yousuf is a cutest face of our Industry and a best smile as well. Despite being so much popular in the past I am surprised that she has not appeared with Fawad. After getting married she has become expressionless. However Syra will make a hit couple with Fawad Khan by just imagining Fawad instead of Faizan Khuwaja in Syra's current drama serial "Ru Baru".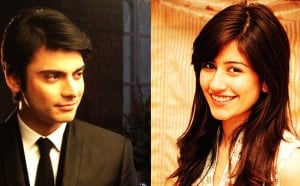 4. Fawad with Sarwat Gilani- I heard a rumour that Fawad had denied the romantic serial "Mata-e-Jaan hai tu" and hence Adeel was starred against Sarwat Gillani. It was a good romantic serial but Adeel failed to include the charm in this drama which I think Fawad would have included. I bet this serial would be much popular if Fawad would have been in it but still they can make a hit couple if starred together in a same type of drama serial.
5. Fawad with Sanam Jung- With a debut performance Sanam Jung has touched the sky of success. Her serial "Dil e Muztar" with Imran Abbas had received a lots of gratitude by viewers and I would say probably this is a signature drama of Sanam Jung. She is doing well with Meekal Zulfiqar in drama "Muhabbat Subha Ka Sitara hai". The quality of sanam jung is her innocence which had captured the audience attention, She is the most Innocent face of drama Industry. I am pretty sure that Fawad Khan and Sanam Jung will make a super dooper couple in a romantic drama or film.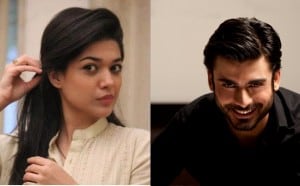 6. Fawad with Arij Fatima- Some actors are not over rated but they gradually recognise themselves in industry through their spectacular performances and Arij is amongst those. She is such a versatile young actress. Her cute expressions is driving people crazy well on the other hand she can look scary as well like in horror drama WOH. Arij and Fawad both are versatile artists and I am pretty sure that they will make a splendid couple. Like Ayeza Khan I am also hoping to see them together in some project in likely future.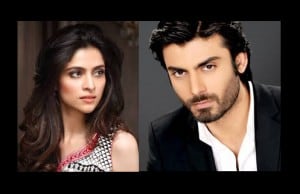 Therefore these are the only actresses that I think can make a hit couple with Fawad Khan. If you can think of any other popular actress who will look good with Fawad Khan then please do share.