Mobilink's print ad featuring Nargis Fakhri was criticized by many people because the ad was considered vulgar. People criticized this ad because no one wanted to see this kind of an ad on the front page and in the middle of their newspaper. This ad was printed on every Urdu Newspaper so it became the talk of the town. Even Nargis Fakhri said that she did not like that Mobilink did not keep people's sensitivities in mind while publishing this ad in different newspapers.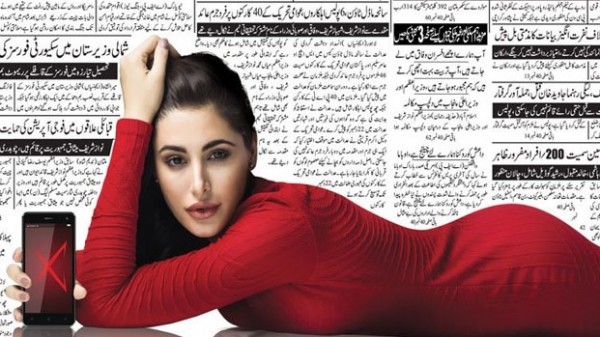 Ufone is popular for its funny ads which are never cheap or vulgar in any way. Many times Ufone has directly answered their rivals back in the ad. This is not something we see in commercials very often. Products compete with each other but the competition is usually restrained. Ufone does not believe in restraint while answering its competition and people like that about their ad campaigns.
Within a week Ufone has used another smart publicity tactic which will not offend people in any way. Their ad also appeared on the front page of every newspaper but it did not feature an actress or a female model but it showed Faisal Qureshi posing in the same way as Nargis Fakhri and the instruction that read in the end was that you don't have to be ashamed of looking at the ad in public was even more funny.
Here is Ufone's take on Mobilink's ad. What do you think?